12 Views
Top 12 Car Features That Sound New but Actually Aren't
February 7th, 2017 9:38 AM
Share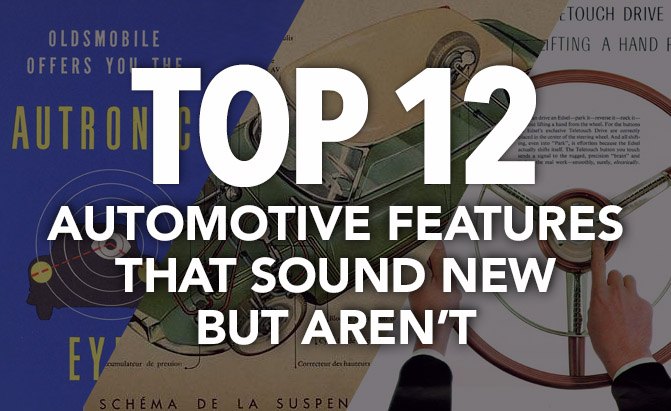 Automotive engineers are constantly working to bring cutting-edge features from testing laboratories to dealership showrooms.
In recent years, the pace of automotive innovation has accelerated as more and more high-tech gadgets make their way to even entry-level vehicles. Today, things like navigation systems, blind-spot monitoring, automatic emergency braking and even adaptive cruise control are available in the compact car segment, something that was almost unfathomable just a decade ago.
Technology is transforming our vehicles, making them more convenient, efficient and, of course, significantly safer. Much of what's becoming available is truly groundbreaking, especially as automakers push to introduce self-driving cars.
But, as scripture says, there's nothing new under the sun. Many of the latest features and amenities were conceived of years, even decades ago. Need proof? Well, here are a dozen automotive innovations that are older than you might expect.
---
12. Crumple Zones
Crumple zones are an integral part of modern vehicles' safety systems. Typically surrounding a much more rigid occupant compartment, these areas are specifically engineered to deform in a crash, absorbing energy and lessening the blow delivered to passengers. Given what they do and their manner of action, crumple zones may sound like a relatively recent innovation but they're not. According to Mercedes-Benz, they were the first to develop this technology, earning a patent for it in 1951.
---
11. Automatic Transmission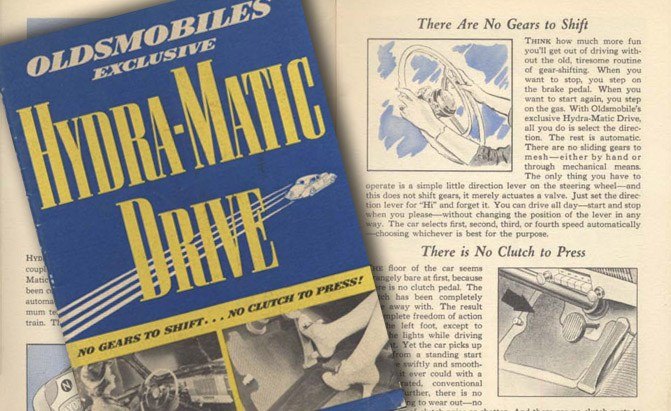 Throughout the 1930s, automakers experimented with a variety of semi-automatic transmissions. They tinkered with fluid couplings, pre-selectors, vacuum actuators and other complicated thingamabobs, all with the goal of simplifying the driving process. From these early attempts, the first true self-shifting gearbox was born, landing on the market in 1940. GM's groundbreaking Hydra-Matic transmission did all the work, functioning essentially like an automatic gearbox any driver is familiar with today. At the time, this groundbreaking innovation was shared by the company's Oldsmobile and Cadillac divisions.
---
10. Auto-Dimming Rear-View Mirrors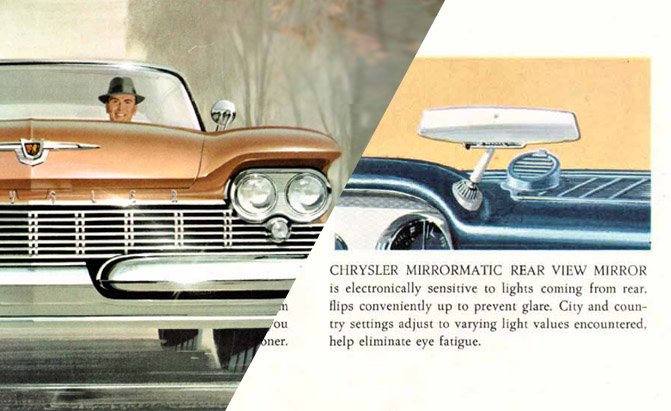 Despite what you may think, automatic-dimming mirrors are not a new idea. In fact, Chrysler introduced this technology back in the late 1950s. Their futuristically named "Mirrormatic" option could sense bright light and dip the rear-view's glass all on its own, helping prevent unwanted glare. Powered by crude electronics including a vacuum tube, this system was allegedly easily confused, meaning it was probably quite ineffective. But still, this is a neat idea and they made it work without fancy computers.
---
9. Tilt and Telescopic Steering Columns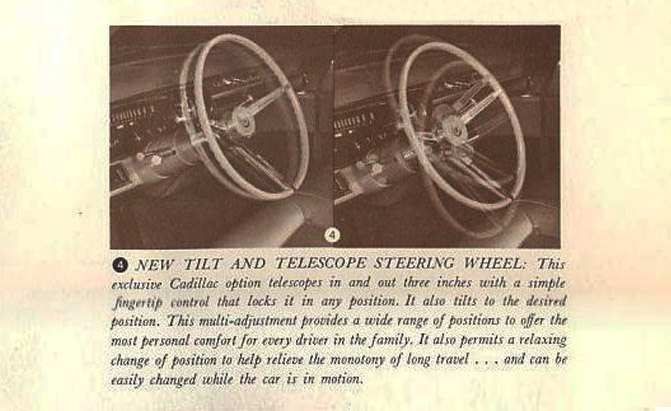 Many of today's cars and trucks feature steering columns that adjust for both rake and reach. But as you've probably guessed, this is old hat! Cadillac brought just such an ergonomic innovation to market back in 1965. Their optional tilt and telescope steering wheel moved in and out by a claimed three inches, enabled by "a simple fingertip control."
---
8. Power-Retractable Hard Tops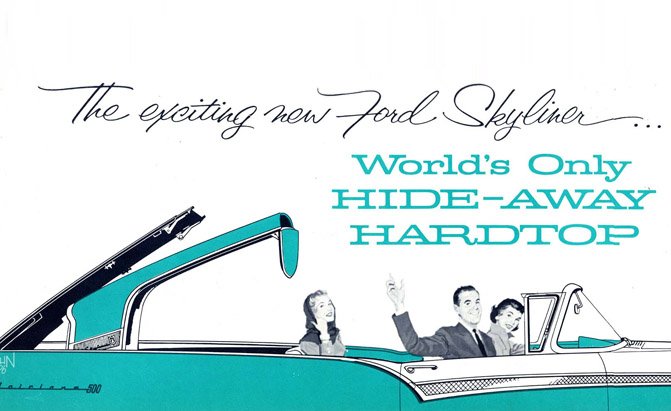 Convertibles allow lovers of sunshine to bask in our closest star's abundant light while driving. Unfortunately, soft-top vehicles can be noisy inside, leak during inclement weather and offer little protection in a crash. To remedy some of these drawbacks, engineers have developed retractable metal roofs, which fold, tumble and tuck away like steel origami. Too bad our ancestors beat them to the punch by decades. Arguably the first production retractable hardtop dates to 1935 with the introduction of Peugeot's 402 Éclipse Décapotable, but a better-known example is the Ford Skyliner, which debuted in the late 1950s.
---
7. Cruise Control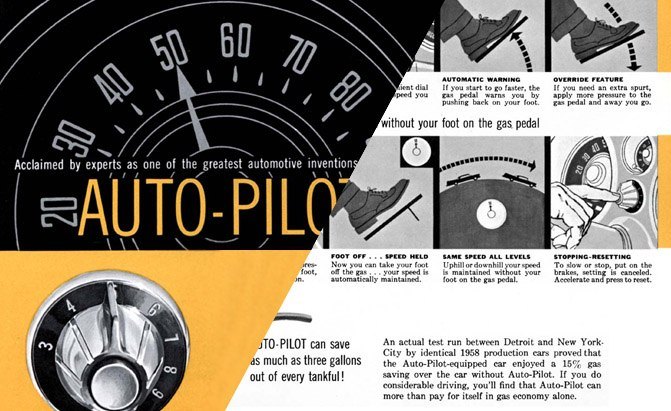 Believe it or not, cruise control is no computer-era innovation. In modern form, Chrysler (and its Imperial division) debuted this technology in 1958. The firm's Auto-Pilot system could maintain a set speed over varying terrain, sound an alarm if you were traveling faster than desired and even provide feedback through the accelerator pedal. It was decades ahead of its time!
---
6. Continuously Variable Transmission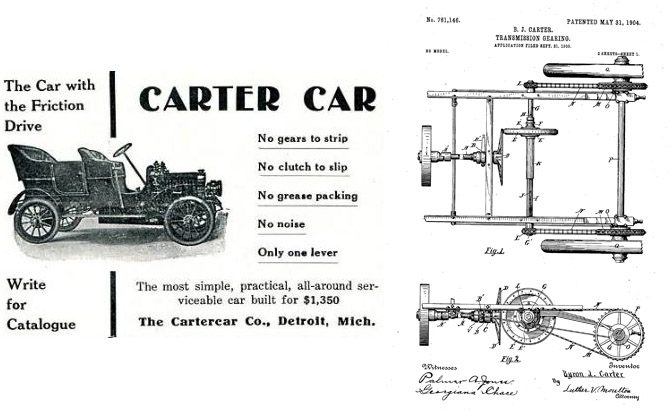 Continuously variable transmissions, CVTs for short, are hugely popular these days because of how much they can improve a vehicle's fuel economy. Rather than having set steps, these "gearless gearboxes" essentially offer an infinite number or ratios. Their benefits are numerous and our forefathers (and mothers) were not ignorant to them. Enter Cartercar, an American firm that built automobiles in the early 19th century. Separating these vehicles from contemporary rivals was their innovative friction-drive transmission that had "no gears to strip… no clutch to slip." Cartercar also boasted that its vehicles could climb 50-percent grades and that they never jerked or shuddered. Smoothness, FTW!
SEE ALSO: Top 10 American Cars Not Actually Made in America
---
5. Push-Button Shifters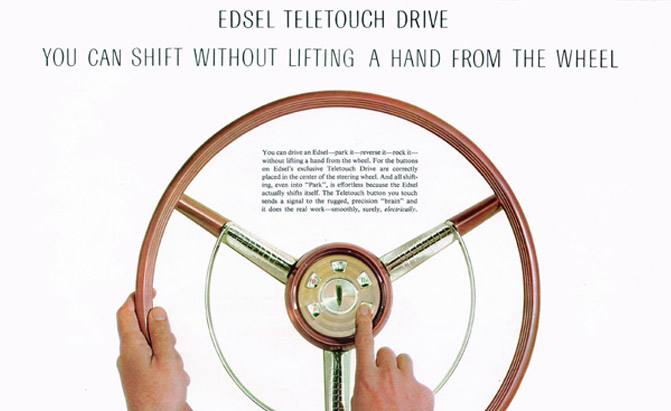 Modern Lincolns and Acuras – and other vehicles as well – offer push-button shifting. Just prod a dashboard-mounted button to select the desired gear. Aside from being simple to use, this computerized amenity frees up space on the center console where a traditional selector lever would go. Not surprisingly, engineers had similar ideas in the 1950s. Imperial offered push-button gear selection, as did Ford in 1958 with its doomed Edsel division. Curiously, the Edsel's "Teletouch Drive" buttons were mounted around the steering wheel hub, which undoubtedly complicated things and probably attributed to the overall poor quality of these vehicles. In a somewhat more sensible move, Chrysler put their controls on the dashboard.
---
4. Automatic High Beams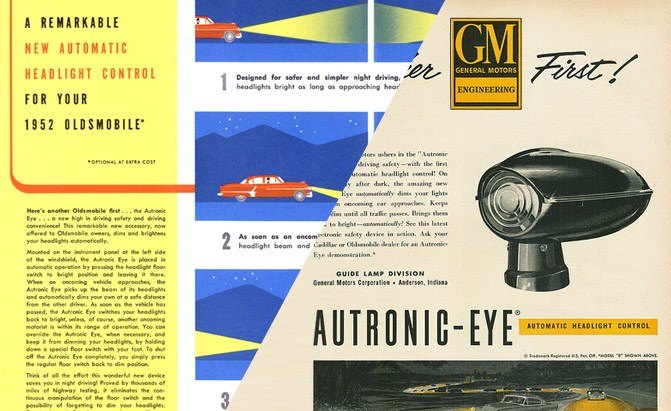 Aren't automatic high beams an innovative new feature? WRONG! GM pioneered this technology during the jet age, calling it the "Autronic Eye." Initially offered in Oldsmobile and Cadillac models, this interesting feature would eventually spread to other corporate divisions, remaining in production for several decades.
---
3. Adaptive Suspension Systems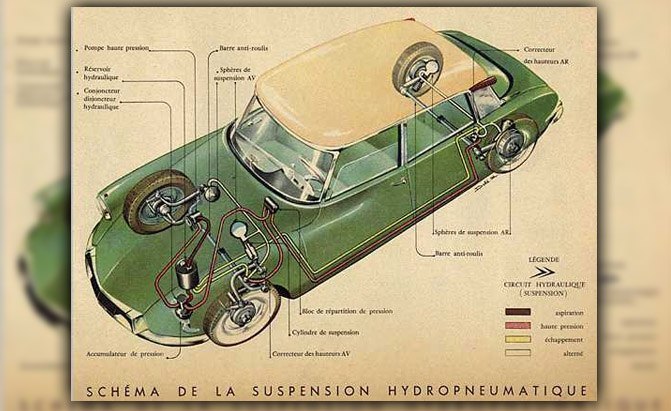 One of the most innovative, revolutionary and perhaps beautiful cars ever built is the Citroën DS. Unveiled at the Paris Motor Show in 1955, this teardrop-tapered wonder shattered the mold in so many ways. Aside from gorgeous styling, it also featured inboard-mounted disc brakes, front-wheel drive and most importantly a revolutionary hydropneumatic suspension system that was driver-adjustable and self-leveling. This chassis arrangement also provided what many have dubbed a "magic-carpet ride." Amazingly, you could get all of this in the mid '50s from a country that was devastated by the Second World War just a few years earlier. The next time a dealership or automaker tries to convince you that their latest adjustable suspension is some radical innovation, remember the DS.
---
2. Hybrid Technology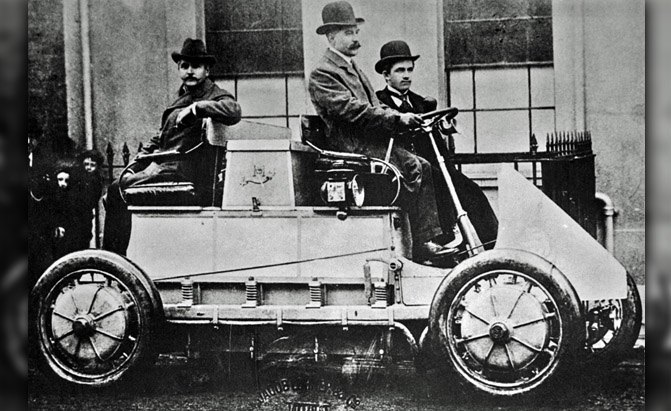 Believe it or not, Toyota didn't invent the hybrid, nope. Despite the success of their Prius it was not the world's first gasoline-electric vehicle. The honor of creating that goes to none other than Ferdinand Porsche, who beat them to market by nearly a century! The Lohner-Porsche was a pioneering vehicle introduced in 1900. It featured hub-mounted electric motors at all four corners, a 44-cell battery pack and not one, but TWO gasoline internal-combustion engines. Sure, it was crude, but all the basic ingredients of a modern hybrid were there, 117 years ago.
---
1. Automatic Climate Control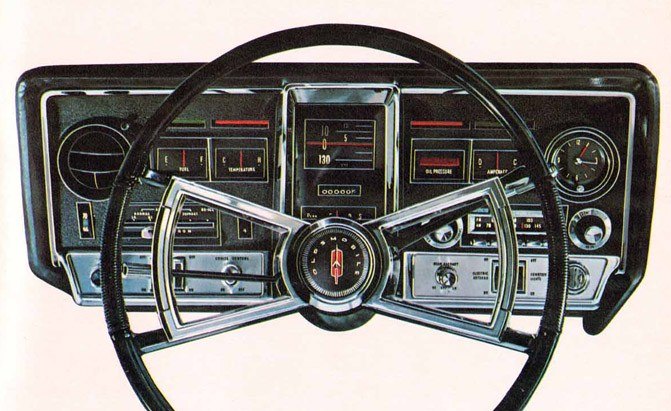 Slowly but surely, automatic climate-control systems are winding up in more and more vehicles, from compact hatchbacks to pickup trucks and everything in between. With this technology, a motorist simply sets their desired cabin temperature and the system maintains that, through rain and fog, sleet or hail. It's a really simple thing, and a surprisingly old idea. GM's Comfort Control Air Conditioning technology debuted in Cadillacs for model-year 1964. Just a couple years later similar systems could be had in Oldsmobile and Buicks.
Check out our Top 10 Lists
[Image Source: The Old Car Manual Project]
Published February 7th, 2017 9:31 AM
Popular Articles
Latest Comparisons
Car Buying Tools