130 Views
2017's Top 10 Best Cars in Every Category: Consumer Reports
May 25th, 2017 9:13 AM
Share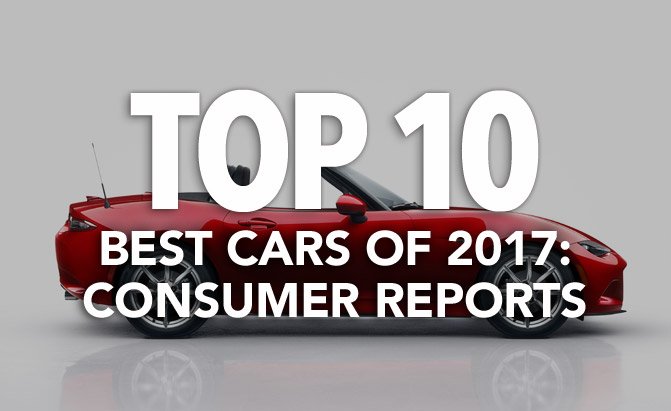 { "id": "13256071", "alt": "", "title": "", "video_link": "https://www.youtube.com/embed/VF6j9ojIC10", "youtube_video_id": "VF6j9ojIC10" }
{ "width": 634, "height": 357, "showRelated": true }
Consumer Reports has revealed its list of the top 10 best cars of 2017.
To be a Top Pick, a model has to have an exemplary Overall Score in its category. That score comes from Consumer Reports' four key pillars: road-test performance, predicted reliability, owner satisfaction and safety. Each car is also road tested and rated based on over 50 evaluations done at the publication's 327-acre Auto Test Center, ranging from instrumented track tests to assessments of comfort and convenience while in daily use by Consumer Reports' staff.
SEE ALSO: Top 10 Cars to Look Forward to in 2017
Reliability for each vehicle is based on actual problems reported by subscribers in the 2016 auto survey on more than half-a-million vehicles. Consumer Reports then rates owner satisfaction based on the percentage of surveyed owners who say they would definitely purchase the same car if they had to do it all over again. Lastly, all cars recommended by Consumer Reports must perform satisfactorily in accident-avoidance tests.
Best Subcompact Car: Toyota Yaris iA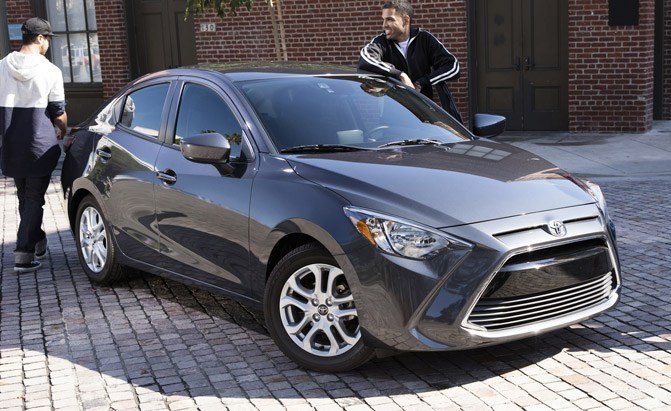 What started out life as the Scion iA is now the Toyota Yaris iA and it claims top honors in the subcompact car category. The model is developed by Mazda and feels refined for the entry-level class, says Consumer Reports. Under the hood is a smooth and willing four-cylinder engine, paired to a slick six-speed automatic transmission and relatively compliant ride. Giving it great value is a full-featured infotainment system and standard low-speed automatic emergency braking, while its well-tuned steering and eager handling makes the Yaris iA surprisingly fun to drive. It scored 60 on the road test.
---
Best Compact Car: Chevrolet Cruze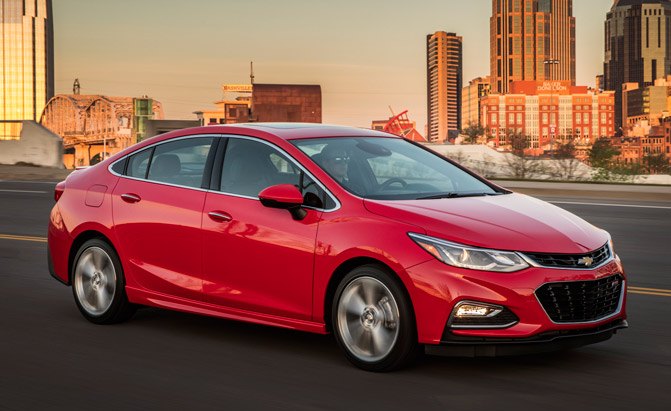 The redesigned Chevrolet Cruze is the best compact car of 2017, beating out popular models like the Honda Civic and Toyota Corolla. With a road-test score of 77, Consumer Reports praised the hushed, smooth-riding sedan with a roomy interior and polished four-cylinder turbocharged engine with 153 horsepower. The publication also noted it returned 47 mpg on the highway, although overall fuel economy came in at 30 mpg.
---
Best Compact Hybrid: Toyota Prius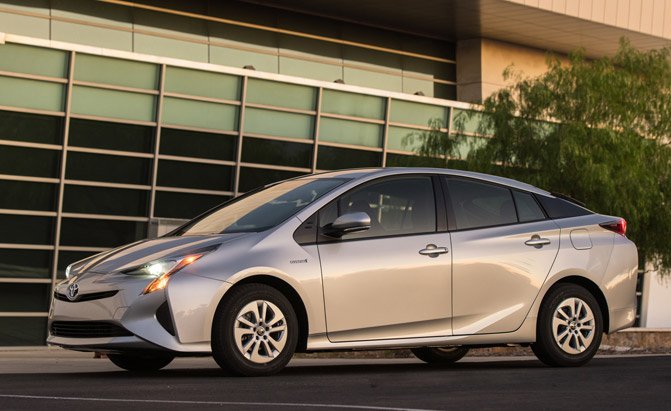 It's probably not a surprise to many, but the Toyota Prius has been named the best compact hybrid of 2017. Consumer Reports' tests returned 52 mpg overall, which is the highest it has ever recorded in a car that isn't a plug-in hybrid. Not surprisingly, the Prius receives high marks for its reliability, something Toyota has traditionally been known for. The latest-generation model also has reduced cabin noise, improved ride comfort and more responsive handling. The Toyota Prius scored 75 on the road test.
---
Best Sports Car: Mazda MX-5 Miata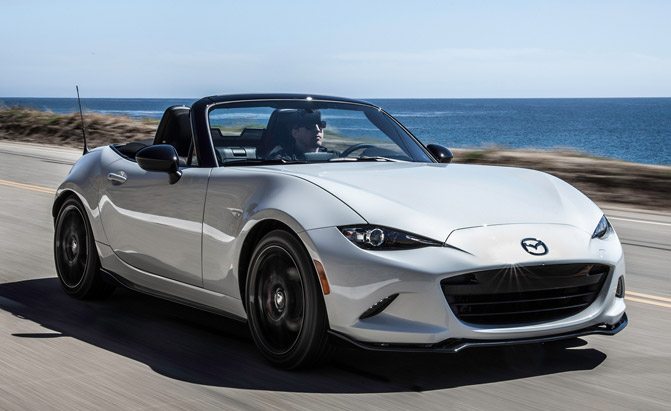 There's a good reason automotive enthusiasts love the Mazda MX-5 Miata. Despite having modest power from its naturally aspirated, four-cylinder engine, the Miata is a complete blast to drive with its lightweight design and balance. "The Miata truly comes alive on winding roads, with immediate steering response and a handling balance that will make you grin," said Consumer Reports. Along with a road test score of 80, the Miata returned 34 mpg overall.
---
Best Midsize Sedan: Kia Optima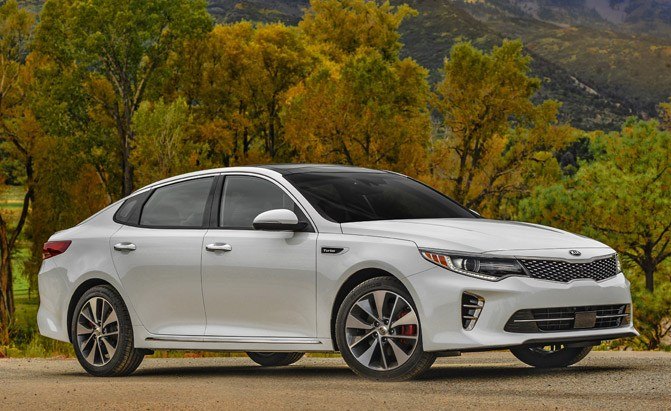 This year's best midsize sedan isn't the Honda Accord or Toyota Camry, both extremely popular models in the segment. Instead, it's the Kia Optima taking the prize. Consumer Reports attributed its win to the Optima's responsive handling, a steady ride and pleasant powertrain, short stopping distances, easy-to-use controls and a roomy backseat. Its road test score is impressive at 86 and Kia's outstanding reliability and extensive warranty coverage makes the Optima a real contender in a segment that was previously dominated by Japanese automakers.
---
Best Large Sedan: Chevrolet Impala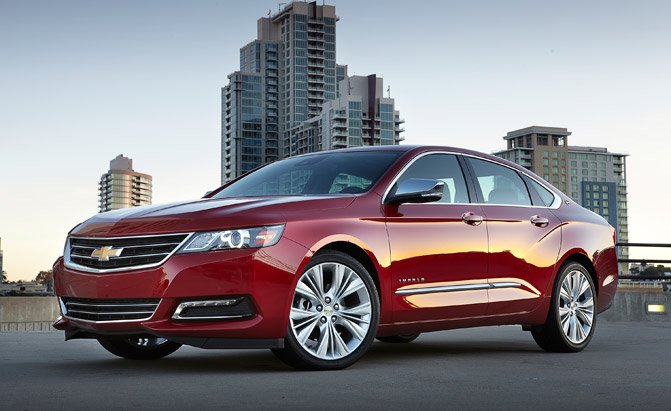 When it comes to traditional cars, the Chevrolet Impala scored highest on Consumer Reports' road test, earning a score of 91. Roomy, supportive seats greet driver and passengers along with intuitive controls and ample truck. And despite its size, the Impala's handling is responsive and secure, while road imperfections are effectively absorbed to give a ride you'd expect from a more expensive luxury sedan.
---
Best Small SUV: Subaru Forester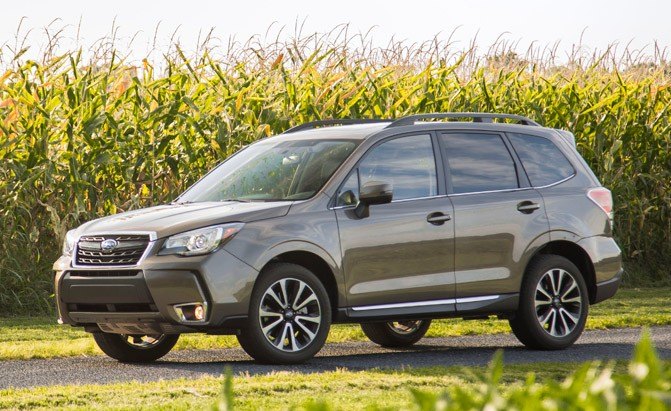 Consumer Reports' says the Subaru Forester sets the standard for small SUVs, thanks to its relatively roomy packaging, fuel efficiency, solid reliability and easy access. Helping maximize interior space is its boxy shape and large windows, while secure handling and supple ride add to the Forester's appeal. Fuel economy is excellent for the segment, returning 26 mpg overall and Subaru is known for its safety technology, especially with EyeSight.
---
Best Midsize SUV: Toyota Highlander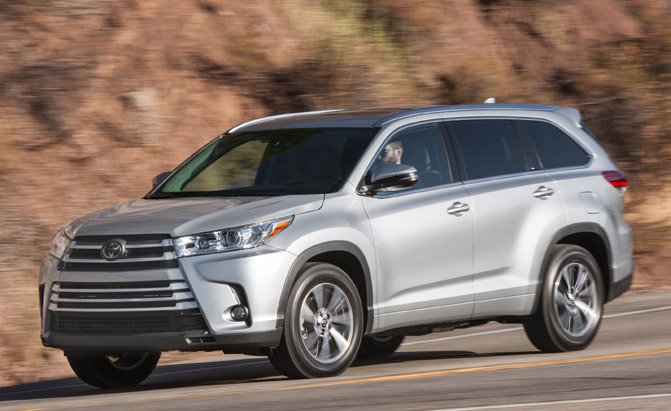 Toyota continues taking top honors in several segments with the Highlander. Sporting a road test score of 84, the Highlander receives high marks due to its good performance, fuel economy (20 mpg overall), long-term reliability, all-weather traction, three-row seating, generous cargo space and the capability of light towing. The model was recently updated for the 2017 model year, adding 25 more horsepower to its engine output and advanced safety equipment as standard.
---
Best Luxury SUV: Audi Q7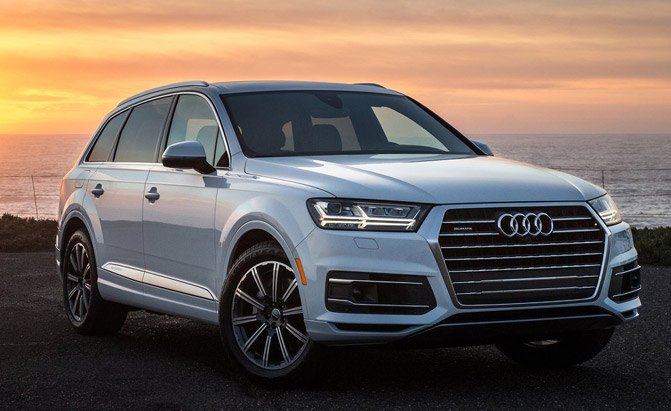 The highest-scoring vehicle on Consumer Reports' road test is the Audi Q7, earning a score of 96. The seven-passenger SUV is the highest-rated SUV Consumer Reports recently tested, feeling more like a luxury sedan than an SUV. The cabin is quiet and has all the luxury amenities you would expect from Audi, with premium trimmings and road-trip-friendly seats. And despite its size, the Audi Q7 is quite agile, with excellent brakes to bring it to a stop.
---
Best Compact Pickup: Honda Ridgeline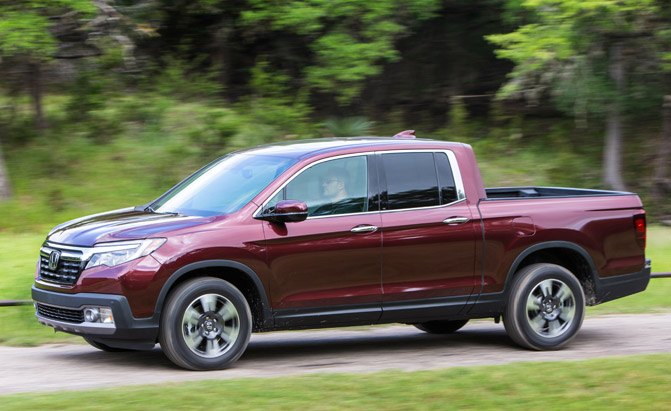 Honda took its time revamping the Ridgeline and it has paid off. Driving more like a sedan than a rugged pickup, the Ridgeline scored 80 on the road test while returning 20 mpg overall. Consumer Reports says the Ridgeline "handles far better than any compact or full-sized pickup, and it shames all non-diesel trucks for fuel economy."
Published May 25th, 2017 8:00 AM
Popular Articles
Latest Comparisons
Car Buying Tools