75 Views
2018 Mitsubishi Eclipse Cross Pros and Cons
March 27th, 2018 6:15 PM
Share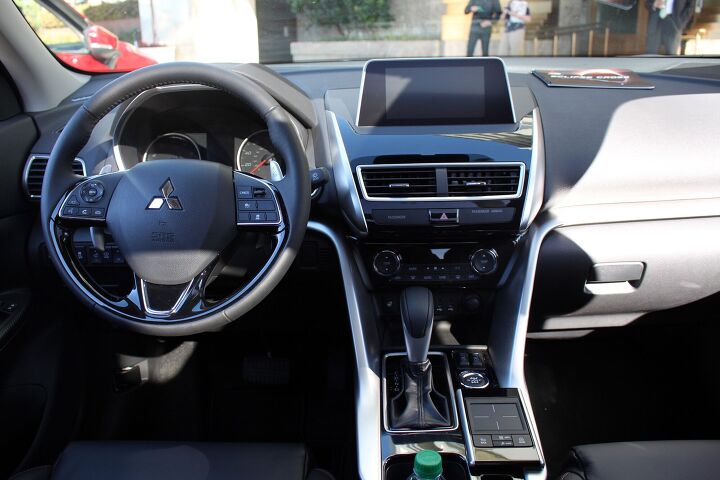 Mitsubishi seems to be struggling in North America but the newly introduced Eclipse Cross should help liven things up for the brand's image.
When the Eclipse Cross name was announced, the internet went crazy because it took such an iconic name from Mitsubishi's history and people didn't think it could live up to it. The Eclipse did big things for Mitsubishi as a sports car and it seemed odd that a crossover would continue its legacy. The Eclipse Cross is now available for sale and is an unexpectedly well-sorted product with just a few downsides. Make sure to check out our full review, but here is a quick overview of the pros and cons of this new crossover:
ALSO SEE: 2018 Mitsubishi Eclipse Cross Review
2018 Mitsubishi Pros and Cons
Pros
Styling That Will Get Attention: The Eclipse Cross has a lot of unique design elements. Starting from the rear, a double-tier rear window setup combined with a full-length LED tail light assembly is sure to get looks. The aggressively sloped roof also shows Mitsubishi was shooting for an SUV "coupe" look, which everyone in the industry is quickly adopting. The front is standard fare and retains a familiar Mitsubishi family resemblance, but overall, this design will definitely get you noticed.
Exceptional Warranty Package: Long-term ownership prospects for the Eclipse Cross are pretty positive. The incredible 10-year/100,000 mile limited powertrain warranty coupled with a 5-year/60,000 mile basic new car warranty will provide worry-free motoring for years to come should this vehicle be owned for an extended amount of time.
Supple Ride and Lively Driving Dynamics: This crossover's steering feels focused and diving into corners feels pretty solid. Despite a suspension that's stiffer than normal for this segment, the ride remains composed and comfortable even over rough roads.
Exciting Infotainment System: A 7.0-inch touchscreen is available with Android Auto and Apple CarPlay. The best thing about Mitsubishi's design is the seamless way the screen is integrated into the dashboard without looking out of place and cheap. Mitsubishi also has a smartphone app that allows for remote operations including locking/unlocking doors, pre-warming or cooling the vehicle, and turning headlights on or off.
Simple and Confident Cabin Design: The Eclipse Cross's interior has a straightforward design that does not compromise on quality. Seating, door and dashboard materials are high in craftsmanship and climate/radio controls are placed just at the right levels to improve ease of use by the driver and passenger. Higher trim levels add a touch of luxury that feels just right and not overdone.
ALSO SEE: Mitsubishi Eclipse Cross Will be the Last Real Mitsubishi
Cons
Confused Packaging: The Eclipse Cross's rear seat legroom of 35.3 inches and total cargo space of 49 cubic feet are mid-pack for the segment. Strong contenders such as the Honda HR-V with 35.3 inches of rear legroom and 58.8 cubic feet of total cargo space, as well as the Subaru Crosstrek with 37 inches of rear legroom and 55 cubic feet of total cargo space, completely eclipse it (no pun intended).
Equally Confused Pricing: The pricing strategy for this crossover places the base MSRP of $23,295 at about $3,000 more than most of the other subcompact crossovers in the class. The issue is that this makes the Eclipse Cross undercut by most of the competition but does not offer any significant advantages over them to justify that price premium.
Not Quite Capable Engine: The Eclipse Cross's 1.5-liter turbo with 154 horsepower and 185 pound-feet of torque handles city driving well, but put it through its paces and even the plentiful torque is not enough to stop the engine from sounding strained. The CVT, however, is a pleasant performer and works hard to keep the vehicle in its power band as much as possible.
Discuss this article on our Mitsubishi Eclipse Cross Forum
Published March 27th, 2018 6:15 PM
Popular Articles
Latest Comparisons
Car Buying Tools