13 Views
McLaren Senna 001 Actually Looks Pretty Sweet
July 30th, 2018 11:13 AM
Share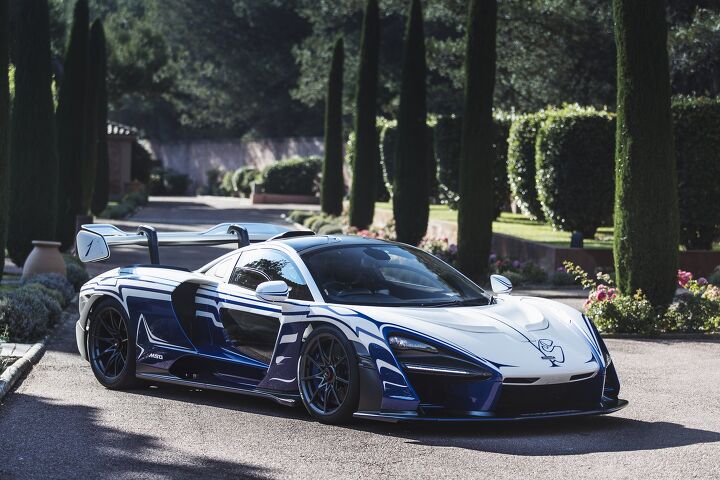 The first
McLaren
Senna has been delivered to its owner in a unique and somewhat psychedelic white and blue paint scheme.
We'll admit that we're not crazy about the way the McLaren Senna looks. We know its various vents, wings and scoops help make it one of the fastest production track cars on earth, but we just can't get down with the way it looks. Senna chassis #001, though, manages to draw attention away from the odd-looking bodywork with its great looking blue and white paint scheme.
Senna #001 was delivered to London-based businessman David Kyte last week, who promptly took the vehicle on an 870 mile road trip with three other Sennas, a 720S and a 600LT. The paintwork alone took more than 600 hours to complete, with two paint specialists devoting two weeks to taping the car before the white and MSO Aurora Blue livery was applied. It features the same 789 hp 4.0-liter V8 as other Sennas, which enables the car to accelerate from 0-62 mph in 2.8s and reach a top speed of 211 mph.
SEE ALSO: The First McLaren Senna for North America has Arrived
"I committed to buying a McLaren Senna as soon as I became aware that McLaren was developing the car – so long before the name was confirmed – but leaving the McLaren Technology Centre after the handover ceremony was the first time I have actually driven one," Kyte said. "Now, with 1,400 km covered, I'm delighted to report that as someone who rates driver engagement as crucial to driver enjoyment, the Senna has more than exceeded my expectations."
"The original inspiration for the livery was to trace the way that the air flows over the body but we decided on a more stylised design, with which I am absolutely delighted," he added. "I also love the fact that there are features on the car that are almost hidden, such as the details honouring Ayrton Senna and the McLaren 'Speedy Kiwi' on each side of what I am extremely proud to call, 'my Senna'".
Discuss this story on our McLaren Forum.
Published July 30th, 2018 11:13 AM
Popular Articles
Latest Comparisons
Car Buying Tools