60 Views
New Fiat Spiaggina is a Fiat 500 We Would Totally Buy
July 5th, 2018 3:52 PM
Share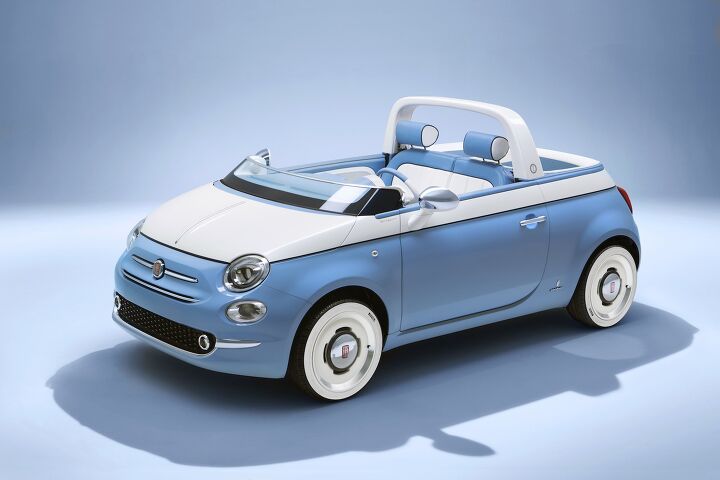 Picture it: it's the summer of 1958, you and your partner are driving through the south of France, looking out at the yachts moored in the harbor, enjoying the open air motoring provided by your
Fiat
500 Jolly.
At that time, there was no car better suited to cruising the coast than the Fiat 500 Jolly, sometimes referred to as the 'Spiaggina', ('spiagg' is Italian for 'the beach'). Now Fiat has recreated the original Spiaggina with the help of the Italian custom vehicle builders at Garage Italia.
Like the original, the new Fiat Spiaggina has a lowered 'nautical' windshield and no roof. The rear seats have also been removed to make room for a luggage compartment, while other summer-inspired touches, such as the Volare Blue and Perla White exterior, slatted cork floorboards and white leather interior upholstery, ensure the car evokes a true south of France theme.
SEE ALSO: 2017 Fiat 124 Spider Abarth Review

The best part about the roofless new Fiat 500 Spiaggina? It's actually available to buy. While the model pictured here is actually a one-off show car, Fiat is making the various custom parts available to customers, including the shorter windshield and luggage compartment. The vehicle can also be equipped with any of the engines currently available in the Fiat 500 range, Fiat says – which we assume would include the 1.4-liter turbocharged engine from the 500 Abarth. Now that would be an interesting car.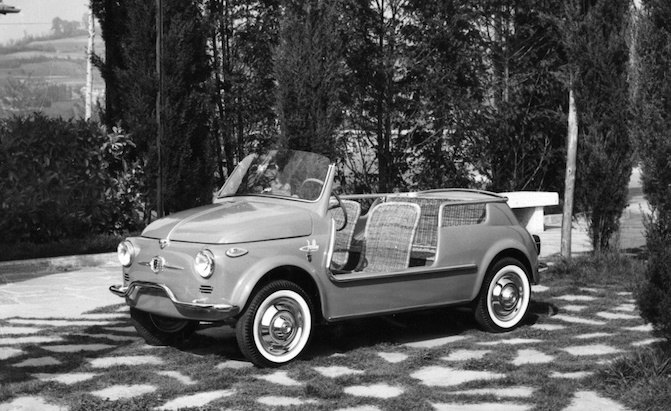 Fiat is also putting a less radical 500 "Spiaggina '58" special series into production. The vehicle features the same light blue and white paint as the Garage Italia Spiaggina, along with the same vintage-look steelie wheels and a similar blue and white interior. Fiat says it will build 1,958 examples of the Spiaggina '58 to commemorate the 60th anniversary since the original Fiat Jolly was released in 1958. It will be offered with either the 69 hp 1.2-liter or 85 hp 0.9-liter gas engines from the Italian company.
The Fiat 500 Spiaggina and Spiaggina '58 special edition will go on sale this summer in Europe.
Discuss this story on our Fiat 500 Forum.
Published July 5th, 2018 3:52 PM
Popular Articles
Latest Comparisons
Car Buying Tools