2 Views
Infiniti, Just Put the Dang Project Black S Into Production
September 27th, 2018 1:59 PM
Share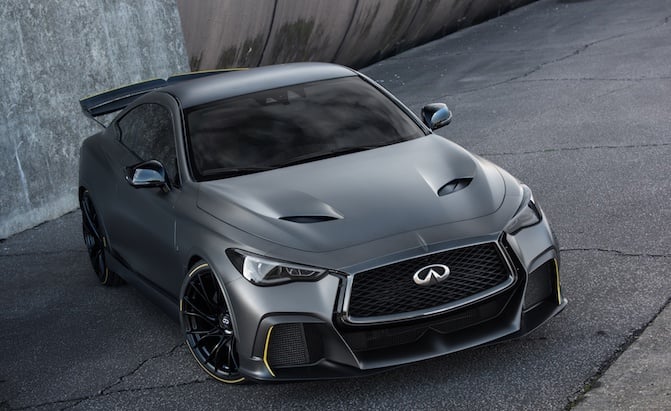 Today Infiniti sent out a press release touting its brand new concept car that it will show at upcoming the 2018 Paris Motor Show.
Just kidding! The automaker actually touted its Project Black S concept in the release, a design study that was first shown a year and a half ago at the 2017 Geneva Motor Show.
Granted, the Project Black S has evolved a little bit since we last saw it. Infiniti has changed the wheels and performed a number of other minor cosmetic adjustments for its appearance in Paris. It has also developed the hybrid powertrain, which consists of the same 3.0-liter twin-turbocharged V6 as before along with an electric motor and energy recovery system (ERS). The combination was good for around 500 hp before, but has now been boosted to 563 hp.
Despite making small exterior changes and developing the hybrid powertrain, Infiniti is still describing the Q60 Red Sport-based Project Black S as a "testbed for new ideas and technologies." We find that a bit frustrating. This is exactly the type of vehicle Infiniti needs to prop itself up as a serious purveyor of hybrid and electric vehicles, and it looks as though it may not reach production. Furthermore, the brand still has no serious performance vehicles to offer its buyers – a baffling fact for a company that proudly sticks its logo on a Formula 1 car. Infiniti says this is a fully working prototype now, though, so who knows? The car's appearance in Paris could be a sign that the automaker is serious about this undertaking.
SEE ALSO: 2018 Infiniti Q60 Red Sport 400 AWD Review

If the Project Black S never reaches production, it will suffer the same fate as the well-received Q60 Eau Rouge. Infiniti canceled the R35 Nissan GT-R-engined sedan, saying it was "just too costly," to put into production. Johan de Nysschen, former Audi of America boss and Cadillac president Johan de Nysschen later slammed Infiniti for its refusal to actually put exciting products into production.
"Tell any Cadillac or Audi engineer 'build me a 560hp sports sedan' and you have to reign them in," he was quoted in saying back in 2014. "At Infiniti, it seems easier to push water uphill. More enthusiasm for 'driver's aids', apparently, than 'driver's cars', in some quarters, it would seem."
We understand that performance vehicles have limited appeal and are expensive to produce, but we think Infiniti could hit two birds with one stone with the Project Black S: boosting its image both as a hybrid/electric vehicle company and a performance car company. Put the Project Black S into production, Infiniti. Just do it. We're long overdue for a true performance offering from Nissan's luxury arm.
Discuss this story on our Infiniti Forum.
Published September 27th, 2018 1:15 PM
Popular Articles
Latest Comparisons
Car Buying Tools