854 Views
Toyota's EV Manufacturing Plans Bring Tesla-Inspired Innovations
September 20th, 2023 1:37 PM
Share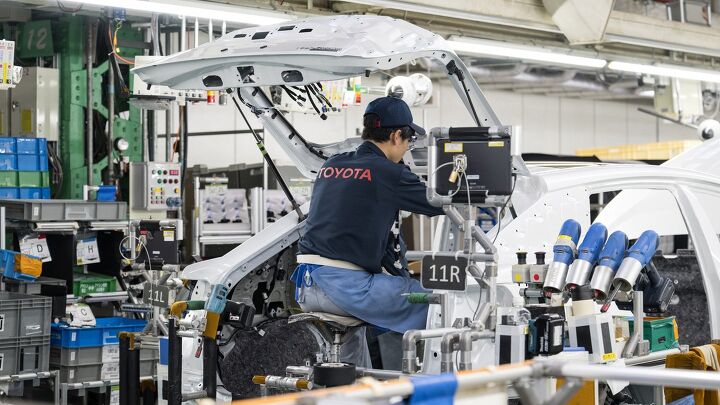 Toyota mixes the new with the old to manufacture EVs.
It's no secret that Toyota's relationship with EVs has been tenuous, to say the least. The Toyota BZ4X isn't a great effort, and the brand has been open about its support for hybrid vehicles, over EVs. But, market forces are pushing the whole automotive industry toward electrification and Toyota really needs to catch up. The brand recently unveiled its next-generation manufacturing line which includes a key element that you've probably heard about from another EV brand: gigacasting.
Gigacasting is a Tesla-created catchphrase that refers to making structural and other big car pieces out of one, uniformly casted piece. In theory, this process significantly reduces the time and complexity to make the car, while improving the car's structural rigidity. Toyota says that gigacasting can reduce the lead time for some parts from 24 hours, down to as little as 20 minutes. The brand pulled this knowledge from the experience it has from making and casting engine blocks.
Then, modern Toyota EVs will use a modular structure where the front, middle, and rear parts of the chassis can easily be swapped and switched out for whatever EV model needs to be produced on the line. Add in the planned solid-state batteries Toyota insists will be ready by 2027, as well as Toyota's lean manufacturing protocol, and the brand looks ready to finally give the EV startups a run for their money.
Will it work, though? Toyota has a plan to launch 10 EVs by 2026, but other manufacturers have plans to introduce models far sooner. Toyota's really got to get these cars on the market if it plans to catch up with giants like Tesla or BYD.
Become an AutoGuide insider. Get the latest from the automotive world first by subscribing to our newsletter here.
Published September 20th, 2023 1:37 PM
Popular Articles
Latest Comparisons
Car Buying Tools