677 Views
2024 Rolls-Royce Spectre Review - First Drive
October 12th, 2023 10:01 AM
Share
We're committed to finding, researching, and recommending the best products. We earn commissions from purchases you make using links in our articles. Learn more here
The ultimate luxury marque charts a new electric future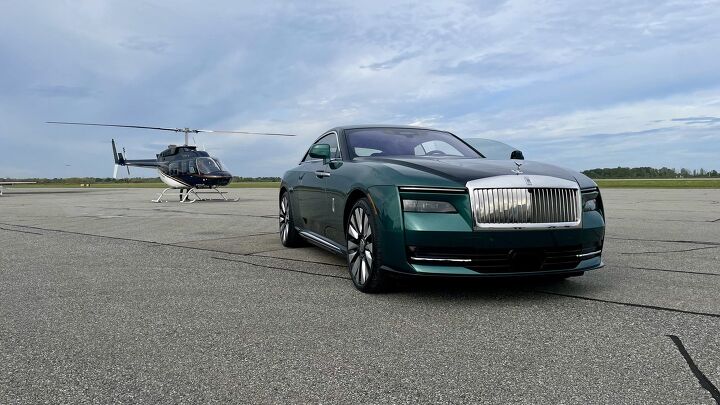 | Love It | Leave It |
| --- | --- |
| Opulent Interior | Quite Heavy |
| Rolls-Royce Styling | Only the Uber Wealthy Will Get to Enjoy It |
| Quick Acceleration | |
After completing an extensive development cycle that included more than 1.5 million miles of testing in every extreme condition the world had to offer, Rolls-Royce introduced the Spectre, the first EV from the British ultra luxury marque.
The Spectre marks the beginning of a massive sea change for Rolls-Royce, as the company embarks on an ambitious path to electrify its entire lineup by the end of 2030. AutoGuide.com recently participated in a media drive that offered a taste of the Spectre's ultra luxury and Rolls-Royce's take on electrification.
What is Spectre?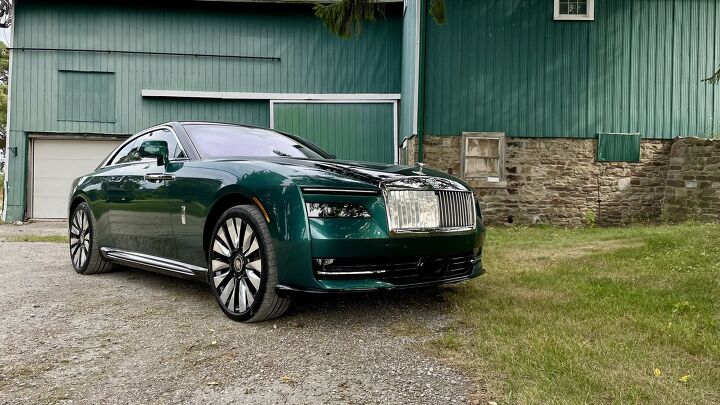 In the words of Rolls-Royce, Spectre is an "ultra-luxury electric super coupe" that serves as the spiritual successor for the Phantom Coupe. The Spectre is roughly the same size as the Phantom Coupe, a two-door fastback that offers plenty of customization in the cabin, along with unique details that are firsts for a production Rolls-Royce. Among these are Starlight Doors, which feature lighting detail on the interior door panels that resemble a night sky, and an illuminated front fascia.
The company also emphasizes that the Spectre is a Rolls-Royce first and an EV second, meaning that the car has been developed with no compromises made regarding interior space, comfort, performance, and ride quality.
Pure Electric Powertrain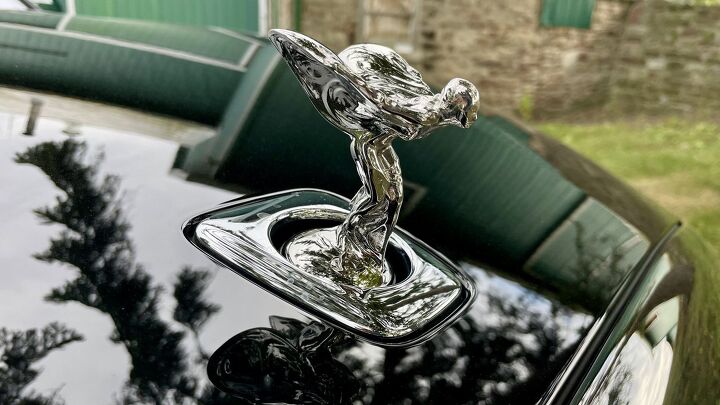 The Spectre is powered by two electric motors located at the front and rear – Separately Excited Synchronous Motors, in Rolls-Royce parlance – that work in conjunction with a 102-kilowatt lithium-ion battery pack. Combined output is rated at 584 horsepower and 664 lb-ft. of torque. Despite weighing north of 6,300 pounds (2,858 kg) and being almost 18 feet (5.5 meters) long, the Spectre has a quick 0-60 mph time of 4.4 seconds (0-100 km/h in 4.5 seconds).
As for charging, a 195 kW DC fast charger can fill the Spectre's battery from 10 to 80 percent in 34 minutes. This charge will also produce about 62 miles (100 km) of range, with an estimated maximum range of 260 miles (418 km).
Aluminum Architecture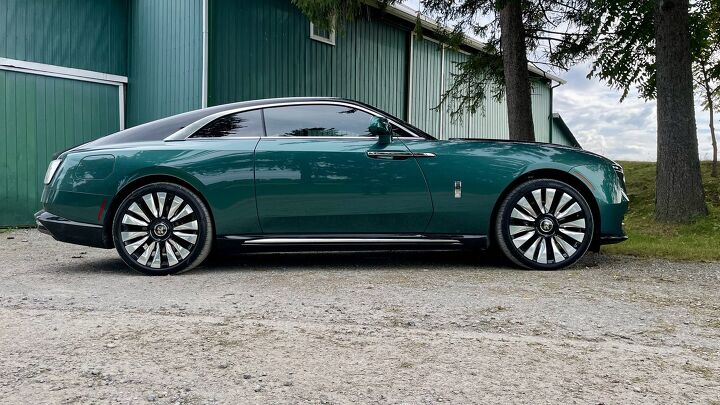 Despite its old-world, coach-built appearance, the Spectre's underpinnings are based on advanced automotive engineering. This is nowhere more apparent than in the car's structure, which consists of an aluminum spaceframe, a modular structure that features four fixed points at each corner of the car.
The flexibility advantage of this platform, known as the Architecture of Luxury, allows Rolls-Royce to adjust the positioning of items such as a vehicle's floor, bulkhead, crossmembers, and sill panels as needed.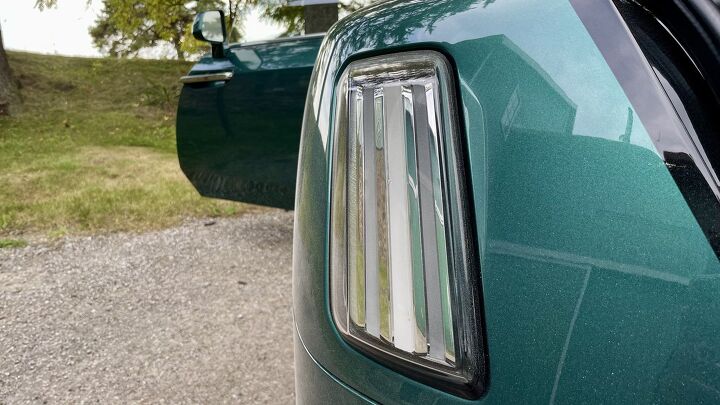 Innovations specific to the Spectre include extruded aluminum sections that integrate the battery into the car's structure which delivers two benefits: one, it helps to make the Spectre 30 percent stiffer than any other Rolls-Royce, and secondly, it delivers 1,543 pounds (700 kg) of sound insulation.
Of note, the Spectre is the fourth Rolls-Royce model to be built on Architecture of Luxury.
Every Bit a Rolls on the Outside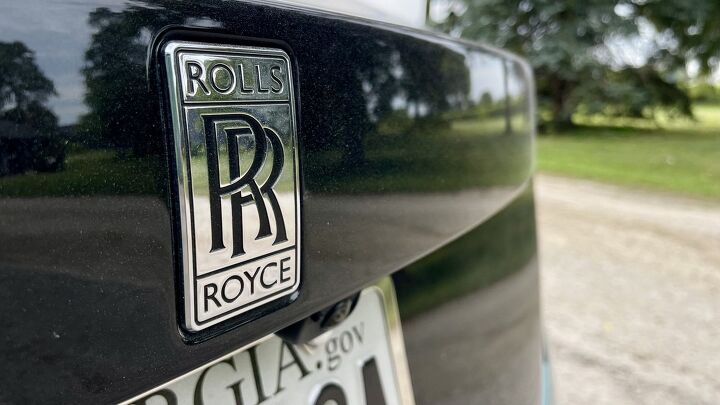 To these eyes, a Rolls-Royce just has a certain look, to the point that you can spot one from almost a mile away. Despite being an EV, the Spectre has that unmistakable RR family resemblance.
Long, wide, and stately, the Spectre boasts "racing yacht styling" which the company says was inspired by haute couture, modernist sculpture, nautical design and contemporary art. Its grille, the widest ever on a Rolls-Royce, features polished stainless-steel vanes and is illuminated with 22 LED lights that create a 3D light signature at night.
The Spectre also carries a new Spirit of Ecstasy hood ornament figurine that has a lower stance and a more aerodynamic profile. To get it just right, Rolls-Royce says it spent more than 830 hours modelling and wind-tunnel testing the new figurine, a process that helped make the Spectre the most aerodynamic car the company has ever built with a drag coefficient of 0.25 cd.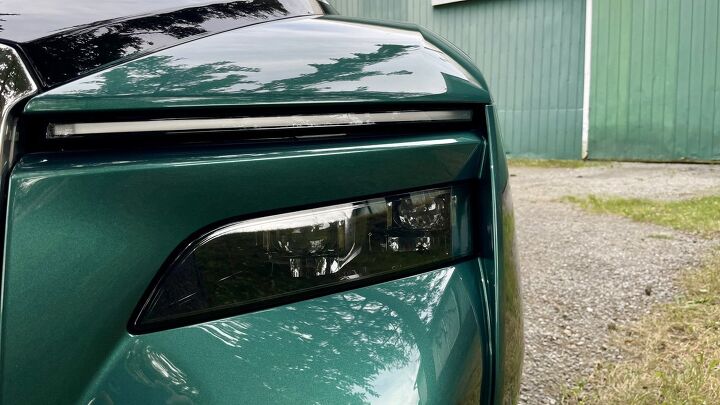 Other notable Spectre styling cues include split headlights, which are a reference to the Phantom Coupe, a sharp vertical bow line inspired by both classic cars and racing yachts. It also carries a seamless roofline for better aerodynamics, and a "waft line" that tucks the car's bodywork into the sill.
Finally, the 23-inch wheels the Spectre rides on are a company first for a two-door coupe.
Every Bit of Rolls on the Inside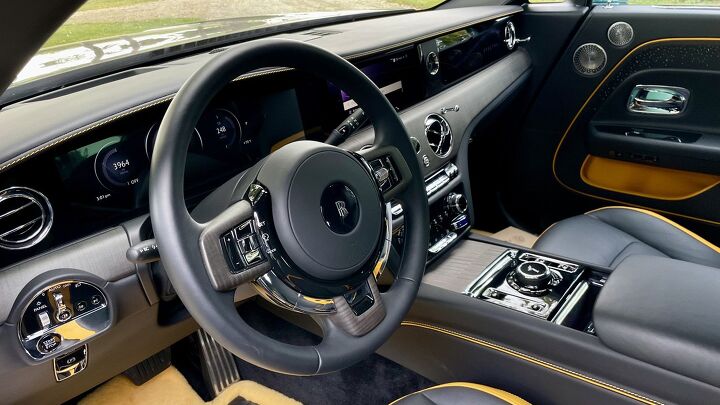 This section could go on for many paragraphs, but I'll focus on a few key aspects of the Spectre's cabin. A signature Rolls-Royce feature is its Effortless Doors, that are hinged from the rear in "suicide" style.
Almost five feet in length, these laser-welded, pillarless doors are pure aluminum to reduce weight while remaining rigid and strong. As with all models from the Phantom forward, they are also power assisted, with console buttons that both open and close the doors.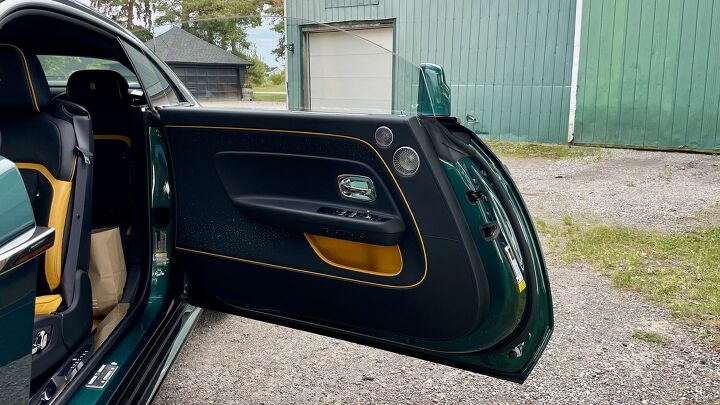 On the inside, the Spectre features Starlight Doors, a first for a production Rolls-Royce. These doors incorporate 4,796 softly illuminated "stars". The dash panel is also celestial themed, and it was developed over a period of two years and about 10,000 hours of design time, according to the company. On the passenger side is a Spectre nameplate that's surrounded by more than 5,500 stars, which are visible when the car isn't operating.
The Spectre can also be ordered with Canadel paneling, which is hand-crafted from a broad range of fine woods.
Impressions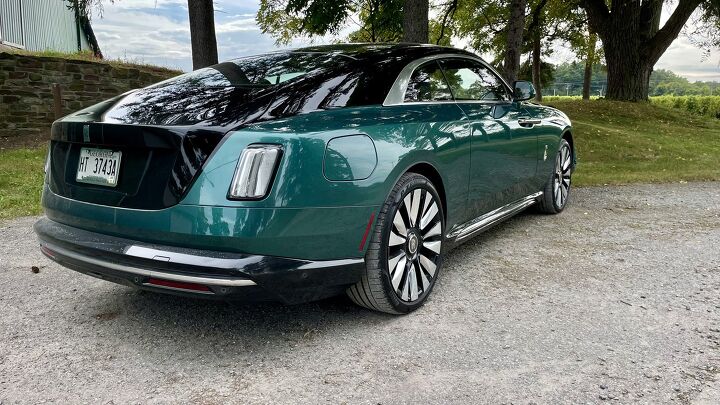 A key design goal with the Spectre was not to create an electric Rolls-Royce, but rather a Rolls-Royce that happens to be an EV.
On that score, I'd say they've achieved their objective because it takes only a few minutes of seat time to forget the Spectre is an EV. The car glides along so effortlessly, and silently, thanks not only to its powerful electric propulsion, but also because of its Planar Suspension System, originally launched on Ghost, and responsible for the brand's "magic carpet ride" road manners.
These systems work together so seamlessly that it somewhat obscures how fast the car is when the accelerator is pressed. The feeling of acceleration is one of on-rushing, where the driver isn't pressed into the seatback, but feels the linear force as the Spectre smoothly blurs scenery, leaving everything, and everyone, in its wake.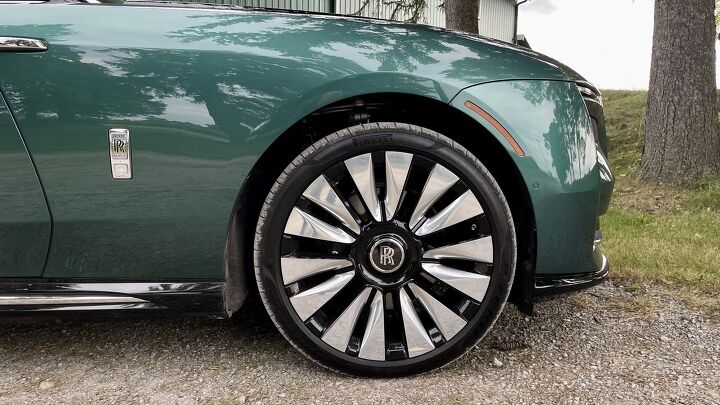 I wouldn't say I was unaware of the Spectre's mass, but it wasn't a preoccupation either. During my three-ish hours behind the wheel of my Imperial Jade Green and Black Diamond tester, I was drawn more to the Spectre's exquisite details, from its Effortless Doors, to its elegant, but uncluttered digital screens, to its Starlight Doors, and massive 23-inch wheels, than to the car's bulk, body lean and dynamic handling.
With a Rolls-Royce, it's about the finer things, and traveling in a relaxing manner that cocoons occupants in the finest luxury money can buy. Nothing is incidental – every aspect of the car, from console knobs and switches to soft-close doors, and the new Spirit of Ecstasy figurine, receives as much thought, attention, and effort as the car's bodywork and powertrain.
This, I think, is the biggest differentiator for Rolls-Royce when compared to more mainstream luxury brands. For cars like the Spectre, everything is worth obsessing over, and excellence is the only acceptable result. There is an unmistakable feeling of purity of purpose with a car like the Spectre, and it is felt in an instant.
2024 Rolls-Royce Spectre: The Verdict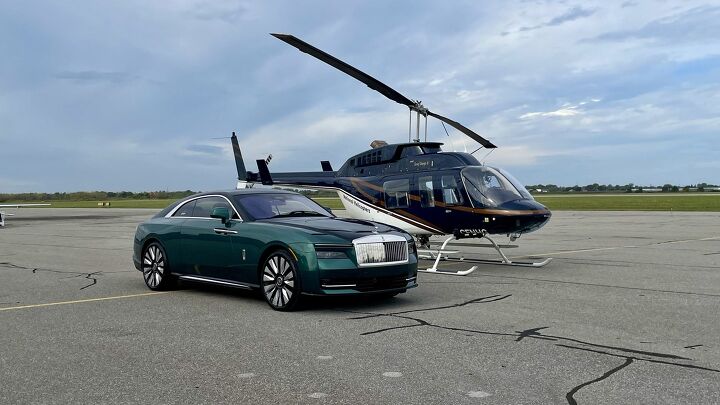 The Rolls-Royce Spectre, like its forebears, represents rare luxury that is ultra-exclusive, finely crafted, and designed and engineered without compromise. Every corner of this car is awash in fine detail that signals to all, but especially its owner, that it is indeed special. When cost containment isn't a concern, it's amazing what can take shape. The Spectre is proof positive.
As for its EV bonafides, such as range and charge times, they don't jump off the page. They're fine, but not earth-shattering. But here's the thing: few are likely to buy a Spectre for its battery size or charge times. They're buying it because it's the most sophisticated and advanced Rolls-Royce on the market. The price barrier to entry is stratospheric, but for the very few with the means, the Spectre offers luxury like no other.
Become an AutoGuide insider. Get the latest from the automotive world first by subscribing to our newsletter here.
Fast Facts

Motor

Dual Motor, 102 kW battery

Output:

584 hp, 664 lb-ft

Transmission:

Single-speed automatic

Drivetrain:

All-wheel drive

US Fuel Economy (MPG):

N/A

CAN Fuel Economy (L/100 km):

N/A

Starting Price (USD):

$420,000

Starting Price (CAD):

$495,600

Published October 12th, 2023 10:01 AM
Popular Articles
Latest Comparisons
Car Buying Tools