1.1K Views
2023 Toyota GR Supra Manual Review
September 8th, 2023 5:00 PM
Share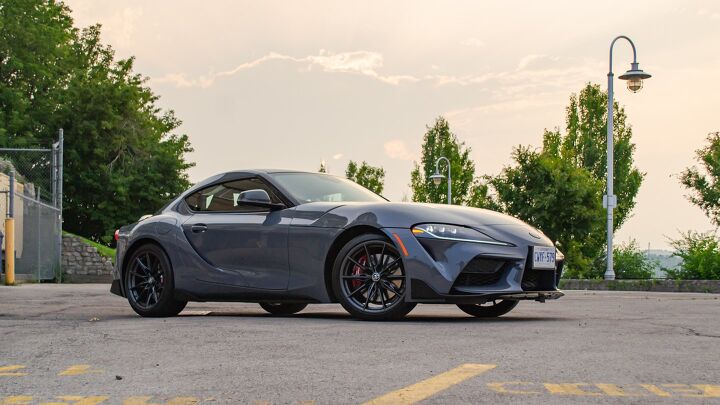 | Love It | Leave It |
| --- | --- |
| Manual is so much fun | Cabin still tight |
| Super-powered engine | Sometimes squirrelly handling |
| A deal compared to BMWs... | ...pricey compared to the new Z |
The Budweiser "Wassup" commercial. Borat impressions. People calling the latest Toyota Supra a BMW is the automotive equivalent of both.
Ever since the reborn sports car returned, there have been snickers about its Munich-sourced content levels. Yes, you'll find a bunch of roundel-stamped parts under the hood. Yes, the center screen runs a barely-different version of an old iDrive setup.
But after spending a week with the 2023 Toyota GR Supra A91-MT Edition—this year's special model to celebrate the return of the manual transmission—I've discovered why there's so much angst surrounding this car, all these years later. Toyota has built a two-seat sports car folks wish the Germans would: one that's fun, indulgent, and just a general blast to drive.
What's new?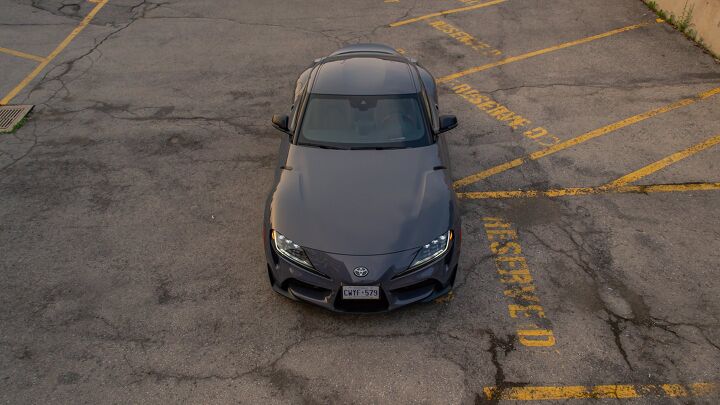 Toyota has slowly evolved the Supra since that 2020 launch. First there was more power, with that Bavarian straight-six boosted to 382 hp and 369 pound-feet of torque. Now there's a three-pedal version. This further separates the Supra from its Z4 sibling, which is not just an auto-only affair, but also a droptop. In fact, if you want to look at it a different way: this is the least-expensive new BMW(-powered) manual you can buy.
This isn't just a stick shift plucked from a parts bin, either. Toyota has tweaked the manual for Supra duty, increasing the clutch diameter and stripping out some sound deadening to reduce weight. There's a shorter final drive too, to compensate for the two fewer cogs in the 'box. Toyota's engineers painstakingly tested multiple gear knobs to find the right weighting, and rejigged the center console layout to ensure there's no painful hand/climate controls interfacing.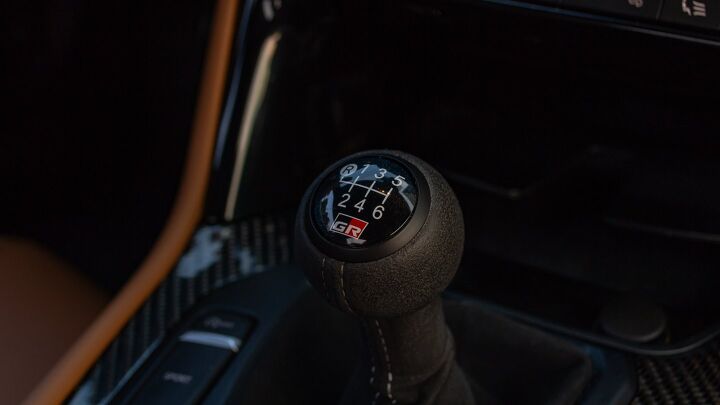 Beyond the transmission transplant, the whole 2023 Supra six-cylinder lineup sees changes. Toyota recalibrated the electronic power steering, as well as the adaptive suspension settings, the latter of which improve balance and ride comfort. The Supra's stability control system benefits from "Hairpin+", a new feature that allows for more wheelsman on tight, uphill corners. The goal: more fun, and a more predictable platform to have it in.
So how's it feel?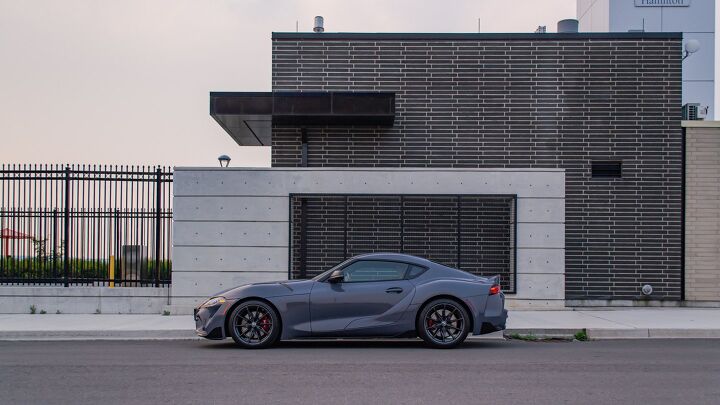 In a word: excellent.
I don't want to be that guy, but a manual really does transform the Supra experience for the better. The shifter feels great: there's zero slack, the gates are well-defined, and the throws are short and sweet. The clutch is short on travel and big on friendliness. It's ridiculously easy to get used to this setup—almost like it was meant to be—and proves a doddle in stop-and-go traffic. A defeatable rev-match system lets you practice your heel-toe form when you want.
But that's not where the Supra flourishes. Get out of town, drop the hammer, and the two-seater flies. The turbocharged BMW inline-six is one of the all-time great gas engines. Endlessly powerful, remarkably smooth, and with the sort of well-cultured howl that demands you ride out each gear, it's a peach. The MT car is a few tenths slower to 62 mph (100 km/h), due to shifting and the longer gears, but it still feels quicker than the quoted 4.6 seconds. One unexpected side is its frugality: I had plenty of fun with the Supra through the week, and at the end of it all, it posted an identical fuel economy score as the Jeep Compass I was also testing.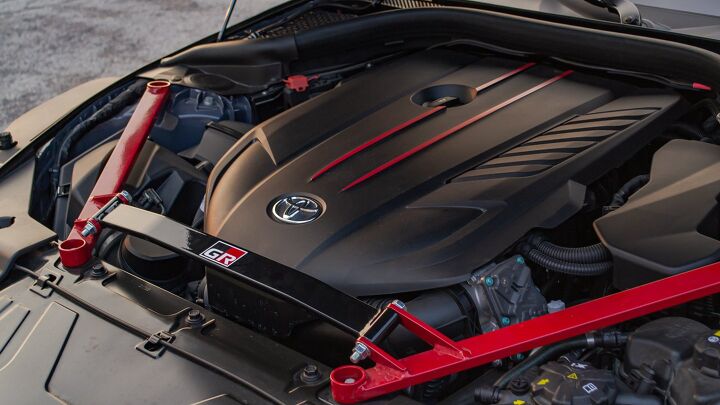 The ride is well-judged: not too stiff as to be unyielding, and not too soft as to feel floaty. Pitch the Supra into a corner and it turns in with authority, the sticky Michelins keeping the nose on line while the whole car stays remarkably flat. The earliest GR Supras felt very tail-happy when driven with verve; this one still likes to wag its tail, but it gets there in a more progressive manner. Sport mode makes it a little more responsive, but this isn't the massive attitude adjustment you'll find in something like... uh, a BMW M car. The feeling of lightness is pervasive: there's no slack anywhere, and it encourages you to keep having fun.
There could be more feedback from the steering wheel, but I'd take its delicate thin rim over a BMW's bratwurst-like cross-section any time. While I didn't love the manual Supra's brakes when I first drove it on a track a year ago, on the road, they feel much more progressive and consistent.
Still a tight fit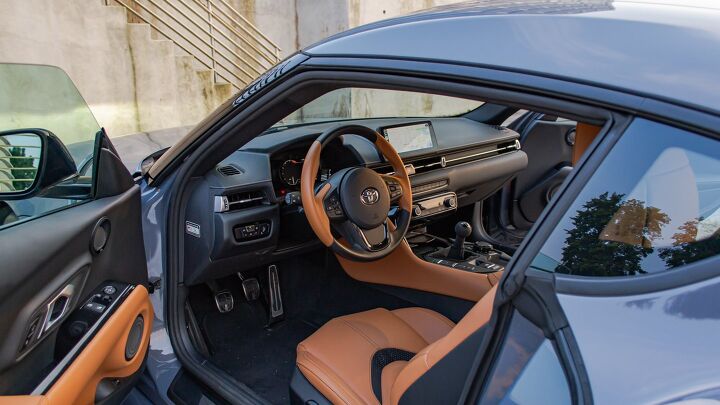 The A91-MT sprinkles some choice upgrades throughout the cabin. Whether it's "chestnut" south of the border, and "cognac tan" up north, the brown leather looks and feels great. The seats are snug, but impressively supportive. Buyers get a unique Alcantara shift knob with the GR logo, too.
I still barely fit. The relentless pursuit of less weight makes for a cramped cabin, and small windows hurt visibility. If ever a car needed its blind spot monitoring and rear cross-traffic alert, it's the Supra. Rolling down the windows at anything more than city speeds still results in plenty of buffeting as well.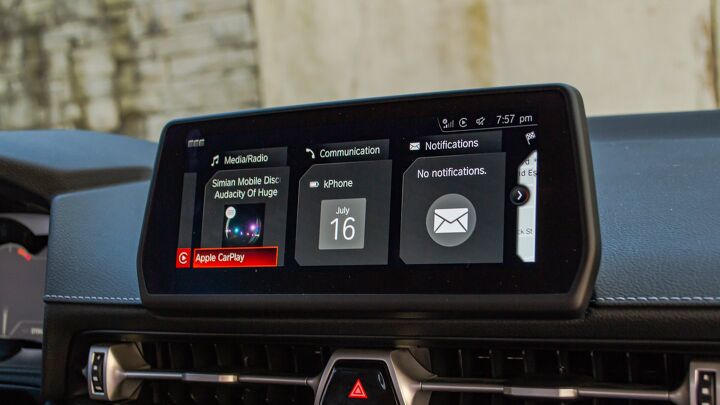 A strict two-seater, the Supra does allow for easy access to the trunk. The liftback makes for reasonable amounts of space, too: no need to pack lightly for that weekend away.
The 8.8-inch screen runs an older, slightly reskinned version of BMW's iDrive operating system. It does what is needed, and offers up wireless Apple CarPlay without issue. There's a wireless charger to go along with that, but my phone doesn't fit. I like the asymmetric digital instrument cluster and the easy-to-read gauges that flank it; I just wish the right side was used for more content, more often.
Dollars and sense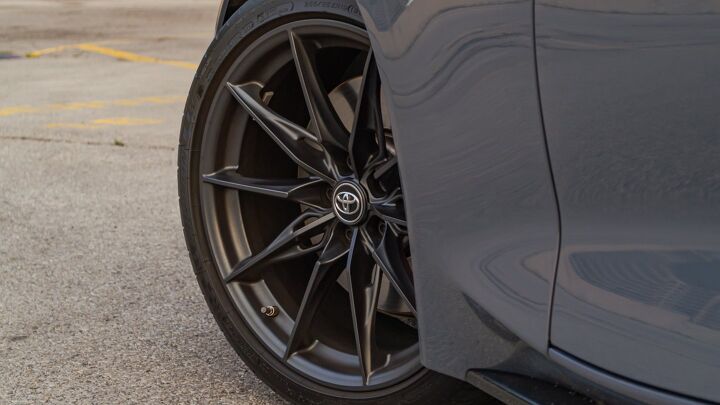 If you want the manual in your 2023 GR Supra, you've got to go with the six-cylinder engine, which has a starting price of $54,695 ($70,860 CAD) including destination. Sorry, four-cylinder fans, but not sorry: Toyota will sell you a three-pedal GR86 for far less than the four-pot Supra, and it's a better overall package.
The A91-MT is easily identifiable with its red exterior "Supra" badging. The colour transfers to the strut tower brace, too. It's the only way to get that nice brown leather interior as well. Some slight packaging differences exist between Canada and the US, but as-tested, you're looking at $61,735 ($72,490 CAD).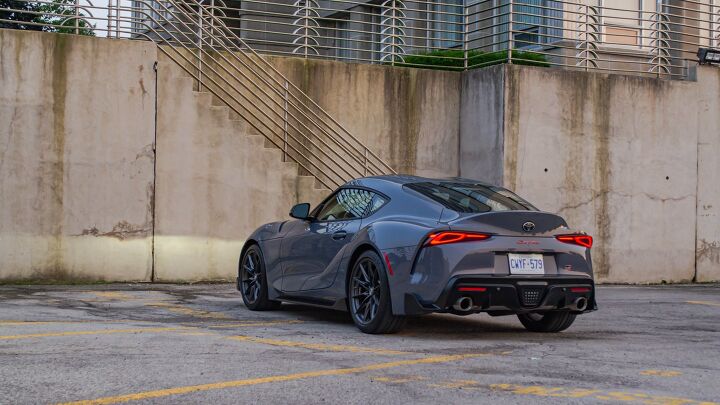 You can look at this one of two ways. That's substantially more than any Nissan Z, though that particular reborn Japanese sports car has an even more basic interior, and lacks the driving delight found here.
On the other hand, the Supra undercuts the $64,195 BMW asks for a bog-standard M2. (Only in the US; it's $78,980 CAD in Canada.) You get a similar powertrain, but with an extra 71 horsepower. You'll also get back seat, better tech, and about 500 extra pounds to lug around. Strangely, the 382-horsepower Z4 M40i is even more money.
Verdict: 2023 Toyota Supra GR Manual Review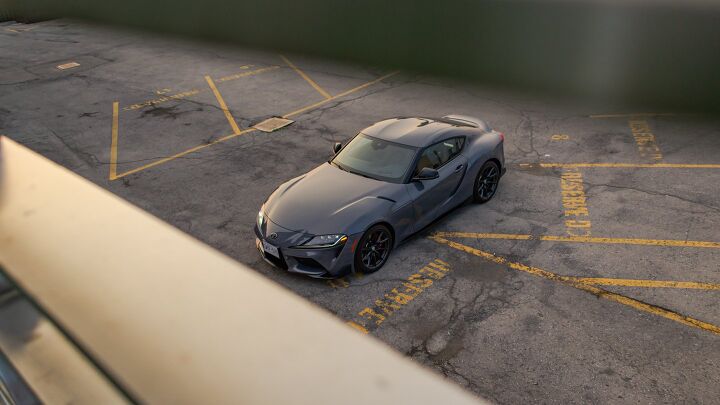 Don't get it twisted: as good as the 2023 Toyota GR Supra manual is to drive, it's not a perfect car. The cabin remains cramped, the buffeting problem still exists, and a tech suite that felt only okay in 2020 is now dated.
But after a few years, the fifth-gen Supra has grown into an excellent sports car. Toyota's focus on light weight and regular updates has evolved this two-seater into one of the most exciting new cars you can drive for under six figures. It's stylish, quick, and nimble, and the manual transmission unlocks an added level of interaction. And that never goes out of style.
Become an AutoGuide insider. Get the latest from the automotive world first by subscribing to our newsletter here.
| 2023 Toyota GR Supra A91-MT Edition | |
| --- | --- |
| Engine: | 3.0L I6 Turbo |
| Output: | 382 hp, 369 lb-ft |
| Transmission: | 6MT, RWD |
| US Fuel Economy (mpg): | 19/27/21 |
| CAN Fuel Economy (L/100 km): | 12.7/8.8/10.9 |
| Starting Price (USD): | $54,695 (inc. dest.) |
| As-Tested Price (USD): | $61,735 (inc. dest.) |
| Starting Price (CAD): | $70,860 (inc. dest.) |
| As-Tested Price (CAD): | $72,490 (inc. dest.) |
Published September 8th, 2023 5:00 PM
Popular Articles
Latest Comparisons
Car Buying Tools