1 View
The Best Portable Generators for Tailgating to Power Your Next Get-Together
April 6th, 2022 7:59 PM
Share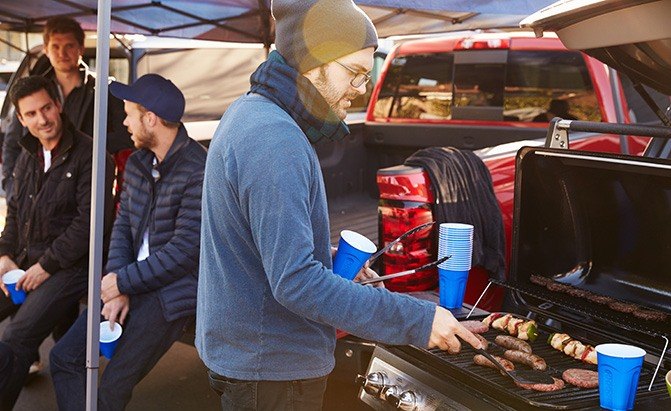 Portable generators, like those often used when tailgating, can easily improve any vacation experience. If you've ever been camping in the great outdoors, you're probably already aware of just how convenient having a portable generator on-hand can be. Want to charge your cell phone in the middle of the woods? Use a portable generator. Looking to take advantage of all that natural wood in your electric smoker? A portable generator can power that smoker for hours on end.
The question is, which portable generator is best for your tailgating needs? The simple answer is, not all generators are made the same. For example, one generator might be perfect for a national park where power outlets are available for use. However, if you're camping at a state beach where no power outlets exist, you'll need a battery-powered generator. In this segment, we'll dive into our list of the best portable generators that can help you get started tailgating, no matter what season.
For more information on the best portable generators for tailgating, refer to our table of contents.
Editor's Pick: Jackery Portable Power Station Explorer 240
Make no mistake, this portable generator is number one on our list for a reason. It's the "Jackery" of all trades, so to speak. For starters, this portable generator comes in at an incredibly affordable price compared to the competition. The company boasts its portable generator is quiet, eco-friendly, and clean-energy efficient thanks to an optional 60W/100W solar panel (not included) that aids in fast, efficient charging capabilities.
Beyond that, this portable generator is completely battery-powered, no fuel or gasoline necessary here. Rated at a 200-watt output, this portable generator allows up to four devices to be powered at once.
Devices range from electronics such as cell phones, laptops, drones, external lights, and even small heaters. Lastly, this generator offers four convenient ways of recharging the internal 240Wh lithium battery. The aforementioned optional solar panel, a wall outlet, a car outlet, and a generator outlet. It's important to note that all charging options (save for the solar option) have a 42-watt input wattage max.
| | |
| --- | --- |
| Pros | Lightweight (only 6.6lbs), ergonomic design, and exceptionally priced, plenty of outlet options for charging such as USB ports, AC wall outlet, and car outlet |
| Cons | Not as powerful as other portable generator offerings, solar panel sold separately |
2. WEN 56200i 2000W Gas-Powered Portable Inverter Generator
For just a little more scratch, you can step up to this 2000-watt, gas-powered portable generator with an inverter. This powerhouse portable generator certainly packs a bigger punch than our number-one pick, but at a much higher cost, heavier weight, and more maintenance. This generator is powered by a four-stroke, single-cylinder 79.7-cc OHC motor which is EPA III certified and CARB compliant, meaning Californians can also purchase this generator.
To get a full 9.4 hours of power out of this generator at quarter-load, you'll need to a keep a minimum of one gallon of fuel on hand. Fortunately, this unit has an eco-mode which allows the motor to automatically adjust its fuel consumption. In turn, this saves you money on fuel by preventing unnecessary gasoline usage. One aspect we like about this portable generator is its use of indication lights. There are three lights on the face of the unit. Each separate one accounts for oil, overload, and output consumption when the unit is in use.
| | |
| --- | --- |
| Pros | More power means more devices running for longer |
| Cons | More expensive and no internal battery |
3. Pulsar 2300W Portable Gas-Powered Inverter Generator
This portable generator from Pulsar offers 2,300 peak watts. It also offers an impressive 4.8 hours of operation at half-load, but at a cost of 1.18 gallons of fuel. The Pulsar unit is a bit lighter than the competition, tipping the scales at 47 pounds.
This portable generator features a four-stroke, single-cylinder 80-cc OHV motor and falls into Pulsar's line of "silent series" generators. It produces less than 59 decibels of noise at 10-feet away, making it one of the more favorable portable generators on our list. The Pulsar unit also offers a handful of outlet options, including two 120-volt wall outlets, a 12-volt DC outlet, and a USB outlet for charging virtually every type of personal electronic you can think of.
| | |
| --- | --- |
| Pros | Sleek design, affordable price, and plenty of power |
| Cons | Gas-powered portable generators can produce unwanted gasoline smell during operation |
4. A-iPower SUA2000iV 2000W Portable Inverter Generator
If you're shopping on a budget, consider this 2000-watt recommendation from A-iPower. This generator makes use of a four-stroke, single-cylinder 79-cc OHV motor. It produces 2,000 starting watts and operates at an impressive 1,600 watts of "clean and safe power." Like many other units on our list, the A-iPower portable generator is tailgating friendly and will safely power sensitive electronics like phones, laptops, and more.
Operation noise levels hover around 58 decibels, making them on par with the competition. However, one aspect we like most about this portable generator is its "low idle" technology for an extended run time, making it even quieter. For tailgaters who are looking to power even more demanding electronics, such as larger TVs, a mini fridge, or even a WiFi hotspot, you might consider this generator.
| | |
| --- | --- |
| Pros | Competitive price and lots of outlet ports available |
| Cons | Not as sleek in design as some of the other options |
5. PowerSmart PS5020 Super Quiet 2000W Portable Inverter Generator
PowerSmart offers a very competitive portable generator to the ones we've listed above. This generator employs some of our favorite proficiencies yet. For starters, the PowerSmart generator has one of the lowest harmonic-distortion ratings among our list, less than 1.2 percent. Moreover, this generator is one of the lightest as well, coming in at just under 43 pounds.
With the PowerSmart unit, you still get your run-of-the-mill indicator lights and sensitive electronic charging capabilities. However, this generator has been designed with longevity in mind. An eco-mode switch maximizes fuel economy and run time, and the standard four-stroke, single-cylinder 79-cc OHV motor has been designed for "ultra-silence" operational noise in mind. Coupled with everything mentioned above, expect this generator to last at least seven hours at half-load run time. Now that's efficient.
| | |
| --- | --- |
| Pros | Middle-of-the-pack pricing, low harmonic-distortion rating, lightweight |
| Cons | Could be a little more powerful for the price |
What types of generators are available?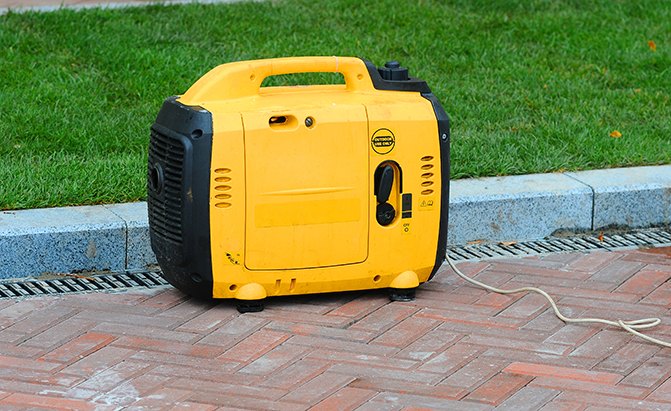 Photo credit: Spok83 / Shutterstock.com
In the world of generators, there are several styles available today. Many of them are powered by a select type of fuel, such as gasoline, diesel, natural gas, hydrogen, solar, and more. Common types of generators most consumers buy are either powered by gas, diesel, or battery. This is mainly because gas and diesel are readily available virtually everywhere in the world, and battery-powered generators can be recharged in almost every home. The latter of the generator types mentioned are typically used in commercial applications, such as welding or powering large construction tools.
What to look for in a generator for tailgating:
Before purchasing a portable generator for your tailgating needs, it's important to identify what you'll want to power using your new generator. Most electronics will differ in wattage needs, so you'll want a portable generator that can power all your devices, without stressing the generator itself. If safety is a top priority for your tailgating needs, you might want to consider a generator with built-in safety measures, such as a kill switch or a fuel cut-off.
As mentioned above, decide if you want a fuel-powered or a battery-powered generator as well. Depending on how many devices you need to power, it may be more favorable to invest in a battery-powered portable generator, as this will save you money both in overall price and maintenance costs. If your power demands are higher and you don't mind a more expensive price and maintenance costs, consider a gasoline- or diesel-powered portable generator for more power.
What are some environments portable generators are used in?
In most camping environments, you can typically expect varying weather conditions, depending on what time of year you go and the location. Tailgaters and campers alike should always be aware of their surroundings, so plan for wet- and dry-conditions when using your portable generator on your next trip.
What other uses do generators have outside of tailgating and camping?
If you've ever found yourself in a situation where your home has no power, it's certainly not fun. Standby or backup generators, another type of generator, are mainly used as emergency power units in the event of a power outage at home. However, not every home is equipped with one of these generators.
This is where a portable generator can also come in handy. In this situation, gasoline- or diesel-powered generators can partially power some electronics in your home, as they'll provide much more wattage for longer when compared to battery-powered portable generators.
---
We are committed to finding, researching, and recommending the best products. We earn commissions from purchases you make using the retail links in our product reviews. Learn more about how this works.
Photo credit: Monkey Business Images / Shutterstock.com
Published December 10th, 2020 8:01 AM
Popular Articles
Latest Comparisons
Car Buying Tools