2.8K Views
The Best Portable Tire Inflators to Pump Up Your Flats
May 29th, 2023 2:32 PM
Share
Keeping your tires properly inflated can actually save you money.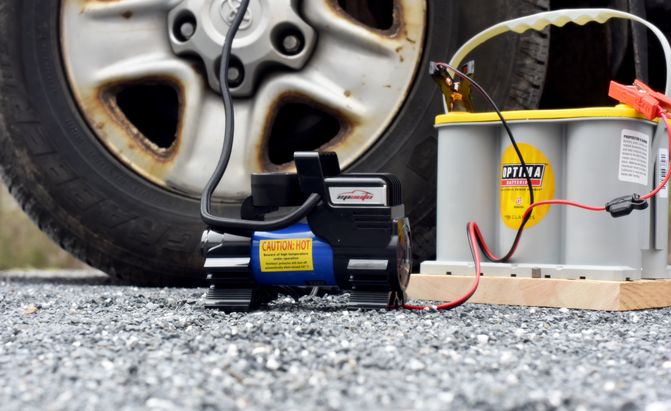 All new vehicles come equipped with pressure monitoring systems (TPMS), and many have run-flat tires, so you might not think having one of the best portable tire inflators is a necessity. But that's not the case, because all tires lose air over time, even if you don't have a puncture. And knowing a tire is low doesn't mean you can ignore it. Owning your own tire inflator means you can conveniently and routinely check your tire pressure, making sure they're in an optimal range, and easily refill them when the light gives you a warning. Underinflated or overinflated tires have many adverse effects on your driving experience, hurting your fuel economy, tire wear, and even safety. Purchasing a tire inflator is a small investment in helping make sure your tires last as long as possible, saving you money in the long run.
There are many small differences between the portable tire inflators and air compressors available. Some are manufactured better than others, which makes them more reliable and likely to last a longer time. If time is important to you, you'll want to see which products inflate a tire quicker, while others have a maximum pressure limit. Lastly, you'll want to pay attention to whether the product uses a 12-volt car outlet, clips onto a car battery, or a uses a household power outlet. It's more convenient to purchase a 12-volt air compressor, this way you can keep it in your car and use it on the go. But keep in mind some of today's vehicles are equipped with a standard power outlet, so we also include a few recommendations for those.
If you're looking for a shop air compressor to use with air tools, see our guide to air compressors.
How We Selected Tire Inflators
We started with a list based on our metric that weights reviews, then narrowed that down based on product features and price-to-value ratio. We then purchased several of the most popular brands and tested them in real-life situations. To ensure there weren't any variations in power, either from bad 12V connections or a battery running down, we tested 12-volt models with a freshly-charged Optima Yellow Top battery with a NOCO 12V adaptor. Two of the compressors we tested weren't good enough to make it into our list, so we'll be doing another round in the future.
For our picks and more on proper tire inflation, see the Table of Contents.
1. Editor's Pick: EPAuto 12V DC Portable Air Compressor Pump
One of the highest-rated portable inflators on Amazon is the EPAuto 12-volt DC portable air compressor pump. Rated at 120 watts with an inflation speed of 1.06 cubic feet per minute (CFM), this pump has a maximum working pressure of 100 PSI. There's a digital gauge that reads in four display units: PSI, KPA, BAR, and kg/cm. Like similarly priced products, EPAuto's inflator has an auto shutoff feature once it reaches the desired air pressure. The product also has an overheat protection for the compressor when it overloads. Designed to inflate tires on cars, bikes, sedans, and midsize SUVs, EPAuto says this compressor does not support LT, HT, and truck tires, but we used it on a Toyota Tundra with no issues. It does comes with adapters so it can be used on other inflatables.
We found the EPAuto inflator loud and harder to use than the #2 Harbor Freight Pittsburgh brand. In fact, we prefer the Pittsburgh, and it fell to second place only because of its limited availability. The EPAuto has an inconveniently short cord that stows neatly onboard, and a backlit display that's easily readable, but has a very limited viewing angle and washes out in sunlight. A very bright built-in flashlight turns on whenever the inflator gets power and can't be turned off. The whole package is better thought-out than the Pittsburgh, but it's a slower inflator.
The EPAuto portable air compressor pump weighs 3.81 pounds, and measures a compact 9.6 x 7.8 x 5.4 inches.
| | |
| --- | --- |
| Pros | Bright LED flashlight, good hose storage, on-off switch, auto shutoff |
| Cons | No warranty, can't turn off flashlight, display washes out, screw on connector, short hose, |
2. Fanttik X8 Tire Inflator
Willing to sacrifice speed for convenience? Then the X8 is the tire inflator for you. This tire inflator is just 5.5 by 3.34 x 1.7 inches. That makes it small enough to fit into a pocket, a glove box, or a bicycle seat bag. So you can bring it in your car, on your motorcycle, or even when you're planning on pedaling. The X8 has two 2600 mAh rechargeable batteries that let it boost your tires to 150 psi. Users report it can fill car tires just fine, but it can take a few minutes to do it. Again, patience for convenience.
The battery has enough charge to fill four motorcycle tires or seven road bike tire. That's not going to give you more than a top-up of your car or truck's tire, but sometimes that's all you need to make it to a repair shop or a safer place. Plus USB-C charging means you can top up the inflator's battery quickly using your car's dash power plugs. The X8 charger has five preset modes that include auto-stop so you don't need to monitor it for the entire fill. It also has an LED lamp to help you see what you're doing at night.
| | |
| --- | --- |
| Pros | Tiny size, rechargable, auto-stop filling |
| Cons | Takes longer to inflate vehicle tires, will need multiple charges for multiple large tires |
3. Nulksen Portable Tire Inflator
Measuring only 1.9 x 1.9 x 9.75 inches, this portable tire inflator will easily fit in glove compartments and other storage cubbies that larger, awkwardly-shaped compressors will not. Its onboard battery charges from household current or your car's power port via a USB cord. According to the manufacturer, it provides thirty minutes of continuous operation— sufficient performance to completely reinflate a flat passenger-car tire or top up several that are down a few pounds.
Users can select imperial or metric units for information displayed on the inflator's screen, and a smart shutoff feature stops it at a user-selected pressure. There's an onboard compartment for inflation tools and an integral LED flashlight, something that's almost obligatory on rechargeable tools of all sorts today.
While the Nulksen offers a maximum pressure of 150 PSI, it's important to understand that it won't deliver enough airflow at maximum pressure for heavy-duty jobs; it is not for filling large truck tires or other high-pressure, high-airflow applications. However, it should work just fine on passenger car tires, bicycle tires, and so on.
This tire inflator is actually sold under several different brand names. Each one has a different external appearance, but internal, functional components remain the same. As prices and discounts can fluctuate wildly, we suggest purchasing whichever happens to be the least expensive whenever you decide to buy one.
Curiously, warranties are not consistent across the different brands. Nulksen and TGBOX both offer one-year warranties, while Sparnaci doesn't give much information about their warranty at all.
| | |
| --- | --- |
| Pros | Compact size, rechargeable, not too pricey |
| Cons | Not for heavy-duty applications such as inflating large truck tire |
4. Best for use With a Compressor: Astro Ai Inflator
This is the inflator we keep hanging on the wall at the AutoGuide Garage. If you have an even a small air compressor (we have a little six-gallon pancake compressor for light-duty jobs), a pneumatic inflator that clips into an air line makes inflating tires take seconds, rather than minutes.
The AstroAI inflator is very inexpensive, but very high quality with an all-metal body incorporating a bleed valve, and brass fittings. There's a quick-release chuck which is a little finicky to use, but much faster than a screw-on connector. There are very stiff swivels at both ends of the inflator hose, which will probably loosen up with time. Ours came with a 1/4-inch NPT male quick-connect fitting, valve core tool, teflon tape, and extra valve stem caps.
The digital gauge takes a pair of AAA batteries, has a bright backlight you can turn on and off, and displays various units of pressure measurement. This model will inflate tires from 3.0 PSI up to 250 PSI, making it suitable for motorcycle, truck and commercial tires; or the chuck screws off to accept a Presta adaptor.
5. Best for Heavy Duty Use: GSPSCN Tire Inflator
Featuring a double cylinder design and maximum pressure of 150 PSI, this is our recommendation for heavy duty use. Air flow peaks at 70L/min on the GSPSCN, which allows you to inflate a standard vehicle tire in from zero to 40 PSI in about 1.5 minutes. One feature we like with this inflator is that it's equipped with rubber feet at the bottom, so the pump stays in place while operating. Many of the inflators we've used in the past vibrate quite a bit while in use, sometimes to the extent that they start walking themselves away.
It's equipped with an 11.5-feet air hose and the 12V power port/cigarette lighter power cord is the same length, giving you a total of 23 feet of reach to reach tires easily from front to back. Unlike some of our other recommendations, this inflator doesn't have a digital display and while that may be more difficult to figure out the pressure, there's not much to fail, and it's easier to see in bright sunlight. The built-in handle makes it convenient to carry the tire inflator, and it can be flipped so it doesn't get in the way when it's not in use.
Included with the inflator are battery clamps, in case you don't have easy access to a cigarette lighter receptacle; three adapters to inflate household objects;, and a bag for easy storage. Many users report inflating 35-inch off-road tires with ease.
| | |
| --- | --- |
| Pros | Powerful and fast pump, long reach, includes battery clamps, built-in handle |
| Cons | Some may prefer digital gauge, no auto shutoff feature |
6. Best Cordless: Milwaukee M12 Cordless Compressor
Milwaukee is well known for cordless power tools; they're probably one of the first brands that comes to mind for battery-operated drills and so on, but their portable air compressors are very highly rated too.
Milwaukee says their M12 portable, cordless air compressor can inflate a normal car tire to 28-35 PSI in under one minute; a truck tire can be inflated to 30-45 PSI in less than four. This is down to the compressor's 88 CFM, 120 PSI capability. An automatic-shutoff system Milwaukee calls Truefill senses the rate of inflation and stops inflating at the desired pressure; an illuminated LCD pressure gauge displays both current and target pressures. The unit is equipped with a 26-inch hose and anti-vibration feet. It weighs in at an easy-to-handle 3.47 pounds and measures 7.5 x 6.5 x 6.5 inches.
While very capable, the Milwaukee M12 portable compressor is more expensive than some of the competition. But, if you don't mind spending a little more, the Milwaukee M12 compressor is an excellent option. This version comes with a battery, but if you already have M12 tools you can skip the extra pack and charger and save some cash.
| | |
| --- | --- |
| Pros | 120 PSI capability, lightweight, cordless |
| Cons | Not the cheapest compressor on the market |
7. VIAIR 85P Portable Air Compressor
If you follow the automotive aftermarket, you may have heard of VIAIR for its air suspension systems. The company also offers a portable air compressor, that weighs 4.3 lbs while measuring 9.1 inches by 3.1 inches by 5.6 inches. It is capable of filling a 225/60/R18 tire from zero-to-30 PSI in under three minutes with a maximum working pressure of 60 PSI. It has a duty cycle of 20 minutes, meaning it needs to cooldown after 20 minutes of use.
The compressor features an LED work light, a 100-PSI pressure gauge, solid brass twist-on tire chuck and includes an accessory power plug, three-piece inflation tips kit, and a deluxe carry bag. The 85P compressor is capable of inflating tires up to 31 inches in diameter. Its power cord measures 10 feet long, while its air hose is three feet long.
It's the most powerful compressor VIAIR offers that uses a car's 12-volt outlet. If you want something more powerful from VIAIR, it will have to connect to the car's battery for power.
| | |
| --- | --- |
| Pros | LED light, capable of inflating tires up to 31-inch diameter, highly rated on Amazon |
| Cons | No digital gauge, no auto shutoff |
Why is Tire Pressure Important?
Having properly inflated tires not only makes driving safer, but it can have an impact on your wallet. Underinflated tires have an adverse effect on both fuel economy and premature wear, potentially costing you hundreds of dollars if you don't check it periodically. Even if your car is equipped with a tire pressure monitoring system (TPMS), you don't want to wait until the light illuminates to check your tire's pressure. That's because most TPMS only warn you when the pressure is 25 percent below the manufacturer's recommendation, and by then, you're already sacrificing your fuel economy.
You don't necessarily need to have a puncture or a leak for your tire to lose pressure. It is estimated that for every 3 PSI below the recommendation, your vehicle is using one percent more fuel and adding 10 percent more tire wear. Doesn't that mean you can just overinflate your tires and not have to worry about any pressure loss? Not quite, as overinflated tires make for a rougher ride and are more easily damaged by potholes since they're stiffer.
You'll want to get in the habit of routinely checking your tire pressure once a month or so, to make sure they're as close to spec as possible. This will ensure your tires last as long as possible while maintaining estimated fuel economy figures.
What to Look for in a Tire Inflator
We've used a lot of tire inflators a lot of times, and with experience have figured out some of the most important features that make the best tire inflators.
Hose and cord length
You want as much as you can get of both. Your vehicle might have a lot of power ports, but if you're stuck on the side of the road you don't want to have to open a door into traffic, or unpack a load to get at one. For that reason we'd tend to look for models with a coiled hose, although you do have to take care not to tangle it.
Tire inflator size and capacity
If you read the instructions on a tire inflator, most of them will tell you to let the unit cool down for 10 minutes or more between tires. That's fine if you just have one low tire, but if you have more than one, or are filling SUV or truck tires, you want more capacity. In this case, bigger is better, even if that's less convenient.
Built in light and features
We love having a built in flashlight and emergency signal, but we've used tire inflators that power their lights only through the 12-volt cord. With no built in-battery, it can be very inconvenient to use. You also want a big, easy to read gauge and preferably an auto shutoff when you reach a desired pressure.
How do I know the recommended PSI for my tires?
Almost all vehicles have a sticker located on the driver's side doorjamb with the recommended tire pressure. Pay close attention to the values listed on the sticker, as some vehicles have different recommended pressures for the front and rear tires. If you aren't able to locate the sticker inside your driver's side doorjamb, the car's manual will also have the recommended tire pressure values.
How to Check your Tire Pressure
First, you need a good tire pressure gauge. Our testing found that dial gauges tend to me more convenient and easier to read, but digital gauges are often cheaper and more accurate.
Find your recommended tire pressure in the driver's side doorjamb or in your manual, making sure you note whether the front and rear tires have different values. There's some debate about whether to follow the number on your tires or your vehicle.
You will want to check your tire pressure when your tires are cold, or haven't been driven for at least 30 minutes. Tires heat up as you drive and the pressure can increase, giving you an inaccurate reading. The recommended tire pressures listed on the sticker in the doorjamb or in the manual are for cold tires.
Remove the valve stem caps from your tires and put them in your pocket or somewhere safe, where you won't lose them.
Press the tire pressure gauge onto the valve stem and a reading should appear on your tire pressure gauge. If you're using a standard gauge, it doesn't hurt to do the check two or even three times to make sure you have an accurate reading.
If any of your tires have pressures lower than their recommended values, you will want to inflate them to ensure you're getting the best fuel economy possible, while making sure your tires don't experience premature wear.
Reinstall your valve stem caps before you forget!
How to Properly Inflate your Tires
It's recommended that you purchase your own portable tire inflator or air compressor so you can refill your tires at home. There's a wide range of portable inflators and air compressors available, some that use your car's built-in 12-volt cigarette lighter, or a standard power outlet. More powerful compressors that fill up tires quicker will need to hook up to your car's battery. Most 12-volt inflators won't do the job quickly, but they're more convenient and you won't have to pay to use an air compressor at a gas station.
If you don't want to purchase a portable inflator, most gas stations will have an air compressor. Some stations charge and some don't. Once you've determined which method you'll be using to refill your tires, follow these steps:
Pull in as close to the compressor as possible, if you're using one at a gas station. This way you can easily access all four tires without having to move your vehicle.
Remove the valve stem caps from all four wheels and put them in your pocket or somewhere you won't lose them.
Turn on the compressor and push the hose fitting down on the valve stem. You should be able to tell if the tire is being inflated.
Most air compressors will have a built-in gauge so you can check your tire pressure while you are refilling. Digital air compressors, some of which are available at gas stations, allow you to set your desired tire pressure and the compressor will automatically shut off once it reaches that value.
It's better to overinflate your tires when using a compressor, since it's easy to let air back out of your tires afterwards.
Adjust all four tires the same way. If you are refilling after your tires are warmed up, you will want to inflate about 3 PSI over the recommended value. Make sure to check your tire pressure once your tires are cold.
Once you're done refilling all four tires, do a final check on the pressure with your digital gauge. You will want to do this when the tires are cold.
Reinstall your valve stem caps.
Additional Resources
Recent Updates
May 26, 2023: Removed Pittsburgh Inflator, added Fanattik X8
January 3, 2023: Removed promoted product recommendation.
December 7, 2022: Added Nulksen (et al.) to No. 2; moved Pittsburgh to No. 4.
August 30, 2022: Added AstroAi inflator to recommendations. Removed Slime, AAA, H. Helteko, and Fortem inflators.
August 23, 2022: Removed Kensun AC/DC Digital Tire Inflator dye to poor reviews.
July 15, 2022: Added Milwaukee M12 cordless compressor to #6 position; removed Ryobi p737 compressor from #6 position.
June 7, 2022: Added hands-on reviews of EPAuto and Pittsburgh inflators. Moved Pittsburgh inflator from #6 to #2 position.
---
We are committed to finding, researching, and recommending the best products. We earn commissions from purchases you make using the retail links in our product reviews. Learn more about how this works.
AutoGuide may accept review samples for testing and evaluation. Suppliers of review products do not have any input into our conclusions and are not allowed to review our content before publication.
Published February 24th, 2022 1:02 PM
Popular Articles
Latest Comparisons
Car Buying Tools