355 Views
Best Toyota Highlander Accessories
May 2nd, 2023 2:13 PM
Share
Take a peek at this list any time you start wondering what Toyota Highlander accessories you should splurge on next.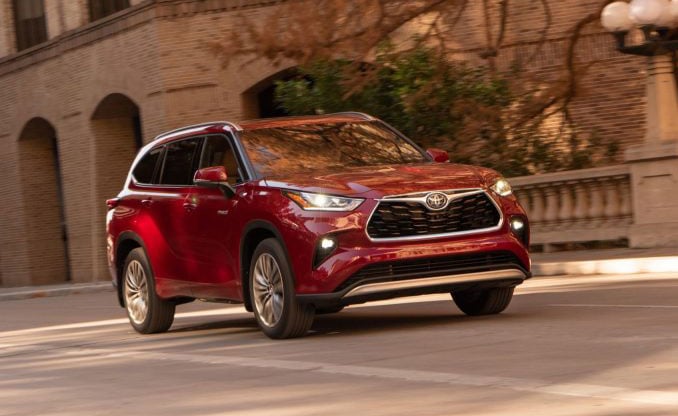 If you really want to get the most out of your crossover, you're going to want these ten must-have Toyota Highlander accessories.
The Toyota Highlander practically birthed the midsize crossover segment in North America, quickly going on to become Toyota's hottest-selling utility vehicle after its introduction, until it was surpassed by the RAV4. It's only gotten better in the years since it was first hatched, growing roomier, more comfortable, and more high-tech on its way to becoming the segment-leading fourth-generation model that exists today.
Here, we've rounded up the best Toyota Highlander accessories around for transforming your ride into the ultimate commuter, family vehicle, and adventure-mobile. Take a peek at this list any time you start wondering what Toyota Highlander accessories you should splurge on next.
1. CURT Class-3 Trailer Hitch Receiver
It may be a crossover, but the Toyota Highlander can still tow – quite well, actually. The 2022 Toyota Highlander has an official tow rating of up to 5,000 pounds. In order to use it, you'll need a hitch receiver like this one from CURT. One of the best-known brands in aftermarket towing equipment, CURT has built this Class-3 hitch receiver to be as close to bullet-proof as they could make it, with heavy-duty steel construction and a 6,000-pound gross trailer weight rating. It also features CURT's industry-leading two-coat rust-proofing protection, with a liquid A-coat underneath a tough black powdercoat made to last for years. With a standard 2" by 2" square receiver, you can pull all sorts of things, from trailers to cargo baskets to bike racks, and a model-specific design means that installation is a breeze, with perfect fitment and usually no cutting or drilling required. Be sure when ordering to select the right one for your particular Toyota Highlander model, as different designs suit different model year ranges.
Promoted Product: Gold Shield 5L Toyota Highlander SUV Covers at CarCover.com
The Highlander is Toyota's immensely popular mid-sized, three-row SUV. These vehicles are comfortable for the whole family and retain value for years of ownership, making them a great buy. You can protect your Highlander with a Gold Shield 5L Toyota Highlander Car Cover from CarCover.com. The Gold Shield is a five-layer car cover, cut to specifically fit the shape of the Highlander, with strap and buckle cinches at each end and an elastic band for a snug fit. These covers are 100% waterproof and are weather and UV-resistant. The cover comes with a limited lifetime warranty and is made from three layers of polypropylene, a single layer of microporous film, and an additional layer of soft fleece lining. The cover comes with a case, too, making it easily portable, so when you hit the road for a family trip, you can protect the Highlander from whatever Mother Nature throws your way.
2. Coverado Waterproof Faux Leather Seat Covers
Here's the cold, hard truth: your Highlander's seats are going to face plenty of wear and tear over their lifespan. Repeated entries and exits wear at the upholstery on the seat bolsters, and spilled soda has a way of soaking right into the fabric or staining the leather. The solution? These waterproof faux leather seat covers from Coverado. Available in a range of colors, with two front seat covers and a bench cover for the rear, these Toyota Highlander seat covers are made from a durable leatherette material that's tear-resistant and stain-resistant, and protects your seats from other hazards like UV rays and fine solid particles. But most importantly, unlike so many other "universal" seat covers on the market, these covers go on snug, installing simply with flexible straps, plastic chucks, and hooks that hold the covers taut for a factory-like appearance. You might just forget your seats are wearing covers at all. For the Highlander, the manufacturer recommends their "Large"-size seat covers.
3. WeatherTech Custom Fit Cargo Liner
We all know how to protect the carpeting inside the cabin, but what about in the cargo area, where a leaking cooler, slush-covered skis or snowboards, or muddy boots can make a mess while we're not looking? That's where the WeatherTech Custom Fit Cargo Liner comes in. Made from a high-density tri-extruded thermoplastic that's as strong and durable as it is waterproof and grippy, this Toyota Highlander cargo liner is custom-formed for the Highlander, following every contour and featuring a high-lip design meant to catch and contain spills away from your factory carpeting. Plus, the grippy material keeps a strong hold on your groceries and other cargo, preventing it from slipping and sliding around while you drive. All of that makes the WeatherTech Custom Fit Cargo Liner easily one of the handiest Toyota Highlander accessories around.
4. DeWalt DXAEPI140 Power Inverter
Does your Highlander serve as your number one road trip vehicle? If so, you'll want one of these: the DeWalt DXAEPI140 Power Inverter. This unit plugs into the standard 12V DC port in your Highlander and supplies you with up to 1.16 Amps of 120V AC power, effectively giving you a single on-the-go wall outlet for recharging laptops, powering small projectors and DVD players, replenishing power tool batteries, etc. It also has a pair of 3.1-Amp USB ports onboard for quickly recharging phones and tablets, all housed within a tough, durable, practically bulletproof case. DeWalt is already one of the best-known names in power tools and hand tools, so you know you can trust the quality of the DXAEPI140 Power Inverter, and it might just be one of the best road-tripping Toyota Highlander accessories you can get.
5. OxGord Windshield Snow Cover
This OxGord Windshield Snow Cover is the antidote to one of the worst, most irritating pain points that winter brings: having to clear your windshield of snow and ice on a frigid morning. It's remarkably simple, slipping over your Highlander's windshield when parked, while a pair of tabs tuck neatly into the front doors to secure it in place, but it makes all the difference. Instead of having to spend valuable time scraping and brushing at your windshield on a winter day, you can just pull the cover, shake it off, and be on your way. It's made from durable 600-denier polyester fabric, which is constructed to last season after season without tearing or puncturing, and naturally, it folds up small and stows easily, making it even more convenient to carry than your snow brush/scraper. What more can we say? There's no reason not to have the OxGord Windshield Snow Cover on your personal Toyota Highlander accessories list.
6. Miracase 4-in-1 Cell Phone Holder Mount
If you're like most drivers, you probably use your smartphone for far more than just making calls and sending texts; you likely also rely on it for navigation and media playback. But pulling a hand off the wheel and casting your gaze downward to mess with your phone is risky business. What you need is the Miracase 4-in-1 Cell Phone Holder Mount. This Toyota Highlander phone mount has got to be one of the most flexible and versatile units on the market, with a suction cup for attaching to the windshield, a 3M adhesive pad for securing to other flat surfaces, and even a vent clip for attaching directly to an HVAC vent for the most secure hold. It's super tough, with a 44-pound load rating, and it lets you position your phone precisely where you need it with tilt, rotate, and telescoping adjustments. Benefitting from constant revision and the feedback of over 100,000 customers around the world, the Miracase 4-in-1 Cell Phone Holder Mount is one of the most well thought-out Toyota Highlander accessories out there.
7. AUTODECO 118-Piece Car Roadside Emergency Kit
Whether you're heading out on an extended road trip or just commuting to and from the office every day, emergencies can strike at any time. Be prepared with the AUTODECO 118-Piece Car Roadside Emergency Kit. This kit is an incredible value, delivering everything from basic first-aid supplies for dressing minor wounds to a folding shovel and tow rope for getting unstuck when the terrain betrays you, plus gloves, a reflective safety vest, jumper cables, spare fuses, and even an air compressor and tire patch kit for tackling the odd flat tire when you have no other recourse. All 118 pieces come with a convenient carrying bag to keep them contained so they don't disperse themselves amongst your other cargo, all for an incredible price that makes the AUTODECO 118-Piece Car Roadside Emergency Kit one of the most affordable Toyota Highlander accessories on this list.
8. NOCO Boost Plus GB40 UltraSafe Lithium Jump Starter Box
We'd all like to think it can't happen to us, but it can: a flat battery. But a flat battery doesn't have to mean the end of the road in your Toyota Highlander when you have this: the NOCO Boost Plus GB40 UltraSafe Lithium Jump Starter Box. Using lithium-ion battery technology, this jump starter manages to be ridiculously compact, lightweight, and portable, weighing in at just 2.4 pounds and measuring less than 8 inches in length, which makes it easily stowable when not in use. A built-in 100-lumen LED flashlight helps you see what you're doing at all times, with a flashing SOS mode to signal for help when you need. But the biggest asset of all is the performance, with up to 1,000 Amps at your disposal and enough juice to perform as many as 20 jump starts before needing a recharge. All of this comes at a price so reasonable you'll be wondering why it wasn't on your list of Toyota Highlander accessories sooner.
9. Leader Accessories Roof Rack Cargo Basket
The Toyota Highlander comes with plenty of cargo space already, but if you need just that little bit more, consider using some of that unutilized space on your roof with the Leader Accessories Roof Rack Cargo Basket. When you've run out of room inside the cabin, packing items on top of it is a great way to expand your cargo space, and this basket is a fantastic way to do it with its durable thick-gauge steel tubing, scratch- and rust-resistant black powdercoat finish, and wind noise-reducing steel faring. The basket has a total load capacity of 150 pounds, with a steel mesh perfect for securing items with bungie cords or straps, and enough space to pack all sorts of things from tents to bags to water jugs. There aren't too many options out there for Toyota Highlander accessories that can expand your cargo capacity instantaneously, but this is one of them – and easily the best.
10. TAC Toyota Highlander Running Boards
Even with a crossover, climbing into and out of the cabin day in and day out can get to be a real chore. Make it easier with these TAC Toyota Highlander Running Boards. Made from extruded, aircraft-grade aluminum with an attractive black anodized finish, these running boards give you something to step on as you're getting into or out of your Highlander, or loading up your roof rack for a big vacation. They install simply with a few bolts, no cutting or drilling required, and they're broad and flat with a non-slip zigzag strip design to lend you plenty of shoe grip even in slick, wet conditions. Best of all, the manufacturer, TAC, sells these running boards with a 3-year no-hassle warranty against manufacturing defects, so you get the peace of mind that comes with knowing TAC will replace your running boards if they're defective. TAC offers these running boards for several generations of the Highlander, so take care when ordering to ensure you're purchasing the right ones.
Find all the latest Toyota Highlander reviews, comparisons, information, and more by clicking here.
---
We are committed to finding, researching, and recommending the best products. We earn commissions from purchases you make using the retail links in our product reviews. Learn more about how this works.
Published November 25th, 2021 2:00 AM
Popular Articles
Latest Comparisons
Car Buying Tools