19 Views
2019 Lincoln Nautilus Vs 2019 Infiniti QX50
April 14th, 2022 4:06 PM
Share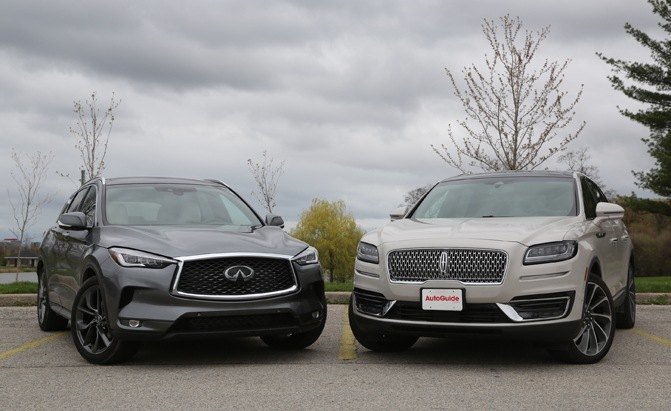 The Lincoln Nautilus and the Infiniti QX50 are two of the prettiest but most flawed luxury crossovers on the road today. So let's see if we can find out which one can charm us enough to overlook its flaws.
As with people, cars can sometimes be attractive enough that we gloss over their faults. (How else do you explain Alfa Romeo?) More often, though, things are too good to be true. Here, we have plenty of examples of beauty being skin deep. Let's start with Lincoln.
Get a Quote on a New Lincoln Nautilus or Infiniti QX50
Judging Books by their Covers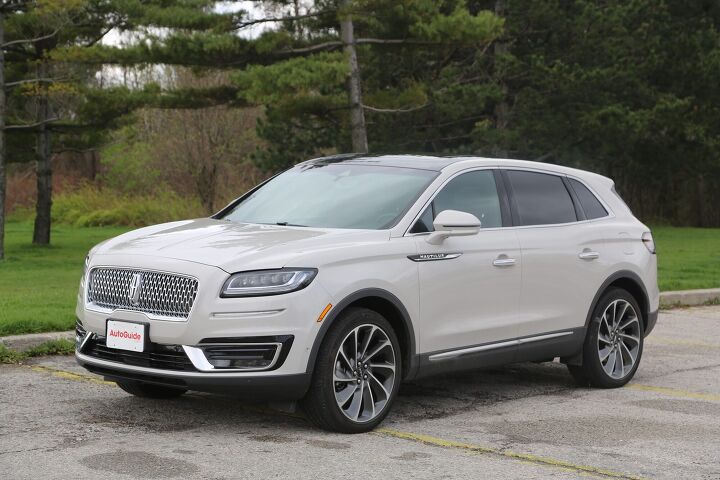 The Nautilus is one of Lincoln's new SUVs. Gone are the three letter names in favor of seafaring names ripped straight from the pages of Jules Verne. Gone are the baleen grilles, in favor of simple rhombus. Gone is the stodgy, Ford-designed-by-a-magpie exterior, in favor of genuinely a genuinely understated and attractive design. This Lincoln is so New England old money that I could imagine Martha Stewart stepping out of it with a peacock in tow.
See Also: Lincoln Navigator Black Label Review
This redesign has been a long time coming. For years now, there have been signs that Lincolns could be pretty, but there's always been something ever so slightly off. The MKZ, for instance, had the Fusion's attractive profile with taillights that accentuated the sportback's slinky elegance. But then you saw the "waterfall" grille and it looked like it was ready to filter out some krill. Now, though, as we learned with the new Navigator, Lincoln is really trying. And it's working. They have a whole lineup of beautiful cars. Better yet, the Navigator's interior followed the trend, adding all kinds of beautiful and decadent materials to match its exterior.
The Nautilus isn't all new, though. Really it's the facelift for the MKX. Although its exterior absolutely drips with WASPy charm, it'll let you down when you look inside. So it's like a WASP in that sense, too.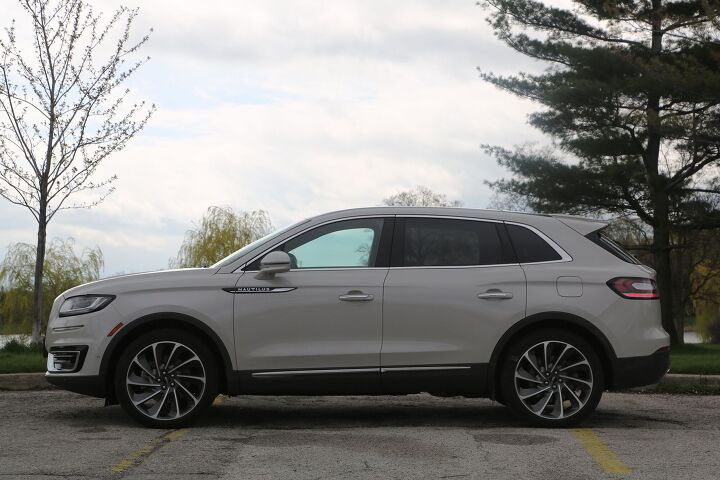 You know this interior. You've seen it before. You've been in this car on the way to the airport because this interior is exactly the same as the Town Car that exemplified the bad old Lincoln. The same Town Car that took a Ford interior, slapped some shiny plastic on top and called it a day.
See Also: Lincoln Aviator Debuts with 600 lb-ft Turbo, PHEV Powertrain
Sure, it's got 45,000-way adjustable seats and wood veneer so shiny you could pluck your eyebrows in it, but that does not necessarily make a luxury car. It is very spacious, offering a little more leg room for back seat passengers and more six cubic feet of trunk space (although that shrinks to just three more cubic feet of space with the seats down) than the Infiniti.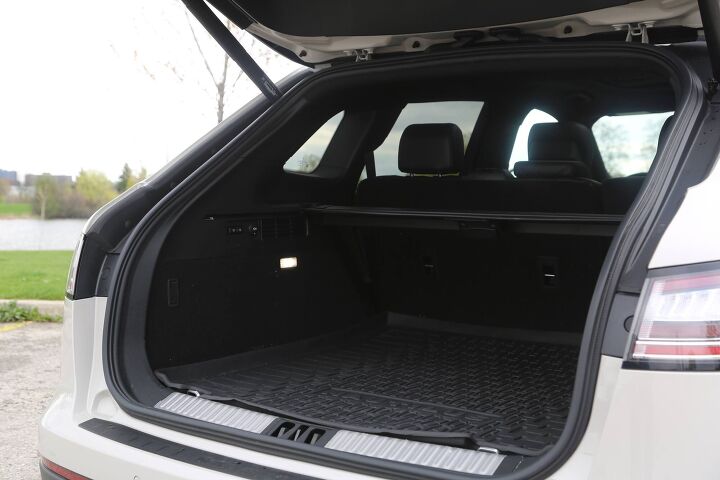 I struggle to think of the buyer in this segment who cares so much more about super adjustable seats or a little more space in the trunk that they'd be willing to put up with this interior. If Apple has proven anything, it's that design is more important than features when we're talking about luxury goods. That's a lesson the QX50 takes to heart.
Design Done Right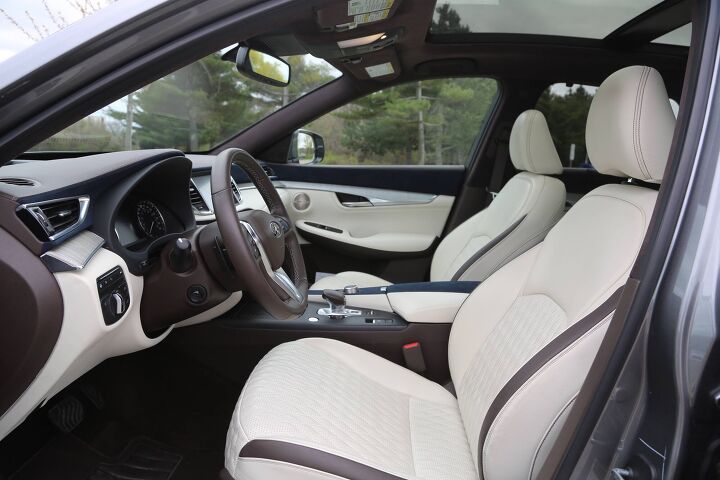 Infiniti has designed one of the most inviting interior spaces I have ever entered. And I'm not just limiting that to the automotive realm. It's an elegant futurescape of brightly contrasting materials and bold colors. With ashen grey wood playing against chrome that helps the blue suede pop and contrast against the chocolate browns of the leather, stepping into the QX50 feels like stepping into a truly exquisitely decorated house. You realize that even if you had all the money in the world, you probably couldn't design something half as nice because someone with taste was allowed to their job right.
Unfortunately, all is not well inside the QX50. Although its interior looks like a futurescape, its technology doesn't exactly live up to the look. Two screens are stacked one on top of one another and it can be difficult to know which does what. Infiniti has failed to offer Android Auto or Apple CarPlay here, so there isn't even a way to avoid the disappointing user experience. On the other side, Lincoln's old-school interior approach actually comes in handy here. Although it's just a simple Ford Sync system, the Lincoln is easier to use and in a car, the quality of the infotainment is always more important than the number of screens.
But Wait, There's More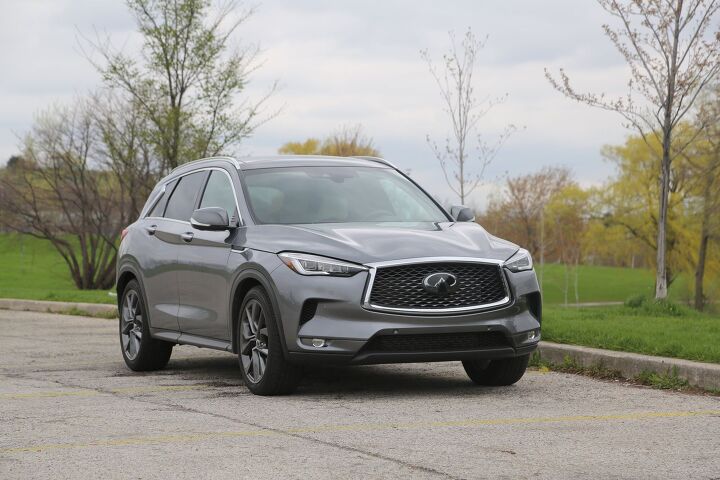 The problems for the QX50 don't end at the infotainment, unfortunately. Although it's a largely inoffensive, if uninteresting, crossover to drive, the steering weight has been set to 'feather'. Volvo suffers from the same problem in the XC40. The steering is so light that it feels completely disconnected from the front wheels. I understand that a luxury car with one-finger steering is an attractive concept, but this feels more like those arcade games whose steering wheels you could fling freely and watch spin unhindered. It makes the QX50 hard to place on the road and any corner whose angle is more complicated than 90 degrees will require four or five corrections to get right. That not only makes you look dumb, it's also a crack in the veneer of luxury.
All's not perfect on the Lincoln front, either, though. While Infiniti set its steering settings a little too loose, Lincoln set its suspension setting a little too loose. I feel bad complaining about this as I am one of those people who likes a soft ride, but the Nautilus shows the limits of that argument. Rather than gliding across the road and cosseting you in softness like a good mattress, it turns every bump into a wave that comes back to rock you three or four times like a water bed.
---
Pricing:
Lincoln Nautilus: This Lincoln starts at $41,335, but for the top-of-the-line model we tested, the price rose all the way to $49,870.
Infiniti QX50: Infiniti's crossover will cost you a little less across the board. Prices start at $36,550 and the model we tested came in at a reasonable $45,150.
---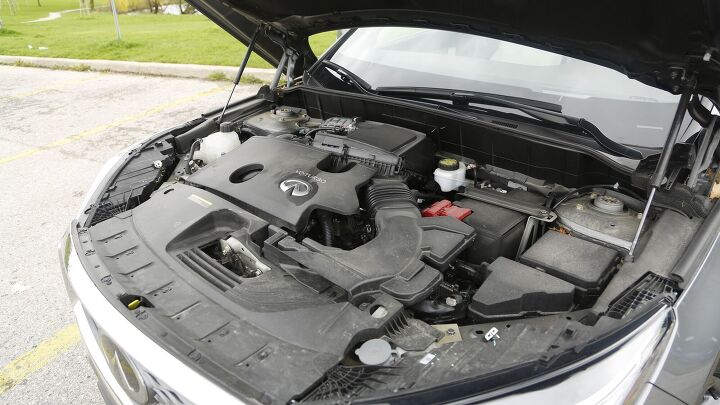 Finally, there are the powertrains. That's not really the point of either of these crossovers but does at least highlight some of the difference between these when they're at their best. Whereas the Lincoln offers a relatively large and torquey 2.7-liter V6 (335 hp, 280 lb-ft), the Infiniti offers a diabolically complicated wonder of modern engineering in the form of its 2.0-liter VC Turbo four-cylinder (268 hp, 280 lb-ft). And the result is about what you'd expect. The Nautilus is quick off the line and pulls happily while the Infiniti whizzes a little more but never feels underpowered. It also delivers better fuel economy (26 mpg combined, as opposed to the Lincoln's 23), which is nice.
Verdict: Lincoln Nautilus vs Infiniti QX50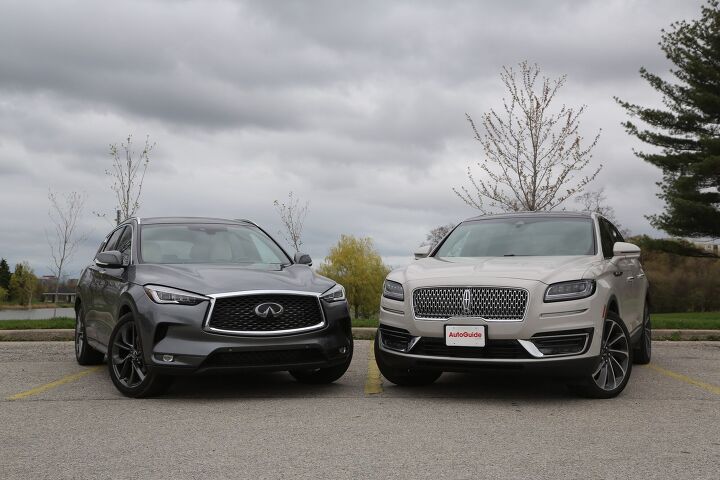 But that's about as good as the Nautilus gets. Everything about it feels old school, for better and for worse. The engine feels good but is thirsty; the suspension is soft but wallowing; the exterior makes you feel like old money but the interior just feels old.
The QX50, meanwhile, feels forward-looking to a fault. It's got that variable compression engine, which is an engineer's dream, but which will no doubt be a mechanic's nightmare; its interior is a gorgeous vision of the future, its infotainment is a frustrating vision of the future. Ultimately, though, there are fewer reasons to complain about the QX50 and there's more to celebrate. It may not be a perfect car, but it really is a charming one. And to the weirdoes who end up picking one over the standard German luxury fare, I salute you. You'll fall more deeply than your Audi-driving neighbors will, but you'll have your heart broken more, too. And you know what? That's okay.
Published July 12th, 2019 5:00 PM
Popular Articles
Latest Comparisons
Car Buying Tools