514 Views
2023 Nissan Versa SR Review
June 19th, 2023 12:17 PM
Share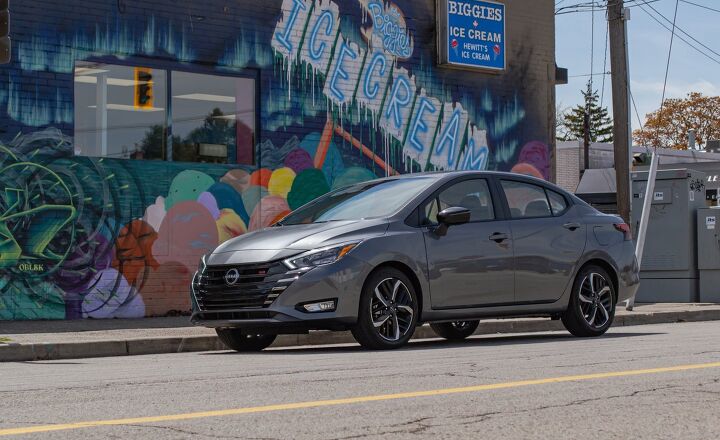 FAST FACTS
| | |
| --- | --- |
| Engine: | 1.6L I4 |
| Output: | 122 hp, 114 lb-ft |
| Transmission: | CVT, FWD |
| US fuel economy (MPG): | 32/40/35 |
| CAN fuel economy (L/100KM): | 7.4/5.9/6.7 |
| Starting Price (USD): | $16,925 (inc. dest.) |
| As-Tested Price (USD): | $20,915 (inc. dest.) |
| Starting Price (CAD): | $20,048 (inc. dest.) |
| As-Tested Price (CAD): | $24,548 (inc. dest.) |
There aren't a lot of cars that start under $20,000 these days. There are even less that slip under that bar when fully loaded.
Now admittedly, the 2023 Nissan Versa SR only sort of qualifies: in the US, it has an MSRP of $19,820, but the mandatory destination fee bumps that to $20,915. And in Canada, you're looking at $24,683 CAD for this particular tester.
Still, that makes the Versa one of the most affordable new cars on the market, and less than half the price of the average new car purchase these days. With a fresh round of updates for 2023, is Nissan's affordable option worth skipping the used car market, or opting for a larger, more expensive car? I spent a week with one to find out.
Get a Quote on a New 2023 Nissan Versa
What's new?
As mentioned, Nissan has treated its littlest four-door to a few choice upgrades for this year. The grille drops the chrome nose ring, subbing in a bunch of thin black bars and body-colored accents in a new evolution of the V-motion grille. It makes for a sort of scan-lines vibe, and in the case of this SR trim, it comes in a dark chrome finish. Plumping for this top-shelf trim also earns buyers LED headlights, 17-inch alloy wheels, black heated side mirrors, and even an itsy bitsy trunk spoiler. D'aw.
In addition to these visual changes, Nissan has added a few more features to the Versa's list of kit. A wireless charging pad now appears on the mid-level SV, while the SR gains a larger touchscreen, a center console with armrest, and adaptive cruise control.
Nissan hasn't changed anything under the hood, because that would interfere with the Versa's cheap and cheerful mission. A 1.6-liter four-cylinder engine does without complications like a turbocharger, resulting in 122 horsepower and 114 pound-feet to barely trouble the front wheels. A continuously variable transmission (CVT) handles the not-shifting duties, though the base Versa S can be had with a five-speed manual.
Is that a lot of power? Of course not. But it's over 50-percent more than the Mitsubishi Mirage, and two ponies more than the closer-sized Kia Rio.
Don't call it a (sub-)compact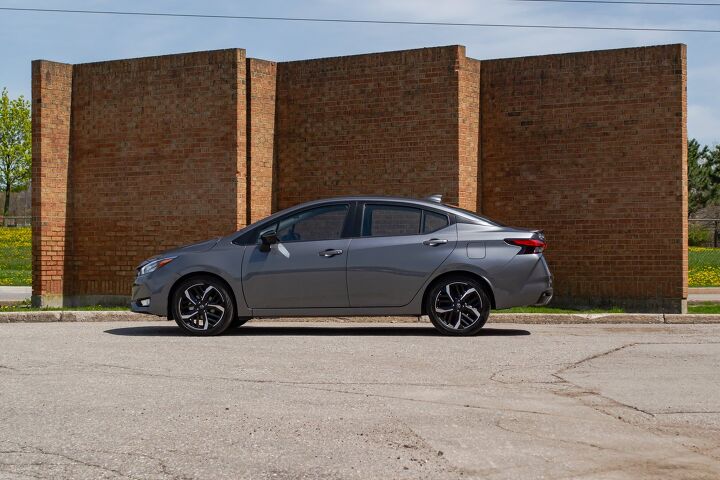 Let's talk about the Versa's embiggened nature a bit more. Now stretching 177 inches (4,496 millimeters) tip to tail, this supposed sub-compact is barely smaller than the Sentra of a decade ago. We could lament the loss of genuinely small cars on the market, but on the flip side, that's a whole lot of car for not much scratch. Walking up to the Versa, it fools one into thinking of it as an actual compact, especially in profile. Only once you move towards the corners of the car that its narrowness gives a better idea of its size.
Pop open the drivers' door and again, one might doubt their own powers of observation. If this is such a small car, why is the front row so darned spacious? There are oodles of legroom, and since the Versa skips any sunroof, its 39.5 inches (1,003 mm) of headroom actually shades that in the Sentra. According to Nissan there's just 31.0 inches (787 mm) of rear legroom, but in practice the Versa easily fit two regularly-sized adults back there. It's still more spacious than a Corolla hatchback.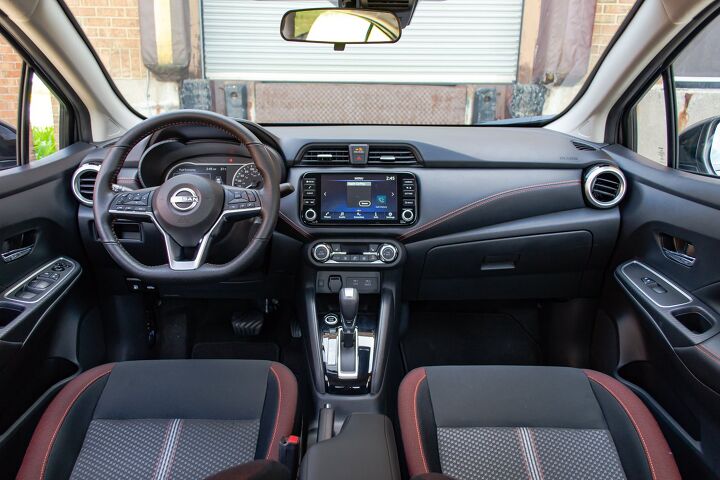 The cabin design isn't going to win any design awards, but it is functional. There's no guesswork here, and that's great, whether its opening the windows, adjusting the (auto) climate control, or even handling the refreshingly old-school shifter. The red accents inherent to the SR give the cabin an extra level of interesting, too. And speaking of, the Versa's seats are good.
My main gripe with the Versa is its steering wheel. At this price point I don't expect to drown in Nappa leather, but whatever creature sacrificed its hide for the rim—I'm sorry. Someone at the factory must've wanted to emulate polyurethane, as some sort of statement. The flat bottom isn't fooling us, either.
Another positive: an enormous trunk, capable of swallowing 15.0 cubic feet of stuff.
Useful tech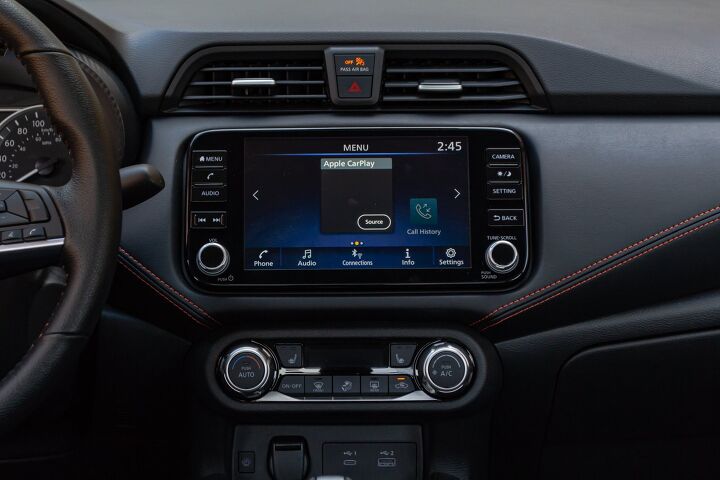 The central touchscreen in the Versa now measures a full 8.0 inches. The software it runs is still the same, and very on-brand for the Versa: serviceable, but only that. Wired Apple CarPlay and Android Auto are standard, and they work without issue. I'd hazard a guess that most users will stick to either of those instead; I would. The six-speaker sound system, another SR-unique feature is fine. It'd be nice to get the headrest speaker from the Kicks.
The analog instruments are super-easy to read, and there's a useful, 7.0-inch display to the left to cover plenty of pertinent info.
One area Nissan doesn't skimp with the Versa is its driver assist suite. The SR features automated emergency braking, lane departure alert, auto high beams, a driver alert monitor, and blind-spot monitoring and adaptive cruise control—the latter a rarity in this class.
Drives like a car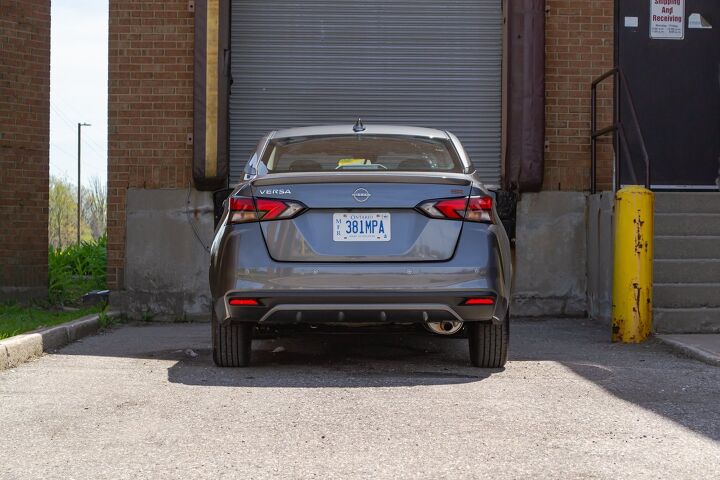 One hundred and twenty two horsepower is fine. The little Versa weighs about as much as a pair of couches, so around town it never feels out of its depth. Some folks like to moan more about CVTs than the CVTs moan themselves, but this one is well-adjusted, keeping the Versa in the meat of its powerband and even throwing in some simulated "shifts" under hard acceleration.
Get on the highway, and the Versa does that big-car thing again, of feeling super planted and maintaining its speed like a champ. This isn't a discount tin can outmatched by highway traffic. It's easy to maintain, and is even reasonably quiet.
But it is dull to drive. The Versa has steering, but there's no feedback or weight to it. You point it to where you need to go and it arrives there, with all of the excitement of typing in a website URL. I'm not saying it needs to be a rabid hot hatch, but even the Sentra has a bit more verve and fun to how it flows down a backroad.
Dollars and sense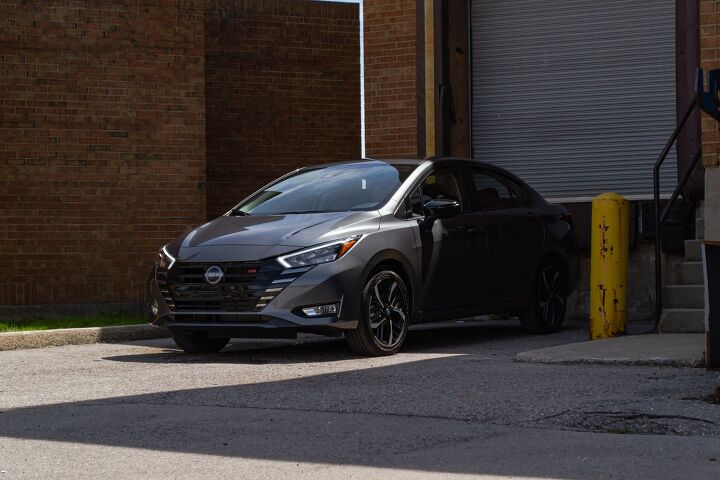 The Versa SR slides in at $20,915 ($24,548 CAD) including destination. There are no options to swell the price, save for the premium paint surcharge Canada foists upon buyers ($135 CAD). Want to go real cheap? The base-level Versa S 5MT can be yours for $16,925 ($20,048 CAD). Both the Mirage and Rio undercut the Versa, but do so with less standard equipment.
There are two tougher competitors, one of which shares dealer floor space with the Versa. The Sentra is a quietly competent compact, and for a few extra grand it offers better looks, more interior space and comfort, and a vastly improved driving experience. The other option is a wild card: the new Chevrolet Trax. Contributing writer Kevin Williams enjoyed the Bow Tie's new front-drive soft-roader, and it starts just $580 above the Versa SR. The reborn Trax offers a much more adult-friendly second row, agreeable dynamics, and good levels of standard kit. You'll take a big hit to highway fuel economy, however.
Verdict: 2023 Nissan Versa SR Review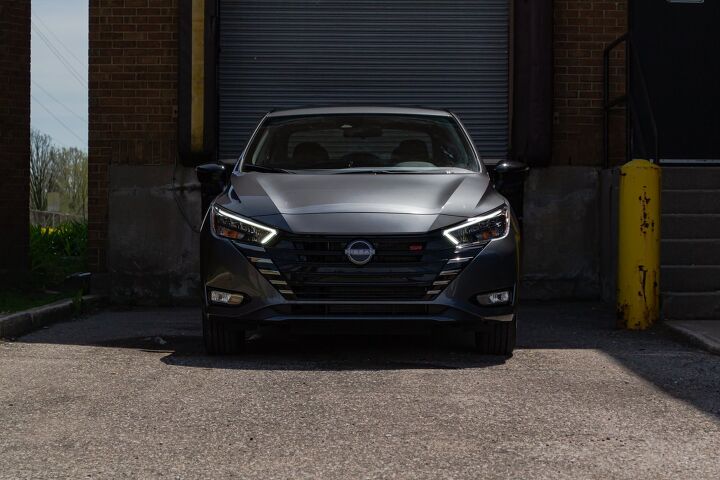 In an age where automakers are satisfied with one or two car options—if not eliminating them altogether—the 2023 Nissan Versa could seem superfluous. A product of a bygone era.
But there are good reasons to consider Nissan's smallest sedan. The low price nets a car on the cusp of compact status, offering up plenty of space in a cabin that doesn't feel like a penalty box. It won't light any fires in the hearts of enthusiasts, but the Versa counters with super-easy operation and a penchant for smooth highway miles. The latest Versa shows there's still life in the segment, and at this affordable price point, it's a car buyers shouldn't overlook.
---
FAQs
How much does the 2023 Nissan Versa cost?
The new model starts from $16,925 ($20,048 CAD), including destination. 
How big is the 2023 Nissan Versa?
The Versa is 177.0 inches (4,496 mm) long, making it nearly compact sized.
Is Nissan discontinuing the Versa?
No; in fact, it gave it a facelift for 2023.
Become an AutoGuide insider. Get the latest from the automotive world first by subscribing to our newsletter here.
LOVE IT
Super affordable
Plenty of standard safety kit
Refined highway drive
LEAVE IT
Dull to drive
Odd-feeling steering wheel
Rough engine noise
Published June 14th, 2023 5:10 PM
Popular Articles
Latest Comparisons
Car Buying Tools