1.7K Views
The Best Tire Pressure Monitoring Systems (TPMS)
April 6th, 2022 7:39 PM
Share
Owners of older cars without tire pressure monitoring from the factory will find these simple devices super useful.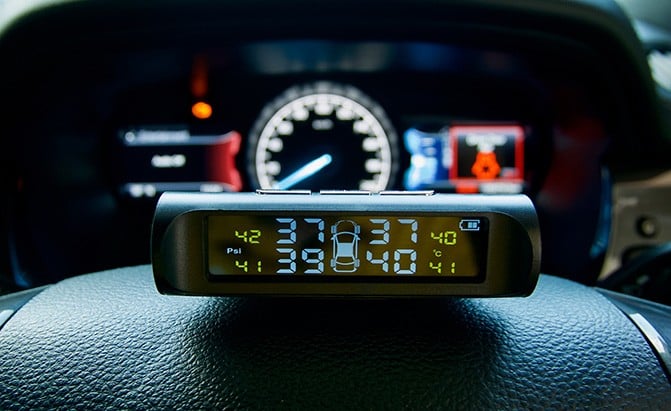 Nearly all modern vehicles come standard with a tire pressure monitoring system (TPMS), but maybe you own an older vehicle that doesn't have one. It's important to know when your tires are overinflated or underinflated, as it can affect the performance of your vehicle including its fuel economy. Fortunately, the automotive aftermarket now offers convenient and affordable TPMS kits that are easy to install, allowing you to add a monitoring system to your older vehicle.
These kits typically consist of four sensors that are installed onto the valve stem of your wheel, along with a display that shows the tire pressure reading for each individual tire. This is actually better than some factory systems, since it's more than just a warning light, which tends to leave you guessing which tire is actually low on air. Best of all, these kits are fairly straightforward to install and simple to use, which means you can get accurate tire pressure readings within minutes.
To learn more about tire pressure monitoring systems, refer to our table of contents.
Table of contents
1. Editor's Pick: Tymate TPMS
This tire pressure monitoring system from Tymate is our top pick thanks to its versatility. You don't have to choose between solar charging or using your cigarette lighter receptacle—this system supports both. Five alarm modes are available, including fast leak alarm, high/low-pressure alarm, high-temperature alarm, and sensor low voltage alarm. That means you won't just know when your tires are overinflated or underinflated. You can predefine the alarm values too, allowing you to set the pressure range from 12 PSI to 87 PSI.
The display can automatically adjust its backlight based on the environment, doing its best to make sure you can always read the screen. The background color will also change to red if there's an alert. To help conserve power, there's an auto-sleep mode and switch button. If the TPMS notices nothing is happening for 10 minutes, it'll automatically enter sleep mode.
Included are four external sensors, each using a single CR1632 battery that Tymate says will last up to half a year.
| | |
| --- | --- |
| Pros | Compatible with both solar and plug-in power via cigarette lighter receptacle, multiple alarm modes, self-adjusting display, auto-sleep mode |
| Cons | Display can still be dim on a bright day, poorly written instruction manual |
2. Best on a Budget: Zmoon TPMS
A fairly straightforward and basic TPMS kit, this offering from Zmoon is great for shoppers on a budget. This system will monitor tire leakage, excessive air pressure, and high temperature, with six built-in alarm modes. You can use either solar or USB charging for the receiver, which is equipped with a 450mAh internal battery. Zmoon says the batteries powering the sensors can last up to two years.
Each sensor has an IP67 rating, so you don't have to worry about environmental conditions damaging them. Like other similar kits, this TPMS will automatically shut off when your vehicle isn't in use. It'll also automatically turn on once it senses any sort of vibration.
Designed to work on most four-wheeled vehicles, Zmoon's system will monitor tire pressure from 0 PSI to 51 PSI.
| | |
| --- | --- |
| Pros | Compatible with both solar and USB charging, price, IP67-rated sensors, auto shutoff and turn on |
| Cons | Poorly written instructions, display angle isn't great on some vehicles, battery life may not be as good as advertised |
For something extremely simple to use is Vesafe's TPMS that plug into your cigarette lighter receptacle. Naturally, that means your cigarette lighter receptacle should be in a location where it's easy to see the display, although you can still check on it from time to time if it's in your armrest. The system will provide a visual warning light and audible alarms if a tire's pressure drops below a certain threshold that can be adjusted from 29 PSI to 44 PSI.
Like most of these kits, each sensor is powered by a CR1632 battery, which can last up to two years according to Vesafe. One benefit is that this company provides an 18-month warranty, so if you ever have any issues, you can reach out to Vesafe.
It is worth mentioning that this system only reads temperature in Celsius, so you'll have to do some conversions if you're accustomed to Fahrenheit.
| | |
| --- | --- |
| Pros | Uses cigarette lighter receptacle, compact, easy to install and use, 18-month warranty |
| Cons | Temperature display locked to Celsius, small and dim display that may be difficult to read in certain lighting conditions |
Boasting a larger display than other products is Cacagoo's wireless TPMS kit. Along with real time pressure monitoring and high temperature warnings, this system also monitors your vehicle's battery voltage and offers visual and audible warnings. The wide-angle LCD screen measures 3.15 inches by 1.5 inches, allowing you to quickly glance and see all the relative data easily. The display can also be mounted on your windshield using a holder, rather than being restricted to your cigarette lighter receptacle.
Although these sensors use the same CR1632 batteries as other kits, Cacagoo claims the battery life will last around five years rather than the two years its competitors advertise, when using a 120 mAh battery. The sensors monitor up to 116 psi and each sensor is IP67 rated, which means its sealed against dust, water, and snow. Pressure accuracy is within 1.5 psi. The default alarm is set to 29 to 44 psi, but it can be configured by the user.
Unlike other systems, this one will display tire temperature in both Fahrenheit and Celsius, along with tire pressure in psi or BAR.
This kit is suitable for conventional vehicles such as sedans and passenger cars, as well as SUVs, minibuses, commercial cars, station wagons, and off-road vehicles. It should not be used on motorhomes, caravans, RVs, or trailers. The company offers a 24-month warranty with this system.
Each system comes with four external sensors, four tire valves, one holder, one cigarette lighter, one spanner, one charger and power line, and one instruction manual.
| | |
| --- | --- |
| Pros | Large screen, temperature display in Fahrenheit and Celsius, monitors up to 116 psi, IP67 rated sensors, can be mounted on your windshield, 24-month warranty |
| Cons | Few complaints of failed sensors, a bit tricky to setup |
For something a bit different than everything we've recommended so far is BARTUN's Bluetooth tire pressure monitoring system. Instead of including a display that needs to be powered and mounted inside your vehicle, this system uses your phone to display all the data. We do have to caution that user reviews on this is mixed, likely because it uses a Bluetooth connection and involves your phone to work.
You'll have to download an app for either iOS or Android, depending on the type of phone you own. You'll use a Bluetooth connection to setup and monitor the sensors, which are waterproof. BARTUN claims each sensor's battery life can last almost three to five years, which is quite a bit longer than what other manufacturers' advertise.
It does seem like it's hit or miss on whether this system will work for you, and it's likely the setup process is a bit more cumbersome since you're having to use an app on your phone.
| | |
| --- | --- |
| Pros | Uses Bluetooth connection to smartphone rather than a separate display, iOS and Android compatible, longer battery life on the sensors |
| Cons | Hit or miss with smartphone compatibility, setup is more complicated, performance isn't consistent |
What is a Tire Pressure Monitoring System?
Simply put, a tire pressure monitoring system provides real time readings of your tire pressure. Kits offered by the aftermarket are generally affordable and easy to install and are the best way to add TPMS to an older vehicle. Some factory systems will only give you a warning light when one of your tires are low on air, which isn't as accurate as displaying actual values for each tire - although some modern vehicles do feature a system that gives individual readings.
The aftermarket kits normally use sensors that are installed onto the valve stem of your wheel, along with a display that you have inside your vehicle. Some of these displays use your cigarette lighter receptacle for power, while others can run a cable and be mounted to your dash or windshield. These systems allow you to set a tire pressure range and they will warn you if your tires go below or above that range. In addition, some kits also monitor other information such as tire temperature and even your car's battery voltage.
Why do I Need a Tire Pressure Monitoring System?
Knowing the pressure in each of your tires is important not just for safety, but for fuel economy. Overinflated and underinflated tires can affect your car's performances, especially the fuel it consumes. In addition, TPMS can warn you ahead of time if you have a slow or fast leak, prompting you to check for possible punctures in your tires.
So why is knowing your tire pressure so important? Underinflated tires have increased surface contact, which means premature tire wear. Underinflation also has a direct effect on a car's fuel economy, which means you're wasting money when driving on underinflated tires. Overinflated tires cause rigidity and stiffness, resulting in a harsher ride in your vehicle. This also means contact with the road is increased around the center area of the tire, resulting in additional wear in the center.
Since TPMS kits are rather affordable and easy to install, it's a minor investment towards long-term savings. Replacing your tires isn't cheap and can take some time out of your day, so it's best to keep them properly inflated so they last as long as possible.
Conclusion
Truth be told, many of these aftermarket TPMS kits are very similar in features and specifications. It's very likely many of them come from the same manufacturer overseas, which means they're just marketed and branded differently in the U.S. That makes it difficult to recommend an overall best product for this category, especially since it also comes down to whether you want a compact or large display inside your vehicle.
What we do suggest however is to choose a product that offers a warranty and check user reviews to see how well that specific company's customer service is. Overall, many of these products should perform similarly and pricing doesn't range significantly from one product to another. So pick one that will cause less headaches if you do run into issues with it.
---
We are committed to finding, researching, and recommending the best products. We earn commissions from purchases you make using the retail links in our product reviews. Learn more about how this works.
Main photo credit: Paiboon Chooklin / Shutterstock.com
Published December 9th, 2020 12:01 AM
Popular Articles
Latest Comparisons
Car Buying Tools