386 Views
Toyota Camry - Review, Specs, Pricing, Videos and More
May 31st, 2023 11:25 AM
Share
Find everything you need to know about the Toyota Camry here, along with expert reviews, specs, photos, videos and more.
The Camry is still one of the best selling vehicles in America. All-new, the current Camry is only available with a hybrid powertrain. There is a choice of front- or all-wheel drive now
Styling inside and out has become more bold over the years, but it's still a very sensible, family friendly vehicle.
Looking for Toyota Camry accessories? Click Here.
| | |
| --- | --- |
| Pros | Lots of powertrain options, available AWD or hybrid, Toyota's reputation for reliability |
| Cons | Infotainment still dated, some cheap interior materials, TRD model not quite sporty enough |
| Bottom Line | The Toyota Camry is a smart and practical choice for a family sedan. Its bold exterior style helps set it apart. |
Table of contents
2023 Toyota Camry Hybrid SE Nightshade Review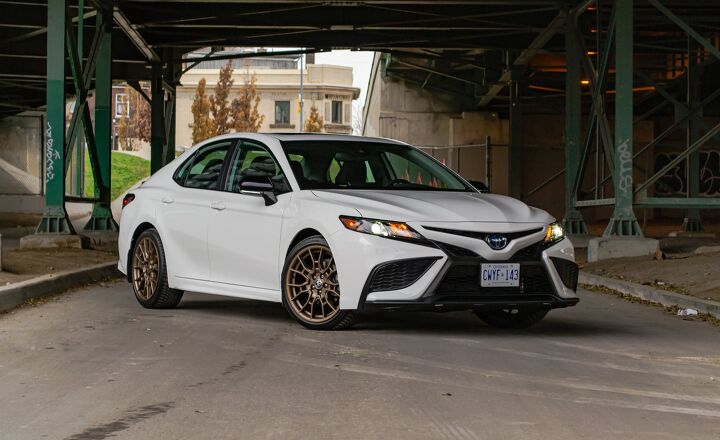 The 2023 Toyota Camry Hybrid SE Nightshade reminds me of an RPG.
In so many classic role-playing games, players are given a limited number of attribute points to spread across their characters' stats. Maybe you're the Leroy Jenkins type, and shovel all the points into attack power. Stealthy folks will favor speed. Pragmatists? High defense.
The Camry puts a lot of its eggs into the usability basket, and in Hybrid form, efficiency. That doesn't leave a lot of change for the sexy, headline stuff like daring design or an engaging drive. In that sense, the SE Nightshade is almost a cheat code: Toyota has unlocked additional style points without pulling from any other category. Like some classic RPGs themselves, however, the Camry's sheer age is starting to show.
---
Toyota Camry AWD vs Kia K5 AWD Comparison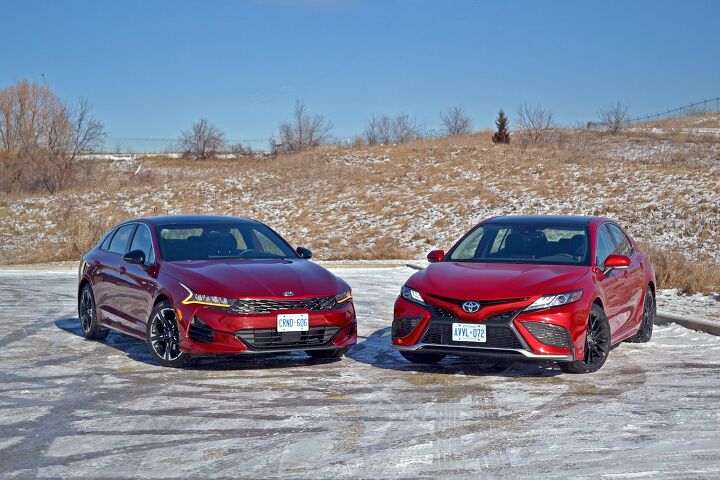 The market's ongoing obsession with crossovers has forced an interesting evolution of the mid-size sedan.
Take these two cars here: the all-wheel drive versions of both the Toyota Camry and new Kia K5. The Camry used to be the punchline of automotive jokes, an appliance for those who saw driving as a necessary evil. When the current model arrived in 2018, it ushered in dramatic new looks, with underpinnings that even seemed to relish the occasional back-road jaunt—especially in fun, affordable TRD trim. A move to the Toyota New Global Architecture (TNGA) platform also allowed for the addition of all-wheel drive, providing an added level of security for sedan hold-outs.
Over at Kia, the K5 debuted this year as the replacement for the Optima. The brand has done its homework, closely mirroring the best-selling Camry's available features. It marries handsome styling to available AWD, a torquey turbocharged engine, and even a hi-po GT trim to fight off the TRD Camry. Kia's traditional value approach is at play here, too.
---
Toyota Camry LE vs SE: Which Trim is Right for You?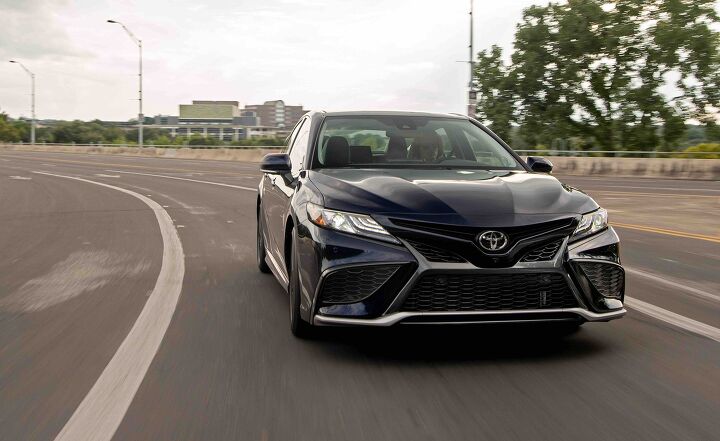 It remains one of the best-selling cars on the market. But which trim is right for your needs: the Toyota Camry LE or SE?
The Toyota Camry is a juggernaut of the mid-sized sedan segment. In 2022 it nearly doubled the sales figures of its next-closest competitor, the Honda Accord. It's easy to see why: Toyota's stalwart offers buyers agreeable driving dynamics, a range of drivetrain options, and an affordable price tag.
For this latest AutoGuide trim-versus-trim comparison, we're zeroing in on the value end of the lineup. Both the Camry LE and Camry SE anchor the trim walk, coming in well under the average new-car purchase price. For simplicity, we'll be focusing on the gas-only versions, though both do come in an available hybrid format. Read on to find out which is the better buy in our Toyota Camry LE versus SE comparison.
Click Here to Read the Full Article
---
Competitors
---
Detailed Specs
| | |
| --- | --- |
| Price | TBD |
| | 2.5-liter four-cylinder + hybrid |
| Power | 225-232 hp |
| Torque | N/A |
| Drivetrain | FWD / AWD |
| Transmission | eCVT |
| Fuel Economy (city/hwy) | TBD |
| Cargo Capacity | TBD |
Our Final Verdict
| | |
| --- | --- |
| Overall | 3.7 |
| Performance | 7.0 |
| Features | 7.0 |
| Comfort | 8.0 |
| Quality and Styling | 7.0 |
| Value | 8.0 |
Published October 22nd, 2020 1:00 PM
Popular Articles
Latest Comparisons
Car Buying Tools