1 View
California Considering Selling Ad Space on License Plates
June 19th, 2010 10:15 AM
Share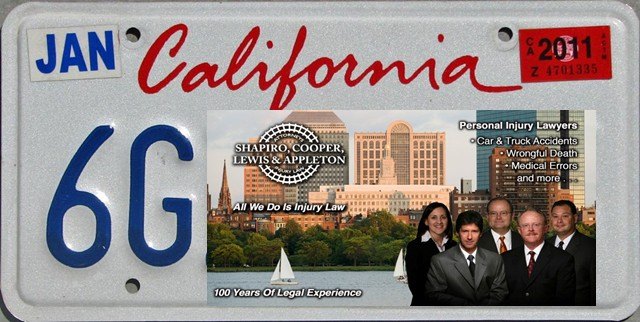 Where do you advertise when you're running out of space? Well, California has an idea – why not advertise on license plates?
It seems that California has a bit of a cash flow problem, and in order to build up their bank accounts, the state might be open to letting companies buy space on license plates. This is no joke – a bill by a Senator Curren Price has introduced Senate Bill 1453 that could have cars carrying electronic license plates that allow for ads. All that's left is for it to be passed by the Assembly, which would commission a study of electronic license plates as a feasible means for advertising.
"We're giving the Department of Motor Vehicles the leeway to investigate the technology, conduct some tests, and come back with a recommendation to the legislature," said Price.
Plates will be located on the back of a car, and advertisements would only be shown if the vehicle hasn't been moving for a few seconds – so who knows, maybe California drivers will be subjected to more red lights in an attempt for advertisers to get their money's worth.
No word on how much these companies will have to pony up to advertise on the license plates as of yet. If the bill does pass through its final stage, the California DMV will start to study digital electronic license plate technology.
For all you speeders and red-light runners, you're not off the hook. The cops will still be able to run your plates. "The license number is always visible in the corner," said Price. "Even when it's advertising about an event coming up, or a non-profit organization, or a public service activity, the numbers are still visible (on the license plate)."
[Source: Jalopnik]
Published June 19th, 2010 10:15 AM
Popular Articles
Latest Comparisons
Car Buying Tools