12 Views
Cizeta V16T Spyder For Sale, Only One Every Made
June 4th, 2011 10:18 AM
Share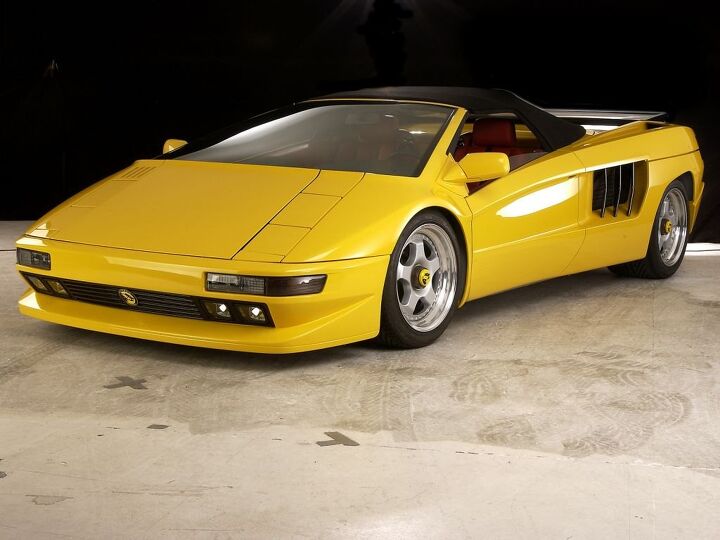 Back in the 1980s a new Italian supercar was born. It was called the Cizeta V16T, and it came on the scene with a gorgeous design and technical specs that would cause any car guys heart to beat a little faster.
It had a 6.0-liter, quad-cam, 64-valve, 16-cylinder motor which produced 540 hp and 400 lb-ft of torque. That is not bad for 1988, especially when you compare it to other supercars of the day like the Ferrari F40, which produced 478-hp.
The Cizeta was ahead of the game, and its Marcello Gandini designed body was striking to look at also. However, some things didn't go as planned. First, Gandini sold a similar design to Lamborghini, which became the Diablo, and then by the time the Cizeta was ready to go into production in 1991, the economy went bust, and that had a severe effect on sales. Most wealthy clients either simply walked away, or went and bought the Diablo, which looked very similar but was half the price of the Cizeta. Plus Lamborghini was a well-known name while Cizeta wasn't.
Cizeta struggled but managed to make 11 coupes in the 1990s. In 2003, a convertible version called the TTJ Spyder was unveiled, which was a special order by a Japanese client. Only one such example exists and that very car is now listed for sale.
The dealer advertising this yellow on red example says the car only has delivery miles, but no price is given.
We contacted Cizeta's president Claudio Zampolli, to find out more about this vehicle. He verified this was the only roadster ever made, and that he would love to get a hold of this example himself.
He also told us that Cizeta, the company, is still very much alive and that he will be announcing some news about the company in the near future. Being big-fans of this car, we can't wait to hear what he is working on next.
Follow the link to see the posting for the Cizeta Spyder for sale.
[Link: F.A. Automobile]
Published June 4th, 2011 10:18 AM
Popular Articles
Latest Comparisons
Car Buying Tools