1 View
Diagnose Your Car's Health With CarMD
October 22nd, 2011 1:30 PM
Share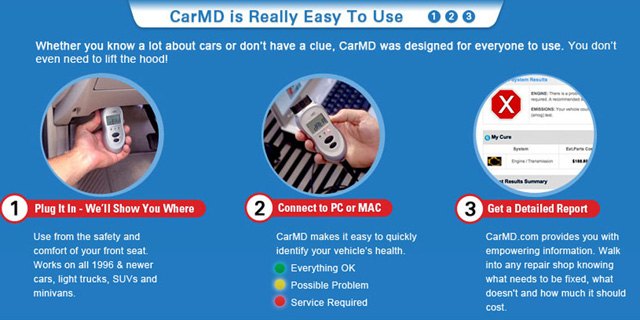 Your car is making a strange noise, but you don't want to take it into the garage for a costly examination. The alternative: give your car a check up yourself with the CarMD.
To run a diagnostic on your car, this handy handheld devise plugs into the 16-pin Data Link Connector (DLC) found on the driver's side of your car. Just plug it in and it goes to work, seeing if it can detect a problem. It uses the same technology as scan tools found at a repair shop and the CarMD can read powertrain (Check Engine, vehicle sensors), body (ABS, brake system), and chassis (SRS, safety system) codes.
With your CarMD, you'll also get lifetime software and firmware updates with free access to CarMD's database. After you run your test, just plug it into a computer and you'll receive personalized Vehicle Health Reports. It also lets you know about safety issues or recalls, and will even do some price comparisons for parts and labor in your zip code.
You can buy the CarMD Gift Pack for about $119.85 at the CarMD website.
Published October 22nd, 2011 1:30 PM
Popular Articles
Latest Comparisons
Car Buying Tools