5 Views
Top 10 Cheapest New Cars You Can Buy
March 27th, 2012 2:16 PM
Share
You can sound polite and say "inexpensive" but if you're strapped for cash, the most important question when shopping for a new car is: what's the cheapest car on the market? AutoGuide has got the answer, along with the nine runners up.

Toyota's warmed-over Yaris makes the 10th spot on our list with a base price of $14,115 for the 3-door model. The pricier 5-door will run you $15,150.
Using a 1.5-liter 4-cylinder like many of its counterparts the Yaris makes 106-hp and is rated at 38-mpg on the highway making it one of the most efficient models in its class, but not the most efficient. Growing three inches overall, Toyota claims the new car has 68 percent more cargo room than the outgoing model, which it shares a near-identical resemblance with. Standard on all models is air conditioning, nine airbags and power windows.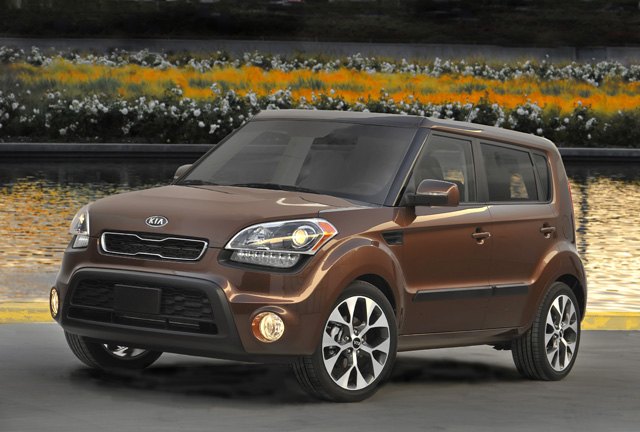 A surprise find on our list and the first model to break under the $14K barrier is the Kia Soul.
With plenty of design and a solid size it just looks more like a $20,000 crossover and not a $13,900 machine. While understandably basic, even the base Soul includes a 138-hp 4-cylinder that achieved 35-mpg on the highway, while all models get MP3 and USB connectivity as well as Hill-Start Assist Control to stop from rolling backwards on hills. Automatic transmission models retail for significantly more at $15,700.
While Korean automakers have improved their products considerably over the past few years, they aren't hiking the prices… just yet. The Soul is just the first of three Kia models to make the list.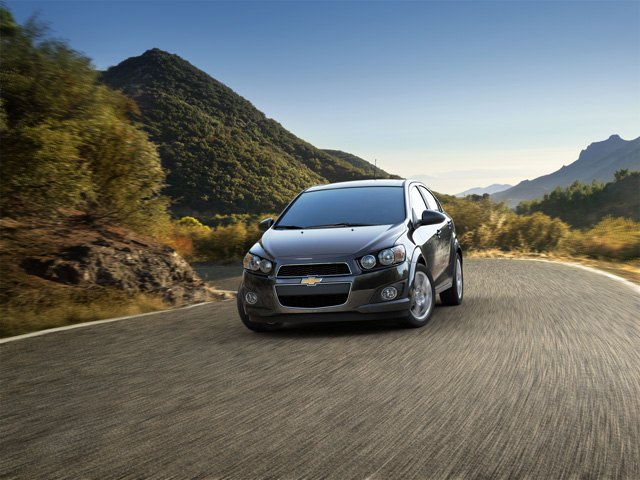 One of the most exciting models on the list is the replacement to the lackluster Aveo, the Chevrolet Sonic. Starting at $13,735 it's a fine machine with a cool interior, lots of passenger and cargo room, standard alloy wheels, keyless entry, 10 airbags and even a hill-hold control system for 6-speed manual transmission models. The base engine is a 1.8L 4-cylinder with a 25/36-mpg rating. It will cost an additional $700 for the 1.4L Turbo with a 29/40-mpg rating. That price is only for the sedan model, with a hatchback at $14,635.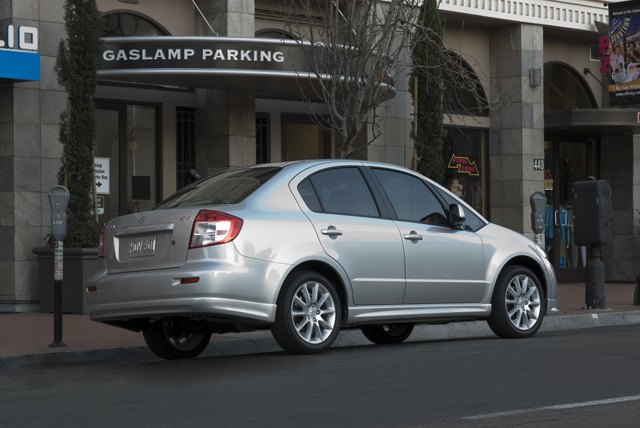 Maybe you thought we'd forgotten about Suzuki. Chances are, you forgot about them too.
But here is the Japanese automaker's sole entry on our list, the SX4 sedan. Priced at $13,699 you might not get amenities like air conditioning, but it does come with a potent 150-hp 1.8-liter engine and 8 airbags! If you need more space there's also the SX4 SportBack, but it will cost you at $16,799 – which doesn't even put it in the list of the top 20 cheapest cars.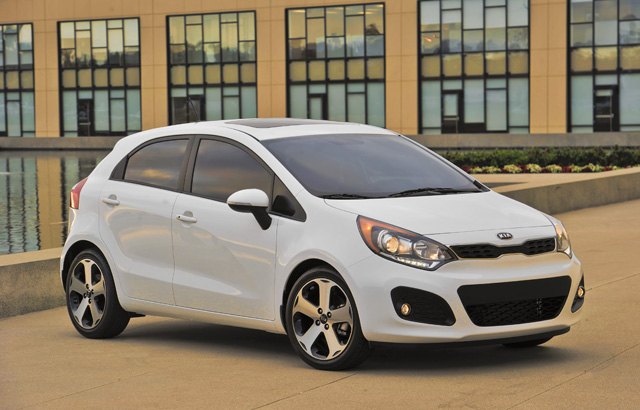 All-new for 2012, the Kia Rio 5-door shares its underpinnings with the Hyundai Accent hatch. Priced at $13,600 you get a high-tech direct-injection 1.6L that achieves best-in-class 30/40 mpg. An optional fuel economy package will add on a start-stop system to improve city mileage by one tick. A fine and affordable machine, the Rio is perhaps better bought with options, including some styling 17-inch wheels, UVO telematics system and navigation. There's even a heated steering wheel. But all that will cost you. A lot.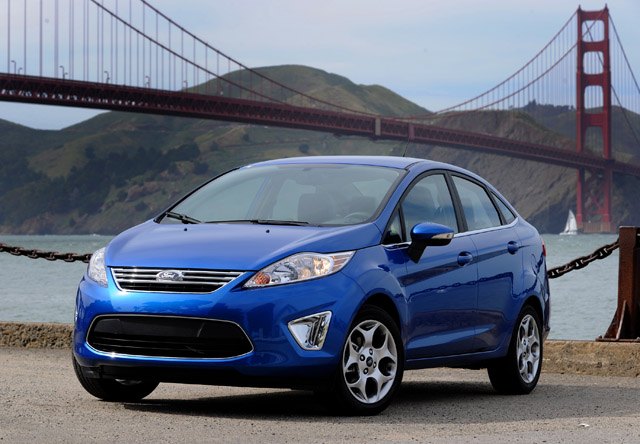 A few years ago you'd expect a list like this to be filled with mostly domestic junk.
But including the new Fiesta hatchback, priced from $13,200, there are only two American cars on our Top 10 Cheapest Cars list.
While the little Ford hatch really has its high points (including the $15,500 price of entry), unfortunately the sedan isn't half as cool looking. Plus, with little in the way of rear seat room, one of the main reasons for getting the four-door is obsolete. Power does come from a 120-hp 1.6-liter engine and fuel economy is a solid 29/38-mpg even with the 5-speed manual.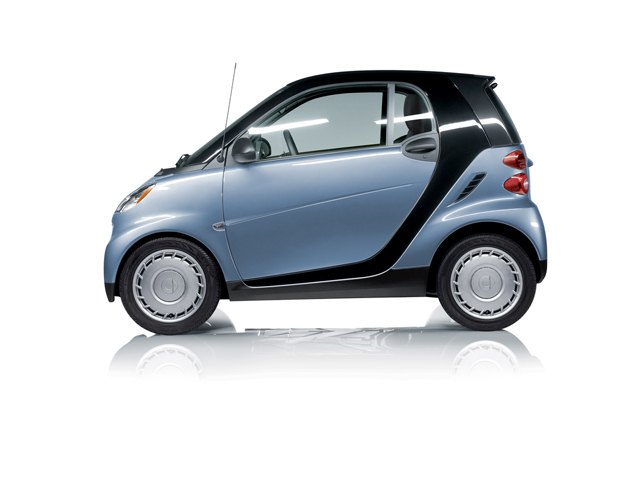 At $12,490 the Smart fortwo is small in both size and price and comes in as the fourth cheapest car on the market
. It's also got the smallest engine of the bunch with a 1.0-liter 3-cylinder that makes a miniscule 70-hp.
Paying more for the vehicle's uniqueness than anything else, the base model doesn't come with air conditioning or a radio. While in Europe buyers of this car might want it for basic transportation, in North America its bought more by folks who can afford more but choose not to. That said, a stripped-down 'Pure' model might never have been sold on this side of the Atlantic.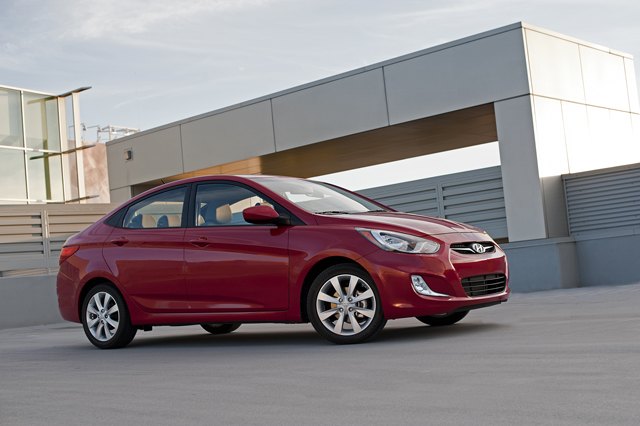 The Rio's sibling, the Hyundai Accent, can be had for significantly less, priced from just $12,445 for the sedan model. That number isn't often advertised, but can be had for a base model with no air conditioning or power options. You still get that 1.6 GDI engine with a solid 138-hp and a 30/40-mpg rating and it's not terrible looking. The advertised car is $14,195 and is more liveable.
At one time the Accent hatchback used to be the cheapest car on the market at under $10,000 but not any more. Gone is the three door and the new 5-door hatch will now run you $14,595.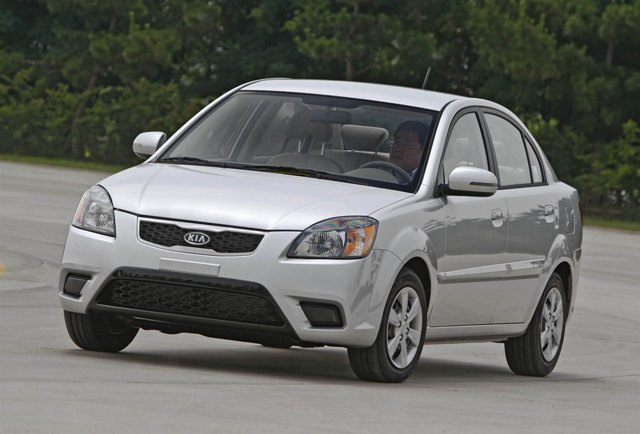 While the Rio 5-door is all new for 2012, the sedan has yet to be released. That said, with the older 2011 model still on dealership lots its price of $12,295 slightly undercuts the new Accent to make it the second cheapest car you can buy. But with outdated styling, a less fuel efficient engine and cramped quarters inside… why would you?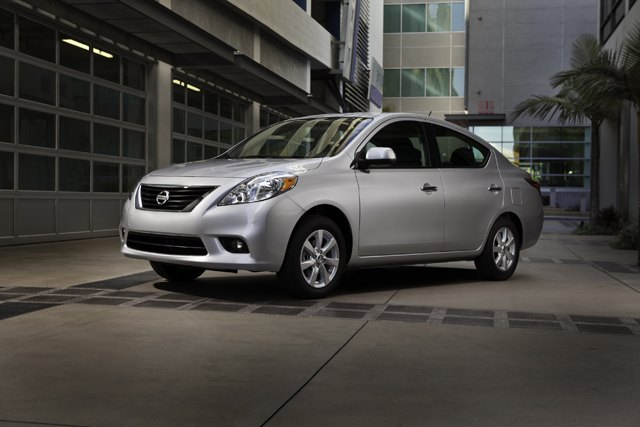 And the cheapest car for sale in America is… the Nissan Versa Sedan. Priced at $10,990 it's $1,300 less than the old Rio and roughly $1,500 less than the stripped down 2012 Hyundai Accent. But make no mistake, this model isn't glamorous. Rather than style and fancy options, the Versa instead offers a spacious cabin and solid fuel economy with a 109-hp 1.6-liter engine. With a solid 30/38-mpg that's only for the CVT models which start at $12,760. The stripped-down 5-speed manual achieves 27/36-mpg. Thankfully the Versa hatchback isn't as content-poor as the previous generation car and base models do come equipped with an AM/FM radio with a CD player and an auxiliary plug. Plus, you even get air conditioning.
Or if you're feeling rich, there's the Versa hatchback. It may have the same name, but riding on an entirely different platform and with a different 122-hp 1.8L engine costs significantly more. In fact, at $14,380 it ranks as the 12th cheapest car your hard-earned dollars will get you.
Published October 18th, 2011 2:45 PM
Popular Articles
Latest Comparisons
Car Buying Tools