1 View
Automakers Betting on Linux for Future Infotainment Systems
May 11th, 2012 7:49 PM
Share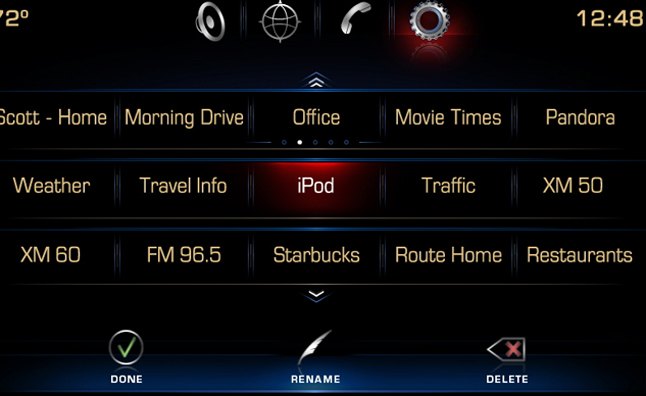 In order to attract buyers, car manufacturers have had to ramp up the amount of technology offered in their cars. Infotainment systems do a lot, like help navigate, set cabin temperature, adjust audio settings and more, but they tend to be a neat party trick, falling short in real-world use.
Ford's MyFord Touch system has been hit-or-miss with consumers. While it does look impressive and offers great functionality when it works, too many owners find that, too often, it doesn't work. Reported issues with with the Microsoft-based MyFord Touch system mirror problems experienced with PCs. But when a car's infotainment system is freezing, crashing, and in need of a reboot, it's much less convenient than on a computer.
It's can also tarnish a reputation. JD Power & Associates have cited MyFord Touch as one of the primary reasons that Ford's rank has plunged from fifth to twenty-third in Initial Quality Rankings. They've since updated the system, but it's an interesting case study that we're sure all automakers are referencing.
Seeing automakers struggle when it comes to in-car technology is a reminder of a similar past for personal electronic, back when tablets and smart phones used to try to emulate full-fledged computers. They were clunky and slow and typing without a physical keyboard was too difficult. Navigation around a computer operating system was based on precise pointing tools, like a mouse or track pad, not big stubby fingers. All that changed when smart phones and tablets adapted a new user experience and operating system.
This same transformation is happening with our vehicles. Automakers are seeing how people use their hands and voices to interact with their smart phones, and applying similar interfaces to their infotainment systems.
That's why many automakers are starting to bet on Linux. Linux is a robust and versatile computer operating system, which is used in popular mobile devices (seen at the right) like those powered by Android. Additionally, it's open-source, which means that anyone can take Linux and adapt it for their needs, without having to pay license fees. Now, Linux just earned its driver's license, and will be coming to a car's infotainment system soon.
Jim Zemlin, the executive director of The Linux Foundation gets to work with some real top-notch players in the technology industry, like Google, IBM, Intel and Nokia. But lately, he's been hearing calls from another group. "We are seeing a lot of interest in Linux among car makers," he said. "We expect to see Linux-based systems roll out in more and more cars over the next 6-18 months."
Zemlin has been around Linux since 2007, and has seen the ambitious idea of collaborative development transform the operating system into a big player in the tech world. He's convinced that the automotive industry is going down the right path with Linux.
"By using Linux, car makers can leverage what has already been developed for mobile and consumer electronics and apply it to automobiles." Said Zemlin, "This reduces research and development time and resources and also helps to meet consumer expectations for consistency between their smart phones, laptops and now, their cars."
He explained that "Car makers are also betting on Linux to make computing on wheels a reality, because Linux is developed by a global community of developers and organizations, not just one company." That also makes it cost effective for car companies, since they won't want to depend on one vendor to handle maintaining all the software in a car's infotainment system.
"In order to maintain the software in cars, which have a product lifecycle of 5-10 years, car makers are betting on the collaborative development model. This is how Linux wins in auto," said Zemlin.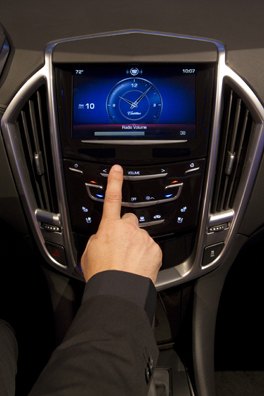 The first brand that is truly taking advantage of Linux is
Cadillac
. Their new XTS, and ATS sedans as well as their SRX crossover will have a Linux-based infotainment system (called Cadillac CUE, seen left) that will provide a very different experience what is currently on offer from rival automakers.
"We're very excited about GM's Cadillac User Experience." said Zemlin, agreeing that it's the right launching pad for Linux in auto.
Talking to GM about CUE was like trying to get someone's secret recipe. The company clearly knows that they're making something revolutionary, and are keeping their cards close to their chest.
Jim Zemlin made sure to point out that other car companies are going down the same path as GM. "In fact, Toyota joined The Linux Foundation a year ago and other companies including BMW, Nissan and Jaguar Land Rover, among others, are participating in technical Linux events, such as the Automotive Linux Summit, as well as technical initiatives."
When asked why GM decided to use Linux, Brian Corbett from Cadillac Communications said point-blank, that they chose Linux because it was open source. This would help contribute to the technology he said, since it could be easily updated. Corbett tells us "CUE will receive updates as its 'ages.'"
Mike Hichme, the engineering manager at Cadillac told us a bit about the role Linux plays in its upcoming infotainment system. "We start with what's available and expand upon that. Make it yours"
Taking a look at GM's CUE system, and you'll immediately be reminded of an iPad or modern Tablet. The swiping gestures are clearly present, making it easier to navigate around the system than small hit points, or vague icons.
In fact, one could draw the conclusion that GM is looking to make things much more ergonomic, and enjoyable to use. Earlier built-in systems included huge daunting manuals, informing you of everything it can do. In comparison, you wouldn't see manuals like this with the latest tech-toys like cell phones or tablets. Things are self-explanatory and work as you'd expect.
It's clear that the car is the newest battleground for technology. Hichme explains that the industry has gone half and half with the operating system on their infotainment systems. "Some people have gone Microsoft Auto, and some have even gone with QNX," he says.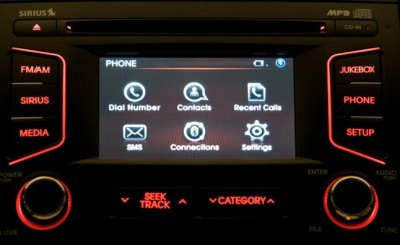 Microsoft Auto is the system used in the MyFord Touch system (As well as in some Kia vehicles, seen right), and QNX is known for being the operating system in the floundering BlackBerry PlayBook Tablet.
The MyFord Touch infotainment system that is found in Ford and Lincoln vehicle sounds a lot like Cadillac's upcoming CUE. The MyFord Touch system gives drivers a touch screen to change the audio preferences, adjust navigation, and answer phone calls.
However, instead of using Linux, like CUE, MyFord Touch uses a system developed by Microsoft. It's closed source, meaning that developers can't customize the system to their needs. Microsoft Auto is also based on a system called Windows CE, something seen on PDAs from back in the '90s. Mobile operating systems have come a long way since then.
Maybe that is a primary reason that GM and other car makers are leaning away from a Microsoft Solution for in-vehicle infotainment.
Linux is growing in the technology field. New computer-science students are strongly urged to take up learning Linux code and with the operating system appearing in such popular items like smart-phones and cars, it's clear to see why.
That is, until Apple releases its own infotainment platform, something that has been rumored around the car industry for quite some time. Ferrari and Apple CEOs were both at Stanford University's 'View From the Top' lecture series, so perhaps Apple is planting the seed with the Italian supercar maker.
The first Linux based infotainment system will be released in Cadillac's new XTS flagship sedan, which will go on sale later this year.
Published May 7th, 2012 1:45 PM
Popular Articles
Latest Comparisons
Car Buying Tools