5 Views
2014 Acura RLX is a Full-Size Luxury Sedan in a Mid-Size Package
November 29th, 2012 11:45 AM
Share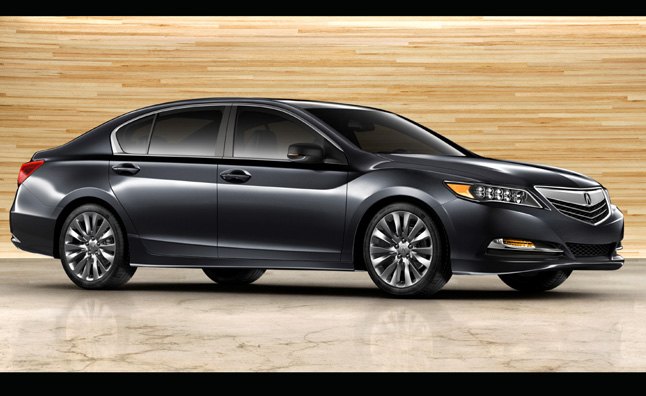 Looking to bridge the gap between mid-size and full-size luxury sedans, Acura has unveiled its new RLX flagship model at the Los Angeles Auto Show today.
In an outer shell that's more 5 Series or E-Class, Acura has fitted an interior it says is more in keeping with the 7 Series or S-Class, boasting the most rear-seat legroom in its class at 38.8-inches, a solid three inches more than the BMW 5 Series, Audi A6 and Lexus GS. In addition, Acura also claims the most front and rear should room of its competitors. Similar in overall length to the RL it replaces, the RLX has a two-inch longer wheelbase and is two-inches wider overall.
Looking in many respects like a larger ILX, the RLX is less than dramatic and easily recognizable as an Acura. Fitted with 18-inch wheels as standard, 19s will come equipped on higher-grade trim levels, while LED headlights should help add some drama to the car's approach.
Powering the new flagship is familiar Acura equipment, though with changes. A 3.5-liter V6 engine gains direct injection to deliver 310 hp and 272 lb-ft of torque, while cylinder deactivation helps achieve a best-in-class fuel economy rating of 20 mpg city, 31 mpg highway for a combined 24 mpg. A six-speed automatic comes standard.
In a segment where rear-dive is the norm, Acura is charting a risky course, putting power to the front-wheels. While exploiting the better all-weather and fuel economy of the front-drive setup, Acura is also employing what it calls PAWS (Precision All-Wheel Steer) to mitigate some of the dynamic disadvantages.
A rear-wheel steering system, P-AWS is the first to allow for independent steering (toe) angles, reducing understeer, improving overall cornering capability and resulting in better stability under braking.
P-AWS is, however, somewhat rudimentary compared to the level of sophistication Acura will use in a new Sport Hybrid Super Handling All-Wheel Drive system that will arrive later in 2013. Using a V6 hybrid under the hood, rear-wheel torque will come via two independent electric motors, allowing for impressive levels of grip and 370 hp. Acura also claims the SH-AWD model will get 30 mpg city and 30 mpg highway for a combined 30 mpg.
SEE MORE: 2014 Acura RLX Prototype Test Drive
Inside Acura promises a true luxury experience with a stitched leather instrument panel and optional Milano leather seats. An 8-inch Navigation screen comes standard, as does a 7-inch touch screen to a help control many of the car's functions, including the standard 10-speaker audio system or optional 14-speaker unit.
Safety and convenience technologies abound with features like Lane Departure Warning, Lane Keeping Assist, Forward Collision Warning and a Collision Mitigation Brake system, plus an all-speed Adaptive Cruise Control that works even in stop-and-go traffic. And of course there will be blind spot warning and a back-up camera (with multiple angles).
In a segment that's in many ways defined by perception, this new flagship isn't doing Acura any favors. Then again, the RLX might just be the ideal balance of large car functionality with mid-size dimensions, not to mention a level of driving performance that's now rare among mid-size luxury sedans.
Discuss this story on RLXForum.com.
GALLERY: 2014 Acura RLX
GALLERY: 2014 Acura RLX World Premiere
Published November 28th, 2012 2:00 PM
Popular Articles
Latest Comparisons
Car Buying Tools