1 View
2014 Toyota Tundra to Debut at 2013 Chicago Auto Show
January 24th, 2013 8:55 PM
Share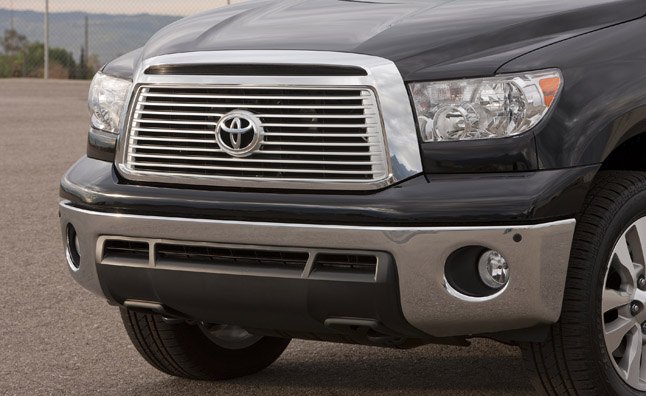 Originally unveiled at the 2007 Chicago Auto Show, the Toyota Tundra will once again use the windy city as its debut venue when an all-new version of Toyota's half-ton takes the stage at the 2013 Chicago Auto Show.
Information on the new Tundra is still sparse, but rumors have been circling the new truck for months. The Tundra is likely to adopt a more aggressive look, and leave behind some of the sloping curves it has currently.
Fuel economy has to be improved on the Tundra for it to stay competitive, and there are a couple different ways Toyota may use to achieve this.
Direct injection is the first route Toyota will likely take to help save gas, though more radical options may be available. A turbo-charger may be strapped on the Tundra's V6 engine, and both diesel and hybrid powertrain options have been tipped as likely, though the hybrid option seems like the front-runner in the gas-alternative category, seeing as Toyota and Ford are collaborating on hybrid tech for large vehicles. If a hybrid Tundra does not bow right away, it may still have a place in the lineup a couple of years down the line.
SEE ALSO: 2014 Toyota Tundra Rumored for Chicago Auto Show Debut
Another possibility is the introduction of more gears, copying the likes of RAM with an eight, or even nine-speed gearbox.
Cabin appointments will likely become more luxurious, with more options than the previous model to try and keep up with Ford's Platinum trimmed trucks, Ram's Laramie Long Horn edition, and the Denali trucks from GMC.
While there is still much speculation, all will be revealed on Thursday, February 7, at 9 a.m during the 2013 Chicago Auto Show,
Discuss this story at tundratalk.net
Stephen Elmer
Stephen covers all of the day-to-day events of the industry as the News Editor at AutoGuide, along with being the AG truck expert. His truck knowledge comes from working long days on the woodlot with pickups and driving straight trucks professionally. When not at his desk, Steve can be found playing his bass or riding his snowmobile or Sea-Doo. Find Stephen on <A title="@Selmer07 on Twitter" href="http://www.twitter.com/selmer07">Twitter</A> and <A title="Stephen on Google+" href="http://plus.google.com/117833131531784822251?rel=author">Google+</A>
More by Stephen Elmer
Published January 24th, 2013 1:32 PM
Popular Articles
Latest Comparisons
Car Buying Tools