1 View
Renault Alpine Mule Caught Testing in Spy Photos
July 16th, 2013 3:53 PM
Share
We're committed to finding, researching, and recommending the best products. We earn commissions from purchases you make using links in our articles. Learn more here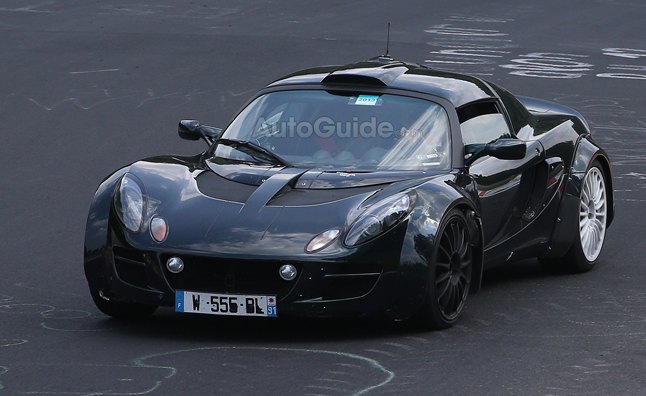 Renault and Caterham have joined forces to revive the legendary Alpine nameplate, and our spy photographers managed to grab some shots of an early test mule for the car.
The car seen in the photos is a chassis test mule, disguised under the sheet metal of a Lotus. Size wise, the Alpine looks to be the same length as the Lotus, though it will probably be slightly wider.
SEE ALSO: Renault Alpine on Track for 2015
There will be two different sports cars that will result from the collaboration, one for Renault and one for Caterham. The car is aiming at providing a lightweight, nimble package, much like the Mazda MX-5. Rumor has it that the car will make around 250 hp, and cost less than $80,500 (£50,000).
Renault has already built a concept version (seen above) of the car, though the concept got its power from a mid-mounted 3.5-liter V6 with 400-hp and 311 lb-ft of torque.
GALLERY: Renault Alpine Test Mule
Stephen Elmer
Stephen covers all of the day-to-day events of the industry as the News Editor at AutoGuide, along with being the AG truck expert. His truck knowledge comes from working long days on the woodlot with pickups and driving straight trucks professionally. When not at his desk, Steve can be found playing his bass or riding his snowmobile or Sea-Doo. Find Stephen on <A title="@Selmer07 on Twitter" href="http://www.twitter.com/selmer07">Twitter</A> and <A title="Stephen on Google+" href="http://plus.google.com/117833131531784822251?rel=author">Google+</A>
More by Stephen Elmer
Published July 16th, 2013 3:53 PM
Popular Articles
Latest Comparisons
Car Buying Tools