4 Views
2019 Chevy Silverado Diesel Confirmed in Spy Shots
June 26th, 2017 7:36 AM
Share
We're committed to finding, researching, and recommending the best products. We earn commissions from purchases you make using links in our articles. Learn more here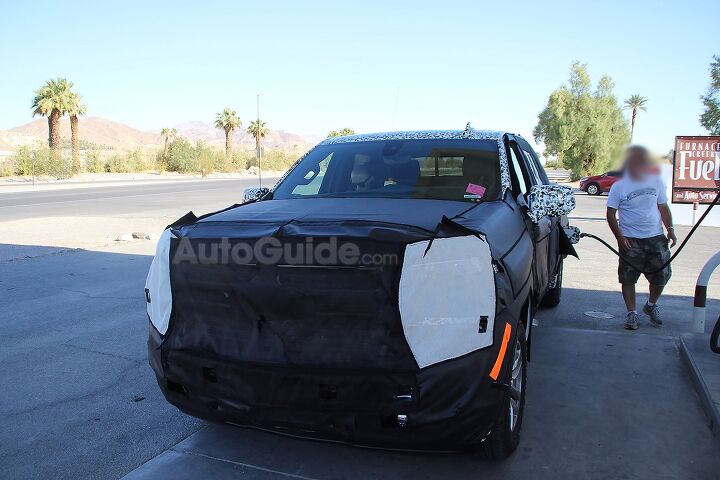 Diesel is hitting the half-ton market hard and Chevy is the latest to join the club.
A new set of spy photos has revealed that the American automaker is testing a diesel engine under the hood of its Silverado pickup. This was obvious when the test truck pulled into a gas station and filled up with the green handled pump reserved for diesel fuel. One of Chevy's engineers even filled up a yellow gas container, also usually reserved for diesel.
Exactly what this diesel engine will be is still unknown, with rumors pointing to a 4.5-liter V6 unit. It is also possible that GM will crank up the output of the smaller 2.8-liter Duramax four-cylinder diesel found in the Canyon and Colorado. If the Silverado loses enough weight with the upcoming redesign, the little engine could offer enough grunt for the half-ton.
The truck is expected to heavily use aluminum, although another recent set of spy shots confirmed that GM won't go to aluminum for the bed of the trucks. More likely, the hood and fenders will go to the lightweight metal.
SEE ALSO: Chevrolet Silverado HD Spied Testing Updated Engines
Considering what Ford has done, it is likely GM will hook most or all of these engines to the new 10-speed automatic that was developed by the two brands.
Of course, a range of gas engines will be offered with the truck, including at least on V6 and one V8. Turbocharging has been discussed for the gas engines, but so far, it's not clear how Chevy will outfit the new Silverado.
A few other things are revealed by this set of spy photos, such as the dual-exhaust setup, which is neatly tucked up under the bumper and a set of Rancho shocks, which are currently used on the Silverado Z71.
It is an interesting time for Chevy to jump into the diesel half-ton market. Ram is currently under investigation by US authorities for possibly using a defeat device in its diesel engines, while Ford recently announced it will offer the first-ever F-150 diesel starting in 2018. There's no doubt that both Ford and Chevy's new diesels will face heavy scrutiny by governing bodies.
The new Silverado is expected to hit the market in 2018 as a 2019 model.
A version of this story originally appeared on Off-Road.com
Discuss this story on our Chevrolet Silverado Forum
Stephen Elmer
Stephen covers all of the day-to-day events of the industry as the News Editor at AutoGuide, along with being the AG truck expert. His truck knowledge comes from working long days on the woodlot with pickups and driving straight trucks professionally. When not at his desk, Steve can be found playing his bass or riding his snowmobile or Sea-Doo. Find Stephen on <A title="@Selmer07 on Twitter" href="http://www.twitter.com/selmer07">Twitter</A> and <A title="Stephen on Google+" href="http://plus.google.com/117833131531784822251?rel=author">Google+</A>
More by Stephen Elmer
Published June 23rd, 2017 1:02 PM
Popular Articles
Latest Comparisons
Car Buying Tools