5 Views
Bollinger B2 is a Fully Electric Pickup Truck With 520 HP
October 10th, 2018 12:47 PM
Share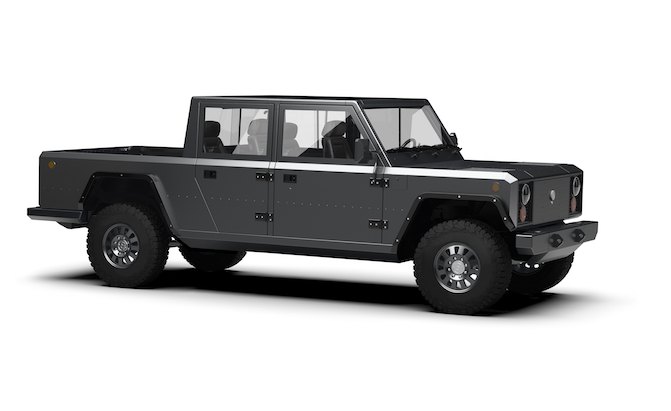 Gearheads who wave the flags for pickup trucks and electric vehicles may soon look to Bollinger Motors for a vehicle that'll satisfy those seemingly polar opposite interests.

Bollinger Motors, the American company building all-electric off-road rigs with a lantern jaw and more than a hint of Defender or Hummer in its styling, has decided to imagine a pickup truck.

Powering the pickup are dual electric motors, one up front and one in the rear. Together, they are said to make 520 horses and 514 lb-ft of torque, good for a 0-60mph dash in the vicinity of 6.5 seconds. A 120kWh battery pack should store enough juice to supply a driving range of about 200 miles. Level 3 fast charging will top up the battery in roughly 75 minutes.

Off-road fans take note: Bolligner machines feature portal gear hubs, allowing for 15-inches of ground clearance and 10-inches of wheel travel. Those 17" wheels are wrapped by LT tires with a 285 section and 70-series sidewall. A self-leveling hydro-pneumatic suspension system, disconnectable sway bars, and locking diffs give the Bolligner a good dose of trail cred.

The B2 is significantly larger than the B1 already shown by the company, as it is 207.5 inches in length riding on a 139.0 inch wheelbase. That places the B2 a good three feet longer than its little brother. Both are 77 inches wide. For comparison, a JL Unlimited measures 188.4 inches long with a 118.4 inch wheelbase.

SEE ALSO: 1,183 HP Audi RS3 EV Previews the Future of Performance

Given these new dimensions, the B2 shaves a few degrees from its off-road approach and departure angles compared to its more compact cousin. They are still impressive, however, as a 52 degree approach angle and 28 degree departure angle are nothing to sneeze at. Raptor owners enjoy 30 and 23 degrees, respectively.

Storage was a priority for the B2 pickup, so the team crafted a bed just over four feet wide and a bit under six feet long. With the internal cab tailgate down, the rig can carry full 4′ x 8′ sheets of plywood. The rear glass also opens up like its B1 brother, allowing storage to the top of the cab. So configured, new B2 can fit up to 72 sheets of 4' x 8' plywood which is enough material to panel a room measuring 50ft x 45ft, in case you're wondering.

These measurement are in addition to Bollinger's trademark, a large front trunk space and patented pass-through door for transporting items over sixteen feet in length. Try that with your F-150. Since all of the powertrain bits are housed in the truck's basement, one can open up both ends of the pickup for cargo space that runs clear through the machine. Check it out in the image below.

Renderings of the B2 shown here are based on CAD data the company hopes use deploy in the building of a prototype in 2019. Bollinger plans to manufacture the B2 on the same assembly line as the B1 in 2020. The company is announcing a full suite of vehicle options, pricing, and delivery details next year.

A version of this story originally appeared on Off-Road.com.
Published October 10th, 2018 12:47 PM
Popular Articles
Latest Comparisons
Car Buying Tools