3.3K Views
2024 Toyota Land Cruiser Hands-On Preview: Back to Its Roots
August 2nd, 2023 11:40 AM
Share
{ "id": "13482847", "alt": "", "title": "", "video_link": "https://www.youtube.com/embed/2D3XZU9oCfY", "youtube_video_id": "2D3XZU9oCfY" }
{ "width": 634, "height": 357, "showRelated": true }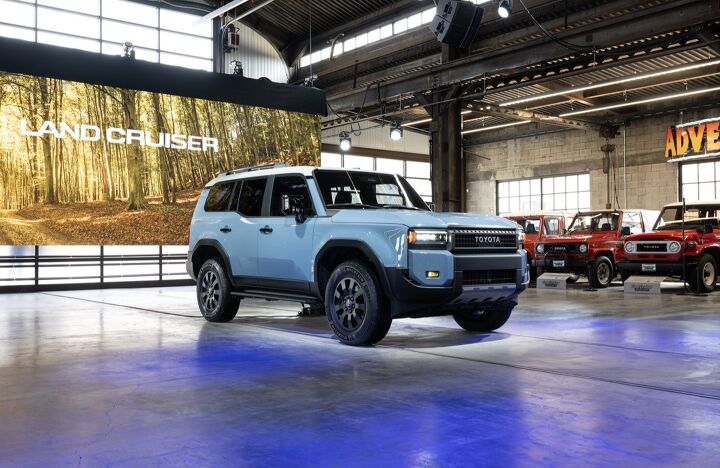 The Land Cruiser is back—and Toyota is realigning it as a Wrangler and Bronco competitor.
This is the 2024 Toyota Land Cruiser, which just debuted at the Land Cruiser Museum in Salt Lake City. Yes, the brand has brought back its longest-running nameplate after a couple years vacation. During that time off, the Cruiser hasn't sat around: instead, it's trimmer, fitter, more in keeping with what it used to be before it was a Lexus in all but name.
The reborn Land Cruiser shares much of its underpinnings with the related Toyota Tacoma and Lexus GX. That translates to a double-wishbone front suspension, with a multilink rear featuring coil springs. No fancy-schmancy air suspension here. Full-time four-wheel drive is standard, including a center locking differential and two-speed transfer case. There's also an electronic locking rear diff and automatic limited-slip differential. The Land Cruiser even pinches the Tacoma's front stabilizer bar disconnect function. And look, tow hooks!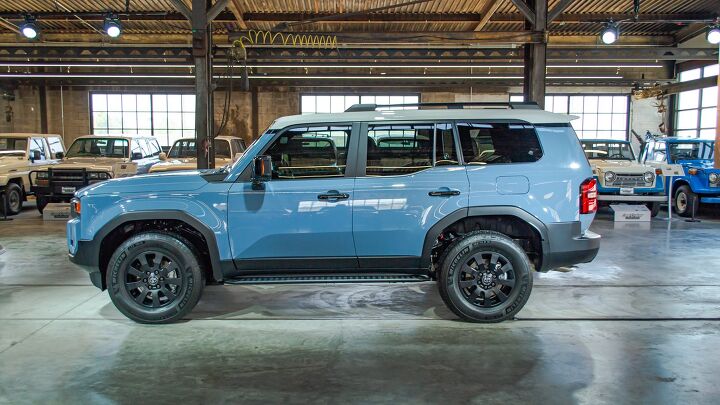 I got a sneak peek at the main trim and the 1958 ahead of the reveal. First impressions are strong: Toyota has nailed the look, managing to combine classic styling cues in a way that doesn't feel lazy, while also managing to distance the Land Cruiser from its many, many Toyota SUV siblings. The word I keep coming back to is "chunky." It is very deliberately boxy, as it shares much of its shape with the Lexus GX contributor Kevin Williams saw earlier this summer. This includes the angular wheelarches, floating roof design, and squared-off tailgate. The Land Cruiser comes with its own distinct nose treatment however—two in fact, depending on the trim.
The entry level Land Cruiser 1958 features adorable round LED headlights, which it shares with the limited-production First Edition. The middle trim, named simply Land Cruiser, adopts simpler rectangular lighting elements, meant as a nod to the later, facelifted J60 models. This model features painted outboard bumper sections, which provide visual separation as nod to the big ol' bumpers of the legacy models. The 1958 sticks with matte black plastic here. A Toyota spokesperson told us this modular approach was intentional: if owners bash up just a corner, there's no need to replace the entire front bumper. Standard rolling includes 18-inch alloy wheels with 245/70R all-seasons on the 1958. The other models feature wider 265-section rubber, and the Land Cruiser trim offers available 20-inch wheels.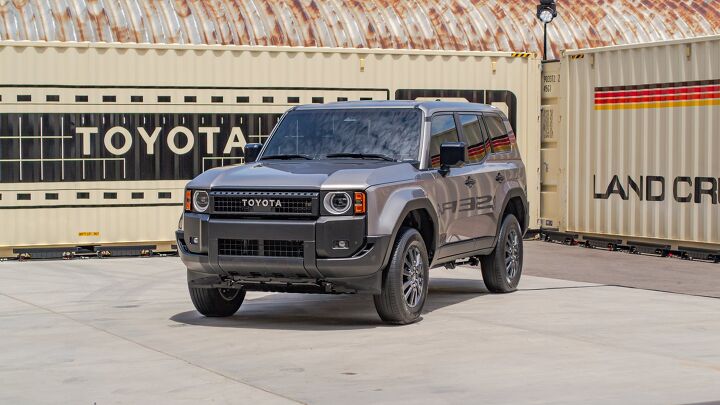 The tail features big, rectangular lighting elements and a separately-opening rear window. It's hard to miss the i-Force Max badge on the tailgate too, which signifies that the reborn 'Cruiser is another hybrid—exlusively so, in fact.
The sole powertrain is a familiar one if you've read our 2024 Tacoma preview. The Land Cruiser borrows the Taco's most muscular setup, pairing a 2.4-liter turbo-four with an electric motor. That motor pulls its charge from a 1.87-kWh nickel metal hydride battery. Combined outputs are 326 hp and 465 pound-feet of torque, all routed through an eight-speed automatic transmission.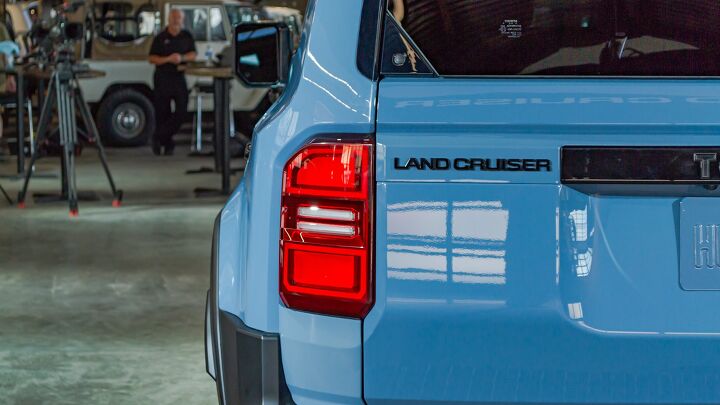 For reference, that's comfortably more horsepower and vastly more torque than Jeep Wrangler's 2.0- or 3.6-liter engine options, as well as the Bronco's standard 2.3-liter turbo. The Bronco's upgrade 2.7-liter V6 puts out 330 hp and 415 lb-ft, while the Wrangler 4xe's plug-in powertrain offers 375 hp and 470 lb-ft.
It's hard to get a bead on the size of the Land Cruiser, so let's talk numbers. At 193.7 inches long, it's about two inches longer than a 4Runner, and a little over three inches shorter than the GX. It's also just shy of 10 inches longer than the old FJ Cruiser. The wheelbase is the same 112.2 inches as the last Land Cruiser, the existing LX, and the GX—it's what Toyota has "the golden ratio" for decades. Ground clearance is 8.7 inches (221 millimeters); down compared to all the relatives. Meanwhile, the Land Cruiser boasts a 31-degree approach angle, 25 degrees for breakover, and 22 for departure; the 1958 knocks that first number down to 30. Those are better scores than its closest sibling, but also down on the existing 4Runner.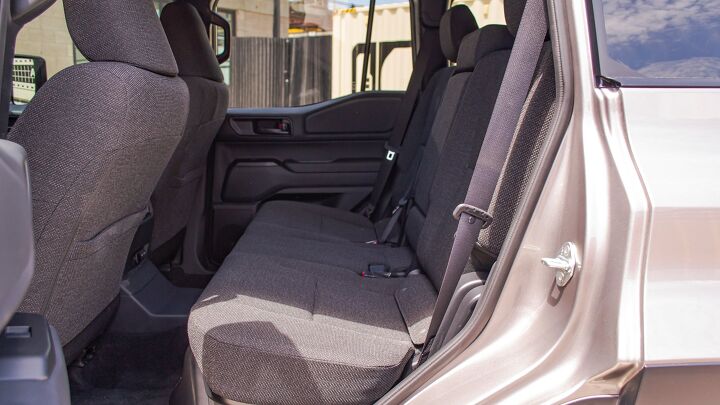 Step inside and there's one important distinction from the GX: the new Land Cruiser is a two-row SUV only. That means plenty of space in the second row for adults, especially with that high-up roof. The dashboard design is something of an evolution of the existing 4Runner layout, with a distinct shelf design, but more modern details. Cool rotary air vents sit at either side, while an integrated vent/controls area takes up the center section. Toyota recognizes the importance of physical buttons, and has kept most common controls together in a two-plane layout here, similar to the setup in the Prius. An 8.0-inch touchscreen is standard on 1958, with a 12.3-incher showing up on Land Cruiser. The latter moves the volume knob closer to the driver, while both maintain a palm-rest ledge for ease of use. Both feature wireless Apple CarPlay and Android Auto, as well as a wireless charge pad.
Multi-Terrain Select is standard on the Land Cruiser grade, and now works with both 4WD High and Low. This includes a Crawl feature, which functions as a sort of off-road cruise control. Downhill Assist Control is also included. The Land Cruiser trim also includes the Multi-Terrain Monitor, which allows drivers to use exterior camera feeds to see the trail ahead. Other tech features include an available 4G hotspot and digital key.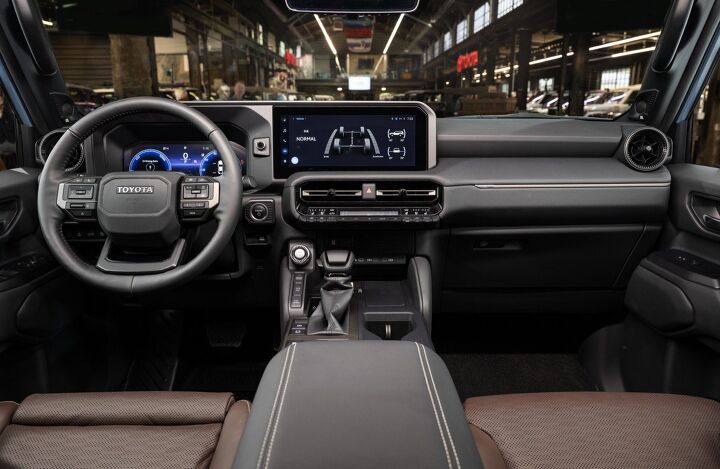 The 1958 model features hearty fabric seating, which gives the impression it will wear well over the years. Move up to the main trim and you'll find SofTex seating in black or brown, with heating and ventilation up front; leather is available, and standard on the First Edition. That special edition will be limited to 5,000 units for North America, and comes with a roof rack, rock rails, the round headlights, a front skid plate, and unique interior trim pieces.
Toyota Safety Sense 3.0 is standard across the Land Cruiser family, including assists like automated emergency braking, lane keep assist, adaptive cruise control, traffic sign recognition, and auto high beams. It also includes Toyota's Proactive Driving Assist, which we hope is deactivated while off-roading.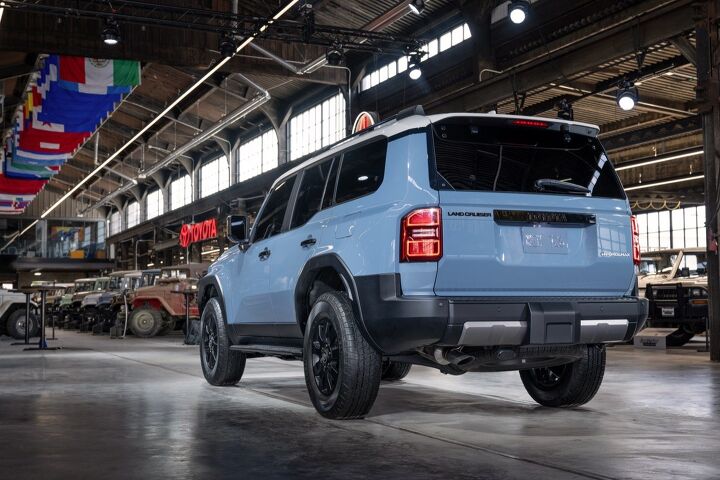 So where does this leave the 4Runner, which is built at the same Tahara plant? We asked Toyota PR Connor Hoffman just that. "Well if you look at pricing and trim levels across the grades, this is a more simple grade structure, it starts in the mid-50s, so you can piece together the answer from there," explained Hoffman. "Obviously the 4Runner is super important in the North American market. In terms of the next-gen 4Runner we don't have anything to announce right now."
As Hoffman stated, the 2024 Toyota Land Cruiser will start in the mid-50s in America; Canadian pricing is unknown at this point. Sales will start spring of next year, so expect more details closer to launch.
Discuss this story on our Toyota Land Cruiser forum.
Become an AutoGuide insider. Get the latest from the automotive world first by subscribing to our newsletter here.
Published August 1st, 2023 9:21 PM
Popular Articles
Latest Comparisons
Car Buying Tools