938 Views
Nine Must-Have Pieces of Overlanding Gear for Beginners
August 4th, 2023 1:22 PM
Share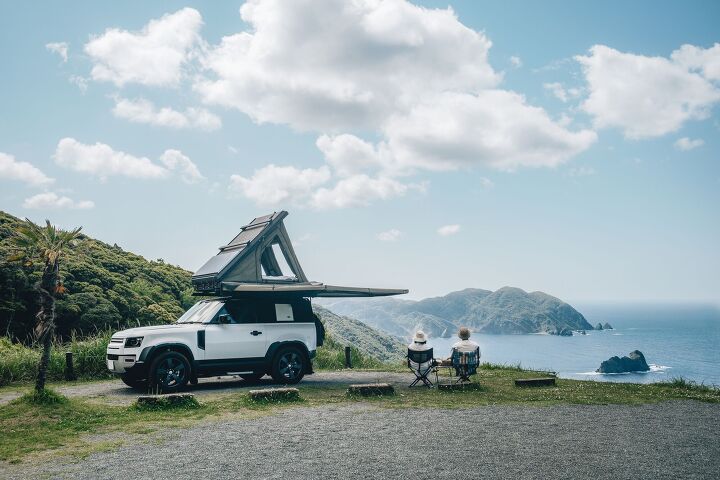 If you've been thinking about trying overlanding but are worried you don't have the right rig and gear, stop. Stop worrying. You don't need a lifted Land Cruiser or Wrangler with a roof tent to dip your toes into the adventures of overlanding. We're not going to stop you from building your dream rig, of course, but you should probably make sure that it's an activity you're going to love before spending the big bucks. There are a few things you'll need to get started, though. So we've made this list of the best overlanding gear for beginners. You might outgrow it down the road, but we think it's a great way to get started.
What You Don't Need:
Tires
If you're an experienced off-roader already, you probably know whether or not your tires are up to the challenge of serious off-roading. If you're an off-road amateur, then you should probably get a run or two under your belt before even thinking about serious vehicle upgrades. Off-road tires aren't great on the highway just like highway tires aren't great off-road. But your SUV or pickup's factory rubber should be enough for gravel or dirt trails while you get the hang of adventuring.
Lift
Just like we said about tires, stock height is fine until you start to push the limits. A suspension lift is also a great way to fall down the rabbit hole of ever more serious vehicle mods until your off-roader is suddenly useless to drive to work or the grocery store during the week.
Roof Top Tent
Yes, roof top tents are cool. And they keep you out of the dirt when you're sleeping. But they're expensive and can be tough to get in and out of. So start with something more basic and make sure you like camping and overlanding before you make that big upgrade. You can always sell your plain boring tent to another person looking to try out the sport. And who knows, they might become your new trail buddy.
What You Do Need:
Koolatron Thermoelectric Iceless 12V Cooler
Keeping your food cold with ice works great for the first day or two, but after that, your lunch and dinner start to mix with melted ice into some sort of horrible cold soup. A 12V iceless cooler uses 12V power from your vehicle to keep your food cold for more days without ice. This Koolatron unit holds 26 quarts, enough to keep you in meat and perishables for at least a few days in the wilderness. It also works great for keeping drinks cool on road trips when you're not overlanding and can be pre-chilled using a 110V power outlet in your home overnight. Larger models are available if you're bringing a bigger crew along and need more food.
Features: Keeps food cold without ice, low power usage won't drain battery
Scepter 5 Gallon True Military BPA Free Water Container
If you're heading off the grid, you're going to need water. A couple of gallons a day per person minimum, and more if you're going somewhere hot and dry or if you're going to be doing high-exertion activities like hiking. Yes, you can save up gallon jugs and use those, but they're not easy to pack and hard to clean. This is a food-grade water container, meaning it is designed for drinking water storage. It's corrosion and fungus-resistant and BPA free. There's a large opening for refilling or emptying and a smaller lid so you can top up your water bottles. The square design makes it easy to stack and store in the back of your rig, and the plastic cans are 4 pounds lighter than steel.
Features: light, durable, second spout for filling water bottles
TripTips Upgrade Retractable Portable Toilet
If you're going outdoors for more than a few hours, you're going to have to answer the other call of nature. And unless you're a fan of squatting, then you're going to want a portable toilet like this one. The folding seat extends up to 8 inches and supports up to 380 lbs for use by almost anyone. The portable toilet comes with a waterproof carry bag and 10 toilet bags so you can properly dispose of your waste. You can also use it as a seat, though we're not sure we'd want to use it at the kitchen table, or just as a trash can.
Features: Compact, light, sturdy
Rhino USA Survival Shovel w/Pick
Portable toilet or not, you're going to want to bring a shovel along with you when you're overlanding. In fact, if you only bring two things with you, they should be water and a shovel. Why? Because a shovel can be versatile, handy, and save your life. Bury your waste as part of proper disposal, move some dirt to make sure that campfire is extinguished, or dig yourself out if you're stuck in dirt, snow, sand, or mud. This shovel collapses for one-handed use but has a 31-inch handle for more strenuous shoveling. As a bonus, it has a serrated cutting edge, bottle opener, whistle, and even a flint fire starter.
Features: Dig your way out of trouble, features survival tools
Pure Active Body Wipes for Camping and Travel
You might not be ready for a gravity-fed shower on your rig, but that doesn't mean you don't want to freshen up on your camping trip. The easiest way to do it is with body wipes like these. Think wet wipes, but much larger, they're a great way to clean your hands, face, and anywhere else that needs a good wipe-down after your hike or a rough day in the mud. While you should always pack out what you pack in, these wipes are biodegradable so you can compost them. Or worry a bit less if one gets away from you.
Features: Get cleaned up without water, biodegradable, large size
KMZ Air Mattress Travel Camping Bed
Sleep in the back of your SUV (or wagon) with this inflatable camping bed. An inflatable bed is a great alternative to a tent outside, plus you can use it in your tent on the ground or on the roof should you decide to upgrade later. An air mattress keeps you off of hard surfaces, it also helps insulate you from cold (or hot) ground. This mattress holds up to 3 adults and it has a 12V air pump that lets you inflate it quickly using power from your vehicle. You can also blow it up yourself if you want to conserve power but take a whole lot of time. The flocked surface stops you and your sleeping bag from sliding around all night. Plus there are separate chambers so you can inflate only one side or help the mattress fit around a cramped vehicle interior.
Features: Non-skid, 12V inflation, more comfortable than the ground
Camp lighting has come a long way since the days of the gas lantern, but Coleman has adapted along with it. This LED lantern can run for up to 8 hours on its highest setting or 60 hours on low. The lantern will run on standard D-Cell batteries or you can add a rechargeable cartridge so you can re-power your lantern on the trail during the day. The 700-lumen LED lamp illuminates up to 40 feet around you, and unlike a gas lantern, you don't need to worry about fire. It's also impact-resistant and water-resistant for campsite durability and has a huge handle to make sure it's easy to carry around and hang up as needed.
Features: D-Cell or rechargeable batteries, two light settings, plenty of light
BUNKER INDUST Off-Road Traction Boards
So this one is a bit of a twofer. Traction boards are great if you're running over sandy or snowy terrain. If you dig down a bit too far, you can get stuck pretty quickly, and sliding a board like this under your tire can get you enough grip to get going again. That's if you haven't sunk to the frame, at least. But these are also ideal for situations where you have to jack up your vehicle on soft terrain. Try to use a car jack on soft terrain like mud, snow, gravel, or sand, and the jack will start to sink into the ground. It's not safe and it's not effective. A jackpad built into this traction mat gives you a stable platform to help change a tire, make emergency repairs, or get rocks or logs out from under your off-roader.
Features: Works to get you unstuck, also works as a stable jack point
Coleman Bottletop Propane Camping Stove
What's camping without your morning coffee? The best way to make that hot water for coffee in the morning, or to cook your food at any time of day is with a propane stove. There are bigger two and even four-burner stoves available, but for starting out this compact stove is perfect. It attaches to a standard-sized compact propane bottle for up to 2.5 hours of cooking on the high setting. Wind baffles keep the fire going in bad weather, and the cooktop is big enough for an eight-inch pot or pan. Once you're done cooking, the stove (once it has cooled off) stores in a very small space. The burner comes with a tank base support, so the whole thing can stand up securely for cooking.
Features: Compact, 10,000 BTU, uses standard mini propane bottles
Things you already have:
If you only bring these nine items with you, you're probably not going to have a good time. But the rest of the essentials are things you probably already have at home. Blankets and a towel, for example, as well as cooking utensils, cutlery, and a pot are all things you probably have. Don't forget to bring the food for the cooler and to put water in the container before you set off.
Other things you'll want include extra clothing and rain gear, a car tire inflator if you have one, and essentials like sunblock and insect repellant. You're also going to want a good map so you know where you're going as well as park permits if you're going to be visiting somewhere that requires one. A phone charger is another key bit of gear you'll want to have.
So check the camping and fire regulations for your area, pack your gear, and get out there and have fun. And if you're loving it and want more, check out our other lists for more must-have items for overlanders.
Published August 4th, 2023 1:22 PM
Popular Articles
Latest Comparisons
Car Buying Tools