458 Views
Top 5 Best Car Seat Cushions
March 28th, 2022 6:22 PM
Share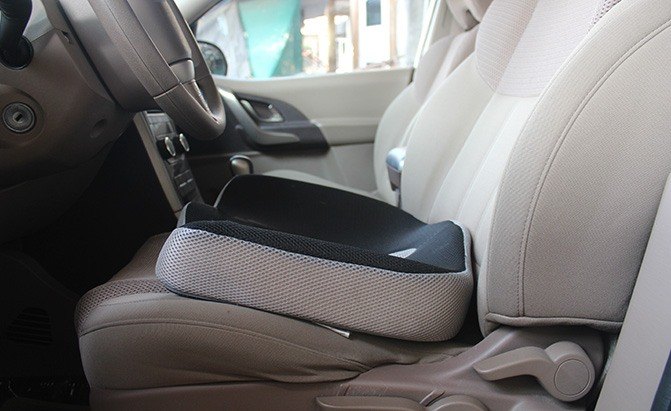 Many of us endure long hours sitting at a desk before getting into our cars and dealing with traffic on the way home. All that sitting can take a heavy toll on your back, which is why it's a great idea to invest into a seat cushion for your car. Car seat cushions aren't complex products, and many of them will boast similar construction and features. There is a small variety of styles out there, depending on what's most comfortable for you.
When choosing the right car seat cushion, think about quality and comfort. You'll naturally want a product that's constructed from high quality materials so it'll last for years, but you'll also want something that's comfortable to sit on for hours if necessary. While there are plenty of options out there, we recommend sticking with cushions made from quality foam and feature an easily removable, machine-washable cover. Our recommendations below are also all portable, so you could even use it in the office.
For more information on the best car seat cushions, refer to our table of contents.
Table of contents
1. Editor's Pick: ComfiLife Gel Enhanced Seat Cushion
Featuring a non-slip rubber bottom, built-in handle, and a machine-washable zippered velour cover, this gel memory foam seat cushion is our top recommendation. Constructed from durable, premium quality memory foam, this cushion's top gel layer cools you off for extra comfort. It's ergonomically designed to support your tailbone and proper spinal alignment, helping relieve pressure and promote healthy posture.
This seat cushion is a great addition to any car's interior, especially if you endure long bouts of traffic during your commute.
Product features:
Non-slip rubber bottom
Built-in handle
Machine-washable zippered velour cover
Premium quality memory foam
Top gel layer
Ergonomically designed to support your tailbone
2. SOFTaCARE Seat Cushion
This option is another one of our favorites since it includes a lumbar support pillow, in addition to the seat cushion. Designed to relieve tension from your back, this set of pillows features a non-slip rubber bottom, high quality memory foam, soft velour covers, and breathable mesh. Built-in handles also make these cushions easy to carry in and out of your car, while the lumbar pillow is equipped with a pocket to hold your cell phone or other mobile device.
Use both these pillows in your car or office throughout the day to help relieve back pain.
Product features:
Includes lumbar support pillow
Relieves tension from your back
Non-slip rubber bottom
High quality memory foam
Soft velour covers
Breathable mesh
Built-in handles
Lumbar pillow features a pocket for your cell phone
3. Everlasting Comfort Car Seat Cushion
This recommendation is a wedge cushion designed to relieve pain while driving for long periods. Unlike conventional seat cushions, the wedge design doesn't put pressure on your thighs, while still helping to improve posture. The cushion also sports a U-shaped cutout in the rear to suspend the tailbone and coccyx for added relief. It's constructed from memory foam that adapts to body heat, molding to a comfortable shape that fits you. The sewn-in handle, non-slip rubber bottom, and zippered machine-washable cover are what you'd expect from a quality seat cushion.
This is an ideal option if you prefer a wedge cushion over a conventional seat cushion.
Product features:
Wedge cushion design
Doesn't put pressure on your thighs
U-shaped cutout in the rear
Memory foam construction
Adapts to body heat
Sewn-in handle
Non-slip rubber bottom
Zippered, machine-washable cover
4. FORTEM Seat Cushion Pillow
This option checks all the boxes for features you need when shopping for a seat cushion. It's constructed from premium quality, heat-responsive, and thick memory foam that is encased in a breathable, removable, and washable cover. A non-slip rubber bottom ensures this cushion stays in place while you're driving, and a convenient carrying handle allows you to easily take it on the go. It features a curved, contoured U-shaped design that has a cut out to help relieve pressure on the spine and tailbone.
It may not appear that this recommendation has any standout features, but it doesn't need any since it simply does the job.
Product features:
Premium quality, heat-responsive thick memory foam
Breathable, removable, and washable cover
Non-slip rubber bottom
Convenient carrying handle
Curved, contoured U-shaped design
5. Clever Yellow Car Seat Cushion
This U-shaped orthopedic wedge is designed to tilt your pelvis, improving posture and relieving pressure on your lower spine. An ergonomic coccyx cutout helps reduce tailbone pain and sciatica during long rides in the car. It's constructed from a molded foam core with ventilated, breathable mesh material on the outside. It's worth noting that this option is a bit firmer than other recommendations on our list.
To help this seat cushion stay in place is an adjustable strap with a buckle that goes around the back of your seat.
Product features:
U-shaped orthopedic wedge
Ergonomic coccyx cutout
Constructed from a molded foam core
Ventilated, breathable mesh material
Firmer than other recommendations
Adjustable strap keeps the cushion in place
---
We are committed to finding, researching, and recommending the best products. We earn commissions from purchases you make using the retail links in our product reviews. Learn more about how this works.
Photo credit: visiontandel / Shutterstock.com
Published June 26th, 2020 8:01 AM
Popular Articles
Latest Comparisons
Car Buying Tools