7 Views
Top 10 Best Trunk Mounted Bike Racks
March 30th, 2022 9:35 PM
Share
If you need a simple, yet versatile solution to carrying your bike, check out these trunk mounted bike racks.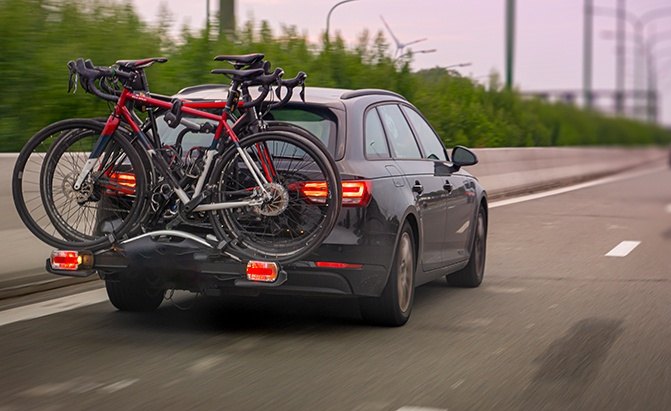 Just as there are different types of bicycles for dirt trails, urban riding, and road racing, there is a similar variety in the vehicle-mounted racks you can buy to get your bike from your home to where you want to ride it.
One of the most common is the trunk mounted bike rack. These versatile carriers attach to the rear of your vehicle without the need for a trailer hitch or roof rails. Typically, trunk mounted racks are designed to fit almost any vehicle, whether you drive a tiny hatchback or a full-size SUV.
If you're looking for an affordable way to bring bicycles along on your next family vacation or simply want to explore new territory on two wheels, you'll find a rack to suit your needs in this list of the best trunk mounted bike racks available right now.
1. Editor's Pick: Saris Bones 2-Bike Trunk Rack
Saris brings a unique product to the trunk-mount bike rack market with its Bones model. Instead of the metal tubular design of most of the other racks in this list, the Saris Bones is made up of six adjustable arms. Four of these rest against the rear of your vehicle, and the remaining two are the arms that support your bikes.
Saris says one of the Bones' advantages over other racks is that it fits more easily on vehicles with spoilers. Like most bicycle racks, the Bones uses adjustable straps to secure it to the vehicle's trunk or tailgate.
Another feature that sets the Saris Bones apart is its injection-molded construction, which means it will never rust. If you're an environmentally conscious consumer, you'll like that this rack is made of all recyclable materials.
The attachment straps on the Saris Bones use spring buckles, while you use a ratchet mechanism to secure bikes to the rack. Saris says this rack is rated to carry up to 70 pounds total weight.
Saris makes a number of variations on the Bones model, but we like this entry-level version because it brings a unique design to an accessible price point.
| | |
| --- | --- |
| Pros | Folds up for compact storage, attaches securely to vehicle to allow minimal movement while in transit |
| Cons | Top hooks can dent the vehicle's tailgate, this rack can be hard for a single person to install on a vehicle |
2. Best for SUVs and Minivans: Hollywood Racks F2 Over-The-Top
Hollywood's Over-The-Top model is designed specifically for vehicles with large rear spoilers that impede the proper installation of other trunk-mount racks. Its upper frame extension reaches above the roofline so that you can attach the top straps to the tailgate or the crossbar of a roof rack. Though we've named this the best rack for SUVs and minivans, its design is very versatile and will also work on many subcompact cars.
This rack comes in two- and three-bike variations, each of which can handle up to 35 lbs per bike: 70 lbs for the two-bike model, and 105 lbs in three-bike form. The Over-The-Top rack anti-sway cradles hold your bicycles steady, keeping them separate to minimize the likelihood of damage while in transit.
If your vehicle doesn't have a roof rack and won't accommodate the standard top attachment hooks, Hollywood includes hatch anchors that hang off the ends of the top straps inside the vehicle. As with most trunk-mounted racks, you'll need a top tube adapter to transport kids' bikes and step-through models.
Hollywood sells the Over-The-Top rack fully assembled so you can install it and hit the road that much more quickly.
| | |
| --- | --- |
| Pros | You can open the tailgate with the rack in place (but not with bikes on it), easy to install, fits a wide range of vehicles |
| Cons | Expensive, can be stolen from the car even with the trunk closed, works best with a roof rack also installed on some vehicles |
3. Best for Vehicles with Rear-Mounted Spare Tires: Hollywood Racks SR2 Bolt-On Spare Tire Rack
Here's a trunk-mount rack designed to fit over an exposed spare tire by bolting to the wheel rim instead of hanging over the top of the tire. That means you will only be able to use this rack if your vehicle does not have a cover on the spare tire.
Hollywood uses a universal adapter to allow this rack to fit on a variety of spare tires, and the company says you can center the support arms even if your vehicle's spare is positioned off-center.
This rack holds two bikes in soft rubber cradles that protect the bicycle's paint finish. The rack's arms can support up to 70 lbs. You can lock the rack to the vehicle, but you cannot lock your bikes to the rack. You can fold the rack's arms out of the way when you're not using them, which makes it easier to leave this rack attached to your vehicle all the time.
| | |
| --- | --- |
| Pros | Promises secure mounting, allows rack to swing with the tailgate without requiring you to unhook straps |
| Cons | Rack's paint may flake off after frequent use, metal may rust when exposed to the elements |
4. Best for Step-Through Bikes: Allen Sports Deluxe 2-Bike Rack
If you ride a BMX, a step-through bike, or a regular bike in a small frame size with a low top tube, you may have discovered those cycles are not always compatible with trunk-mounted racks. Allen Sports has a solution in this combo pack, which bundles the company's 102DN-R two-bike rack with an adapter bar that's normally sold as a separate accessory.
This affordable bike rack is rated to support two bikes and a combined weight of 70 lbs. It has six straps that secure the rack to the top, sides, and bottom of your car's trunk or tailgate, while padded supports protect the vehicle's rear window and paint finish. Each bike is held in place with its own set of straps. Allen says this rack is compatible with most sedan, hatchback, minivan, and SUV models.
According to some buyers, this rack will not fit on some cars with oversized rear spoilers.
| | |
| --- | --- |
| Pros | Adaptor bar adds versatility, affordable, easy to install |
| Cons | Unclear Instructions make setup seem more difficult than it is, difficult to center large bikes behind vehicle |
The Baja two-bike rack is one of Hollywood's mid-range models. It takes its inspiration from older trunk-mounted designs but brings some updates to give it a more modern look.
Soft rubber cradles protect your bicycles' finish, and their anti-sway design holds them steady so they don't swing against each other when you're on the road. You can use Hollywood's quick-release adjustment hubs connecting the top and bottom supports for easier installation.
Six straps—two each at the top, sides, and bottom—ensure you can securely attach the rack to the car. As an entry-level product, the Baja is designed primarily for bikes with relatively small-diameter frames. If you ride a mountain bike with a more robust frame, it may not fit in the Baja's cradles.
Like most of the racks in this list, the Baja ships pre-assembled, and it folds up for storage. Hollywood Racks also includes an integrated tie-down strap to provide an extra attachment point to the rack.
| | |
| --- | --- |
| Pros | Works on some vehicles with rear spoilers, fits vehicles not listed in Hollywood's fitment guide |
| Cons | The cradles are too small to hold some modern mountain bike frames, requires a separate adapter for kids bikes and step-through cycles |
Like the Hollywood Racks Baja, the Yakima FullBack is a more modern-looking version of classic trunk-mounted racks. It works similarly, with foam rubber supports where the rack rests on your vehicle, and Yakima's ZipStrip cradles to hold your bicycles in place and allow easy installation and removal.
The FullBack fits most vehicles thanks to an interlocking hub that helps you set the proper position for the upper and lower supports. Yakima ships the FullBack fully assembled so you can unpack it, load up your bikes, and go. When you're done riding, the rack folds for easy storage.
Yakima says the FullBack comes standard with rack-to-vehicle and bike-to-rack locks to keep your cycles safe when you're away from the vehicle. (A less-expensive HalfBack model is similar but doesn't come with locks.) The FullBack's other neat touch is a built-in bottle opener for your post-ride beverage.
Note that while Yakima's Amazon listing for the FullBack says this rack is rated for bikes up to a relatively lightweight 30 lbs, Yakima's website says the limit is actually 35 lbs per bike.
| | |
| --- | --- |
| Pros | A solid design at a mid-range price; sturdy construction, bikes stay securely fastened |
| Cons | Blocks the rear wiper on some hatchback and SUV models; rack is heavy, fitting three bikes seems optimistic |
7. Thule Raceway Pro Trunk Bike Rack
With the Raceway Pro, the folks at Thule have taken a page from the Saris design book, as this rack bears a strong resemblance to the Saris Bones model.
At first glance, the Thule's main difference is its U-shaped support arms, which are capped with rubber so they won't damage your car's finish. Regardless of what type of vehicle you're putting this rack on, Thule says its FitDial mechanism makes it easy for you to perfectly position the supports on the car.
Once you've got the rack where you want it, you can use the Raceway Pro's ratcheting straps to make sure it's firmly attached, and anti-sway cradles are designed to keep your bikes from moving around while driving. In addition, this rack can be locked to your vehicle and you can lock your bicycles to it, so you won't have to remove the bikes every time you park your car. The locks are included with the rack, too.
Thule says the bike cradle arms are positioned to hold smaller bikes without the need for an adapter. However, you will need one for step-through cycles.
Finally, the Raceway Pro folds up into a compact shape for easy storage when you're not using it.
| | |
| --- | --- |
| Pros | Narrow cradle arms will hold a variety of bike sizes, comes with rack-to-car and bike-to-rack locks, easy to install |
| Cons | Some users say the anti-sway cradles don't work very well, distorts thin sheet metal on some vehicles |
8. Allen Sports Deluxe 2-Bike Spare Tire Rack
There are relatively few bike racks designed to fit on SUVs with rear-mounted spare tires. They do exist, however, and one of the best available to you is the Allen Sports Deluxe 302DN 2-Bike model.
Allen Sports says the 302DN fits almost any SUV with an externally mounted spare tire, even if yours has a high-mount brake light above the tire. If you drive the most recent Jeep Wrangler JL generation, note that you need the 322DN model, which is designed specifically to fit that vehicle.
Both the 302DN and 322DN have 15-inch carry arms to hold two bikes weighing up to a combined 70 lbs. They're positioned high up to keep bikes far from the road surface and the heat of your vehicle's exhaust. The wide-set lower foot supports are designed to rest on your vehicle's spare tire instead of the rim, which helps avoid damage to the rim and the bike rack.
The rack's top support rests on top of the spare tire itself or the tire cover and is held in place by tightening the lower straps, which you attach to the vehicle's rear bumper or the bottom of the tailgate.
| | |
| --- | --- |
| Pros | Fits SUVs with exposed and covered spare tires, fits a variety of bicycle types |
| Cons | Bottom straps can work loose on certain vehicles, bike tie-downs can scratch the bike's paint, no locking mechanism for bikes |
9. Tyger Auto Deluxe 3-Bike Rack
Tyger Auto makes it clear right off the top that this bike rack will not fit on cars with spoilers. However, if you have a spoiler-less vehicle, this is a strong value for a basic trunk-mounted bicycle rack.
Tyger ships this cycle carrier fully assembled so you can install it on your vehicle straight out of the box. Its construction breaks no new ground with its tubular metal arms and foam supports to protect the sheet metal of your car or truck. Its six rack-to-car mounting straps use metal cam buckles to keep them tight in transit, and soft cradles protect your bike from scratches.
Also included is an extra safety strap to secure your bicycles to the rack so they don't sway and swing against each other or your vehicle while driving.
The model we've included here is the two-bike model, but Tyger also makes a three-bike version called the RK3B203S. Tyger's weight capacity is marginally less than the other racks in this list, at 33 lbs per bike instead of the more common 35-lb rating.
The wider set of the Tyger rack's support bars means it won't accommodate smaller bikes. For those, and for step-through models, you'll need a crossbar adapter.
| | |
| --- | --- |
| Pros | Affordable price, easy to install and use |
| Cons | Bike hold-down straps are hard to install and remove, two-bike model doesn't extend far enough out from the vehicle to keep bikes from hitting each other |
We wrap up our list of the best trunk-mounted bike racks with the Sportrack Pursuit. Sportrack is a well-known name in bike carriers, but the brand tends to cater to the entry-level end of the market. As a result, the Pursuit has a basic, utilitarian look compared to many of the other racks we've listed here.
We're only including the two-bike version of the Pursuit in this list. While there are no complaints about this rack's ability to hold the weight of three bicycles (Sportrack cites a standard capacity of 35 lbs per bike), the bike support arms are too short to easily fit more than two bikes.
Your bicycle's top tube rests in a rubber cradle, and it's held in place with large straps that attach securely. These are a challenge to install, but once you get them on, your bikes are not going anywhere.
A simple hub adjuster lets you set the angle between the top and bottom supports to best fit your vehicles.
| | |
| --- | --- |
| Pros | A well-made rack at an attractive price, easy to install on a variety of vehicles |
| Cons | Instructions could be clearer; cradle hold-down straps are hard to install, rack is not large enough to easily carry three bikes |
What should you look for in a trunk-mounted bike rack?
The best designs have six straps for securing the rack to your vehicle. Two each will attach to the top and bottom of the tailgate or trunk lid, and the other two will go on either side for added stability.
All trunk-mounted carriers will have a hub adjustment that allows you to vary the angle between the top and bottom supports, which is important for fitting the rack to a sedan as opposed to a hatchback or SUV. A quick-release mechanism for the hub adjustment will be the easiest kind to use.
Look for a rack with generous padding where it rests against your vehicle's sheet metal or glass. This will help you avoid scratches in the paint or, in a worst-case scenario, a broken rear window.
Most racks will support bikes weighing up to 35 lbs. If your bike is made of steel (which is heavier than the aluminum that goes into more modern bike frames), make sure its weight is within the rack's limit.
What if your vehicle has an externally mounted spare tire?
Some SUVs and crossovers place the spare tire on the tailgate instead of under the cargo area floor. You will have to buy a rack specially to fit over the tire, and some bolt to the wheel itself, while others are meant to hang over the top of the tire. You will need the latter type if your SUV has a plastic cover over the spare.
Will a trunk-mounted rack fit over your vehicle's rear spoiler?
Some will, but many will not. Read the manufacturer's description carefully to see whether the rack is designed to accommodate your vehicle's spoiler. This applies to the aerodynamic spoilers found on many SUVs, minivans, and hatchbacks, not just the ones fitted to sports cars. If you have installed an aftermarket spoiler on your vehicle, you will have a harder time finding a trunk-mounted bike carrier that will fit, as rack manufacturers only test fitment on vehicles with factory-installed body components.
---
We are committed to finding, researching, and recommending the best products. We earn commissions from purchases you make using the retail links in our product reviews. Learn more about how this works.
Photo credit: Bilal Kocabas / Shutterstock.com
Published August 10th, 2020 8:01 AM
Popular Articles
Latest Comparisons
Car Buying Tools