2.5K Views
Mazda CX-3 Vs CX-5 Comparison
April 6th, 2022 10:57 AM
Share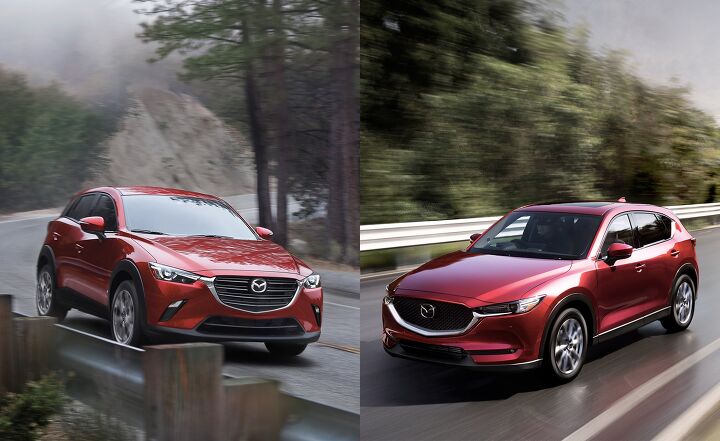 The compact and subcompact crossover segments are perpetually red hot, occupied by dozens of competitors fiercely vying for the attention of customers. Mazda's entries in these fields are the CX-3 and CX-5, respectively.
Attractive vehicles which draw much from the styling language deployed on the brand's sporty machinery, these two crossovers are arguably two of the best looking options in their segments. The company's reputation for injecting a bit of fun into its vehicle's DNA doesn't hurt, either.
Get a Quote on a New Mazda CX-3 or CX-5
Is the wee CX-3 or the alive CX-5 better for your needs? Let's call up some detailed information and find out.
Cabin Space
CX-3: Based on small car architecture, the CX-5 is understandably compact inside. Front seat headroom is 38.4 inches (975 mm) without a moonroof and just 37.6 inches (955 mm) with it. Note: tall people and hats in this car are a poor combination. Front legroom is actually more than in its bigger brother at 41.7 inches (1,059 mm) but back seat is a woeful 35.0 inches (889 mm).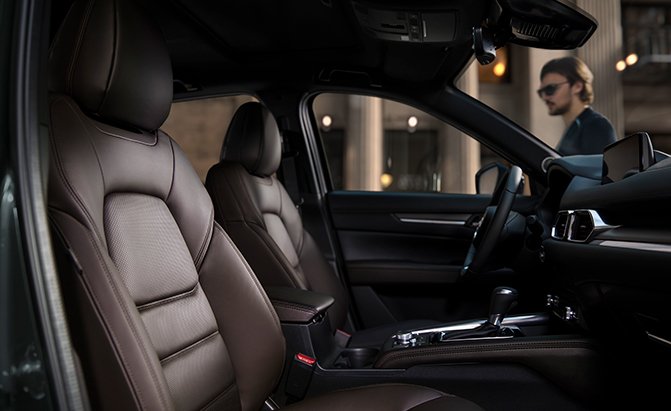 CX-5: Absent of a moonroof, the CX-5 offers 39.7 inches (1,008 mm) of front seat headroom, reducing by just 0.7 inches (18 mm) in the second row. Adding a moonroof removes just half an inch of headroom from the front and absolutely none from the rear. This is a smart design. Legroom measures 41.0 inches (1,041 mm) for the front chairs and 39.6 inches (1,006 mm) astern.
Bottom Line: If your family includes people over six feet tall who'll regularly be riding in the back seat, be sure to sample the CX-5.
Cargo Capacity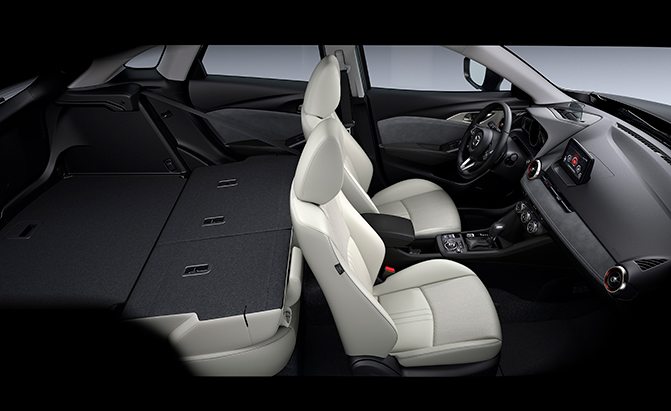 CX-3: This is a small roller skate, so be prepared to pack lightly if your family currently numbers more than two. Storage space with the rear seats up measures just 12.4 cubic feet (351 L) up to the cargo shade; if you choose the Bose stereo with its extra speakers, that amount shrinks to a Miata-like 9.4 cubes (266 L). Folding down the rear seat opens up 44.5 cubic feet (1,260 L) of room but reduces the CX-3 to a two-seat machine.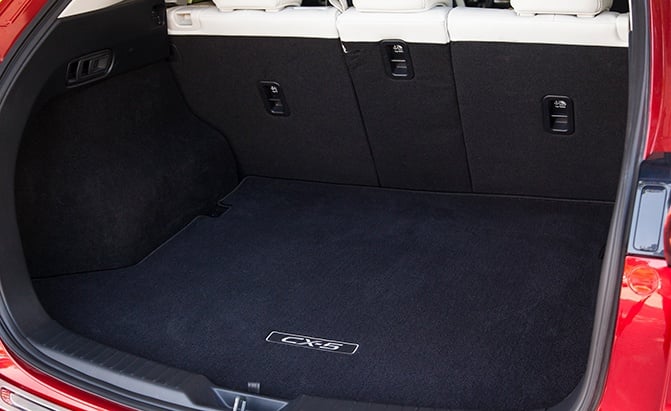 CX-5: With all seats in place and ready to accept five humans, the CX-5 can still pack away 30.0 cubic feet (850 L) of gear. Folding the second-row of seats increases that measure to a hair under sixty cubes (1,690 L) . Height from the cargo floor to roof is nearly three feet, so go ahead and buy the jumbo bag of flour from Costco. Liftover height is 29 inches though, so make sure to flag down an employee before heading out to the parking lot.
Bottom Line: The CX-3's cargo area is exceptionally small and may foil attempts to pack in all the gear for a family weekend away. Its larger brother is much better suited to such duties. However, single people or empty nesters may find the CX-3 diminutive storage an acceptable trade-off for its city friendly exterior dimensions.
Powertrains
CX-3: A single choice of engine stares CX-3 buyers in the face, no matter what trim they are considering. This 2.0-liter inline-four makes an adequate 148 horsepower and 146 lb-ft of torque. Mated to a six-speed automatic transmission (hooray for the absence of CVTs!), the CX-3's powertrain moves this little roller skate along with acceptable verve. It won't set anyone's hair on fire but it is certainly more than enough to get out of its own way.
SEE ALSO: 2018 Mazda CX-3 Review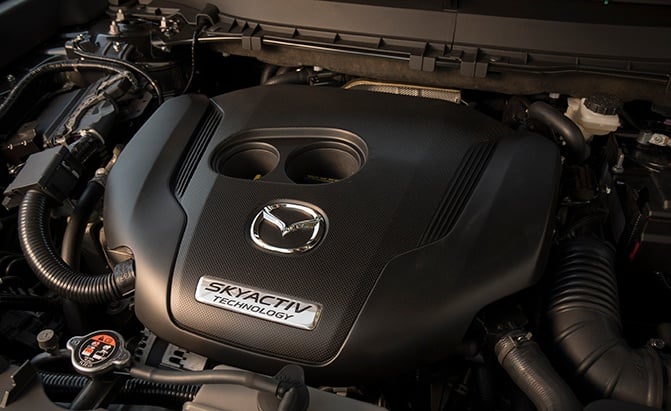 CX-5: The CX-5 offers buyers a pair of engine options. Entry-level models may be equipped with a naturally-aspirated 2.5-liter four-cylinder making 187 horses and about an equal amount of torque. Stepping up to the Grand Touring Reserve and Signature models grants buyers a turbocharged version of the same engine, one whose wick is cranked to a healthy 227 ponies, or 250 hp if fed a steady diet of 93 octane fuel. Torque is 310 lb-ft, or 10 more on the expensive drink.
SEE ALSO: 2019 Mazda CX-5 Review
Bottom Line: Your author deeply recommends the CX-5 Turbo if it is in budget, as its groundswell of torque makes quick work of highway on ramps and winter's worst alike. Yes, it does have a higher power rating on premium fuel but it will run without complaint on the regular stuff.
Fuel Economy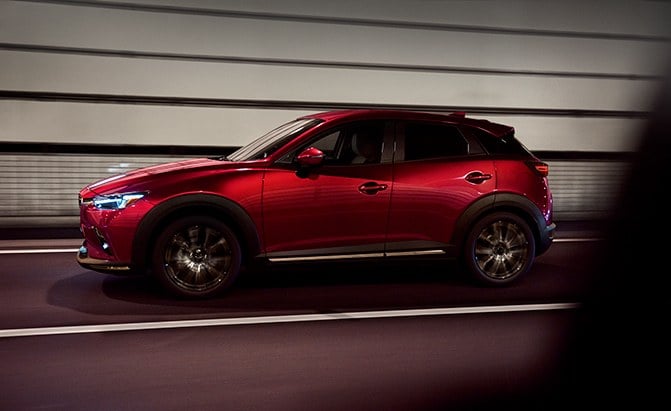 CX-3: Summarizing the CX-3's fuel economy is easy, thanks to the existence of but one engine and transmission combination. Front-wheel drive models are said to get 29 mpg in city driving, while scurrying about at highway speeds should return 34 mpg. Adding the weight and drag of all-wheel drive scuppers both of these numbers by two.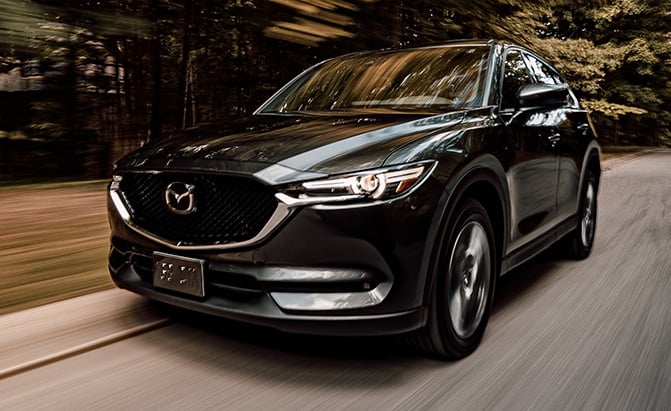 CX-5: Non-turbo trims in front-wheel drive configuration earn EPA mpg ratings of 25/31/28 on city/highway/combined cycles. Sending power to all four corners exacts a single mpg penalty across the individual ratings, and 2 mpg off the combined figure—oh, the magic of rounding. Stepping up to the turbocharged engine will not only dent your wallet at the initial purchase but also during ownership, as the more powerful engine is rated at 22/27/24 mpg on the same measures.
Bottom Line: If fuel economy is your main criteria, there's no doubt that CX-3 is the one to get from this duo. Like for like, the smaller rig will save owners 3 mpg, not an insignificant amount. Based on an average American's yearly driving, they would save approximately 40 gallons of fuel. At $3 per gallon, that's a savings of $120.
Technology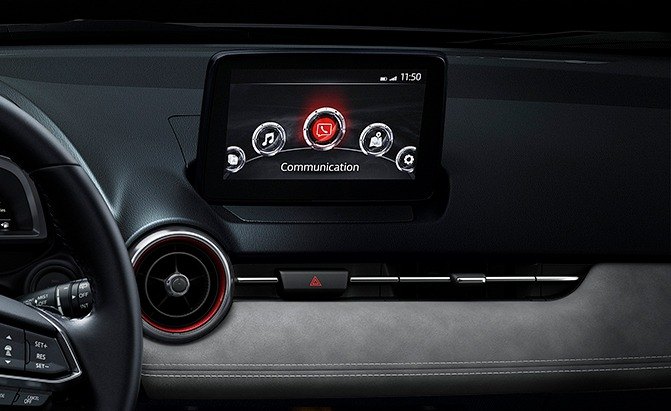 CX-3: The CX-3 lineup is down to the single Sport trim in America. Thankfully, Mazda doesn't skimp on features, including push-button start, a brace of USB ports, and the brand's 7.0-inch infotainment system. The i-ActivSense suite of driver assists is included as well, bringing the likes of adaptive cruise control, lane departure warning, blind spot monitoring with rear cross-traffic alert, and automated emergency braking.
CX-5: In addition to the kit found in its showroom partner, CX-5 also brings options such as a 360-degree camera view and reconfigurable TFT display in the gauge cluster. The central screen is larger too, now measuring 10.25-inches Signature models are especially snazzy, especially with the Caturra Brown Nappa leather seats.
Bottom Line: According to Mazda, it has intentionally designed its infotainment system to not incorporate a touchscreen, as the company feel such tech is distracting to the driver. To minimize distracted driving, commands can be simply done with the car's multi-function Commander knob and shortcut buttons or by voice command. Found in both cars, it's a clever solution.
Style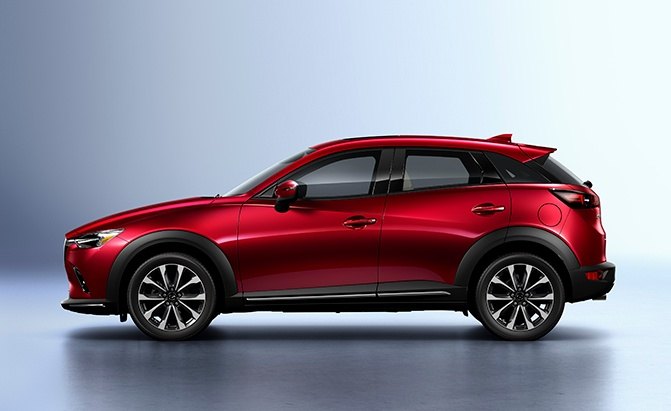 CX-5: See CX-3.
Bottom Line: Okay, perhaps that assessment is a tad rude but it's uncomfortably close to the truth. Like certain German automakers (cough, Audi, cough), Mazda likes to style its crossover vehicles as different lengths of sausage. These two are certainly attractive, with shark noses and wheel arches swollen like a bee sting. And, if we're being honest, there are worse manufacturers with which to be compared than Audi.
Pricing
CX-3: Starting at $21,965 for its lone Sport trim, the CX-3 makes a serious value play. Current market tastes favor tall but affordable crossover-like vehicles, often ones which project a sporty character, and the stubby CX-3 fits this bill quite well. In fact, the CX-3's base price is over $100 less than that of Mazda's smallest car, the 3 sedan. All-wheel drive is for just $1,400.
CX-5: Aimed squarely at the heart of the murderously competitive compact crossover segment, the CX-5 sets an opening bid of $26,545. This grants access to the base Sport model, equipped with the non-turbocharged engine. All-wheel drive grip is, like its smaller brother, a reasonable $1,400. Those seeking the excellent turbo mill, not available in front-drive, need step up to the Carbon Edition Turbo model, priced at $31,935.
Bottom Line: The smaller CX-3 is certainly less expensive, a fact which should surprise exactly no one given its place on Mazda's corporate totem pole. However, given the extra kit and space provided by the CX-5, it is very hard to argue against its value proposition given that it costs just four grand more compared to an equivalent base model CX-3.
In Conclusion
Both of these roller skates make strong cases for themselves, packing a good dose of style mixed with active personalities. The CX-5, however, especially with its tasty turbocharged engine, wins this author's heart for its combination of space and pace.
Published May 5th, 2021 8:04 AM
Popular Articles
Latest Comparisons
Car Buying Tools