2K Views
Toyota Crown Vs Toyota Venza Comparison
November 3rd, 2022 6:19 PM
Share
We're committed to finding, researching, and recommending the best products. We earn commissions from purchases you make using links in our articles. Learn more here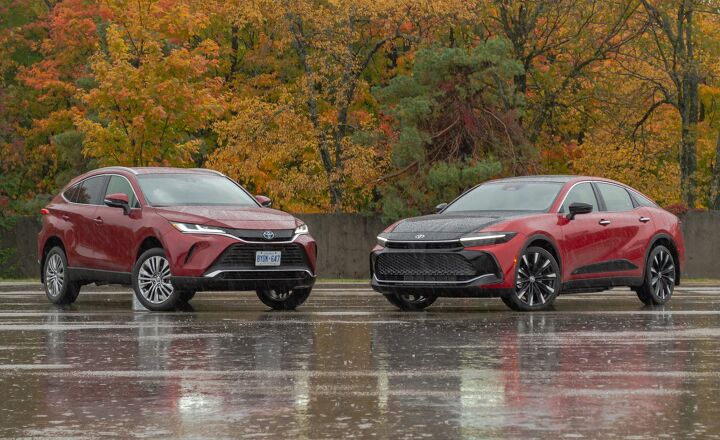 These two Toyotas don't easily fit into any one category. So welcome to a different sort of comparison: the new 2023 Toyota Crown versus Toyota Venza.
Both the Crown and the Venza are hard to categorize. The Venza debuted two years ago, not quite a mid-sized SUV, but so much fancier than your garden-variety RAV4. Then the Crown dropped last month, a high-riding sedan that draws a whole lot from crossovers. It's unusual, it's striking, and Toyota hopes it will sell even better than the Avalon it ostensibly replaces as the flagship of the sedan family.
And hey, they're both only available as hybrids. So there's that.
Get a Quote on a New 2023 Crown or Venza
This isn't a traditional comparison, then. We're not focusing so much on which one is the better vehicle, but more on how they're different, both from each other and other options in their price range.
Style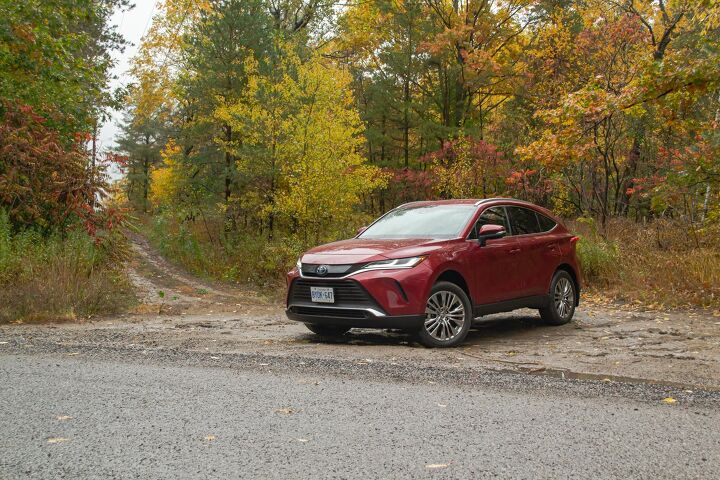 When the Venza touched down in late 2020, it looked largely unlike any other Toyota, especially the other SUVs. While the latest RAV4 went all chunky and angular to better align with Toyota's trucks, the Venza is smooth and shapely. The thin, rectangular headlights, tapered roofline, and full-width taillights are all unique amongst Toyota's vast SUV lineup.
SEE ALSO:
2023 Toyota Crown First Drive Review: The Emperor's New Groove
This 2022 tester is the mid-range XLE trim, sitting between the entry-level LE and top Limited. That three-pronged lineup continues on for 2023. The LE sports split-five-spoke 18-inch wheels, while the XLE and Limited both feature larger, chrome-finished 19-inch wheels.
The Crown certainly doesn't look like any other Toyota, either. There are hints of course, namely in the nose, with the thin panel stretching over the grille and headlights a la bZ4X. With four inches of additional height and length over a Camry, but an inch shorter wheelbase, the Crown's proportions are unusual. We'll admit it works better "in the wild," and from the rear, where it's more obviously still a sedan. Just one that rides a little higher—and we do mean "a little," since ride height is just 0.1 inches more than the Camry.
Like the Venza, the Crown features a full-width taillight. There are two-tone exterior choices as well, which make the car stand out even more. The prototype's red-and-black probably shouts loudest, but we enjoy the available bronze-and-black for its classy look. Standard wheels are 19s, while the Platinum rolls on huge 21-inch items.
Toyota Crown vs Toyota Venza: Cabin Space
Both the Crown and Venza offer more premium interiors than traditional Toyotas, closing the gap between the mainstream brand and its luxury Lexus sibling. The Crown's interior is smart and clearly laid out, and we're happy to see actual buttons dominating the center stack. The semi-floating dashboard design looks good, with flashes of bronze providing a much-needed dose of color. We always enjoy a good wireless charger that actually holds the phone in place—this drop-in one might be a little tight for larger mobiles in cases, however. Our only real criticism of the Crown interior design is the amount of plastic: it's mostly soft touch, but we'd still prefer more material variety in a car cresting $50,000 ($60,000 CAD).
There's also the matter of space, which is at a premium. Headroom is 38.2 inches (970 millimeters) in the front, and 37.5 inches (953 mm) in the rear. I needed to drive the Crown with its panoramic roof shade open, lest I wanted my hair constantly brushing against it. There's adult-friendly levels of legroom out back, though.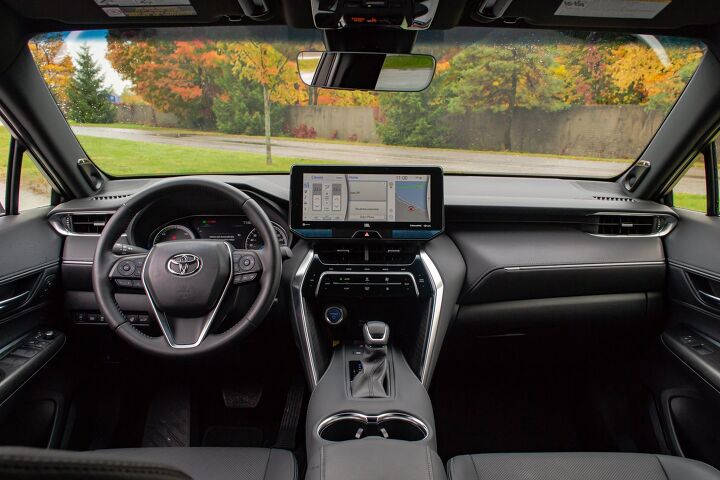 The Venza might give up 9.5 inches (241 mm) in length to the Crown, but it's not far off it for interior space. Officially the XLE provides 38.6 and 39.0 inches (980 and 990 mm) of headroom front and back, and that gap feels larger in the real world. The Limited's trick Star Gaze electrochromatic roof does eat into that space, however. Shoulder and hip room are both better in the Toyota SUV as well. The Venza does lose about an inch of legroom in both rows, but a) it's still plenty for most adults, and b) it's expected with a 6.3-inch (160-mm) shorter wheelbase.
Cabin design is one of the Venza's strong points. A clean dashboard design features chrome-ringed air vents, matching the stanchions that provide the center stack with visual strength. The layered look of the center console is another premium vibe, though it does mean storage space is in short supply. Ambient lighting is a welcome touch at night. While we're not the biggest fans of the capacitive touch controls, at least they're spaced out.
Powertrain and Fuel Economy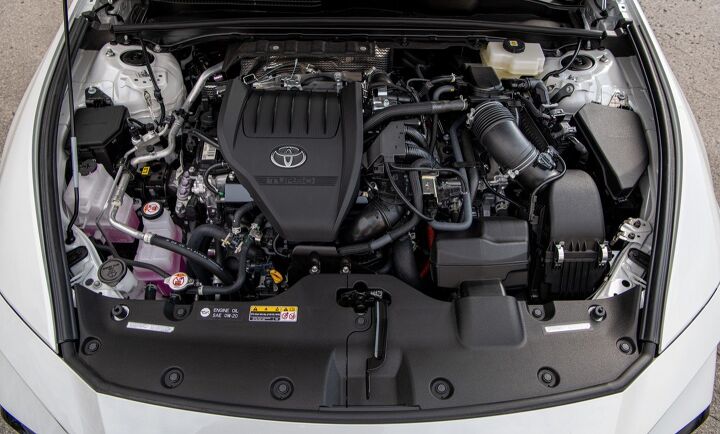 In XLE and Limited trims, the Crown's drivetrain is very similar to that of the Venza. Both models use a variation of Toyota's venerable 2.5-liter four-cylinder hybrid system and standard electronic on-demand AWD. This means there is no physical connection to the rear, no driveshaft to shuffle power front-to-back. This system allows both vehicles to operate as front-drive when the rear electric motor isn't needed, improving fuel economy. When necessary, the rear motor can provide up to 80 percent of the available torque.
Horsepower is listed as 219 for the Venza, and 236 for the Crown. Expect largely similar acceleration times of around 7 seconds to highway speed.
Fuel economy is close, but it's still the car that beats the crossover here. All Venza trims are rated at 40 mpg city, 37 mpg highway, and 39 mpg combined (Canadian figures: 5.9/6.4/6.1 L/100 km, respectively). The Crown XLE and Limited are both rated to 42 mpg city, 41 mpg highway, and 41 mpg combined (Canadian figures: 5.6/5.7/5.7 L/100 km, respectively).
Move up to the Crown Platinum we drove here, and in comes the Hybrid Max powertrain. This pairs Toyota's turbocharged 2.4-liter engine with a performance-oriented hybrid system, and a six-speed automatic transmission. Power is up to 340 combined horsepower, with a thick 400 lb-ft of torque. The run to 60 mph (96 km/h) takes 5.7 seconds, and fuel economy drops to a combined 30 mpg (7.8 L/100 km). That's still an excellent figure for something this big and powerful.
Cargo and Towing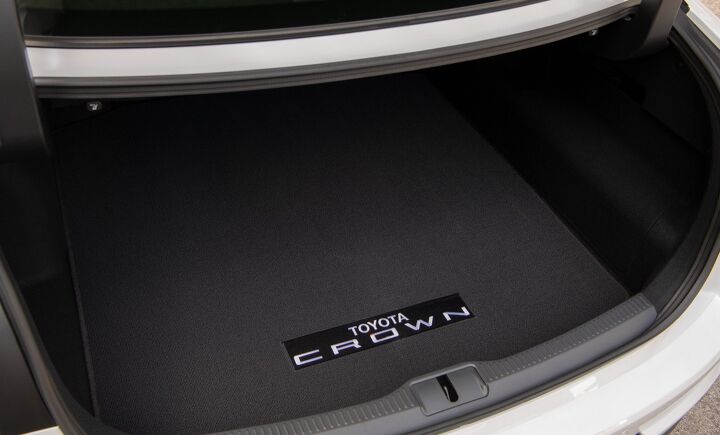 While both of these vehicles share the TNGA-K platform, they go about carrying things very differently. Neither is officially rated to tow at all, however: if that's a requirement for you, certain gas-powered RAV4s are rated to 3,500 pounds, and the three-row Highlander hits 5,000 pounds.
SEE ALSO:
2023 Toyota Highlander First Drive Review: It's Turbo Time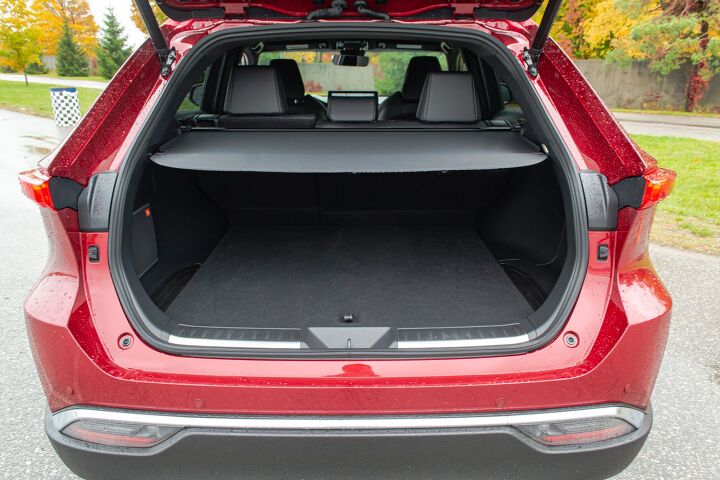 Toyota has kept a traditional trunk on the Crown. While this makes for an awkward aperture versus the huge tailgate of the Venza, the pay-off is a quieter cabin. The Crown still has a whole bunch of space back there, with a sizeable 15.2-cubic-foot (430-liter) space. The rear seats can fold in a 60/40 split to liberate more room.
Meanwhile, the Venza offers nearly double that space in its large, square hatch, with 28.8 cu-ft (816 L) behind the seats. Drop those (also 60/40) and there's 55.1 cubes (1,560 L) to play with.
Toyota Crown vs Toyota Venza: Safety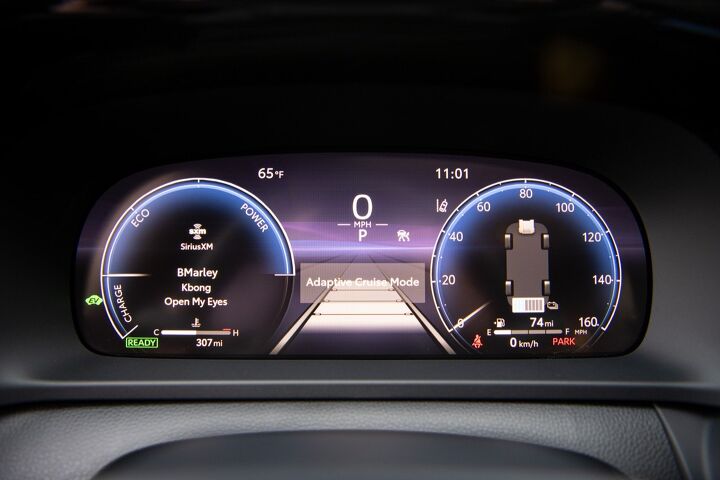 Toyota has a long tradition of fitting most modern driver assists to its cars as standard equipment. Both the Venza and Crown continue that trend, though there are subtle differences with their full acronym lineup.
The Crown, being the newer vehicle, comes with the latest Toyota Safety Sense 3.0 suite. This includes an updated automated emergency braking system with better detection of pedestrians, motorcyclists, and guardrails. It also now includes intersection support. Toyota says it has refined its full-speed range dynamic radar cruise control (DRCC) for more natural performance. Other standard kit includes auto high beams, road sign assist, rear seat reminder, blind-spot monitoring (BSM), rear cross-traffic alert (RCTA), and the new Proactive Driving Assist. The latter provides assistive braking or steering in a wider range of driving situations to keep distance between the Crown and other cars, pedestrians, or cyclists. An available Panoramic View Monitor (PVM) offers 360 degrees of camera coverage on Limited and Platinum, with the ability to "see through" the car on the screen.
It's not like the Venza lacks in this department. Toyota Safety Sense 2.5 is standard for 2023, including intersection assist with the automated pre-collision system (PCS). Auto high-beams, road sign assist, lane-tracing, BSM with RCTA, and DRCC are all part of the package, too. You do need to move up to the XLE to net parking sensors and rear cross-traffic braking, and Limited for the 360-degree camera and rear camera cleaner.
Tech and Features
Toyota's excellent new infotainment setup takes center stage in the Crown. With an available 12.3-inch screen, it's crisp, clear, and speedy. The voice activation is accurate without being over-eager. We can't sing the praises of this setup enough, as Toyota's gone from one of the weakest setups, to one of the strongest.
Hopping into the Venza is a reminder of this, with the car's Entune setup looking even more outdated on the big screen. However, good news! This is a 2022, and the 2023 models arriving in dealers at the time of publishing are all equipped with the new infotainment, too. That erases one of our biggest hands-on criticisms in this comparo.
In front of the driver, the Crown hangs another 12.3-inch screen, regardless of trim. This particular Venza uses a combo of analog gauges and 7.2-inch MFD. As is the case with the central screen, this setup gets a major upgrade for 2023, with LE featuring an 8.0-inch screen ahead of the driver, and the XLE and Limited featuring the same 12.3-inch unit found in the Crown.
Beyond that, both vehicles come well-stocked. Both feature heated and ventilated seats up front, though it's important to note the ventilation only shows up on the respective middle trims. That means XLE-to-XLE, the Venza has the edge. Flipping that around, the Crown has five USB ports to the Venza's four.
Pricing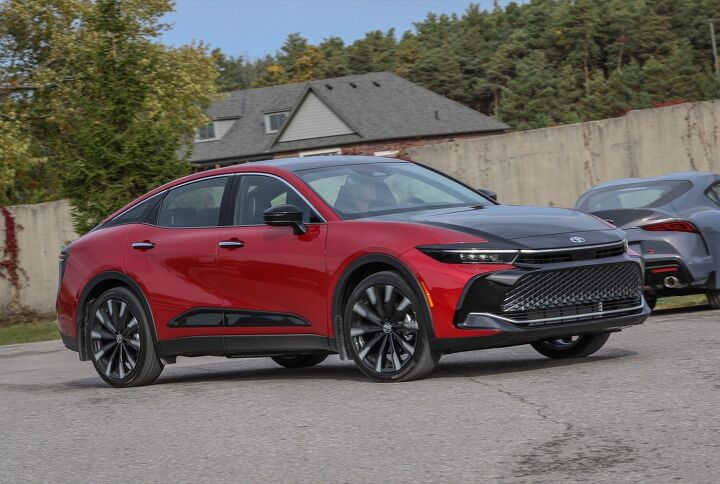 Befitting its place at the top of the lineup, the Crown is the most expensive sedan you can get from Toyota. The XLE model starts from $41,045 ($47,410 CAD), including destination. Moving up the ladder to the Limited trim requires $46,645 ($52,810 CAD). Want the extra power of the Platinum? $53,445 ($61,810 CAD) is the price of entry. Toyota doesn't offer many ways to further swell those prices; there are premium paints, and American buyers can spec an advanced tech package on the Limited.
SEE ALSO:
2022 Toyota Highlander Hybrid Bronze Edition Review: Podium Finish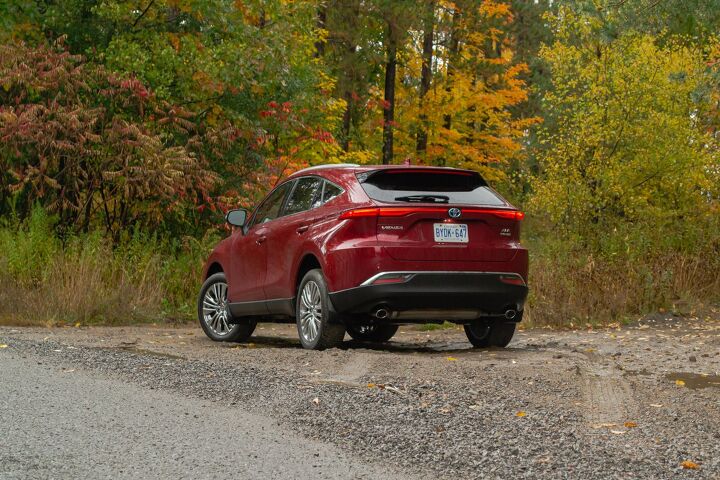 Over in Venza-land, buyers can expect to spend $34,575 ($41,940 CAD*) for a Venza LE. Moving to the mid-grade XLE bumps the bottom line up to $38,110 ($48,180 CAD*), while the top Limited rings in at $42,065 ($51,085 CAD*). Options are similarly limited here, with American buyers being able to spec an upgraded tech package and the Star Gaze glass roof (both are standard in Canada).
Like-for-like, the Venza is a few thousand dollars less than the Crown in XLE and Limited trims, which is expected given the different equipment levels.
* – Please note Canadian pricing reflects 2023 models, which was unavailable in the US at the time of writing.
Toyota Crown vs Toyota Venza: Verdict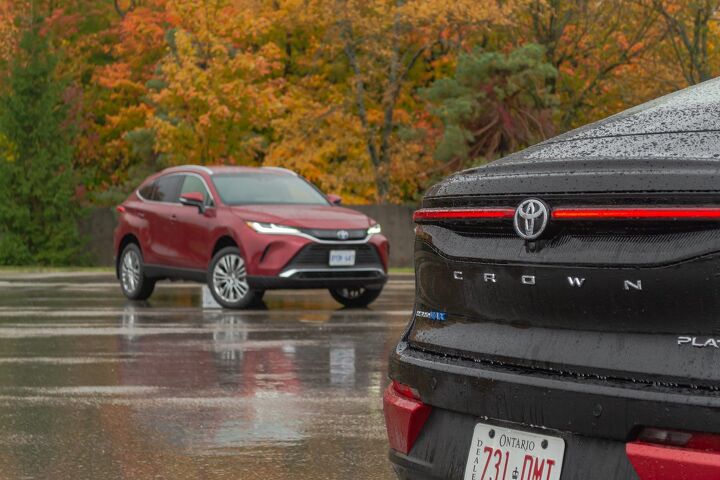 If you're looking to stand out, both the Venza and Crown provide just that. There's a lot to like about both, not least their excellent fuel economy, premium cabins, and Toyota's vastly improved infotainment system (well, at least if you're skipping the 2022 model year Venza). If you value ride quality and handling, the Crown is the pick. Need more space, both for people and their things? It's Venza time. In either case, Toyota offers both a sedan and crossover that both feel handily outside the box.
Become an AutoGuide insider. Get the latest from the automotive world first by subscribing to our newsletter here.

Kyle Patrick
Kyle began his automotive obsession before he even started school, courtesy of a remote control Porsche and various LEGO sets. He later studied advertising and graphic design at Humber College, which led him to writing about cars (both real and digital). He is now a proud member of the Automobile Journalists Association of Canada (AJAC), where he was the Journalist of the Year runner-up for 2021.
More by Kyle Patrick
Published November 2nd, 2022 7:19 PM
Popular Articles
Latest Comparisons
Car Buying Tools