10 Views
2018 Hyundai Kona Quick Spin
February 11th, 2021 9:39 AM
Share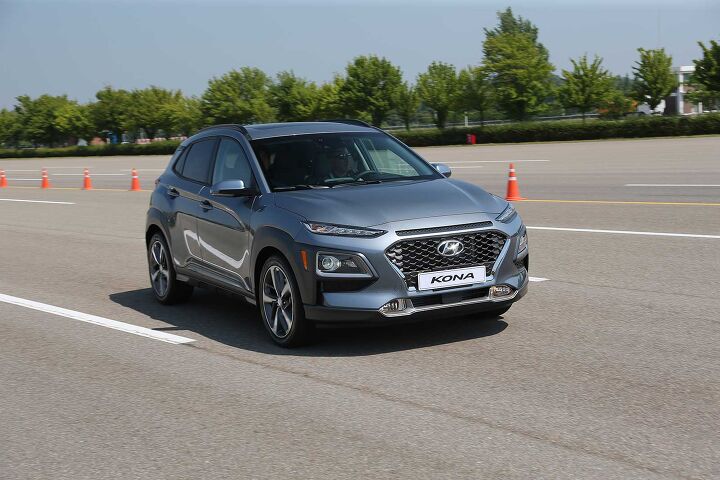 "This doesn't feel like a crossover," I thought while lightly sawing at the 2018 Hyundai Kona's steering wheel. There was unexpected heft and it actually communicated with me, unheard of traits for such a small and ostensibly affordable front-drive CUV.
Indeed, that was my most profound observation about this subcompact crossover's dynamics, as my time in the driver's seat was, unfortunately, shorter than the recommended cooking duration for a cup of instant noodles. It didn't help that this five-minute supervised spin was on a tightly controlled course with a draconian speed limit of 43 mph (70 km/h) in the short, curvy section. Full disclosure: this "review" is hardly a review, but keep reading for more details.
Still, I'm fortunate to have had an opportunity to evaluate this new subcompact offering from Hyundai, as it's not slated to go on sale in North America for at least another six months. It should start arriving at dealerships in the first quarter of 2018, even though it's available in South Korea right now.
SEE ALSO: 2018 Hyundai Kona Subcompact Crossover Revealed
Two engines will be available in North American-spec Konas. Serving base duty is a 2.0-liter four-cylinder that's rated at 147 horsepower and 132 pound-feet of torque. It's matched to a conventional six-speed automatic transmission.
Performance with this naturally aspirated drivetrain will likely be less than energetic, which is why you ought to consider the uplevel engine, a muscular 1.6-liter turbo four-cylinder. Used in an array of other Hyundai and Kia models, it's rated at 175 hp and 195 lb-ft of twist in this application. A seven-speed dual-clutch automatic copes with that mini mountain of torque.
Invalid Displayed Gallery
The prototype Korean-spec Kona I tested was equipped with the uplevel engine, which delivers sprightly acceleration from a standstill up beyond the tachometer's midrange. It's impressively refined, feeling friction-free as the revs build; it's just a shame that it doesn't sound very good, making sickly droning noises. The high-tech transmission shifts quickly and smoothly, but low-speed juddering will likely be an annoying issue. None of this was evidenced on my brief test drive, but other vehicles equipped with the same gearbox have perturbed me for that very reason, namely the Hyundai Elantra Sport and Kia Soul.
Adding peace of mind, part-time all-wheel drive is available with either engine. For challenging road conditions, it can be electronically locked for enhanced traction via a switch.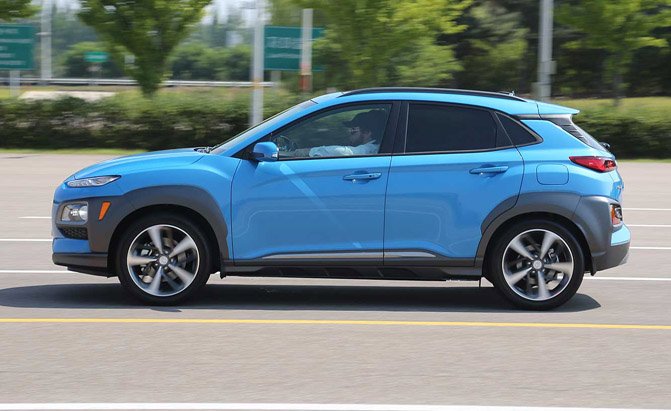 The Kona's ride is a bit on the firm side, though, again, the chassis features Korea-spec tuning, which tends to be softer than what's offered in other markets. No one at Hyundai, however, could tell us if the North American version would be stiffer or softer. It sounds like they're still dialing it in.
From behind the wheel, this vehicle's cabin is typical Hyundai, which means cheerful and intuitive. Constructed mostly of hard plastic, nothing looks flagrantly inexpensive, but, truth be told, I had zero time to really inspect its furnishings; as soon as I sat down, it was time to go.
ALSO SEE: Honda HR-V vs Mazda CX-3
The overall design is funky without being overkill. Depending on the exterior paint hue, some models feature bright interior accent colors including fluorescent green. The floating infotainment screen helps keep the dashboard trim and low, for an airy feel.
North American buyers will have three Kona trims to choose from. The base model wears SE badges and comes with few frills.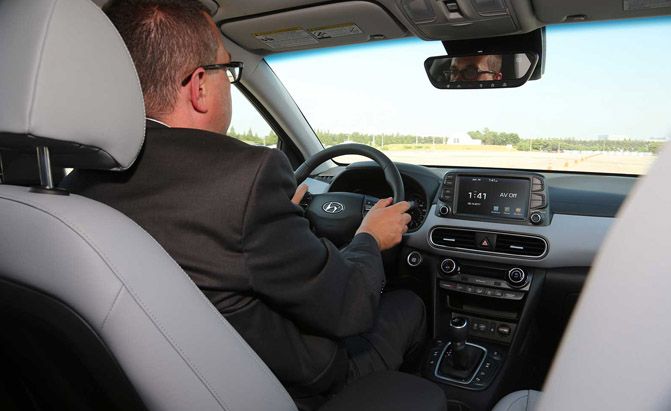 One step up in price is the SLE version, which offers plenty of goodies, though it is still motivated by the base 2.0-liter engine. It rolls on 17-inch wheels and comes with rear cross-traffic alert, blind spot monitoring, roof rails, push-button start, and a leather-wrapped steering wheel, to name a handful of features. Automatic emergency braking is also available as a separate package.
Next comes the Limited trim, which gets you the 1.6-liter engine along with a power sunroof and LED headlamps. Eighteen-inch rims wrapped in Goodyear tires are also part of the deal.
Finally, the Kona's highest trim is Ultimate, which adds a bunch of great stuff. Wireless device charging, lane-keep assist, a reverse sensing system, premium Infinity sound system, and an eight-inch touchscreen are sure to provide delight. Ditto for the uplevel engine.
A head-up display is also offered in the Kona, a system that's supposedly better than offerings from Mazda or BMW. Hyundai executives claim it's brighter, which makes it easier to read and more aesthetically pleasing since the supplemental display pane retracts vertically into the dashboard.
SEE ALSO: Hyundai Kona EV Could Have 242-Mile Range
Curiously, no adaptive cruise control is offered, which is odd considering the Kona comes with a variety of other advanced driver-assistance technologies, including things like lane-keep assist, automatic high beams and a driver drowsiness monitor, to name but a few.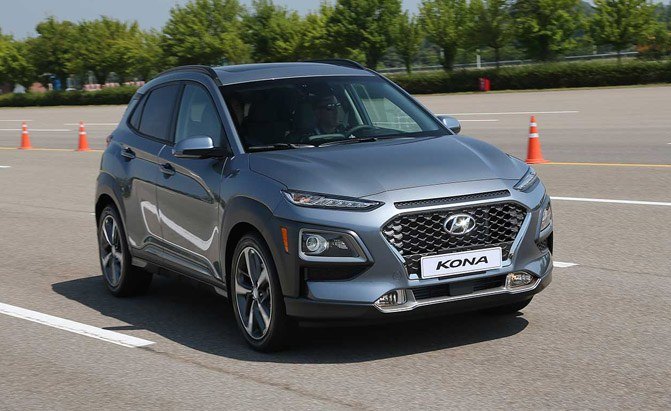 Also, Hyundai will not put an Eco driving mode in variants sold to North Americans. This may sound like an unusual thing to omit, but there's a method to their madness. One company representative explained that many North American drivers tend to unwittingly leave their vehicles in Eco mode and then they complain about sluggish performance. Imagine that! Pragmatically, Hyundai is trying to circumvent headaches.
The Verdict: 2018 Hyundai Kona Quick Spin
The 2018 Hyundai Kona is a stylish and refined subcompact crossover, with a powerful drivetrain that should allow it to outrun major rivals like the Honda HR-V, Mazda CX-3, and Toyota C-HR. Indeed, none of these offerings are as powerful. Pricing should be in the same ballpark as these three Japanese samurai Musketeers, though nothing is official. Hinting at where it may kick off, one Hyundai representative said it would be less costly than the C-HR, which is the most expensive of this trio, starting around $23,000.
Hyundai is a relative latecomer to the subcompact crossover market, but this is a deliberate decision. By taking their time, they've tried to create a vehicle that offers more than rivals. My initial impressions of the Kona are suitably positive: It's stylish, speedy and appears to be spacious, but only after a full review can I render proper judgment, so stay tuned for that!
Discuss this story on our Hyundai Forum
Published June 14th, 2017 11:38 AM
Popular Articles
Latest Comparisons
Car Buying Tools