9 Views
2022 Mazda MX-30 Review: An EV History Lesson
November 13th, 2021 9:25 AM
Share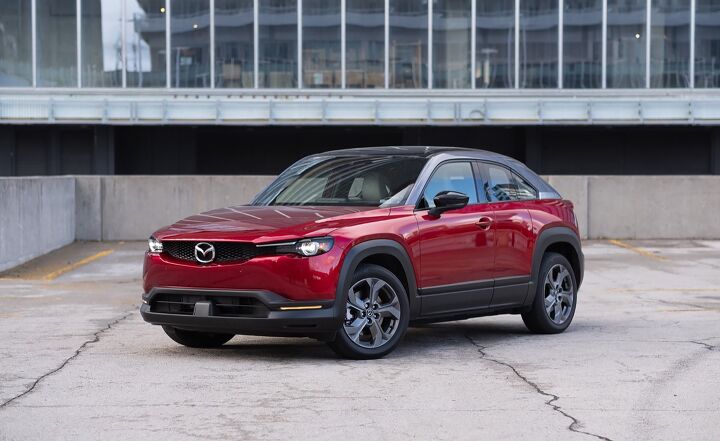 FAST FACTS
| | |
| --- | --- |
| Motor: | 80.9-kW with 33.5-kW battery pack |
| Output: | 143 hp, 200 lb-ft |
| Transmission: | 1AT, FWD |
| US fuel economy (MPGe): | 98/85/92 |
| CAN fuel economy (Le/100KM): | 2.4/2.8/2.6 |
| Range: | 100 miles / 161 km |
| Starting Price (USD): | $34,645 (inc. dest.) |
| As-Tested Price (USD): | $38,650 (inc. dest.) |
| Starting Price (CAD): | $44,100 (inc. dest.) |
| As-Tested Price (CAD): | $50,000 (inc. dest.) |
There are no EV chargers in my building.
This is not a unique issue in most urban settings. Some condo buildings have retroactively installed them, and newer builds often include a few plugs right from the planning phase.
I preface this review of the 2022 Mazda MX-30 with this little factoid because, if you're to believe the Japanese brand's message, this is a car built for city dwellers. Charging at home is the default for most EV owners, though. And thanks to a short 100-mile (161-kilometer) range, this little Mazda needs to suck up the juice often. The MX-30 is a history lesson, a reminder of how real range anxiety was in the earlier days of the electric car. Unfortunately, its other virtues—a smooth ride, a stylish cabin—can't make up for the combination of a high price and last-decade range.
What's new?
The MX-30 is Mazda's first fully electric vehicle. Under the skin, it shares much with the brand's CX-30 compact. Pop the hood and you'll find a lot of clean air, and the single, Hitachi-sourced 80.9-kilowatt electric motor that powers the front-drive MX-30. With a 33.5-kWh battery, the MX-30 produces 143 horsepower and an even 200 pound-feet of torque. Those figures make it the least-powerful new Mazda you can buy.
Mazda says the small battery pack is both a response to how short most drivers' trips really are, and a more efficient (and environmentally-conscious) approach to rationing out the rare metals needed for batteries. A big battery is just ballast if you're not using it most trips, right? That's an honorable bit of spin, but the company must know a car purchase is almost never purely rational. Heck, it's why we like the fun CX-30 Turbo so much over the totally acceptable naturally-aspirated model.
SEE ALSO:
Mazda CX-30 vs Mercedes-Benz GLA Comparison: Lofty Aspirations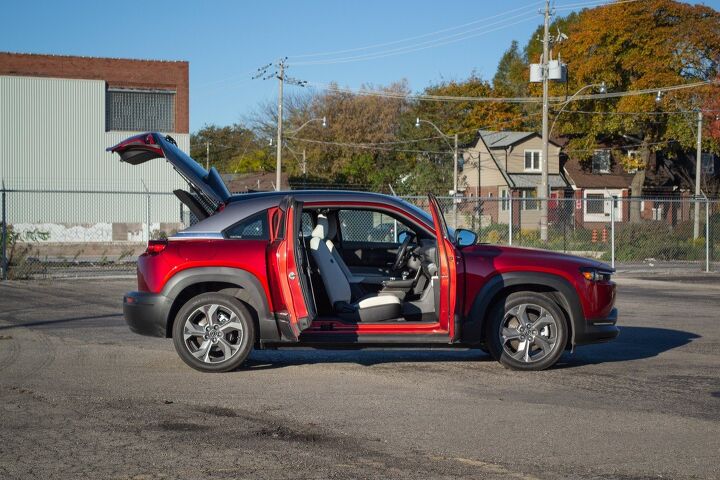 The MX-30 is the same length and width ( 173.3 and 70.7 inches / 4,400 and 1,796 mm) as its gas-only sibling, but stand them beside each other and the EV looks much more compact. Mazda's designers have given the MX-30 a more dramatic roofline, starting its descent earlier. The roof rails are a contrasting gray, and they wrap over the top of the taillights in a unique, interesting way. Up front, the giant Mazda shield grille is now a modest slit between the headlights, on account of the EV's reduced cooling needs. Mazda's designers decided to stick the turn signals way down low in the front bumper, which is a baffling decision in the age of crossovers, making it harder for, say, approaching traffic to see them.
The middle section has its own set of changes. Squared-off fenders frame RX-8-style "freestyle doors," with smaller, rear-hinged units to gain access to the second row. The opening is large, but the lack of a B-pillar means those in the back can only open their door once the fronts are open.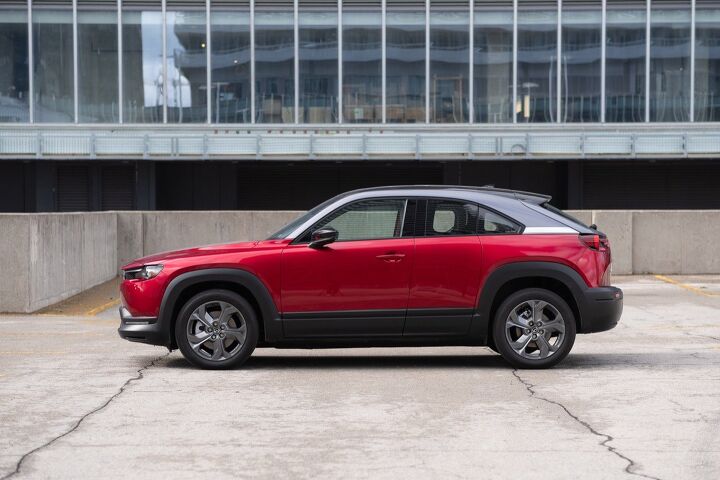 Overall, it's a busier shape than the CX-30, but somehow manages to come together. The MX-30 is an interesting, classy thing, and that feel continues inside.
2022 Mazda MX-30 interior and comfort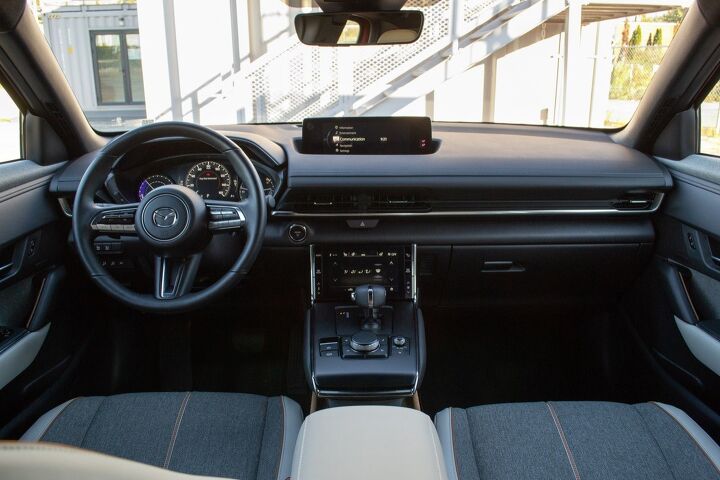 Mazda has been crafting quality interiors for years now, so it should come as no surprise that the MX-30's is a great space—at least up front. This isn't just a rehash of the CX-30: the MX gets an even more minimalist upper dashboard design, as all the vents migrate to a thin strip. All of the climate controls now occupy a separate space ahead of the shifter, with a combination of physical buttons and 7.0-inch touchscreen. The standard Mazda 8.8-inch screen still lives up top, still stubbornly anti-touch, but including standard (wired) Apple CarPlay and Android Auto.
SEE ALSO:
2021 Mini Cooper SE Review: Close But No Cigar
What really sets the MX-30 interior apart is its adventurous use of texture. There's cork lining the "floating" center console—a nod to Mazda's start over 100 years ago—and it lines the inside of the door handles, too. It's a delightful tactile change from the usual plastic or fake metal. The seats are a combination of faux leather and partially-recycled textile, which has the woollen feel of a good suit. They're also very comfortable, with eight-way adjustability, plenty of padding, and good lateral support. The light colors result in a spacious feel, helped along with the powered moonroof.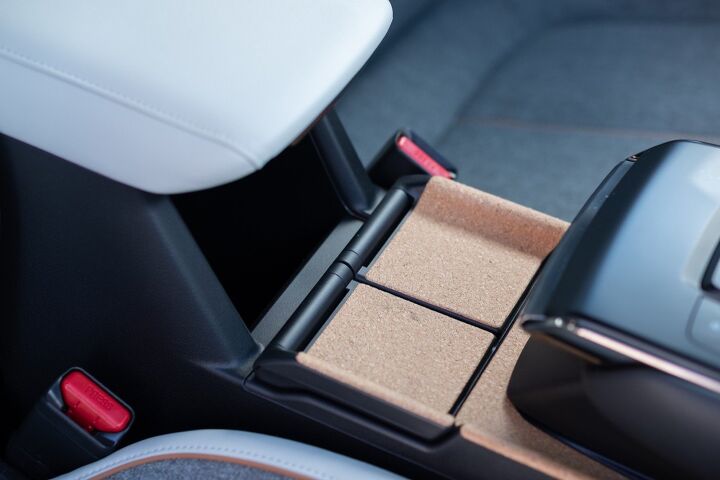 Unfortunately, the good news ends if you have to squeeze into the back seats. The CX-30 isn't the most spacious sub-compact, and the MX-30 is tighter still with that sloping roofline. Rear-seat headroom is 37.0 inches (940 mm), but legroom is just 30.1 inches (765 mm). Even with the coach-style doors, adults will need to move the front seat to get in, and they won't be comfortable for longer runs once they're installed back there. The driver has to contend with absolutely enormous blind spots with those tiny quarter-windows.
Storage space is a useful 14.3 cubic-feet (405 liters) with all seats up, and 36.3 cubes (1,028 L) with the rears folded down.
SEE ALSO:
2020 Hyundai Ioniq Electric Review: It's Okay To Blend In
2022 Mazda MX-30 technology and features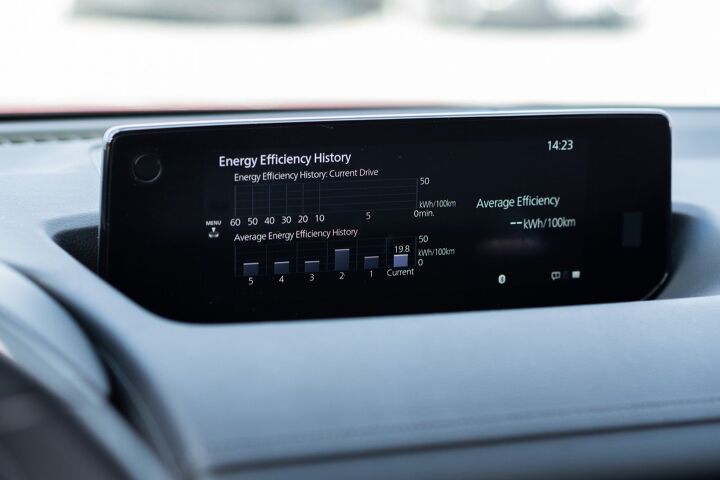 Mazda's infotainment system is little changed for MX-30 duty. It's pretty, but not particularly fast, and the lack of touch capability remains anti-passenger. A new efficiency page provides a history of battery usage. A head-up display is a welcome inclusion, easy to read without taking the driver's eyes off the road. Simple, elegant dials frame a 7.0-inch digital display in the instrument panel, which can provide real-time updates on range and charge usage.
The low-placed touchscreen for climate controls is a cinch to use, with clear on-screen graphics and a few physical buttons either side for the most common actions. Is Mazda admitting touchscreens can have their place in its cars? One can only hope—though having one that requires the driver to look down by their knee isn't ideal.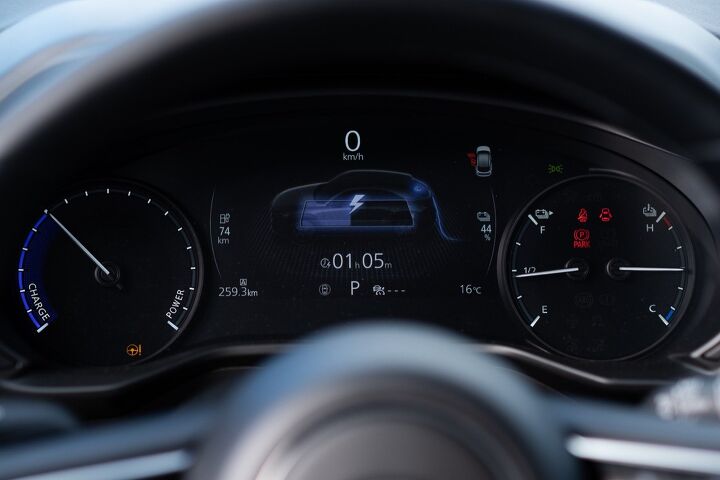 To Mazda's credit, the MX-30 comes positively stuffed with safety features. Blind-spot monitoring, rear cross-traffic alert, automated emergency braking, full-range adaptive cruise control, auto high beams, lane departure warning, lane-keep assist—it's all here. So is a driver attention alert and traffic sign recognition. Go for the top trim and there's a 360-degree camera, Traffic Jam Assist, additional lane-keeping assists, front cross-traffic alert, dynamic lines for the rearview camera, and more. It all works seamlessly, too.
SEE ALSO:
2019 Nissan Leaf Plus vs 2019 Hyundai Kona Electric Comparison
2022 Mazda MX-30 driving impressions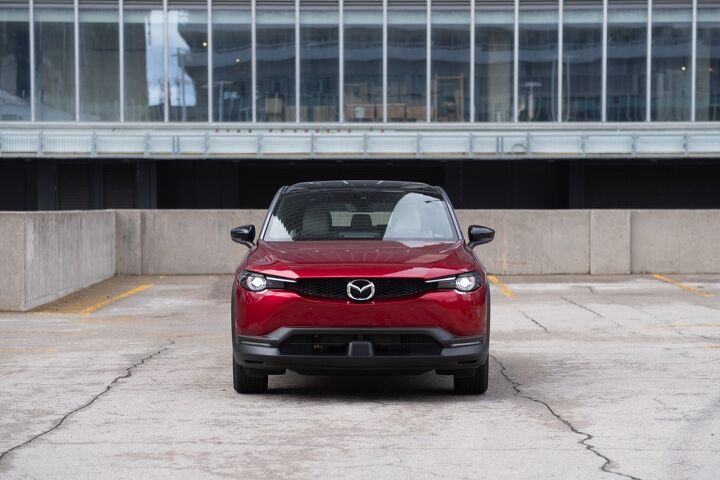 Mazda makes big claims about the smoothness of the MX-30 driving experience. These aren't empty words, either: the go-pedal is very linear in its delivery, sanding the edges off what can sometimes be a jerky experience for those new to the EV world.
Part of the reason for the smooth progress is the lack of muscle. There's just 143 hp and 200 lb-ft on offer, so the MX-30 takes a gingerly stroll up to highway speeds. It'll top out at 87 mph (140 km/h), too—and at that speed, the already short range will shrink further. Speaking of, the MX-30 averaged a little under 20 kWh/100 km during the week, a less efficient figure than most EVs we've tested at AutoGuide. The CX-30 suffers from the same issue that sees some cars' base-level engines post worse fuel economy than the larger, more powerful options: the motor is working harder to get up to and maintain speed.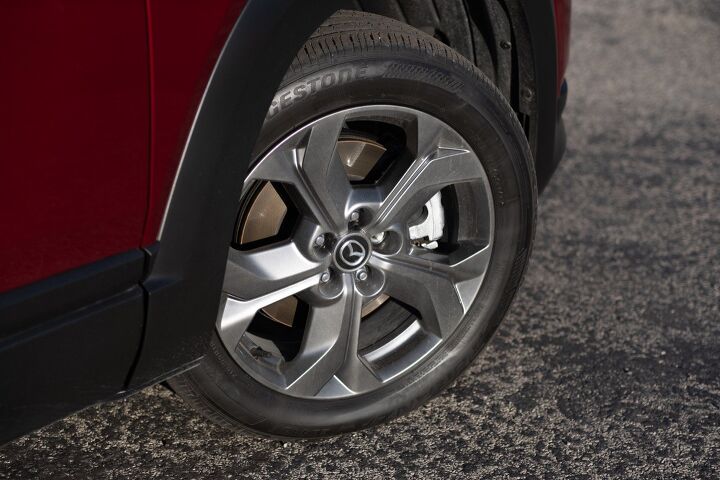 Unsurprisingly, the MX-30 excels in the city. Quick squirts up to 30 mph (50 km/h) are sweet, with a little electric whir punctuating the otherwise quiet interior. The suspension is well-damped, accounting for the extra heft (curb weight is 3,655 lb / 1,658 kg) while still soaking up the worst bumps the endless Toronto construction zones could throw at it. The steering wheel has a good amount of weight to it as well, and while the responses are a little slower compared to the CX-30, the MX comes off feeling relaxed. Mazda's e-GVT torque vectoring system isn't here to turn the MX-30 into a corner carver. Instead, it smoothes out weight transfer and power delivery in the corners, minimizing lean and tilt for passengers. The word that kept popping up in my notes is "calm."
There are little paddles behind the wheel. They're not for shifting, but instead manage the five levels of regen. Even on the strongest setting, this isn't a "one-pedal" sort of car, but there is a noticeable difference between the steps.
SEE ALSO:
Subaru Crosstrek vs Mazda CX-30 Comparison
What's the competition?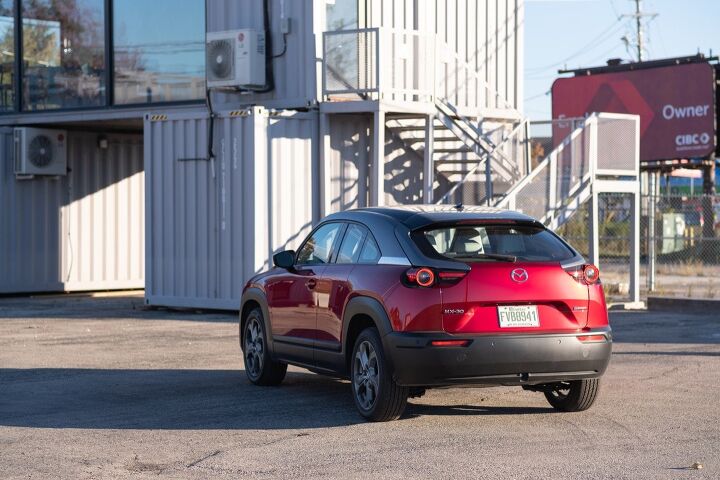 Compact EVs are still a fairly small segment in North America. There's the OG, the Nissan Leaf, which starts at $28,375 ($39,448 CAD) for the 40-kWh version, and $33,375 ($42,048 CAD) with the 62-kWh battery. (All prices include destination, but no incentives.) Both are more powerful, and offer more range, though they make use of Nissan's unique CHAdeMO charger.
There's also the Korean duo of the Kia Niro EV and Hyundai Kona EV. Both have the same 201-horsepower motor, 64-kWh battery, and front-wheel drive. The former is larger, delivering a 239-mile (385-km) range and starting from $41,165 ($46,790 CAD). Hyundai's smaller Kona boasts a 259-mile (417-km) range, and a $35,185 ($45,524 CAD) sticker.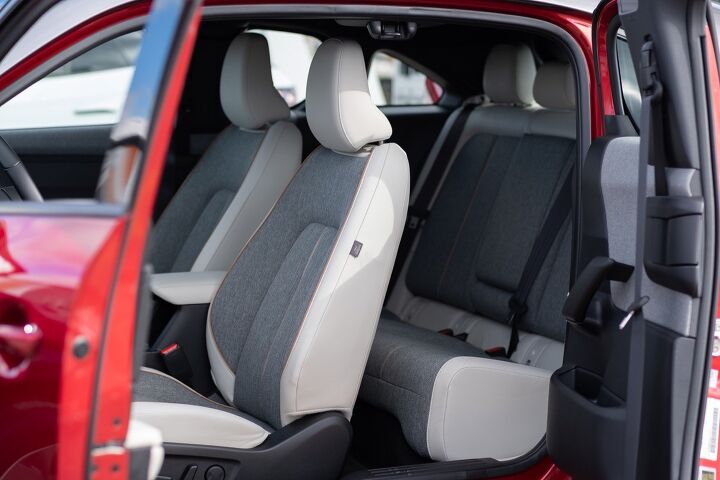 Closest in concept is the Mini Cooper S E. The little three-door starts at just $30,750 ($43,275 CAD, based on average destination charges). It has a bit more range (114 miles / 184 km), despite a smaller battery pack (32.6 kWh).
By comparison, the 2022 MX-30 starts at $34,645 ($44,100 CAD) before any incentives. Move to the higher trim, because you want the added driver assists, heated steering wheel, Bose sound system, and the option of The Good Exterior Colors, and you're up to $37,665 ($49,100 CAD).
Mazda plans to have three EVs, five plug-in hybrids, and five series hybrids on the market by 2025. The economy of scales should bring the prices more in line with what the competition already offers.
SEE ALSO:
2021 Mazda CX-30 Turbo Review: First Drive
Verdict: 2022 Mazda MX-30 Review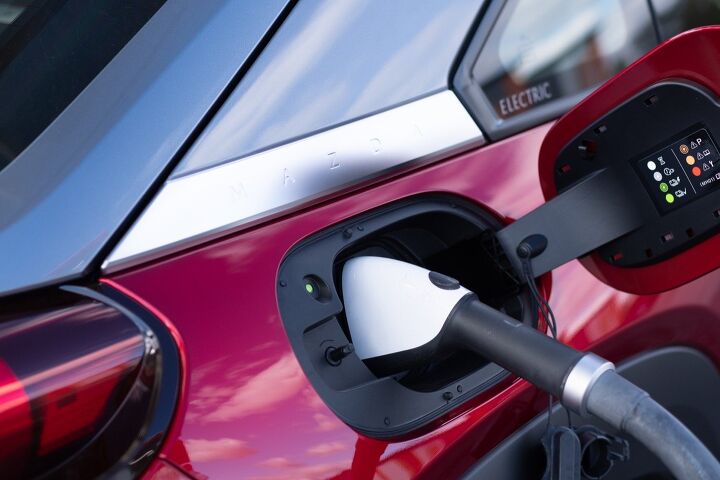 I wanted to like the 2022 Mazda MX-30. It's a good-looking, smooth-riding city runabout with a great interior. I could overlook the tiny rear seat, the lack of driving excitement, the short range, or the high price on their own. Add it all up though, and the MX-30 makes too many compromises to be a serious contender for most peoples' hard-earned.
Mazda will maybe sell the tiny amounts of MX-30s it plans for California, Quebec, and British Columbia, but for most people, the upcoming range-extender model will be a better bet.
---
FAQs
How much is a 2022 Mazda MX-30 worth?
Base models start at $34,645 USD, including $1,175 in destination. Canadian pricing starts at 
Is the 2022 Mazda MX-30 available in all states and provinces?
No. For the 2022 model year, Mazda will sell the MX-30 only in California, Quebec, and British Columbia.
How fast can I charge the 2022 Mazda MX-30?
A standard 110-volt wall outlet will charge the 33.5-kWh battery pack from 20 to 80 percent in a little under 14 hours. A 240-volt setup drops that to 170 minutes. DC fast charging is capped at 50 kW, for a 36-minute 20-to-80 charge time.
Become an AutoGuide insider. Get the latest from the automotive world first by subscribing to our newsletter here.
LOVE IT
Smart looks
Wonderful interior materials
Loads of standard safety kit
LEAVE IT
Abysmal range
Slow progress
Too-small rear seats
Published November 12th, 2021 4:12 PM
Popular Articles
Latest Comparisons
Car Buying Tools