25 Views
2017 MINI JCW Convertible Review
February 6th, 2021 2:51 PM
Share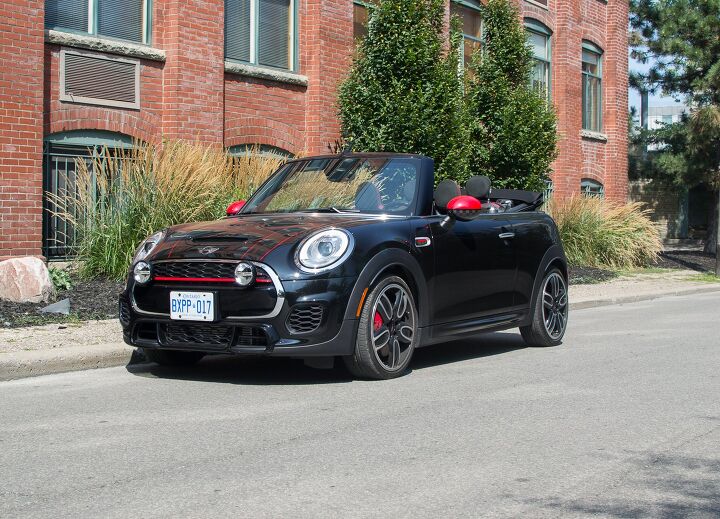 The MINI JCW Convertible is like a flowery print button-up shirt.

It's loud, extroverted and endearing, but it's certainly not for everyone. The hot hatch tried its best to charm me and just about did so with its sweet 2.0-liter turbo four and look-at-me JCW exhaust, but I'm not entirely convinced this quirky sideshow is worth the price of admission.
The JCW Convertible is mechanically identical to the hardtop with the same 228-horsepower 2.0-liter turbo with 236 pound-feet of torque – a significantly more powerful version of the 189-horsepower, 207 lb-ft turbo four in the less-hot Cooper S. Both manual and automatic transmissions are on offer (mine had the auto), along with some nice standard equipment including Brembo brakes, an electronic differential, drive mode select, and LED headlights and tail lights.
Visually, the JCW is set apart from the Cooper S by some aggressive front and rear bumpers, side skirts, and unique JCW wheels.
MINI Misnomer
Our JCW Convertible was pretty much the most expensive Cooper you could buy, the droptop version of the performance model and slapped with a big list of options and accessories worthy of a sizeable inhale. It had adaptive dampers, an 8.8-inch touchscreen with nav, a head-up display, LED fog lamps, rain sensors with auto headlamps, automatic climate control, the aforementioned automatic gearbox, some very nice Alcantara/leather upholstery, 18-inch wheels, and a Harman Kardon audio system, and so much more. It also had a significant number of JCW accessories, including the very amazing JCW Pro Exhaust, JCW mirror covers, and those cute rally lights. The JCW Convertible isn't cheap at a base price of $37,300 in the U.S. ($42,835 in Canada), and ours had about $7K in options and $3K in JCW accessories, bringing the total to a dizzying $48,000 ($57,725 in Canada). Are we in the right dimension?
ALSO SEE: Who Makes MINI Cooper and Where Are MINI Coopers Made?
FAST FACTS
| | |
| --- | --- |
| Engine: | 2.0L turbo 4-cylinder |
| Output: | 228 hp, 236 lb-ft of torque |
| Transmission: | 6-speed automatic |
| Weight: | 2,978 lbs |
| Acceleration: | 0-60 mph in 6.3s |
| US Fuel Economy (MPG): | 22 city, 31 hwy, 25 combined |
| CAN Fuel Economy (L/100 km): | 9.4 city, 7.2 hwy, 8.4 combined |
| US Price: | $37,300/$47,763 as tested |
| CAN Price: | $42,485/$57,725 as tested |
| : | (all prices include detaination fees) |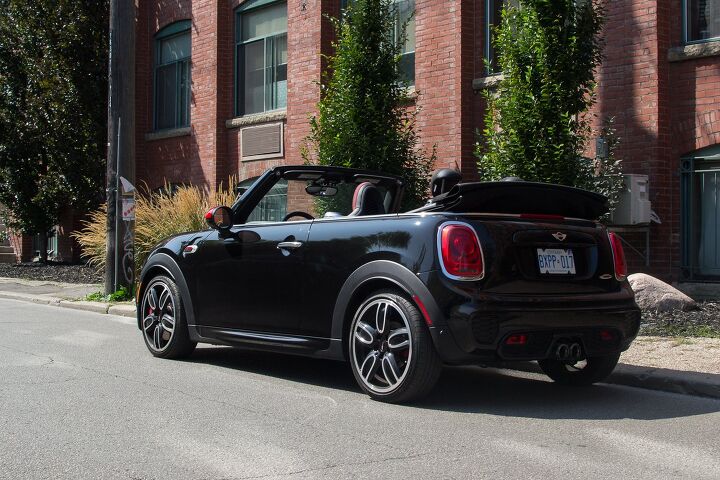 The price isn't the only part that's not so miniature. This third-generation Cooper is 3.8 inches longer, 1.7 inches wider, and a touch taller than the previous car, and it shows. While still very cute, this newer MINI looks a bit chubbier than the outgoing one. It isn't as spritely as its predecessor, either, but that's not to say it isn't fun. It handles exactly like you'd expect a MINI to (insert tired "handles like a go-kart" adage here), and it constantly prods you in the back, daring you to carry more and more speed up that onramp until the Pirellis start to push, or do your best impression of Sebastien Vettel warming his tires. This thing is all about fun, and the soft top narrows in its focus on enjoyment, even if the extra weight over the hardtop robs it of a nearly unnoticeable amount of performance.
ALSO SEE: 2018 MINI Cooper SE Countryman Plug-In Hybrid Review
Is That … Fireworks?
The uprated 2.0-liter powering the JCW is definitely a high point of this car. With a substantial 236 lb-ft of torque on tap, the turbo four-pot feels extremely robust and pulls nicely throughout the rev range. Of course, we'd probably suggest you get the six-speed manual if you're going for maximum amounts of enjoyment, but the Steptronic automatic is seriously good. The paddles are fun to use and as responsive as you'd ever need them to be. When you activate Sport mode, the system displays a cheeky "Let's Motor HARD" message on the 8.8-inch display screen and the transmission gives you a nice kick when you grab another gear under hard throttle, so shifting with the auto isn't a totally emotionless experience.
Our tester had the optional JCW Pro Exhaust, which adds a full JCW exhaust system with electronic valves. The button for the exhaust is on a separate little Bluetooth-connected handheld module, which feels cheap at this price point, but it unleashes the type of fury never before heard out the back of a production four-cylinder. Even though it's a bit of an artificial sound, the crackle of this optional exhaust was enough to leave me laughing maniacally. It's like there's a lit cluster of black cats hanging from the rear bumper at all times. The exhaust is what kept me coming back to this car. It's what kept me wanting to drive it, and it's worth every penny of the $1,965 MINI is charging for it.
A Thrill That Could be Cheaper
While wildly fun and very nicely bolted together, the JCW Convertible is likely priced much too high for most. It feels like an expensive, well-made product between its thoroughly refined powertrain and high-quality cabin, but it's still a bit of a rich person's plaything at this price. You'd have to seriously appreciate the endearing, bug-eyed looks, zany interior, and hilariously obnoxious exhaust to pay a premium for the JCW over more serious performance offerings like the Ford Focus RS or Honda Civic Type R.
ALSO SEE: Honda Civic Type R vs Subaru WRX STI vs VW Golf R vs Ford Focus RS
MINI has you cornered if you want a convertible hot hatch, but that seems like a rather rare customer. And that's the strangest part about this car. The JCW is directed at enthusiasts who will put up with its rather stiff ride in exchange for a bit of extra performance, but those buyers aren't too keen on convertibles. We're not surprised that it's MINI that's offering up this eccentric package, but we're just not too sure it makes much sense because the end product is wildly expensive.
The Verdict: 2017 MINI JCW Convertible Review
The MINI JCW Convertible is focused on fun and exudes quality and good craftsmanship in a segment not known for doing so, but is ultimately a bit too pricey. Performance-minded buyers will likely find themselves happier in something a bit more track-oriented, and convertible lovers will probably be pleased with the less expensive Cooper S Convertible.
LOVE IT
The exhaust can wake the dead
The engine is a total peach
Overall a very high-quality feeling product
LEAVE IT
High price tag, even pricier options list
Head-up display is pointless in this application
A bit big and bulbous for a MINI
Published October 5th, 2017 9:58 AM
Popular Articles
Latest Comparisons
Car Buying Tools