595 Views
2022 Mini Countryman SE PHEV Review: Niche Appeal
April 22nd, 2022 9:06 AM
Share
FAST FACTS
| | |
| --- | --- |
| Engine: | 1.5L I3 Turbo + Hybrid |
| Output: | 221 hp, 284 lb-ft |
| Transmission: | 6AT, AWD |
| US fuel economy (MPG/MPGe): | 29/73 |
| CAN fuel economy (L/100KM / Le/100KM): | 8.0/3.2 |
| Starting Price (USD): | $33,450 (inc. dest.) |
| As-Tested Price (USD): | $46,250 (est, inc. dest.) |
| Starting Price (CAD): | $42,035 (inc. dest.) |
| As-Tested Price (CAD): | $57,425 (inc. dest.) |
There's really nothing else quite like the 2022 Mini Countryman SE.
The largest-and-in-chargest Mini is the only plug-in hybrid vehicle (PHEV) in the sub-compact segment. Not that this is some fun-free fuel-miser; on the contrary, electrification gives the Countryman added muscle, turning this into one quick, satisfying daily driver. Have cake, will consume, right?
Mostly. This plug-in Mini crossover is fun, yet flawed. Most of these quibbles are easy to overlook, small sacrifices in the name of driving an interesting model. It's the price tag on this cake that makes it hard to swallow, though.
Get a Quote on a New 2022 Mini Countryman
What's new?
This generation of Countryman debuted half a decade ago, with a mid-cycle refresh happening in 2021. Mini gave its largest (and best-selling) model standard LED lighting at both ends, and a tidied up front bumper treatment. The rear lights gained a Union Jack motif, because this is a Mini after all, and if it doesn't regularly remind you of its Britishness (by way of Bavaria), I don't know … it turns into a pumpkin? A giant chip butty? I think they're fun, but the taillights do have their detractors, because the turn signal points the opposite way that the driver is indicating.
Our 2022 tester comes in a relatively subdued spec, with no body stripes of any sort, or contrasting roof. Just pure British Racing Green goodness, and on chunky non-standard five-spoke wheels as well (for the winter rubber). I could throw some tired joke out about the Mini not being so mini anymore, but since the Countryman debuted and practically everything on the road is a crossover now, it's once again small. Cute, too.
SEE ALSO:
Mazda MX-30 vs Mini Cooper S E Comparison: Big Style, Small Range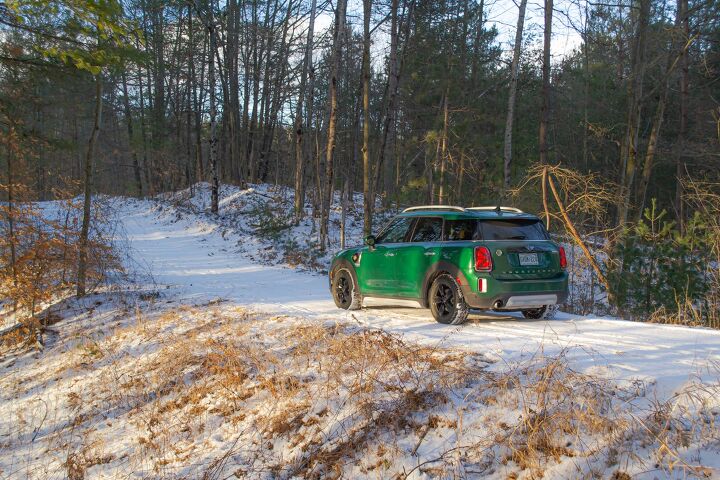 In a bit of confusion, the Countryman SE is not an all-electric model like the 3 Door SE we drove late last year. Instead, the Countryman uses a plug-in hybrid setup, pairing the base model's turbocharged 1.5-liter three-cylinder with a 65-kW electric motor. Combined outputs are 221 horsepower and 284 pound-feet of torque, making the SE the most powerful Countryman other than the JCW. It sends that power through a six-speed automatic transmission, and the standard All4 all-wheel-drive system.
2022 Mini Countryman SE PHEV interior and comfort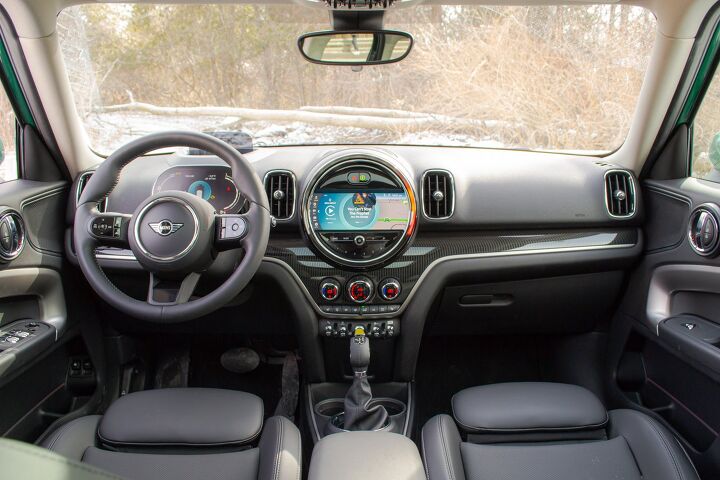 Inside, the Countryman is distinctly Mini, thanks to the big, round central screen housing, column-mounted instrument display, and upright driving position. You sit very close to the wheel, which might be a problem for those much taller than this 5'10" writer. The driving position is car-like, which is a plus in my books.
SEE ALSO:
2021 Mazda CX-30 Turbo Review: First Drive
Our optioned-up tester features a heated Nappa leather steering wheel, which not only feels great, but keeps digits nice and warm during a chilly weekend road trip.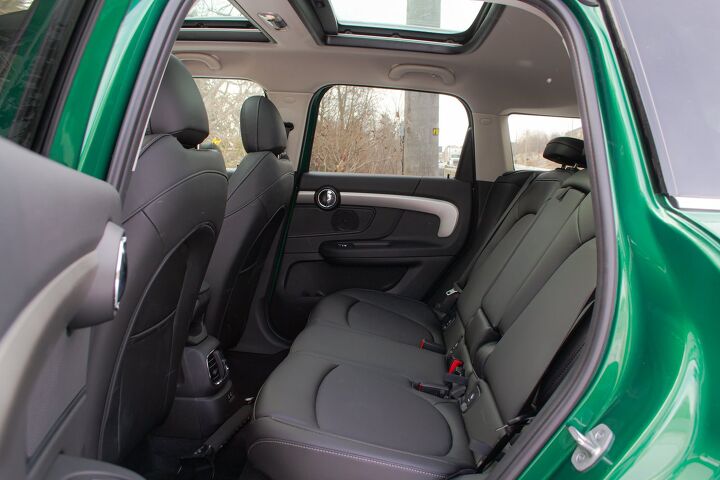 The squishy, leatherette front seats prove deceptively comfortable on longer trips. There's a good amount of lateral support too, and the longer-legged amongst us will appreciate the extendable lower cushion. Not having power adjustments feels unnecessarily chintzy in a car with such a steep price tag, however.
With the front seats set for my own frame, space in the rear seat is tolerable, bordering on fine for long distances. I find the lower cushions flat. Headroom is tight (36.3 inches / 922 millimeters), but the panoramic sunroof and low shoulderline help get a lot of natural light to back-seat passengers.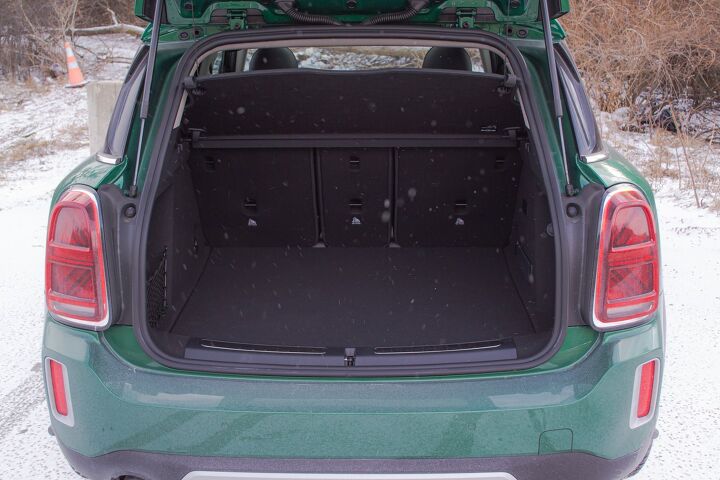 Storage space is pretty darned tiny for the class, at just 13.1 cubic feet (391 liters) with the rear seats up. At least it's a relatively long space. Folding the seats down brings the Countryman up to a more competitive 40.7 cubes (1,153 L).
2022 Mini Countryman SE PHEV technology and features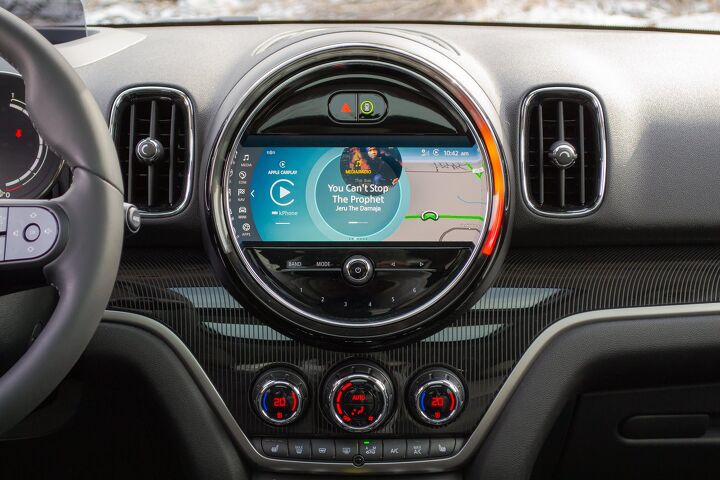 Navigating the Countryman's 8.8-inch touchscreen is fairly straightforward. The main menu on the left does the heavy lifting, and it rarely takes more than a poke or two to find the the menu you're looking for. My biggest gripe is with the center console rotary dial. For reasons only known to Mini, this redundant control spins opposite to expectations: clockwise scrolls up the on-screen menu. It's maddening, especially because that flips when using the (wireless) Apple CarPlay. Why, Mini, why?!
If you have one of the larger modern phones, you're going to want to tether it anyway. The Countryman's wireless charger resides in the center console storage, and it's too small to clip my iPhone 13 Max into. USB-C chargers keep the juice flowing.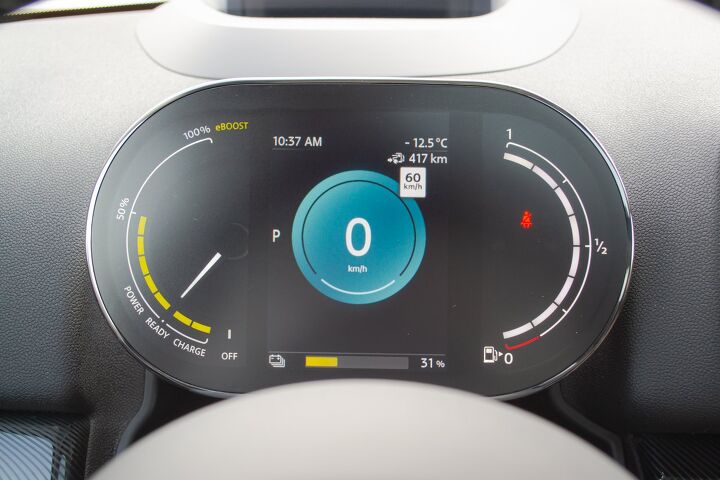 I have mixed feelings about the column-mounted instrument panel. I appreciate its simple, easy-to-read nature, but it's susceptible to glare. Keeping it all in view makes for a wheel angled forward more than in other cars. Thankfully, the head-up display is easy to read. Polarized glasses do wash that out, however.
The Countryman is a cinch to park in tight city spots. Included front and rear sensors make it even easier, in addition to a wide-angle backup camera Handy auto-tilt side mirrors avoid curbing those wheels. I appreciate the subtle interior ambient lighting, and though the Harman/Kardon sound system is a little bass-heavy, it does a good job filling the interior.
SEE ALSO:
2021 Toyota Venza Review: First Drive
2022 Mini Countryman SE PHEV driving impressions
The Countryman stays true to the badge on its hood, with a positive, confidence-inspiring steering rack. It's a chunky little thing at around 3,900 pounds (1,769 kg), but the battery pack is down low under the rear seats, keeping the center of gravity right where you want it. Body roll is minimal. The result is a small, fun package that can keep its driver entertained when the road calls for it.
Around the city, the Countryman SE rides with a slight firmness. Larger bumps can result in a bit of pogoing, a side-effect of its relatively short wheelbase. Things settle down on the highway, where the Countryman is planted and smooth. Its upright nature makes for more wind noise than you might expect, however.
When sufficiently charged, this drivetrain is a gem. The instant-on torque from the turbo-triple and battery pack gives the Countryman effortless passing power, like there's a big V6 hiding under that short hood. The six-speed auto does a great job both slurring the gears, and picking the right one to stick with when the situation calls for it.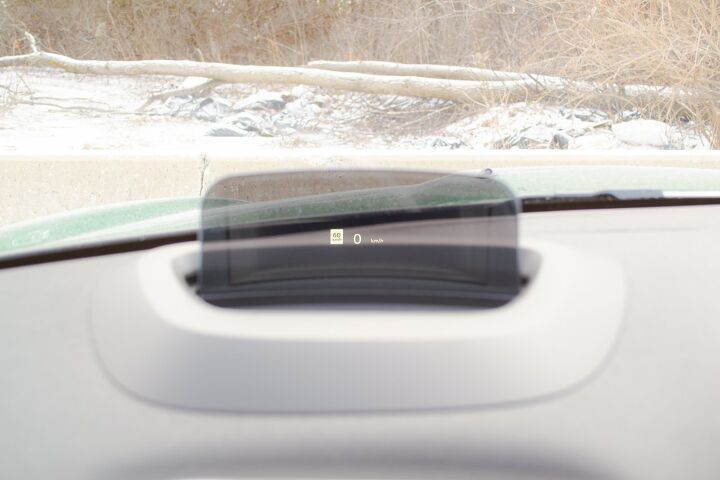 If you're trying to conserve fuel, the paltry 18-mile (29-km) electric range means anything more than a few small errands usually wakes the gas engine. Without a home charger to regularly top up the EV reserves, I found a fun workaround: nudge the shifter into manual mode. This forces the Countryman into gas-only mode, allowing drivers to preserve charge for when it's useful—and even scavenge some back with regenerative braking. After only charging once in the week, I very slightly beat the official 29 mpg (8.0 L/100 km) combined rating.
The Countryman's maximum charging speed is 3.7 kW per hour. While slow, that means you can expect a full charge in 2 or 3 hours.
2022 Mini Countryman SE PHEV pricing and competition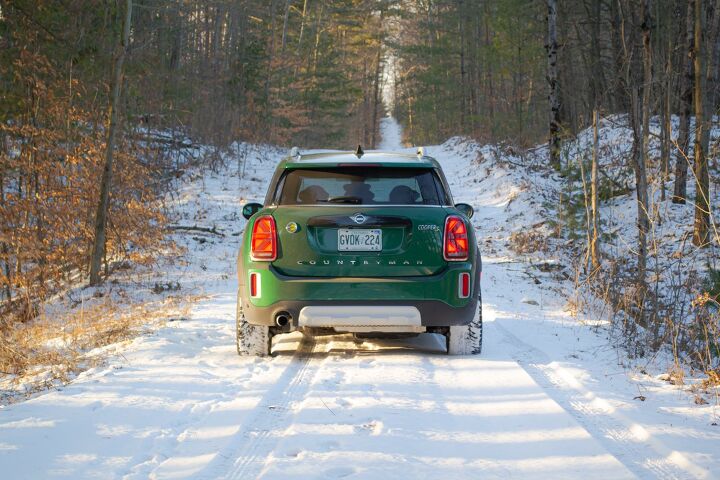 This is where the Countryman falls down, at least in PHEV spec. A basic Cooper ALL4 rings in at $35,450 ($42,035 CAD), including destination, but the Cooper SE requires a significant $6,900 jump up in the US.
Our Canadian-spec tester rings up at $57,525 CAD, a significant chunk of change for something so small. That includes the $9100 CAD Premier+ package, which throws a lot of content at the Countryman, including the panoramic sunroof, head-up display, parking assistant, updated navigation, wireless charger, heated leather steering wheel, and more. The closest US equivalent spec is $46,250, though it misses the $950 Driver Assistance package, which is incompatible with the Iconic Trim.
SEE ALSO:
Kia EV6 vs Hyundai Ioniq 5 Comparison: Sibling Rivalry
At that price, one has to at least consider other options. Want a fuel-efficient light-luxury option? Toyota's Venza is a diet Lexus. Maybe you're ready for the full EV experience? A nearly loaded Hyundai Ioniq 5 could be in your future, and its Kia EV6 sibling is even more fun to drive than the Countryman. The Mazda CX-30 Turbo is thirstier, but with the nicest interior south of $40,000.
Verdict: 2022 Mini Countryman SE PHEV Review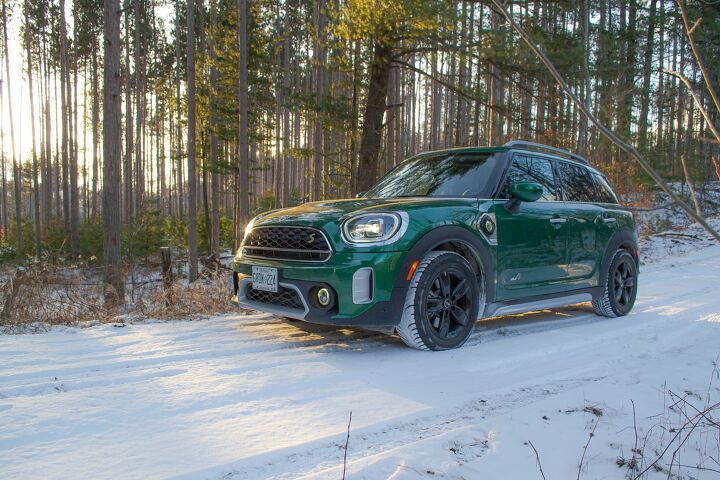 The 2022 Mini Countryman SE is a fun, characterful sub-compact crossover experience. It makes a ton of sense for someone with a similar lifestyle to my own: urban, typically short daily drives, usually nobody in the back seat. If you're able to charge at home every night, then that tiny electric range becomes so much more usable.
If you're part of the small Venn diagram overlap that takes in all that, engaging driving dynamics, plug-in power, and a small footprint, then there's really nothing else quite like it. That eye-widening price means you'll have to really care about PHEV benefits, however, even with incentives.
---
FAQs
How much does the 2022 Mini Countryman cost?
An absolute base model Countryman will set buyers back $33,450 in America, including $850 in destination. In Canada, where AWD is standard, the cheapest Countryman is the $42,035 (including destination) Cooper. Getting into the PHEV requires at least $42,350 ($47,235 CAD).
Is the 2022 Mini Cooper out?
Yes it is; they all are, in fact. In the US, the Countryman is already available as a 2023 model.
What is a Mini Countryman SE?
The SE is the plug-in hybrid (PHEV) version of the Mini Countryman, the brand's largest model.
Discuss this story on our MINI Countryman SE Forum.
Become an AutoGuide insider. Get the latest from the automotive world first by subscribing to our newsletter here.
LOVE IT
City-friendly size
Tractable drivetrain
Mini handling, surprising versatility
LEAVE IT
Piddling all-electric range
Shocking price tag
Interior starting to feel its age
Published April 21st, 2022 8:39 PM
Popular Articles
Latest Comparisons
Car Buying Tools