1.3K Views
The Best IPad Holders and IPad Mounts for Cars
December 13th, 2022 3:43 PM
Share
Using an iPad or tablet to play movies for the kids in the back seat is a great way to keep them occupied during a road trip.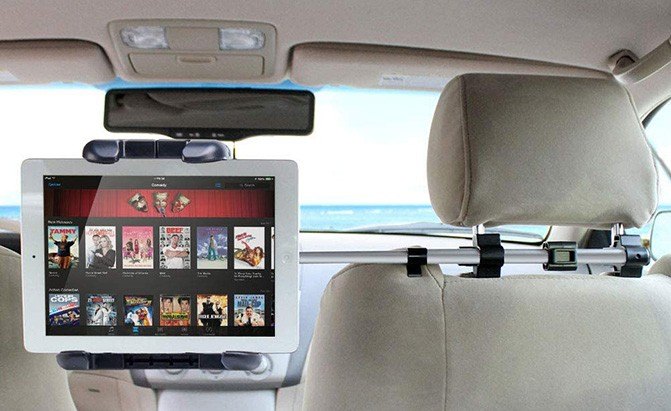 Road trips are a blast…for a while. Amping up your in-car entertainment options will help stave off the inevitable cries of "are we there yet," and might preserve a shred of your sanity in the process.
A great way to add some distraction to the back seat is with an iPad mount for your car (of course, they work for non-Apple devices too). It makes sense to install an iPad holder in your vehicle; after all, you probably already own a tablet of some variety, and if you have kids, they're probably already using it extensively. In fact, one study says that up to 75% of children have their own tablet or another device and that infants begin interacting with touchscreen technology within their first year of life.
The best tablet mounts are inexpensive and highly configurable; they should mount securely and safely to your car and can withstand daily abuse by kids and other passengers. We offer several options here to help you use the tablet you (probably) already own to make your car a more entertaining place for passengers of all ages to spend time.
How We Chose the Best iPad Holders and iPad Mounts
We looked for category leaders among the most popular styles of iPad and tablet holders. We ranked them based on end-user reviews, customer satisfaction, and price. The design and engineering of each item were also taken into consideration. Our Editor's Pick was chosen as the best compromise of price, functionality, and overall customer satisfaction. Of course, your needs may be different, and you should select the iPad/tablet holder that you think works best for you. We eschewed mounts that clip into air vents for this review as they're more suitable for lightweight devices like phones.
For more information on the best iPad mounts and tablet holders, refer to our table of contents.
Table of contents
1. Editor's Pick: iKross Tablet Mount Kit
The iKross iPad holder mounts securely to seat headrests; it allows 360 degrees of rotation so that you can choose a comfortable viewing angle. We especially like the telescoping strut that allows the tablet to be positioned between the back seats.
The iKross can accommodate a variety of popular tablets and devices with screen sizes between 4.5 and 10 inches and is among the most configurable. Buyers praised this model's durability, citing several years of trouble-free use.
The tablet mount works for basic two-post headrest setups and can be fixed on either the driver's or the passenger's side. If there's a problem, it's that this adjustable tablet holder mounts too securely; some users found demounting the iKross difficult. The iKross can only fit devices up to 0.8 inches thick, so it may not work for extra-thick impact-resistant cases.
| | |
| --- | --- |
| Pros | Compatible with most tablets, mounts securely, highly configurable |
| Cons | More difficult to install than others |
2. TFY Universal Car Headrest Mount
This tablet holder from TFY uses a simple system to attach to a car's headrest; a wide, elastic band wraps around the headrest and closes with velcro. While this simplifies the attachment and removal process, it means that you'll see the black elastic strap on the front of the headrest. It also means you can't use this iPad holder on vehicles with fixed, non-adjustable headrests.
It will hold 7 to 11-inch tablets and should work with most popular tablet cases too. Besides the too obvious elastic band, the TFY has an elegant profile, free of excessive protrusions and awkward fasteners.
There were a few user complaints about tablets being jostled out of the holder on bumpy roads; still, this model earned over 90% positive reviews. It would've earned the top place here, except for the fact that viewing angle and tablet position are more limited with the TFY relative to others on the market.
| | |
| --- | --- |
| Pros | Easy to install, works with most popular devices |
| Cons | Elastic band is visually obtrusive, some users complained that devices were easy to dislodge |
3. ARKON TAB-FSM Tablet Mount
The Arkon tablet mount is a much more permanent iPad mounting solution than the other models mentioned here; it bolts to seat attachment points or the vehicle's floor. It's aimed at professionals who need their devices handy for work duties out in the field.
This doesn't mean you can't use it for more conventional purposes like keeping kids entertained on a long road trip. Just understand that installation and removal will require breaking out your tool kit and a greater investment of time.
Features we like here include the 18-inch gooseneck and swivel ball system that makes it easy to find the viewing position that works best for you. The mounting system also allows easy access to any buttons on your device. Tablets ranging from 7 to 18.4 inches will fit, according to the manufacturer.
Some consumers complained that the springs which provide tension to hold devices in place broke, while others had issues with road vibrations that worked their way up the mounting column, making their tablets challenging to read.
We caution against distracted driving. Use care when using any tablet or other device in your car.
| | |
| --- | --- |
| Pros | Multi-position ball socket and gooseneck for adjustment, heavier construction than others |
| Cons | The gooseneck is not easy to bend (for some), tablet can shake while driving, needs tools to install |
Macally's HRMOUNTPRO is similar to our number one pick from iKross in that it also mounts to headrest posts with thumbscrews. It features a telescopic strut so your device can be positioned in your preferred spot. It doesn't top our list because we think its adjustment system isn't entirely on par with our Editor's Choice iPad holder. That tablet mount has a simple ball-and-socket system.
However, this is still a worthy option because it offers 360-degree-rotation and will support most any device between 4.5 and 10 inches wide. It also features a stabilizer to keep your device firmly in place, and its compactness and lightness simplify switching between vehicles.
Some buyers found it wobbly or not well made, but 80% of consumer reviews were positive. That's our minimum threshold to include a product.
| | |
| --- | --- |
| Pros | Unique design, Great for backseat passengers, Flexible, Full rotation, Allows horizontal and vertical viewing, Compact and lightweight |
| Cons | Head is slightly loose and can fall when touched |
5. Lamicall P Car Headrest Tablet Mount
Lamicall uses a tension rod to keep this iPad mount secured to the headrest posts, not unlike what you might use to hold a shower curtain in place. While this makes installation a snap, the manufacturer lists several makes and models of cars that it's not compatible with; specifically those with less than 4 inches between their headrest support posts.
But the Lamicall P does have 360-degree-rotation through the use of a ball-and-socket joint to attach the device grip. This is also one of the less expensive options you can buy. The manufacturer claims it's "universal," meaning it will accommodate any device. We recommend checking carefully to make sure your tablet will fit; manufacturers tend to throw around terms like "universal" somewhat recklessly.
The Lamicall P is (arguably) more elegant than some of our other picks, but it lacks its versatility. Users praised its easy installation and adjustment, and it racked up a very respectable 86% positive reviews.
| | |
| --- | --- |
| Pros | Full rotation, Charging option, Ideal for iPads, Rubber protection, Sturdy construction, Works for phones as well, not bulky |
| Cons | Not universal |
Different Types of iPad mounts/iPad holders
There are several common systems for attaching tablet mounts to your car. Most are temporary, allowing for quick installation and removal, although one of our recommended products does mount to the floor of a vehicle or its seat rails for a very secure connection.
Windshield/Dash Mount
Suction cup mounting systems are quick and easy, but like air vent mounts are better for phones and smaller devices. We didn't recommend any suction cup-mounted iPad holders in this article.
Headrest Mount
These are the most popular types of iPad holders for cars. They're specifically made to keep backseat passengers entertained and are usually very easy to install with no tools required. Some are fixed, while others offer telescoping and rotating, which makes it easier to find the perfect position.
Seat Rail/Floor Mount
Heavier, semi-permanent tablet holders mount to seat rails or the vehicle's floor. Installing them takes time and requires the use of tools, but you end up with a much more secure attachment than other styles.
Air Vent Mount
Air vent mounts are a better solution for your phone than your tablet because they aren't well suited to coping with the weight of larger devices. As their name implies, this style of device holder clips into the directional vanes of your car's HVAC vents.
Recent Updates
December 13, 2022: Updated product links.
August 26, 2022: Removed iKross, Okra, DigitalMobile, Joy Factor, and Menteq; unavailable or poorly rated. Moved No 6 Macally to No 4 position and No 9 Lamicall to No 5 position.
---
We are committed to finding, researching, and recommending the best products. We earn commissions from purchases you make using the retail links in our product reviews. Learn more about how this works.
Published August 26th, 2022 12:03 PM
Popular Articles
Latest Comparisons
Car Buying Tools