1 View
Top 10 Cars of the 2011 LA Auto Show
March 27th, 2012 2:15 PM
Share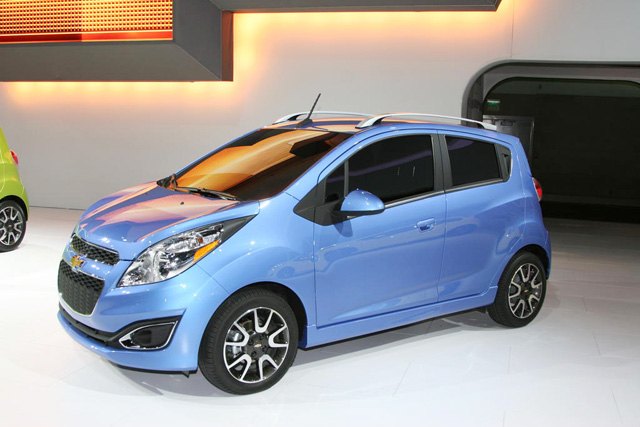 Just a few years ago picking a Top 10 Cars list from the LA Auto Show would have been a simple task, with few world premieres and most of the vehicles on display having already been revealed at some overseas venue. That's no longer the case, with over 20 global debuts this year. So with a sizable list to choose from, the AutoGuide team sat down at the end of the two media days of press conferences to determine the most exciting, most interesting and most important reveals of the show. And here they are:
From the Fiat 500 to the Smart fortwo and Scion iQ, the mini car segment continues to grow in North America. Not wanting to pass this segment by, Chevrolet has entered the fray with a tiny car of its own, the Spark. Sized down from even the new Sonic sub-compact it still has a livable amount of space and comes powered by an ultra-small 1.2-liter 4-cylinder engine making just 85-hp. Thankfully it weighs just 2,300 lbs, so acceleration, shouldn't be terrible.
Notable features on this car include a standard 7-inch screen with Chevy's new MyLink system and Bluetooth. Plus, power windows, air conditioning and 10 airbags come standard.
GALLERY: Chevrolet Spark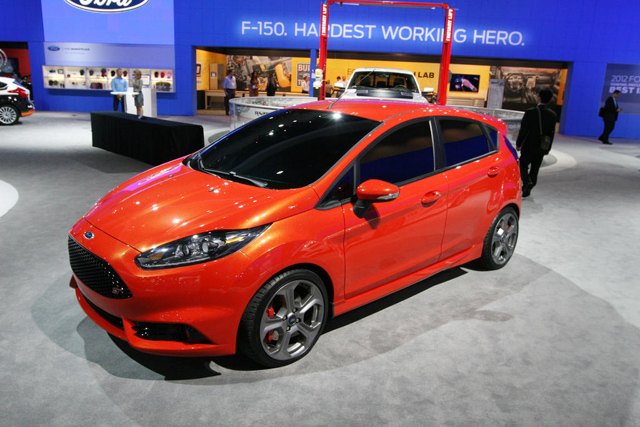 Staying small, but speeding up the pace considerably is the Ford Fiesta ST concept. Powered by the brand's 1.6-liter EcoBoost turbocharged 4-cylinder engine it makes a whopping 180-hp with 177 b-ft of torque. Of course it also gets an aero kit inspired by the brand's WRC rally cars, along with 17-inch wheels and a lowered suspension.
Ford has made it very clear that it is pursuing a global approach to its vehicles and after showing first a 3-door Fiesta ST concept at the Frankfurt Auto Show and now this 5-door model based on our version of the Fiesta, it's all but certain that the Fiesta ST will join Ford's performance lineup, next to its big brother the Focus ST.
GALLERY: Ford Fiesta ST Concept
It's hard to believe, but this is not a concept. That's right, Kia will be taking its Optima family sedan racing next year in the Sports Car Club of America's World Challenge series. Competing in the GTS (Grand Touring Sport) class, a pair of turbocharged SX models will battle alongside cars like the Ford Mustang and Chevy Camaro. the GTS rules allow quite a bit of modification from the factory car, helping a big front-drive sedan compete against more purpose-built rear-drive sports cars. The Optima will be the first Korean car to compete in the series.
Built by Kia's racing partner Kinetic Motorsports, the duo have also teamed up on a Rio B-Spec race car, as part of a new B-Spec racing series that includes vehicles like the Fiat 500, Honda Fit and Mazda2.
GALLERY: Kia Optima Race Car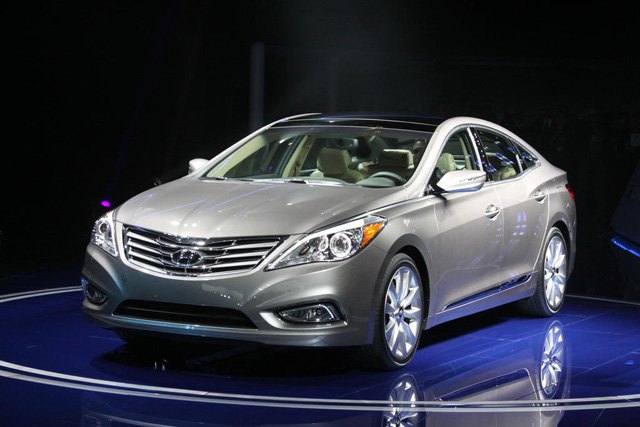 Is Hyundai's new Azera really worth a spot on our Top 10 list? Sure we could fill another spot with the Jaguar XKR-S Convertible (cool, but just a drop-top version of the coupe we've already seen), or the C-X16 Concept (amazing in every way, but we already saw it in Frankfurt). That said, the Azera impresses most for how far it's come, with the previous generation an entirely forgettable car. Slotting in above the Sonata (and looking a lot like a larger version of that car), and below the Genesis sedan, it's a luxurious and large front-driver powered by a 3.3-liter V6 with 293-hp, offering a best-in-class power to weight ratio as well as top-notch fuel economy with a 20/29-mpg rating.
With a lengthy list of standard features that includes leather, heated front and rear seats and a 7-inch display screen with a back up camera and navigation, the top-line Tech Package adds features straight out of no-nonsense luxury cars, like a panorama roof, vented seats, a power tilt and telescopic steering wheel, not to mention a power rear sunshade and manual side sunshades in the back seat.
GALLERY: 2012 Hyundai Azera
It might not have the wow factor of a high-horsepower sports car, but next year the 2013 Ford Escape might just out-sell every other car on this list combined. Billed as the most popular SUV in America, it's been reinvented, leaving behind the boxy truck look of days-gone-past for stylish new bodywork more in fitting with the new Ford ethos and style.
And as with all other new Ford's there's a strong focus on technology and fuel economy. With a base 2.5-liter 4-cylinder, Ford will also offer two EcoBoost engine options, the first a 173-hp 1.6-liter mill and the other a 237-hp 2.0-liter block. With the former sitting as the fuel economy leader, Ford claims an improvement of 5 mpg over the outgoing model, while the larger EcoBoost engine is intended as a V6 alternative.
The 2013 Escape is the first car to get the updated MyFord Touch system, which Ford claims is less buggy and easier to use. Another high-tech convenience feature is a hands-free liftgate. Available on the top-trim model, with a simple kicking motion under the rear bumper, the back hatch opens automatically, so long as the "kicker" has the key fob in his or her pocket. Not a lot of folks will opt for this trim option, but its appeal is certain to get folks into dealerships.
GALLERY: 2013 Ford Escape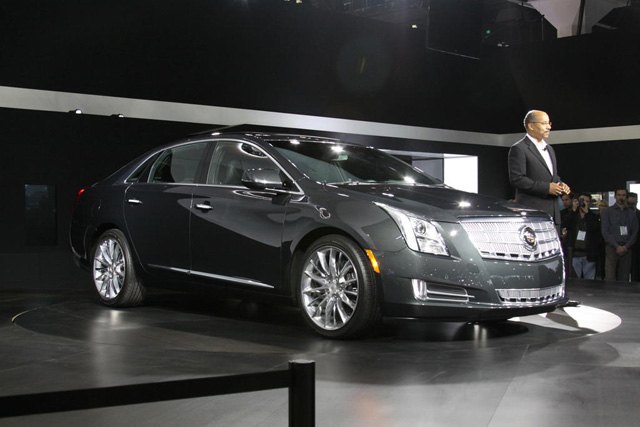 Bringing the best of old Cadillac and new Cadillac together, the XTS luxury sedan is very large and bursting with technology. Much larger than its targeted rivals (cars like the BMW 5 Series or Mercedes E-Class), it has a cavernous trunk and plenty or rear seat room. (Chauffeur anyone?)
Available in front-drive or with an optional Haldex all-wheel drive system, Cadillac has equipped the XTS with standard Brembo brakes. The suspension is also worth a note, with an air-ride rear setup, HiPer Strut front suspension and magnetic ride adjustable shock absorbers at each corner.
Inside is where Caddy went wild on the tech features with adaptive cruise control, an auto brake feature, Blind Spot warning and a Lane Departure system, plus a cross traffic alert system that will vibrate the driver's chair on the side the warning is detected. More important than all this, however, is the debut of CUE, Cadillac's new telematics system, with an 8-inch high resolution display screen that offers iPad like controls, as well as haptic feedback, with the screen vibrating so the operator knows when a button has been pressed without even looking at it.
If there's any way the XTS disappoints it's that it's powered by a direct-injection 3.6-liter V6 with 300-hp. And these days, in a luxury car of this size, 300 ponies underwhelms.
GALLERY: Cadillac XTS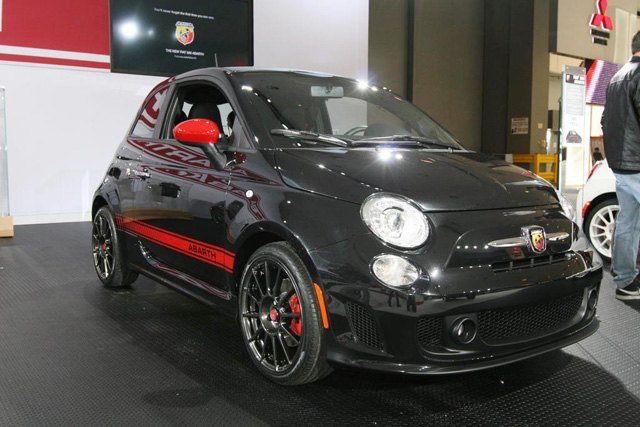 At number four on our Top 10 list, the Fiat 500 Abarth is one of several high-performance enthusiast cars that debuted at the LA Auto Show. An over 50 percent jump in power from the standard car, the Abarth model is targeting the testosterone demographic with a turbocharged version of the 1.4-liter 4-cylinder that makes 160-hp and 170 lb-ft of torque.
More than just a high-output engine, the Abarth model is a complete package, with stiffer adjustable Koni shocks, a lowered ride height, larger brakes and big 16-inch or optional 17-inch wheels. Outside it gets a custom aero kit with a dual exhaust setup, while the inside gets custom seats, a flat bottom steering wheel and a turbo boost gauge with a shift light to tell you exactly when to shift the 5-speed manual transmission.
GALLERY: 2012 Fiat 500 Abarth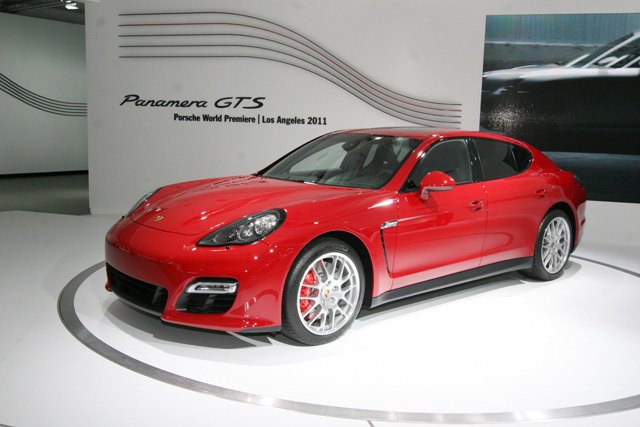 It might have been the only actual surprise unveiling at the LA Auto Show and it's third on our list of Top 10 cars. With Porsche announcing it would give the new 911 its North American debut, we assumed that was it from the German sports car maker, but we were wrong. Stealing the spotlight was the Panamera GTS, a more focused performance version of the V8-powered luxury sports sedan. Slotting in between the S and Turbo, it uses an up-rated version of the 4.8-liter V8 engine to deliver an extra 30-hp, for a new total of 430-hp.
Handling is improved thanks to a 10-mm lower suspension and a Porsche Active Suspension Management system, while 5mm wheel spacers and 19-inch or optional 20-inch wheels provide more grip. GTS models also get more stopping capability thanks to a swapped in set of binders from the Panamera Turbo.
Need more? How about a custom aero package, a new exhaust system and the Turbo's adjustable spoiler. Finally, there's a standard Sport Chrono Package with launch control and a stunning interior with plenty of grippy Alcantara on the seats.
Unlike the Cayenne GTS, Porsche will not offer the Panamera GTS with a manual transmission, with the 7-speed PDK dual-clutch unit standard.
GALLERY: Porsche Panamera GTS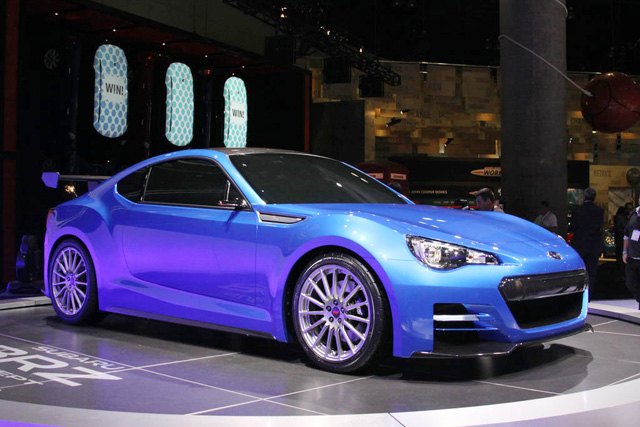 We've seen the FT-86 Concept before and the FT-86 II Concept. We've even seen the Scion FR-S Concept. But at the LA Auto Show, for the first time ever, we were given a glimpse as to what the production Subaru BRZ will look like – the third model to be generated from the Toyota-Subaru rear-drive sports car partnership.
Billed as the BRZ STI Concept, it's a more high-performance look than the production car will get, with a massive rear spoiler, Brembo brakes, larger 18-inch wheels and, to top it all off, a carbon fiber roof. The car has already been billed as having the lowest center of gravity of any production car and this light-weight addition takes that a step further.
If seeing yet-another BRZ/FR-S/FT-86 concept is driving you mad with anticipation, you won't have to wait much longer (we promise), with the production versions set to debut at the Tokyo Motor Show in just a few weeks.
GALLERY: Subaru BRZ STI Concept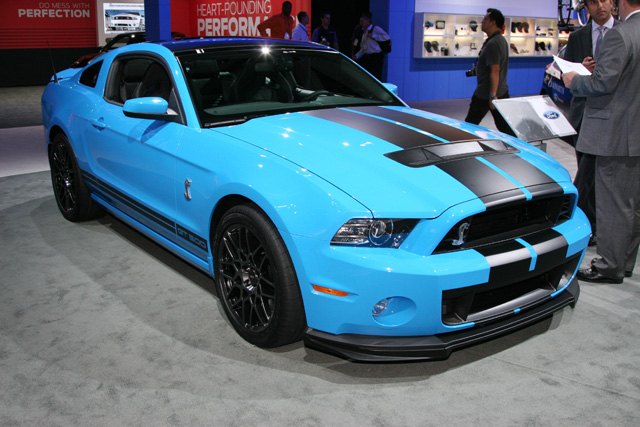 How do you compete with the 580-hp Chevy Camaro ZL1? You one-up it with an extra 70-hp. Yes, the updated 2013 Ford Shelby GT500 makes an almost unrealistic 650-hp thanks to a new 5.8-liter V8 engine and a new supercharger. As the most powerful production Mustang, the fastest production mustang (with a top speed of over 200 mph) and a car that Carroll Shelby himself calls "the greatest Mustang ever built", how could anything else be the number one car of the LA Auto Show?
The 2013 model also gains a new front fascia and a splitter designed to keep the nose pinned to the ground, while an upgraded 6-piston Brembo brake package, larger rotors and a more aggressive pad setup help slow it down. Ford even added a new 6-speed manual transmission with a 3.31 final drive
Those looking to get the most out of their GT500 will want a Performance Pack with a Torsen limited slip differential and adjustable Bilstein shocks, while a Track Pack is ideal if you're going to hit the road course, with additional engine, transmission and differential coolers.
Forget the ZL1, Ford has pegged this machine at the ZR1!
GALLERY: 2013 Ford Shelby GT500
[Wondering why your favorite car of the LA Auto Show isn't on our list? Chances are, if its something like the Cadillac Ciel or Jaguar C-X16 then it has every right to be. And while those cars are new to most, they have already been revealed at previous venues (see our Frankfurt Motor Show Top 10). That said, we limited our LA Auto Show Top 10 list to vehicles that made their world premiere at this show.]
Published November 18th, 2011 2:07 PM
Popular Articles
Latest Comparisons
Car Buying Tools