1 View
Going Topless: Getting Frisky With Mazda and MINI
December 7th, 2012 11:40 AM
Share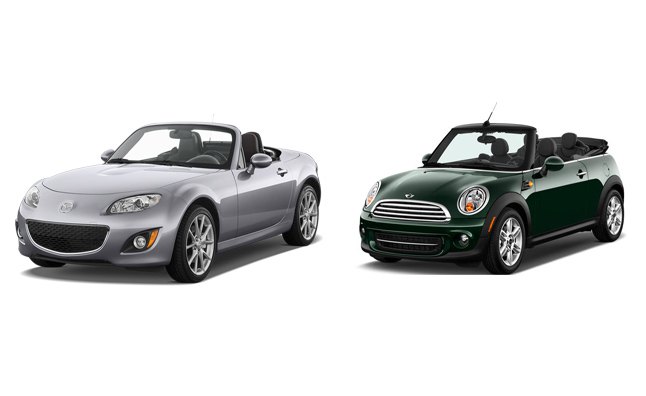 In the latest installment of Amy Tokic's quest for the perfect convertible, she takes the Mazda Miata and MINI Cooper Convertible for a spin. You can catch up on all her car shopping adventures in Part 1, Part 2 and Part 3 of the series.
TEST DRIVE #1: MAZDA MX-5 MIATA
My first test drive of the day (and of this series) was the Mazda Miata. I went fairly early in the morning during the week, so I wouldn't have to deal with Saturday shoppers. As well, I made an appointment the day before to ensure that a salesperson and car would be waiting for me.
The Mazda dealership looked like any other dealership I'd ever gone into. Clean, lots of cars, lots of banners announcing special deals and a smattering of desks – yep, a typical dealership. I announced my arrival to the receptionist, who remembered that I had called the day before (bonus points). She paged the salesperson that would be assisting me (Chris) and assured me that I'd like him.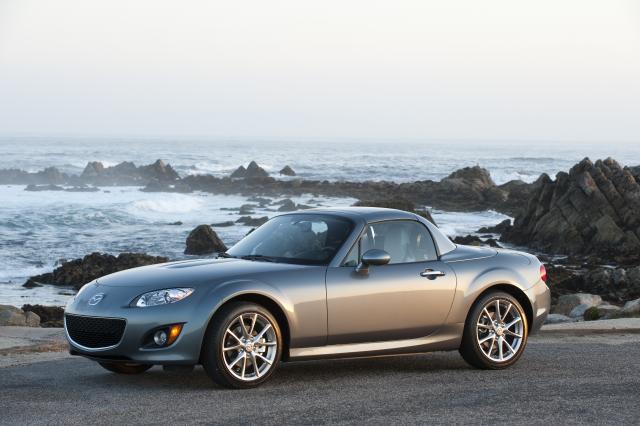 Chris happened to be the assistant manager of the dealership and he explained the Miata we'd be taking out. It was a 2011 GT model, brand new, retractable hardtop and shiny black. I loved the keyless entry and start-up – I just put the keys in my purse once I started the car. But upon entry, I realized that there wasn't any room for my purse. Either Chris has to hold it on his lap the entire ride (not very manly), it would have to sit on the armrest or it would have to sit on the floor. Since there was no way I was putting in on the floor (even if this is a new car) and Chris didn't seem all that eager to have it sit on his lap, I went with the armrest.
The thing is when you're taking a test drive it's hard to remember what the salesperson is saying about the car's key points. I was too busy making sure that I wasn't going to get into an accident or have him soil his pants as a result of my driving skills. And it's not like you can take notes – I'm pretty sure that counts as distracted driving.
After driving an older car for so long, you really do forget how a car is supposed to drive and handle – or maybe the Miata is just that good. I was very gentle on the gas and brake – a light tap on the pedal was sufficient. In fact, Chris had to brace himself with his hands on the dash after a few sudden stops.
I love how fast the Miata is, though it does require vigilance when sticking to the speed limit. Chris suggested I take it past 59 mph. I blinked and we were doing 80. I have no idea how that happened… I couldn't believe a car could make that much of a jump in so little time. Chris then calmly suggested I take it take it down a few notches – I'm sure he didn't want my first experience in the Miata to garner me a hefty speeding ticket.
As for the salesman, I found Chris to be fun, knowledgeable and a bit flirty – in other words, a great experience. I particularly liked the part when he asked if I was a recent grad because I would qualify for certain incentives (lots of bonus points). I don't know if it was just a line, but let me tell you – it totally made my day.
The test drive lasted for about 40 minutes – Chris asked me if I wanted to take it out longer, but I had another test drive to get to. I got to test it out on the highway and the city to see how she could handle. And I have to say, I was impressed with both. We spent another 30 minutes going over pricing and financing options. Needless to say, the car I took out was not the base model, so I was looking at a car that was a bit over my price range – but not so much that it was out of the question.
Mazda Miata Pluses:
Super cute looks, quick acceleration, smooth shifting, convertible top speed (on and off), keyless entry and start, ease of convertible top.
Mazda Miata Minuses:
No room for my purse, small trunk, extra cost for the hardtop model, some rearview visibility issues.
Mazda Dealership Experience:
I'd give it 8 out of 10. It was fun to drive and a great overall experience in the dealership.
TEST DRIVE #2: MINI COOPER CONVERTIBLE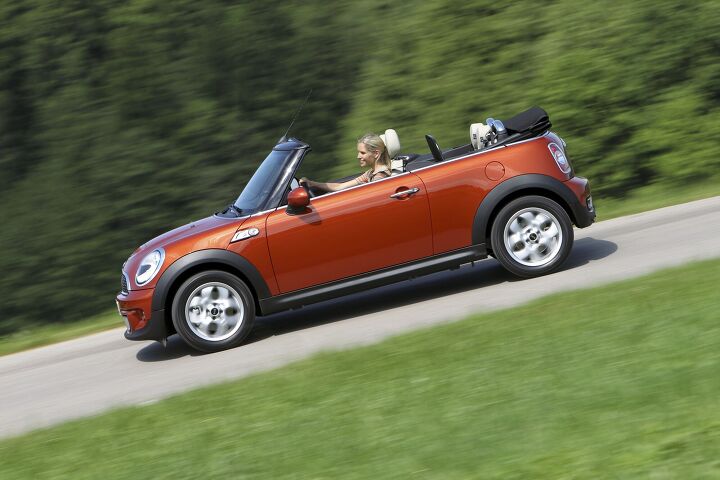 Next up was the MINI. I was looking forward to trying this bad boy on for size. MINI does such a great job branding this car. It looks cute (but not too cute), peppy and uber hip.
The dealership is located right downtown, which makes sense – it's marketed as an urban-type vehicle that works well in the city. The dealership itself an extension of the MINI brand – modern, hip, cool, eclectic. The space was modern, the design was cool and there was a lounge that I could picture being full of hipsters on a Friday night.
But what struck me was the staff. Everyone was polite, but not friendly. I got the distinct feeling like I was back in high school and I wandered into the cool kids' clique. They weren't going to stuff me in a locker or give me a wedgie, but it was hard to ignore the vibe that I just wan't hip enough to belong.
The receptionist greeted me without a smile, and it set the tone for the whole visit. The salesman, too, was polite, but no warmth. We sat down at his desk, where he asked filled me in as to the car I'd be test driving – the 2012 MINI Cooper Convertible. He asked if I had any questions (I didn't at the time) and we were on our way.
If you've ever been in a MINI before, the first thing you notice are the gauges. This is because they are so freakin' huge. If you get caught speeding in a MINI, there's no way you can use the excuse that you didn't know how fast you were going. I liked the cool key that started the car – it's a plastic disk you insert in the dash.
My test drive took me around the city, where there was a lot of construction. It wasn't until we hit the highway that I got to see what this little car could do. And as it turns out, not as much as I hoped. When I started to "give 'er", I could feel the shift as it moved through the different gears. On top of that, the rearview visibility, with the top up or down, is horrible. I know that with a convertible, this will always be a problem, but in the MINI, I couldn't see anything behind me.
The longer I drove the MINI, the more it felt like I was riding in a shoebox. It sits close to the ground and is too stiff for my liking. Feeling sturdy is one thing, but this car certainly doesn't soak up the bumps.
Perhaps I had been spoiled on my first test drive. Chris was friendly and talkative, whereas the MINI salesguy only talked to give me directions. I tried to pull some conversation out of him, but he was on a mission – to take me out, bring me back to the dealership and give me the pricing options. Kind of the opposite of a wham, bam, thank you ma'am.
Once the test drive was over, we went back into the dealership to crunch some numbers. I had a few options of different convertible models to choose from that fit into my budget. But if I'm going to be spending that kind of cash, I want to be completely satisfied. I was more than a little disappointed about the disparity between the MINI brand and my overall experience. I felt cheated. It's not looking too good for MINI at this point.
MINI Cooper Convertible Pluses:
Cool key, compact size, plenty of room for a small car, great service package included (once a year service with a loaner car while it's in the shop).
MINI Cooper Convertible Minuses:
Stiff and slow ride, no rear visibility, gaudy gauges, too-cool staff gave me high school flashbacks (not in a good way).
MINI Dealership Experience:
5 out of 10. It can be summed up in one word – Meh. And yes, meh is a word. Colum did tell me that it may be because MINI is actually owned by the Germans… perhaps my dealership experience was Germanic.
Things Learned
Taxes suck. When I put together my budget for my new car, I didn't really factor in the taxes. Freight, administration fees, Air Conditioning Excise Tax (WTF?!) – they all add up. Depend on where you live, it can mean a few extra thousand on top of the price of the car.
Give yourself enough time between test drives. You don't want to rush or miss any important points.
If you forget to ask a question, don't be afraid to call the salesperson back. They should be happy to answer any question you have. If they don't get back to you in a timely manner, move on to another dealership.
 I'm going to have to learn to rely on my mirrors to see what's behind me. That's going to take some getting used to.
Up Next
Tales from The Beauty (Volkswagen Eos) and The Beast (Chevrolet Camaro).
Published October 10th, 2012 2:08 PM
Popular Articles
Latest Comparisons
Car Buying Tools