2.5K Views
2023 Ford Maverick Tremor Review
September 5th, 2023 4:46 PM
Share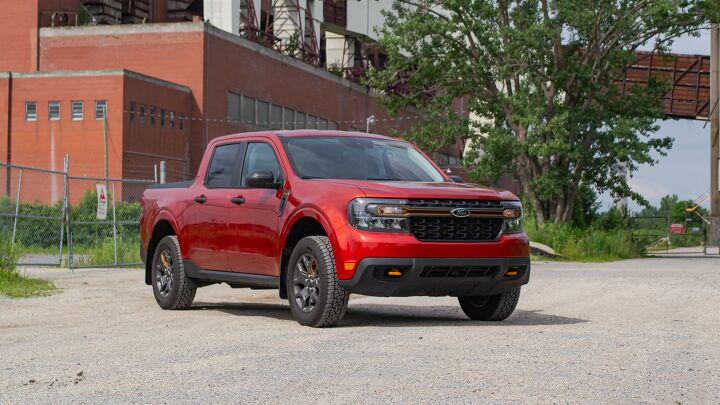 | Love It | Leave It |
| --- | --- |
| Affordable | Thirsty |
| Actual availability | Certain features locked behind top trim |
| No-nonsense feel | Diminished towing capacity |
The 2023 Ford Maverick Tremor is a conundrum.
Ford's baby pickup has been a critical darling since it launched two years ago. Here's a pint-sized truck that can still handle most of the truck-like things folks need, at a more manageable size—and price. The Maverick's low starting price and standard hybrid powertrain was cause for celebration. The hybrid was so popular, in fact, that Ford recently made it the extra-cost powertrain.
And here's the Tremor, which sits as the most expensive version of the Blue Oval's most affordable truck. (Or nearly, but more on that later.) Does it exist for business reasons, because profit margins on a $23k hybrid pickup must be shallower than the tread on a Mustang leaving a Cars & Coffee? Is there a need for a unibody pickup to bulk up and head for the nearest trail? I spent a week with the latest Mav to find out.
What's new?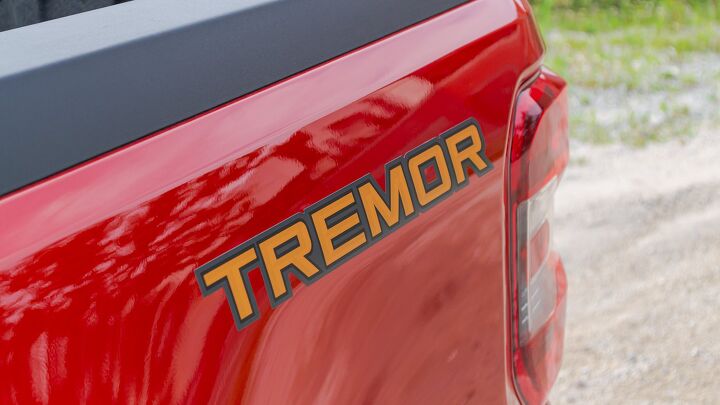 Under the skin, the Maverick and Bronco Sport are related, and the Tremor only strengthens those ties. It exclusively sticks to the 2.0-liter EcoBoost, which spits out a strong 250 hp and 277 pound-feet of torque through an eight-speed automatic. The BroSpo lends its unique twin-clutch all-wheel drive system, with a rear limited-slip differential including a diff-lock feature. The whole truck rides an inch higher too, on 17-inch alloys wrapped in standard all-terrain rubber. Available on either the mid-trim XLT or top-trim Lariat, the Tremor package also includes unique suspension tuning for added off-road capability.
Splashes of Tremor Orange dot the exterior too, including on the afore-mentioned rims, the requisite Tremor stickers, badging, tow hooks, and unique grille. Smoked taillights and steel skid plates round out the attitude adjustment. As equipped, the Maverick is just a bit meaner, without the cartoonish qualities of a full-fat Raptor. Folks wanting even more visual pizzazz can opt for the $1,495 ($2,000 CAD) Tremor Appearance Package, which adds a contrasting coat of gray to the roof and mirrors, plus side graphics.
On the road, sometimes off it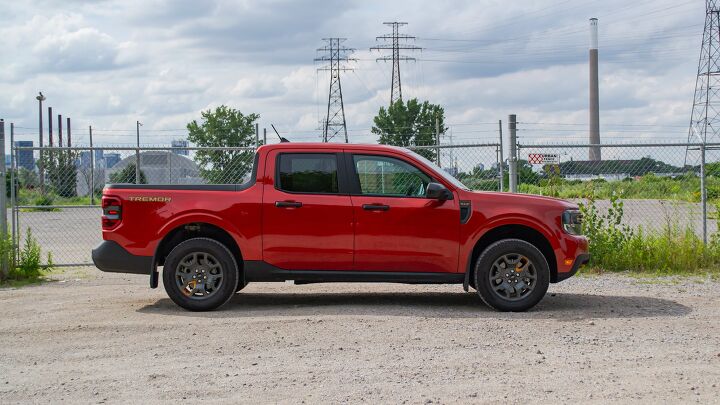 As you'd probably expect, the changes to the Maverick make it a busier tarmac companion. It still has the innate qualities that make it such a good urban warrior—compact footprint, great sight lines—but with a bouncier suspension and added rumble from the rubber. It's still a far sight better-mannered than the agricultural Ranger and Toyota Tacoma I drove earlier this year, however. The steering has a reasonable amount of weight to it off-center, strengthening this lil' trucklet's easy-going vibes.
The EcoBoost has ample power for daily use. It'll pull away from stoplights and on-ramps with aplomb, getting the Mav up to speed without issue. The eight-speed auto is well-mannered, shifting smoothly and cleanly, and holding gears when you've put your foot down. Basically, it does everything you ask of it.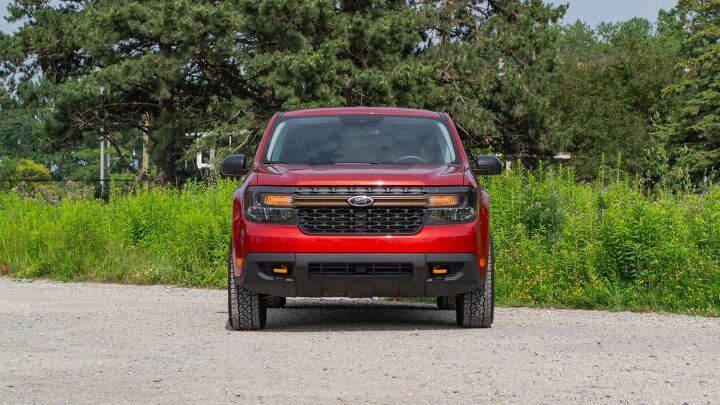 It sure is thirsty, though. Speccing the Tremor package shaves off multiple miles-per-gallon, resulting in a combined figure of just 21 mpg (11.0 L/100 km). Yes, any off-road trim is bound to drink more due to aerodynamics and rolling resistance. But that's not far off the larger Tremors. The nearly twice-as-efficient hybrid still looks awfully appealing here on the road.
The front-drive hybrid Mav is unlikely to brave the sorts of trails the Tremor can, though. While I couldn't take it on anything more challenging than a cottage road, the truck felt impervious here, solidly capable and even a little fun. The five selectable drive modes allow drivers to tailor the experience to the setting, and Trail Control works great as an off-road cruise control. Just as the Maverick itself can handle most of folks' truck-based needs, most of the time, the Tremor should prove plenty capable for all but the most Moab-bound adventurers.
Straightforward cabin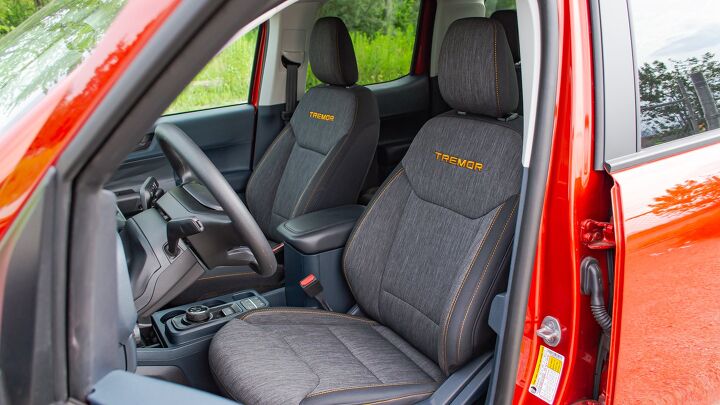 No nonsense. That's the Maverick's de facto mission statement, and it carries over to the interior. Beyond some splashes of orange and the stitched Tremor logos in the headrests, this is the same cabin we've become familiar with over the last few years. The blue and speckled plastic of the dashboard won't keep Mazda's interior designers up at night, but it feels durable and has far more character than all-black-everything. The fabric seats do little in the bolstering department, but prove reasonably comfortable on longer drives.
One aspect that bears repeating: ingress and egress is spot-on. This 5'10" writer simply slides laterally—no drop, no climb. And this is awesome. The rear bench is fine, with good amounts of leg- and head-room, but it's a very upright position. Both rows have ample storage in those big door pockets, too.
Light on tech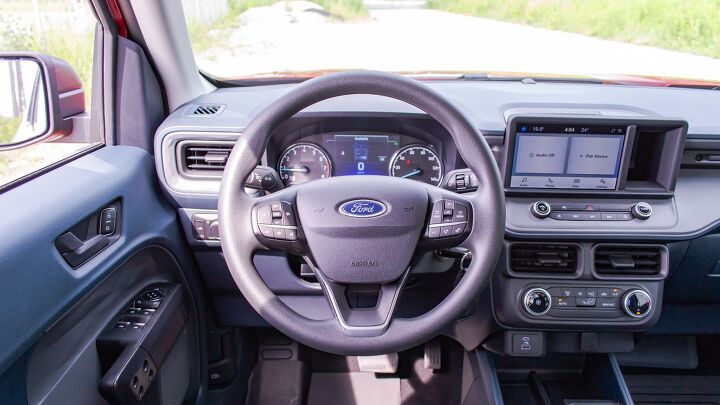 As an XLT, this particular Tremor comes with an appropriate amount of toys for a back-to-basics truck. The single-zone climate control is effective. The Mav is one of the few vehicles you can buy with remote keyless entry but no push-button starter. There's no wireless charging pad, but there's one of each type of USB port within easy reach up front, and a little nook for smartphones. Ford's aging Sync infotainment system is super-simple, but with standard Apple CarPlay and Android Auto, you can do everything you need from your phone. I do like the high-res info screen sitting between the analog dials, though.
There's an okay driver assist suite here, with the requisite lane assists and blind spot monitoring with rear cross-traffic alert. There's regular ol' cruise control here—and if you want adaptive, be prepared to crack open that wallet…
Dollars and sense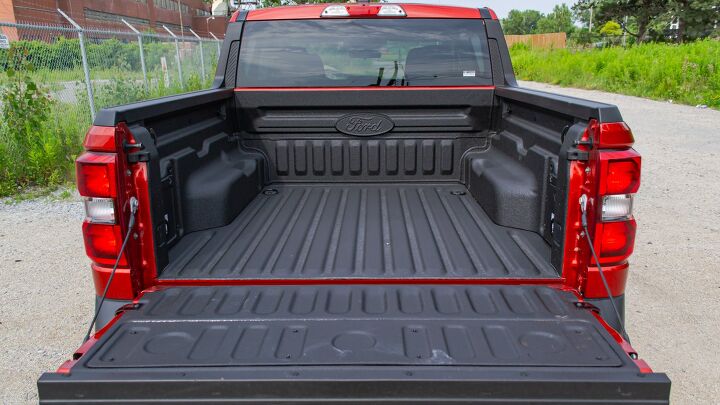 As equipped, this Maverick rings in at $32,965 ($41,680 CAD), including destination. Even at this elevated (for the Maverick) price, it's still a lot of vehicle for the price.
But there's a big jump if you want anything fancier. Wipe-clean ActiveX seating or dual-zone climate control? Your only choice is dropping a couple extra grand on the Lariat. Adaptive cruise control is locked behind an upgraded safety package, and it can only be specced alongside the Lariat luxury package. Mix in the appearance package and you're over $40k south of the border, and $50k CAD above it. That's Hyundai Santa Cruz money, for something that's more capable off-road, but worse on paved surfaces, and with less impressive cabin and tech suite.
Verdict: 2023 Ford Maverick Tremor Review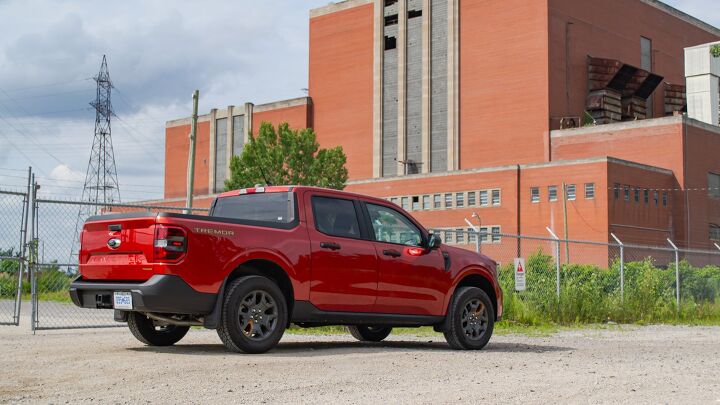 Would I recommend the 2023 Ford Maverick Tremor?
Before I drove it, no. The hybrid was still the default engine, and I maintain that the Maverick makes more sense the less you spend on it. The Tremor isn't compatible with the 4K towing package either, so it ties the hybrid's 2,000-pound towing capacity, and its 1,200-pound payload capacity is 300 lb shy of the hybrid.
But I also appreciate the idea of buying only as much vehicle as you need. If your particular Venn diagram includes light trucky duties, added off-road capability, and an affordable price tag—not to mention actual availability, a constant hybrid bug-bear—then the Maverick Tremor starts to make sense. It's not the best Maverick, but it's still pretty good.
Become an AutoGuide insider. Get the latest from the automotive world first by subscribing to our newsletter here.
2023 Ford Maverick Tremor

Engine:

2.0L I4 Turbo

Outputs:

250 hp, 277 lb-ft

Transmission:

8AT, AWD

US Fuel Economy (mpg):

20/24/21

CAN Fuel Economy (L/100 km):

11.9/9.9/11.0

Starting Price (USD):

$24,190

Starting Price (CAD):

$33,295

As-Tested Price (USD):

$32,965

As-Tested Price (CAD):

$41,680
Published September 5th, 2023 4:46 PM
Popular Articles
Latest Comparisons
Car Buying Tools