4.7K Views
Mercedes G-Class Vs Jeep Wrangler: Battle of the Off-Road Boxes
April 6th, 2022 2:18 PM
Share
We're committed to finding, researching, and recommending the best products. We earn commissions from purchases you make using links in our articles. Learn more here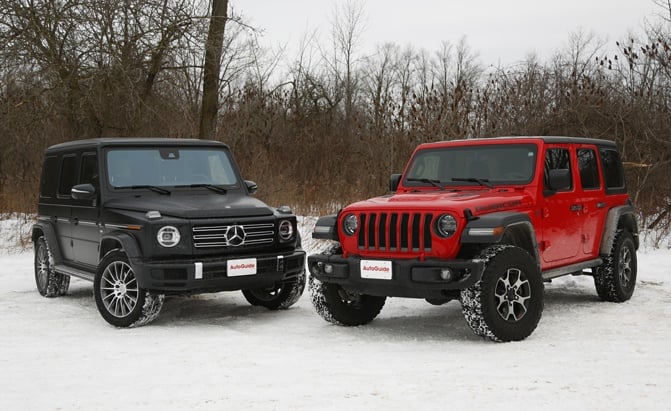 Comparing a Mercedes G-Wagen to a Jeep Wrangler might seem as absurd as comparing a Michelin star restaurant to a fast food joint, but in the end, you leave neither hungry in the same way that neither SUV fails to make you smile or get you out of a tough spot.
If you wanted a boxy off-roader, you don't have many options right now. As two of the last "real" body-on-frame SUVs out there, the Mercedes G-Wagen and Jeep Wrangler have outlasted so many other off-roaders including the Ford Bronco, Chevrolet Blazer, Land Rover Discovery, and Toyota FJ, to name a few. Both boxy SUVs are backed by a rich history and have amassed legions of dedicated fans, and although those fans are quite different, they're equally enthusiastic about their rugged vehicles.
Get a Quote on a New Jeep Wrangler or Mercedes-Benz G-Class
Mercedes-Benz G550
As the SUV of choice for Kardashians, Paris Hiltons, Beverly Hills Housewives, and rappers everywhere, the iconic G-Wagen (or G-Wagon/G-Class) wasn't always the status symbol that it is today. Developed originally as a military vehicle, the Geländewagen (German for cross-country vehicle) didn't have the same extensive in-the-trenches service run as the humble Jeep, but it has been used by select few armed forces around the globe. Mercedes uses the slogan "Stronger Than Time" to describe the G-Class and I think that's very accurate. This SUV is timeless and even on the used market, they keep their value remarkably well.
ALSO SEE: Top 10 Most Expensive SUVs
The G-Class is iconic — its upright stance, round headlights, and "designed by a yardstick" aesthetic are instantly recognizable, even after the G was overhauled for 2019 from bumper to boxy bumper. It might look strikingly similar to the G-Wagen that came out in 1979, but that's part of what makes it so unique and special. Mercedes also paid special attention to how the doors sound when you slam them shut. It literally sounds like a bank vault being closed, and when you lock the doors, they sound like gunshots, which tells you a lot about the SUV's personality.
So, its looks are pretty much the same, but what has changed? The G is longer and wider, which translates into more passenger and cargo space, and it's also lighter, which actually made me laugh out loud when I read it because it's still so hefty. Passengers have a lot of headroom, but rear-seat passengers might find legroom a bit tight. The G is enormous, taller than many pickup trucks out there and tall enough that it couldn't be shoehorned into my garage at home. It also has a new independent front suspension that helps the G feel more refined, comfortable, and less agricultural while driving on normal roads.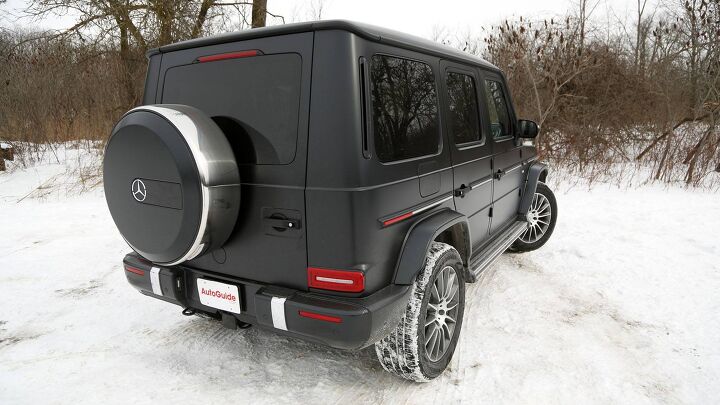 Even though it's more civilized, it hasn't affected how capable off-road it is: it has three lockable diffs, four trailing arms, a two-speed transfer case, 9.5 inches of ground clearance, a 30.9-degree approach angle, a 23.5-degree breakover angle, a 29.9-degree departure angle, and it can ford 23 inches of water. It has not lost its hardcore edge. I'm not sure the Kardashians will ever use any of that, but it doesn't make it any less impressive.
The G-Class is old-school in the best of ways, but to keep up with those Kardashians, it doesn't mean the SUV is low-tech. I love the slick dual widescreens, the luxurious details and trims, and even the rainbow-colored ambient lighting. The G is loaded with all sorts of technology, but I'll mention this particularly indulgent feature: The massaging seats also have active bolsters that hug you even in the gentlest of turns, which is the kind of gimmick you can use to impress or freak out your friends.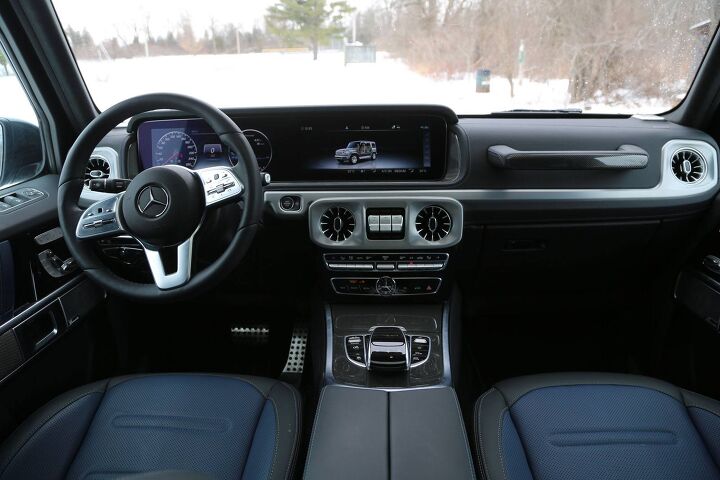 ALSO SEE: 2019 Mercedes-Benz G-Class Review
More importantly, this G550 is powered by a 4.0-liter twin-turbo V8 with 416 hp and 450 lb-ft of torque. There's a woodsy growl when you get going, and it really adds to the G's rugged personality. It's not violently fast, but I had no desire to drive this SUV like a sports car. I loved cruising slowly in it, leaned back and channeling Big Cardi B Energy.
This is one of the last real body-on-frame SUVs out there, and what that means is that there are crossovers that feel easier to drive and maneuver and perhaps feel more comfortable, refined and modern, but none of them will make you feel this cool and none will be as capable off-road. On the road, the G does have a certain floatiness and disconnectedness to it, but those same features that can hamper its driving dynamics are the ones that make it more capable off-road, so for me, they're easy to forgive. This G-Wagen also has the aerodynamics of a barn, so it gets a hilarious 14 mpg combined and is too tall to fit in my garage, but whatever, I feel so cool driving this, none of that matters.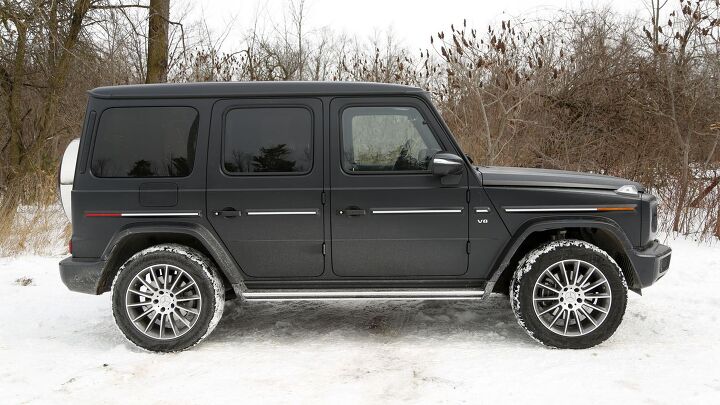 One of my favorite things about the G-Wagen is also of the things I hate most about it. It's so overbuilt and so extra, but no one who buys one of these will ever use it for what it was built for. Jeep people, on the other hand, are going out on the trails and doing some really crazy stuff, instead of just shopping sprees at Chanel and Louis Vuitton.
Jeep Wrangler Rubicon
If you're like the majority of people out there who can't drop six-figures on an SUV, however, the Jeep Wrangler Rubicon is the next best thing. At about $45,000 as tested, not only is it far more affordable, but it's also more capable off-road, especially in the most hardcore Rubicon trim.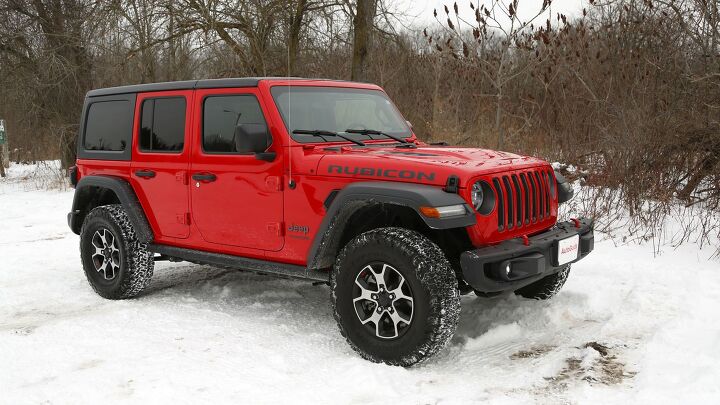 The Wrangler Rubicon has over one inch more ground clearance at 10.8 inches, and an approach angle of 43.9 degrees, which is a whole lot more than the G-Wagen. It also has a better departure angle than the Mercedes at 37 degrees, and the breakover angle is close at 22.6.
ALSO SEE: Jeep Wrangler Recalls Over the Years: Is Your Model Affected?
Sure, the Wrangler doesn't have three locking diffs like the G, but that's a bit of a novelty. The Wrangler features two lockers, which is helpful when off-roading, but even more useful when the terrain gets hairy is the disconnecting sway bars. It doesn't have a do-everything "G-Mode" like the Mercedes, but there is a certain satisfaction in doing things manually. Speaking of which, you can also get the Jeep with a manual transmission.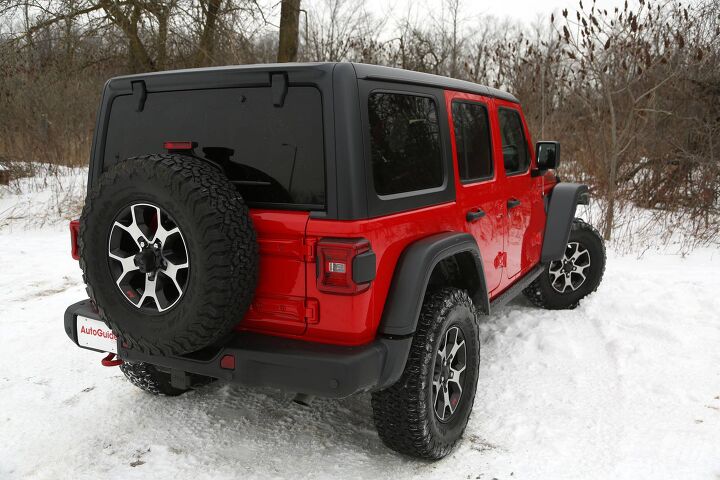 But here's a simple reason why the Jeep is truly a better off-roader. Would you feel comfortable bashing around a vehicle that costs six-figures? I didn't think so. Being more accessible and cheaper to fix when things go wrong, you won't feel scared to bring the Jeep Wrangler to places that most other vehicles would get stuck. Those are just battle scars a Jeep can wear with pride.
The engine in this SUV is a far cry from the V8 found in the G550, but the Pentastar V6 is a sturdy workhorse for plenty of vehicles in the FCA lineup. I quite like it, and it has plenty of power and grunt to keep it up with traffic on the road. On the trails, you don't really need much power — it's better to be slow and measured, and the Wrangler handles rock crawling with ease, straight from the factory. It gets decent fuel economy too, earning about 20 MPG combined thanks to its eight-speed auto and engine shut off features.
ALSO SEE: 2020 Jeep Gladiator Review – Video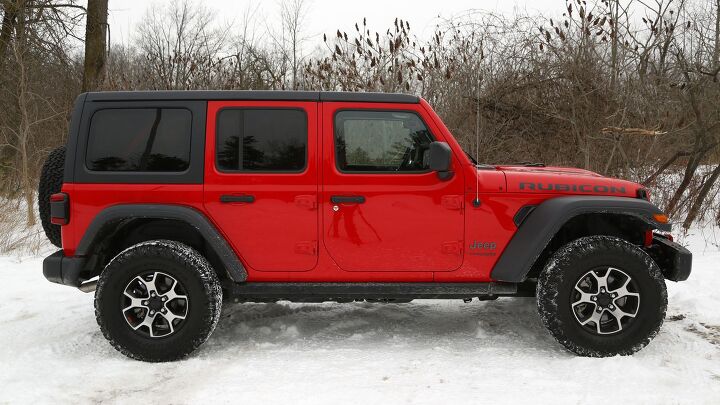 On the road, you get a slightly disconnected feel from everything, but that's part of the charm. Similar to the G, those softer on-road dynamics help the SUV perform better on the trails. The Jeep is also far more comfortable and civilized than it used to be, but it hasn't lost the engaging feel that makes it so much fun in a way the Mercedes can't match.
But when you look inside the Jeep and contrast that to what's in the Mercedes, well, it's like the Michelin star versus the fast food joint again. This isn't a luxury car at all. In fact, there's very little to call premium here. However, just because it isn't luxurious, that doesn't mean that it's boring — the cabin has a lot of fun design features like little Jeep Easter eggs hidden throughout.
ALSO SEE: Why the Four-Cylinder Hybrid is the Best Powertrain in the Jeep Wrangler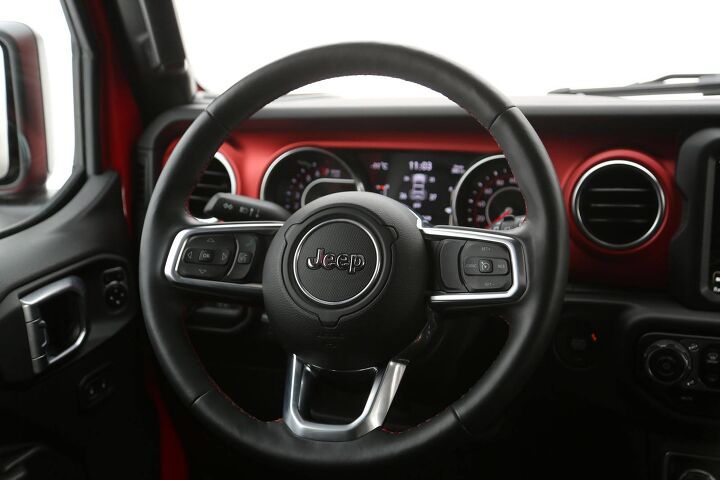 There's also a decent amount of features like heated seats and a heated steering wheel, but also Apple CarPlay and Android Auto support, and the UConnect infotainment system, which is one of the best in the business. In addition to that, you can get parking sensors, blind spot monitoring, adaptive cruise control, and forward collision warning. These used to be high-end tech reserved for brands like Mercedes, but now you can get them in the off-road ready Wrangler.
ALSO SEE: Jeep Cherokee vs Grand Cherokee: Which Jeep is Right for You?
But I'm leaving the best quality of the Wrangler for last: It comes with a community. When you drive a Jeep, there's a special sense of belonging you get — it might just be a nod or wave, but that acknowledgment makes you feel special. In the G-Wagen, however, people kind of loathe you for being a silly rich person. Besides offering a ton of options to customize your Jeep, it also comes with the ability to drive it without the roof, doors, and windshield. There's a down-to-earth and relatable charm here that isn't found in the stoic and proud G-Class, and that's what makes a Jeep so special.
The Verdict: Mercedes G-Class vs Jeep Wrangler
We know that no one is realistically cross shopping these two SUVs, but there aren't a lot of options for people who want a boxy off-roader right now, and we should be considered very lucky that there are two very capable and iconic offerings at different ends of the price spectrum. These two purpose-built machines have a certain authenticity that is very rare to find in cars these days and a lot of that comes from their rich history and humble beginnings.
If the boxy Mercedes G-Wagen has always been a dream car for you, but you aren't from the part of society that can afford one or you haven't won the lottery yet, the Jeep Wrangler is the best alternative you can get. We believe that boxy is beautiful, no matter what it costs.
Additional reporting by Sami Haj-Assaad

Jodi Lai
Jodi has been obsessed with cars since she was little and has been an automotive journalist for the past 12 years. She has a Bachelor of Journalism from Ryerson University in Toronto, is a member of the Automobile Journalists Association of Canada (AJAC), and a jury member for the prestigious North American Car/Truck/Utility Vehicle of the Year (NACTOY). Besides hosting videos, and writing news, reviews and features, Jodi is the Editor-in-Chief of AutoGuide.com and takes care of the site's day-to-day operations.
More by Jodi Lai
Published April 9th, 2019 10:14 AM
Popular Articles
Latest Comparisons
Car Buying Tools