1 View
Automotive Safety in the Spotlight at the Smithsonian
July 19th, 2010 5:35 PM
Share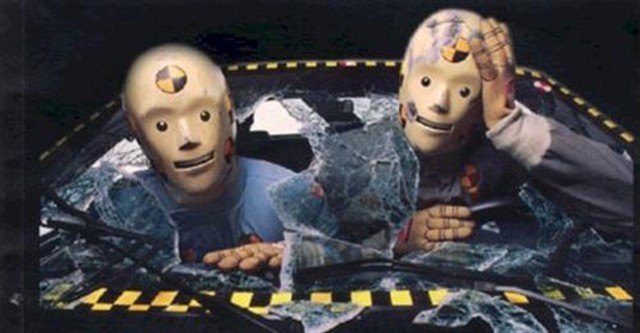 Looking to treat the family to an educational vacation this summer? Then head to the Smithsonian Institute, where you'll learn all about the three-point safety belt, the padded dashboard and the famous "Car Safety for Dummies" dummies.
In honor of 75 years of automotive safety, as well as all the National Highway Traffic Safety Administration initiatives passed during this time, automakers and regulators have donated automotive safety systems to the Smithsonian. On top of that, it also marks the 25th anniversary of everyone's favorite crash dummies, Vince and Larry, who starred in the NHTSA and the Ad Council's PSAs.
A few of Vince and Larry's costumes will be making an appearance, alongside a Hybrid II crash-test dummy from Denton ATD. Also on display is a General Motors Hybrid III crash test dummy that was introduced in 1975 (it still remains the industry standard). The three-point seatbelt, invented by Volvo in 1959, is on display too – Volvo donated a belt and seat from a 1961 PV 544.
Other added attractions include a padded dashboard, invented by Dr. Claire L. Straith. (Interesting side note: Straith was a plastic surgeon who studied the cranial and facial injuries sustained from automobile accidents, and who became an advocate for automotive safety systems.) An energy-absorbing steering column from a 1967 Chevrolet has been donated by General Motors, as well as safety literature from the American Automobile Association and three ignition-interlock breath analyzers from Guardian Interlock.
[Source: Wired]
Published July 19th, 2010 5:35 PM
Popular Articles
Latest Comparisons
Car Buying Tools