1 View
Volvo Teasing Mystery Vehicle, Could Be New XC90
May 17th, 2013 12:31 PM
Share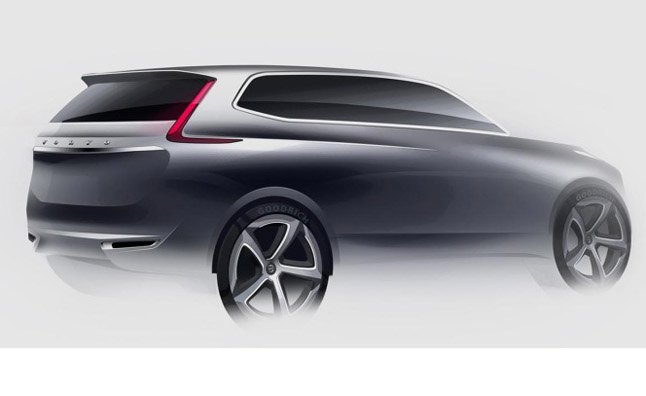 Volvo released a mystery teaser today revealing that something new, likely a new XC90, will be revealed in two days on May 17.
Based on the timing, it seems like this teaser must be for the new XC90, which is due for a full redesign. Volvo did update the XC90 in 2013, but the changes were minimal.
The new XC90 will be based on the companies new scalable platform architecture, a setup which will also carry the next generation S60, V70, XC60 and S80. One of the brand's new four-cylinder engines is almost assured to find its way under the hood linked to an eight-speed transmission, while diesel and hybrid power are both possible options for the new XC90.
SEE ALSO: Volvo XC90 Spy Photos
Design wise, the XC90 is expected to take its influence from the Volvo You Concept, which has foreshadowed the redesign for many of Volvo's newer models. Early design sketches (seen above) have already been released by the brand, showing off some of the new styling cues the XC90 will take.
{ "id": "13003357", "alt": "", "title": "", "video_link": "https://www.youtube.com/embed/jrXdxqZmCOQ", "youtube_video_id": "jrXdxqZmCOQ" }
{ "width": 634, "height": 357, "showRelated": true }
Stephen Elmer
Stephen covers all of the day-to-day events of the industry as the News Editor at AutoGuide, along with being the AG truck expert. His truck knowledge comes from working long days on the woodlot with pickups and driving straight trucks professionally. When not at his desk, Steve can be found playing his bass or riding his snowmobile or Sea-Doo. Find Stephen on <A title="@Selmer07 on Twitter" href="http://www.twitter.com/selmer07">Twitter</A> and <A title="Stephen on Google+" href="http://plus.google.com/117833131531784822251?rel=author">Google+</A>
More by Stephen Elmer
Published May 15th, 2013 5:19 PM
Popular Articles
Latest Comparisons
Car Buying Tools