46 Views
2020 Cadillac CT4-V Review: Softer, but Still Single-Minded
January 6th, 2021 12:18 AM
Share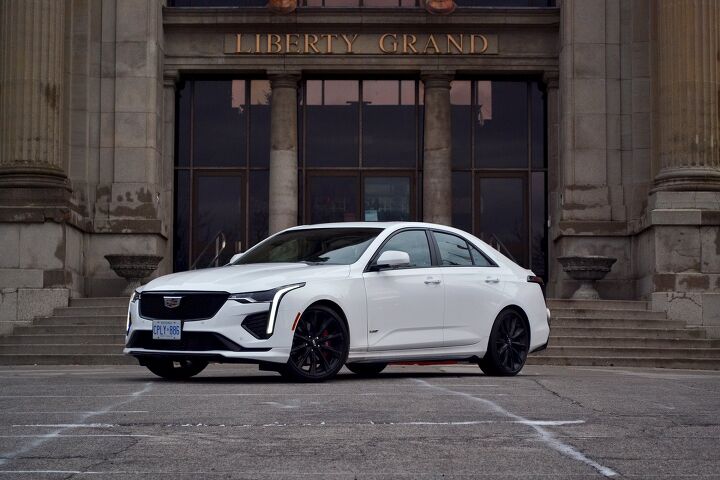 It's always a tough act following your big brother.
Take this, the Cadillac CT4-V. I drove it back-to-back after the larger, more powerful CT5-V. That car was one of the more impressive ones I drove in the year, with handling as sharp as its looks, paired to a sweet-sounding, hugely flexible turbo V6. For contrast, the CT4-V has a repurposed Silverado engine.
Truck engine jabs aside, the smaller CT4-V does crib a lot of the best bits from its sibling, not to mention the ATS-V that came before. This is a genuinely fun sport sedan, with a playful, engaging chassis setup that (once again) proves Cadillac can hang with the best coming out of Europe. Unfortunately, the CT4-V also picks up some of the same bad habits as the 'Five—maybe it's genetic?—which keeps it just shy of greatness.
Heart of gold—no, silver(ado)
Yes, the CT4-V uses the same 2.7-liter, turbocharged four-cylinder engine that debuted in the Silverado recently. Yes, it's more potent here, to the tune of 325 horsepower and a massive 380 lb-ft of torque. And yes, even with everything GM has thrown at it, it still sounds like a truck engine, the big-displacement four-pot lacking the aural delights of something like the Mercedes-AMG A35.
SEE ALSO:
2020 Cadillac CT5-V Review: My Name is My Name
What the 2.7-liter lacks in lusty tones, however, it makes up for with serious muscle. The CT4-V ladles on the torque early, with a quick-shifting 10-speed auto always pulling correctly from its quiver of gears for the task at hand. It also avoids the occasional low-speed jerkiness I experienced in the CT5-V. The CT4-V will hold a cog right through to redline, even without manual control, though it does its best work well shy of that low, 6,100-rpm ceiling. Just because you can bump up against the limiter doesn't mean you should; you get the sense that neither you nor the car really enjoy it.
FAST FACTS
| | |
| --- | --- |
| Engine: | 2.7L I4 Turbo |
| Output: | 325 hp, 380 lb-ft |
| Transmission: | 10AT, RWD |
| US fuel economy (MPG): | 20/29/23 |
| CAN fuel economy (L/100KM): | 10.4/7.4/9.1 |
| Starting Price (USD): | $45,490 (inc. dest.) |
| As-Tested Price (USD): | $55,935 (inc. dest.) |
| Starting Price (CAD): | $47,498 (inc. dest.) |
| As-Tested Price (CAD): | $59,480 (inc. dest.) |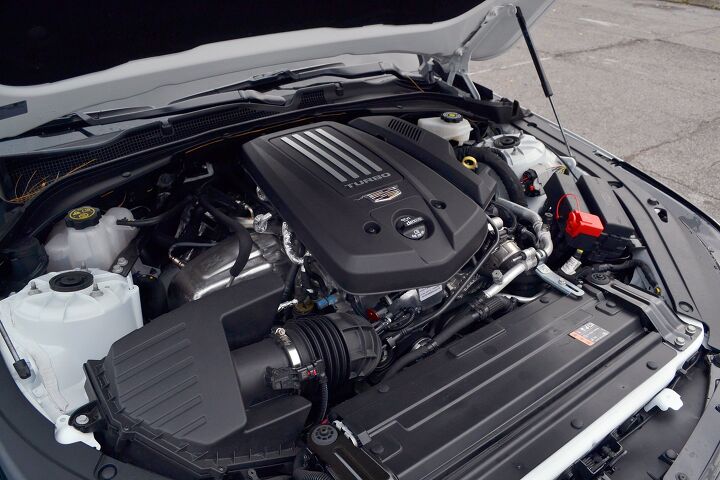 What the CT4-V really does enjoy is a never-ending supply of corners. Somewhat surprisingly, my tester arrived in rear-drive form. Even on winter tires, the inherent goodness of the chassis shines through. Free of the need to both put down power and steer, the front wheels slice through corners with clarity. The steering wheel has a good amount of heft to it, though the feedback through the electrically-assisted rack is on the light side. That torquey engine has more than enough power to step the tail out, but the CT4-V telegraphs every one of its movements far in advance. When it comes times to stop, the Brembos haul the show up consistently, time and time again. It also feels commendably light, thanks to a curb weight around 3,600 lb (1,633 kg). With the A35, Audi S3, and BMW M235i Gran Coupe all using front-based all-wheel drive, the Caddy has the clear dynamic edge in this class.
SEE ALSO:
2020 Mercedes-AMG A 35 Review: Junior Touring Car
The secret weapon making this possible is Cadillac's magnetorheological suspension system. Magnetic Ride Control reads the road every millisecond, constantly adjusting a magnetic field to alter the viscosity of the shock fluid. It allows for a limber ride no matter the conditions, and a marked change between the drive modes.
Special mention to the supremely strong Brembo brakes as well, with a well-weighted, consistent pedal feel right from the top.
Interior lacks wow factor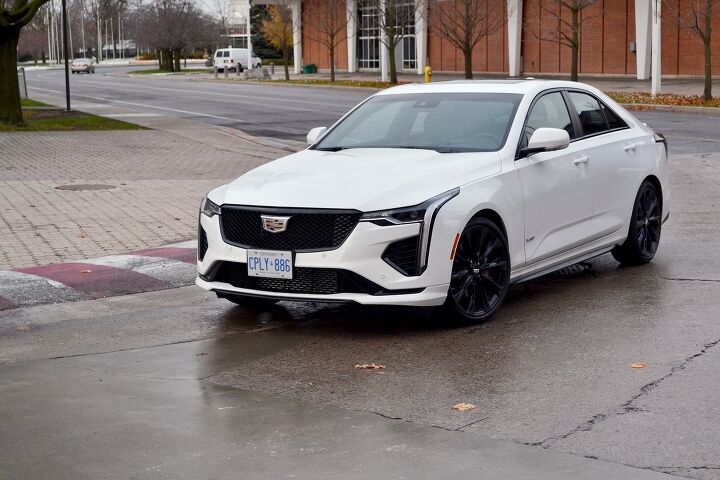 I could simply copy and paste a few paragraphs from the CT5-V review last month, but my bosses (and the almighty Google) wouldn't appreciate that. Up front, the Four-Vee is slightly different, but the main touch points are practically the same. It's all screwed together nicely, and the contrasting orange-brown piping on the (upgraded) leather seats is a welcome touch. It's an all-business approach: there's nothing inherently wrong with the layout, but this small-size sedan's interior is missing a defining feature to set it apart from the pack.
Take the infotainment setup. There's a clear, easy-to-read touchscreen, but the design is essentially shared with Chevy hatchbacks costing a third of this. Same goes for the digital info panel between the dials.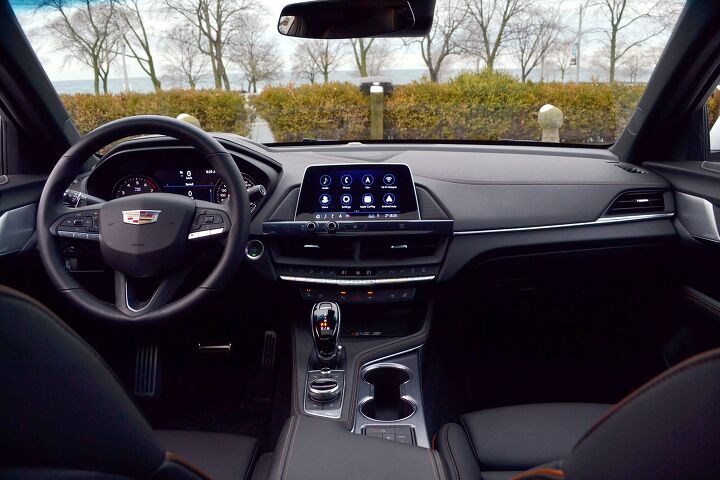 There's also the small matter—literally—of the rear seats. It's not as tight as the BMW 228i, but the CT4-V's rear bench is not somewhere you'll want to stick adults for long periods of time. There's not much in the way of head- or leg-room, and the windows are tiny. The larger dual-pane sunroof of the CT5-V would help the ambiance here. The trunk is similarly petite, measuring just 10.7 cubic feet (303 liters).
Despite the CT4-V being a four-door, it's best to think of it as a slightly smaller coupe sibling to the CT5-V, with better ingress and egress than a dedicated two-door.
Well-trimmed, but needs options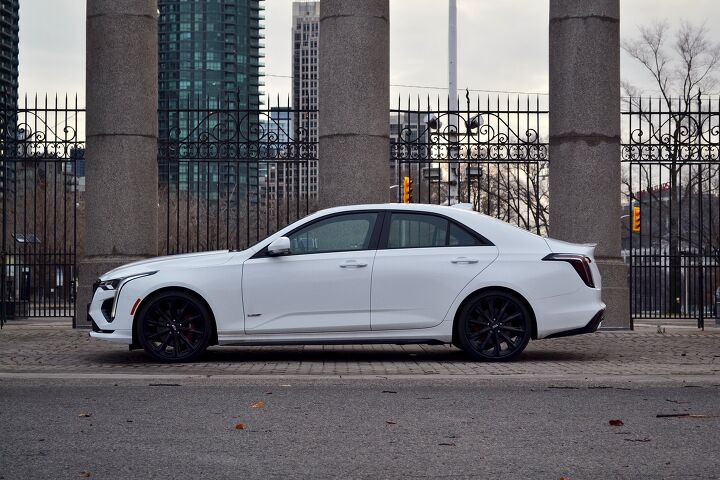 The CT4-V starts at $45,490 ($47,498 CAD), and this one comes with dang near every box ticked. That bumps its sticker to a not-insignificant $55,935 ($59,480 CAD), though a regular CT4, with a smaller 2.0-liter turbo-four, kicks off around 10-grand less.
Standard heated front seats are very much appreciated on those chilly early mornings. This tester adds in ventilated seats, heated outboard rear seats, and an automatic heated steering wheel. The latter is excellent, warming up super-quick without any input required.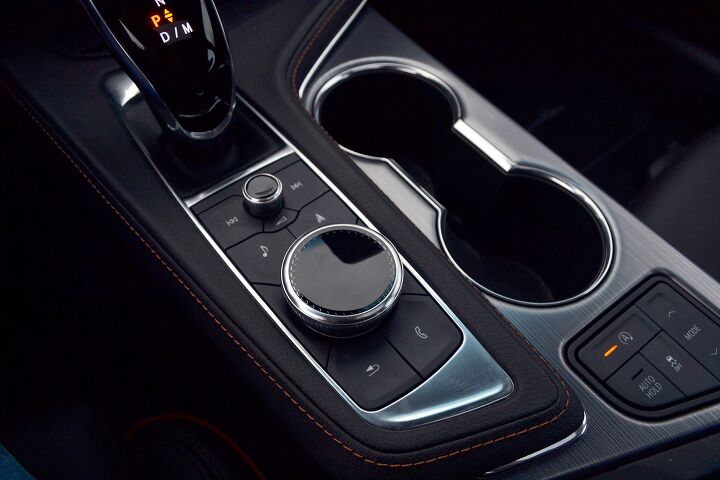 Cadillac has unfortunately followed the rest of the luxury pack in offering as options the sort of active safety assists you'll find standard on mainstream models. Adaptive cruise control, enhanced automated emergency braking, auto headlights, rear cross-traffic alert, lane-keep assist, blind spot warning; they're all here, but come as part of two different options bundles. It's disappointing, but we can't fault Cadillac any more than we can the whole segment.
We can applaud the use of both USB types though, and a wireless charging pad. Other treats include turning front lights and a crisp, clean head-up display.
If I were speccing a CT4-V, it'd be easy to slice off $3,995 ($5,042 CAD) by skipping the sunroof, red brake calipers, and pricey 19-inch black wheels. Besides, the 18s come with summer tires on the rear-drive model.
Verdict: 2020 Cadillac CT4-V Review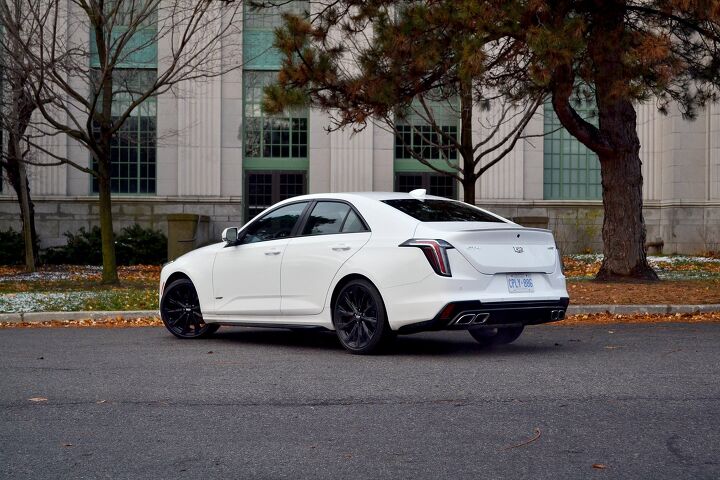 Cadillac deserves some level of kudos for even keeping cars on the menu. There's an excellent chassis under the CT4-V—probably the best one in the luxury segment from a ride/handling perspective—and it'd be a shame to live in a world without it. We can even accept a softer, more approachable V-Series from Cadillac, especially with the upcoming Blackwings bringing the fire and brimstone back.
SEE ALSO:
2022 Cadillac CT4-V and CT5-V Blackwing Keep The Manual Sport Sedan Alive
Just know that to have that performance advantage, you'll need to make sacrifices. Things like space for adults in the back, despite this being a larger car outside than the competition. Or a characterful exhaust note. Or an interior that feels special. If you can look past those things, then the CT4-V is a satisfying, old-school sport sedan deserving your attention.
Become an AutoGuide insider. Get the latest from the automotive world first by subscribing to our newsletter here.
LOVE IT
Excellent chassis balance
Lots of luxury car for the money
Unmistakable looks
LEAVE IT
Character-free engine
Tight rear seats
Meh interior
Published January 5th, 2021 8:01 AM
Popular Articles
Latest Comparisons
Car Buying Tools