3.3K Views
January 25th, 2023 3:10 PM
Share
Lug nuts keep you safe and can enhance your car's appearance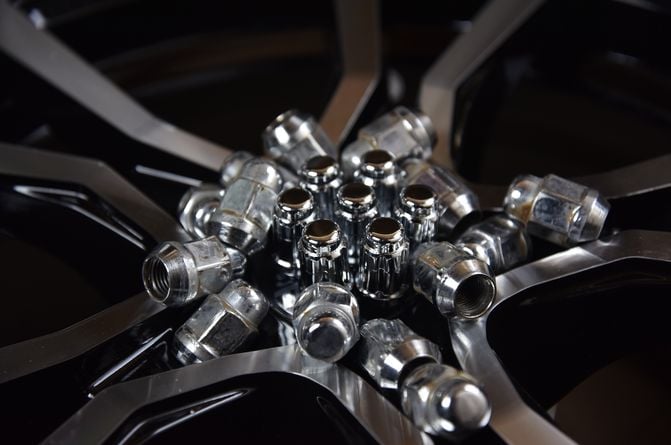 What's less than an inch in diameter and keeps your car's wheels from flying off the axles? Lug nuts. Besides securing the wheels, a spiffy set can enhance your vehicle's appearance.
In the old days, it didn't matter what lug nuts looked like because they usually lurked under full-width wheel covers or hubcaps. But today, they're often nakedly exposed thanks to the proliferation of alloy wheels on all but the least expensive cars. Of course, some alloy wheels still use a center cap to conceal the lug nuts, especially on trucks.
These deceptively simple components are manufactured in different sizes and shapes for specific applications; the type of wheel and vehicle specification dictates the style of lug nut that's used. Original equipment and high-quality aftermarket lug nuts will be made to exacting standards for strength and durability.
Most alloy wheels have a 60-degree lug nut seat, and their lug nuts are tapered accordingly. You'll also find ball-seat, mag-seat, flat-seat, and other styles. Some are open-ended, while others are closed. There are also locking or splined styles that can only be removed with a special tool or key. Instead of lug nuts, many cars, notably European makes, use a lug bolt.
Steel is the most common material for lug nuts and lug bolts, although you will find them in aluminum as well. Sometimes, they have purely cosmetic chrome-plated caps applied to their exterior, which can lead to corrosion problems, or the cap slipping off and making the nut very hard to remove.
Because of their vulnerable location on the wheels, lug nuts are constantly under attack from road salt, moisture, and service "technicians" who turn the torque setting on their pneumatic impact guns to MAXIMUM. It's a good idea to inspect your lug nuts periodically to ensure they aren't corroded, rounded off, or otherwise damaged (check for cracks around the wheel stud holes while you're at it).
While we've tried to present a wide range of lug nuts in this article, owing to their application-specific nature, the ones you need may not be listed. If so, most of the manufacturers we've discussed here offer a full range of products and will likely have a a set that's right for your vehicle. We've also delved into the correct way to change a wheel and the tools you'll use to do the job, like torque wrenches, jacks, and wheel chocks.
How We Picked the Best Lug Nuts
We've included only all-steel, one-piece lug nuts because of their superior strength and durability. We don't recommend versions with cosmetic caps or those made from aluminum. Aluminum is softer than steel and prone to galling and stripped threads, while decorative caps retain moisture and road salt causing the inner nut to rust. That corrosion will distort the outer cap, sometimes so much that a lug wrench or socket won't fit.
For more information on the best lug nuts, refer to our Table of Contents.
1. Editor's Pick: Dorman 611-076 Acorn Wheel Nut
These lug nuts are a classic acorn shape, closed-end design and are sold in packs of ten. They're made of carbon steel and are corrosion-resistant; more importantly, they meet the Society of Automotive Engineers' standards for strength and durability. Dorman subjects them to tensile-strength testing to ensure they're up to the job of keeping wheels safely attached to a vehicle's axles.
On the downside, they aren't high-style components, and while they are corrosion-resistant, they are not corrosion-proof. However, the manufacturer says they can be painted if desired. They're also non-locking; this is good if you don't want to worry about losing your wheel key but bad if security is a concern.
Dorman is a well-known manufacturer of all types of aftermarket automotive components. You'll find them at most brick-and-mortar auto parts stores and online. The company specializes in designing replacement parts that rectify issues with factory original components.
| | |
| --- | --- |
| Pros | Classic style, meets SAE standards for strength and durability |
| Cons | Not corrosion proof, not available for all makes and models |
2. Best Black Lug Nuts: DPAccessories Black Lug Nuts
Lug nuts offered in unusual colors are often anodized aluminum or feature a two-piece design with a cosmetic capping applied over the lug nut itself. We don't recommend either style. Aluminum is softer than steel, so aluminum lug nuts are prone to stripped threads and galling, while capped lug nuts can retain moisture causing the nut under the cap to rust.
Fortunately, these black acorn-style lug nuts from DPAccessories are a one-piece design made from cold-forged, heat-treated steel. The black color is applied using a propriety cathodic process. Thus, they avoid the biggest pitfalls of some competing designs. They have a 1/2-20 thread size and a 60-degree conical seat.
DPAccessories sells them as singles lug nuts, in packs of 20 as here, or by the hundred. They're also available with a chrome finish, as seen below.
| | |
| --- | --- |
| Pros | One piece design, anodized black finish |
| Cons | May not be available for all vehicles |
3. Best Chrome Lug Nuts: DPAccessories Chrome Acorn Lug Nuts
If you're looking for something to replace your factory lug nuts because they're old or rusted, take a look at these lug nuts from DPAccessories. They are closed-end bulge acorn-style lug nuts with a 60-degree conical seat, with each lug nut measuring 1.4 inches long. They use a standard 19mm socket to fasten or loosen, so no key is necessary. Triple chrome plating with layers of copper, nickel, and chrome gives these lug nuts an attractive, corrosion-resistant finish. They're manufactured with cold-forged and heat-treated steel for solid durability.
You can purchase these lug nuts as a single unit or a set of 16, 20, 24, or even 100. The link below is for 12 x 1.5 lug nuts, so make sure you choose the correct product if your car uses a different thread size.
| | |
| --- | --- |
| Pros | One piece design, bright chrome finish |
| Cons | May not be available for all cars |
4. Best Double-threaded Lug Nuts: Dynofit Double-threaded Lug Nuts
If you drive a Chevrolet or GMC 1500 truck or a related model, there's a high probability that it came from the factory with double-threaded lug nuts. With this design, there's one set of threads on the inside of the lug nut, which threads onto the wheel stud and secures the wheel to the axle. The secondary, external set of lines simply provides something for cosmetic, plastic outer bolts (and center caps), something to thread onto.
Dynofit's replacement double-threaded lug nuts look and perform like factory-supplied components. They feature a corrosion-resistant finish and have CNC-machined threads to prevent galling and allow for easy installation and removal.
| | |
| --- | --- |
| Pros | OE fit, CNC-machined threads, corrosion resistant |
| Cons | Not corrosion proof |
5. Best Open-ended Lug Nuts: Dorman 711-306
Many vehicles require open-ended lug nuts. This simple design has been around for a very long time and is purely functional, with no concessions made to appearance. Most of the time, this style of lug nut is found concealed under a press-on center cap or full-width wheel cover.
We've chosen another Dorman product here because of the company's solid reputation as an aftermarket parts supplier and the ready availability of Dorman products. If you need replacement lug nuts and don't have time to wait for an Amazon delivery, there's a good chance your local auto parts store will have a Dorman lug nut on the shelf that will fit your car.
These open-ended lug nuts are corrosion-resistant and meet SAE requirements for strength and durability.
| | |
| --- | --- |
| Pros | Readily available, inexpensive, corrosion-resistant |
| Cons | Not available for all makes and models, not corrosion-proof |
6. Best Ball-seat Lug Nuts: Dorman 711-300
While 60-degree wheel lug seats are the most common, plenty of cars run wheels with ball-type seats. We've selected another Dorman OE-replacement lug nut for those that do. Unlike many factory ball-seat lug nuts, the Dorman 711-300 is a one-piece design. That means it avoids the swelling and corrosion problems that can plague two-piece lug nuts with their moisture-trapping outer cap.
As with other Dorman lug nuts these are easy to find at local auto parts suppliers and major online retailers. They also meet SAE standards for strength and durability—they are subjected to testing that simulates three years of road salt spray.
| | |
| --- | --- |
| Pros | Easy to find online and locally, corrosion-resistant, OE-level performance |
| Cons | Not for all makes and models, can corrode over time |
7. Best Lug Wrench: EPAuto Telescoping Lug Wrench
Any vehicle equipped with a spare tire will also have a factory-supplied jack and lug wrench. However, lug wrenches occasionally get lost in the shuffle, or if you change your factory wheels for aftermarket items, you may end up with a different size of lug nuts. In this case, the factory lug wrench is no longer of any use.
The solution is simple, invest in an inexpensive aftermarket lug wrench like our pick from EPAuto. We prefer this telescoping model to the more traditional plus-sign-shaped lug wrenches for several reasons: It's smaller and easier to stow, it will work with any half-inch drive socket, and since it telescopes to 19 inches, it will give extra leverage when breaking loose a stuck lug nut.
The EPAuto lug wrench includes a storage pouch and sockets for 3/4, 13/16, and 7/8-inch (analogous to 19, 21, and 22 mm, respectively) lug nuts. Of over 5,000 reviews on Amazon, 93% are positive.
Don't panic if your vehicle doesn't have a lug wrench or spare tire. Some manufacturers supply a fix-a-flat kit in lieu of a spare. Refer to your owner's manual to determine what flat tire or wheel-changing equipment your vehicle is equipped with.
| | |
| --- | --- |
| Pros | Affordable, stows easily, telescopes for added leverage |
| Cons | Not a heavy-duty tool, better for occasional use |
How to Change a Wheel
It's really impossible to discuss lug nuts without touching on tire changing. When confronted with a flat or the need to switch over to winter tires or new wheels.
Before you begin, you'll need a few tools such as a jack (your vehicle will have a factory-supplied emergency jack), wheel chock, lug wrench, (ideally) a torque wrench, and a nice pair of mechanic's gloves. While not absolutely necessary, mechanic's gloves are nice to have because they can improve your grip on tools and help keep your hands clean. Wheels and tires can be very dirty things.
It's crucial to tighten lug nuts correctly. Under-tightened lug nuts may not hold the wheel securely to the axle, resulting in a potentially dangerous situation, while over-tightening them can crack rims or, at the very least, make it a real struggle to remove them. In a perfect world, you'll use a torque wrench for this job. If you don't have one, tighten the lugs as much as you can while still being able to remove them without resorting to a torque multiplier (cheater bar).
It's a good idea to check the level of air in your spare tire periodically using an accurate tire pressure gauge.
Changing a Tire Step by Step
Park in a safe area, apply the parking brake and switch on the hazard lights.
Chock your tires. If you don't have a wheel chock, use a piece of wood or similar. Place the chock behind the wheel opposite the one being changed.
Locate your jack and spare wheel. With passenger cars, these are usually in the trunk, while trucks and SUVs sometimes carry the spare under the bed or rear compartment. In either case, the jack will be with the spare or under one of the seats. Your owner's manual will have the exact information.
Remove wheel covers/hubcaps on the wheel(s) to be changed (on vehicles so equipped).
Using the lug wrench (not the torque wrench), loosen, but do not remove, the lug nuts on the wheel(s) to be removed.
Position your jack in the correct spot (refer to your owner's manual).
Jack the car off the ground allowing sufficient clearance to remove and replace the wheel.
Remove the lug nuts and slide the wheel to be removed off the wheel studs; you may have to rock it slightly.
Align the bolt holes of the spare wheel with the wheel studs on the axle and slide it on.
Replace the lug nuts and tighten them by hand.
Lower the vehicle slowly and carefully to the ground; remove the jack.
Using the lug wrench or torque wrench, tighten the lug nuts snugly. Tighten the nuts in a star pattern, i.e., tighten the nuts opposite each other; do not go in a circle.
Double Check the spare tire's air pressure.
Stow tools.
Dealing With Stuck Lug Nuts
Our trusty 1992 Chevy Caprice wagon spent most of its life in salty central Pennsylvania. Because of this, when the time came to change a tire, we found that the factory lug wrench couldn't generate enough torque to budge the rusty lug nuts—even with a cheater.
Fortunately, we had access to an impact wrench, which pounded the lug nuts off. Use care when removing wheel lugs with an impact wrench because you run a greater risk of rounding off the nut; make sure you have the correct size socket.
Should you find yourself in a similar predicament, try the methods listed below.
Unsticking a Frozen Lug Nut
Make sure you have a tight-fitting socket to apply maximum leverage to the lug nut and avoid rounding it off.
If your vehicle has capped lug nuts, you may have trouble getting your socket to fit, as they can swell due to internal corrosion. If this is the case, you'll have to pound a socket on with a hammer. Care is called for here, as you may be unable to remove the socket from the lug nut afterward.
Apply a penetrating lubricant to the lug nut, wait for it to soak in, and try again.
Use a torque multiplier (cheater). Find a length of sturdy metal pipe that will slip over the handle of your lug wrench. Proceed slowly and carefully with this method to help avoid injury.
Use a hammer to pound the end of your lug wrench to break the frozen nut free. Again, care is called for to avoid injury.
Recent Updates
January 10, 2023: Added how-to sections.
January 6, 2023: Removed Gorilla, Muteki, Yitamotor, Circuit Performance, Skunk2, Work Wheels, Project Kics, Ray, and Godspeed; Added: Dorman Acorn, DPAccessories Black, Dynafit, Dorman 711-306, Dorman 711-300, EPAuto lug wrench.
June 25, 2021: Removed the promoted product recommendation.
April 28, 2021: Updated the image and description for the Muteki lug nuts recommendation.
January 14, 2021: Updated with a promoted product recommendation.
---
We are committed to finding, researching, and recommending the best products. We earn commissions from purchases you make using the retail links in our product reviews. Learn more about how this works.
Photo credit: Tim Daugherty / Shutterstock.com
Published January 10th, 2023 8:01 AM
Popular Articles
Latest Comparisons
Car Buying Tools